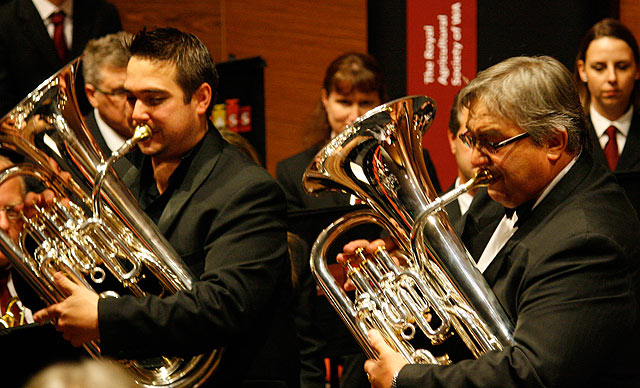 Life after Cory has been an exceptionally busy for both Robert and David Childs.
This most enjoyable concert amid the fabulous surroundings of the University of Western Australia was the final stop in a 3 week tour which has seen the duo perform, teach, adjudicate and entertain in Japan, New Zealand and Australia.
Air Miles
For David the racking up of the air miles won't end until he returns from forthcoming trips to the US and Brazil, whilst his father will only be able to enjoy the briefest of weekend breaks before his freelance duties take him further afield too.
The RASWA Band were the welcoming hosts for what has become an increasingly popular series of 'Brass Feast' events, and with growing support from both aficionados and more occasional brass band listeners, they opened the evening with a bold rendition of the Foden's Band signature march, 'The Cossack'.
Poignant
Frank Tichelli's emotive 'American Elegy' has been sympathetically arranged by MD Alan Lourens. Written after the infamous Columbine campus massacre in the USA it is etched with feelings of deep seated loss. The off stage effects featuring Nina Brotherton on cornet were particularly poignant, enhancing a performance of thoughtfulness and undertstanding.
Centrepiece
The centrepiece of the first half was the stunning Australian premiere of the Karl Jenkins 'Euphonium Concerto'.
David Childs was on breathtaking form; helped by his father coaxing a determined and articulate accompaniment from the band. The virtuosity in the opening 'Juggler' movement was complimented by a sumptuous lyricism in the following 'Romanza', whilst the Celtic inspired 'Troika' was a tour de force of technical brilliance. With the audience still catching its breath, Bob Childs then led a vibrant scamper through 'La Forza Del Destino'.
Favourites and fancies
The second half was a showcase for listener friendly favourites and fancies, with the PLC 'Enter the Galaxies' providing the opening fizz before Elgar's 'Nimrod' was given a cultured rendition, despite the slightly hesitant start.
David Childs returned to deliver 'Endearing Young Charms' in a way the great soloists of yesteryear could only dream of in their imagination, before impressing even more with 'Donegal Bay', played with a refinement of phrasing and musical shape that was nothing short of sublime.
With the audience demanding more, 'Hot Canary' was met with a mixture of stunned bewilderment and wide eyed incomprehension by an audience that was left open mouthed in transfixed admiration.
Symbiotic balance
The finale from 'William Tell' was an old pot-boiler played with vitality and colour, before there was one last treat to enjoy with father and son joining forces on 'Softy As I Leave You', played with a consummate understanding of symbiotic balance, phrasing and musical nuance.
It rounded off a fine evening of music making from a band set to grow in authority and stature under the baton of their MD Alan Lourens, and two world class musicians who remain inspirational ambassadors for the brass band movement.
Anthony Banwell