Scoring and Arranging for Brass Band
5-Dec-2005
Andrew Duncan
Lewis Music Press
Price: £25.00
---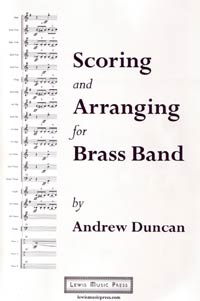 Andrew Duncan is certainly the ideal musician to write this excellent guide to scoring and arranging, which should prove to be an indispensable aid to anyone wishing to explore the hidden art form of producing well constructed music for a brass band.
Each of the 12 chapters explains in accessible form the problems and suggested solutions encountered in writing for individual brass band instruments, right through to the complete process of combining them into basic hymn tune format and then broadening horizons to encapsulate orchestral arrangements.
It is a very well produced book that draws extensively on Andrews's own experience – something which is a huge plus point given his achievements in the field.
Although aimed at those wishing to begin scoring and arranging it nevertheless has valuable points to make to those who have more experience: The chapter on publishing and copyright information is invaluable and will ensure that this potential minefield can be negotiated with a clearer understanding.
The 'self taught' arranger will also find much of interest, with the opportunity to seek a more disciplined template to work to that can only be of benefit. Conductors, even at the highest level should also find much of interest here as well, as Andrew explains in detail the question of balance and colour – an aspect of brass band performance that is too often overlooked in favour of sheer volume and effect.
After an informative introduction and historical look at the brass band, and as a former top class tuba player, Andrew begins with the foundations – the basses. This makes complete sense as it provides the potential arranger with the ideal opportunity to get the basics in place. Andrew explores transposition and register, scoring and parallel octaves, and most importantly the relationship between the bass line and the other lower voices in the brass band and how they can enhance the scoring process – the bass trombone, euphonium and crucially the timpani. Even the question of the use of mutes is explored and examined.
With this in place he then leads us through the pyramid formation of the modern brass band – from that foundation upwards; euphoniums, trombones, baritones (given a welcome chapter of their own), horns, flugel (again given a specific chapter to distinguish its unique qualities), cornets and finally percussion and timpani. Each chapter is clear and concise and each explores those elements of transposition and register, scoring, relationships to other instruments and the use of mutes. It builds logically and comprehensively and there are plenty of gems of common sense that illuminate each section.
The examples used to illustrate the differing roles of the cornet section and the differing voicing within the tenor horn section are excellent, whilst his explanation of the mysteries of the percussion section (tuned, non tuned and timpani) is as good as you are likely to read anywhere and should be read by every brass band conductor as well as potential arranger.
It is only when these basics are fully understood that he allows the disparate elements to be brought together; first in the traditional brass band format of the hymn tune. Nothing so exposes weak arranging and scoring skills than a simple hymn tune – that is why the famous 'Red Books' so beloved of brass bands remain so essential an aid to good playing and why so many more modern treatments of traditional hymn tunes are so awful.
Here he uses the most famous hymn tune of all, 'Abide with Me' and breaks it down into three main constituent parts with which he the uses as building blocks: The key, the range and the balance of simple four part harmony for soprano, alto, tenor and bass.
From this he explains clearly how this can be enhanced and developed into a full score, which he lays out in simple style before adding what he describes as 'the finishing touches'. It is superbly done.
With this covered he then takes a somewhat more ambitious step forward of exploring the territory of arranging orchestral music for brass band. This is much more complex in scope, but once more he leads in clear and concise manner, although it would perhaps have been a good idea to have had a 'stepping stone' chapter which possibly covered the brass band march or short concert piece as a means of bridging the gap between basic hymn tune arranging and rescoring a Beethoven Symphony - or in this case 'Swan Lake'!
This chapter could in fact be a separate and fascinating guide in itself, but it does allow you to look at the exciting possibilities that are available to an arranger with ambition allied to secure technical skills.
This is a long overdue and highly recommended publication from a musician who knows what he is talking about. It is published in such a coherent manner that even the most lay-minded player can pick up the basics with ease. It is also important to point out that Andrew also otlines much of what he talks about in relationship to bands in the lower sections.

For those who wish to start arranging and scoring for brass band, or for those who wish to improve on their current skill levels, this is guide is invaluable. For those who believe they already have mastered the art form, it will come as a welcome eye opener.
There is something for everyone to take on board here and Andrew must be congratulated for the way in which he has produced what should become essential reading for those who wish to enhance their musical skill base in a high class publication.

Iwan Fox.

Scoring and Arranging for Brass Band is available from:
Lewis Music Press
124, Newmarket
Stornoway
Isle of Lewis
Na h-Eileanan an lar
Scotland
HS2 OED

Phone: 01851 706549
e mail: info@lewismusicpress.com
Website: www.lewismusicpress.com