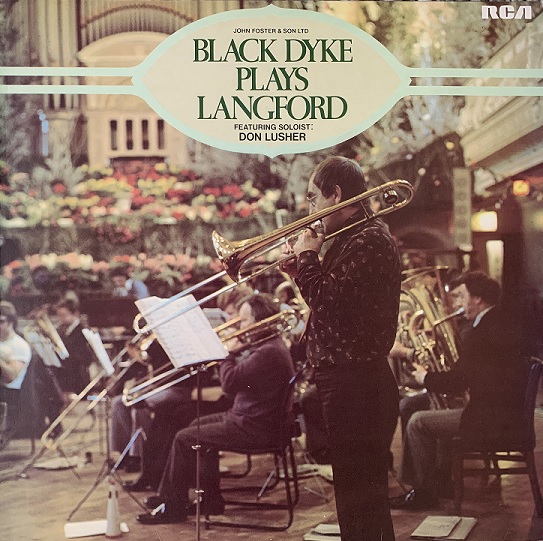 It is rare to find a brass band recording that brings together two remarkable musical talents at the peak of their powers; even rarer still when they are able to display them in full with a third, fast approaching its own.
At the time of this release, Gordon Langford was 46.

Already an Ivor Novello Award winner, his reputation as a master of the deceptively difficult art of 'light music' sealed through his radio, television and film work – from the music to accompany the famous BBC 'test cards' to the King Singers and Hollywood film orchestrations.
Don Lusher was 52 and had just taken over the leadership of the Ted Heath Orchestra.

His talent as a consummate big band player was endorsed on both sides of the Atlantic Ocean – seeing him lead the trombone section on many of Frank Sinatra's European tours.
All this and Black Dyke had just completed a British Open hat-trick, won the National Championship and become BBC Band of the Year.
In 1976, all three were in a class of their own.
Kimberlite seam
The result was a recording of remarkable acuity; one that opened up the last great Kimberlite seam of 'popular' repertoire to be effectively exploited by the brass band medium. It lasted two decades before being mined to exhaustion.
Langford (1930-2017) led the way for others to follow and delve ever deeper for 'light music' gems to arrange – notably Howard Snell.
Few others though managed to polish, as well as set, the diamonds he picked out so brilliantly. Even today they retain a rare flawless brilliance.
Few others though managed to polish, as well as set, the diamonds he picked out so brilliantly. Even today they retain a rare flawless brilliance.
His arrangements are subtle, adroit pieces of craftsmanship; precision scoring that balances warmth and nostalgia with novelty and inventiveness. There is a seamless flow to the music – no crass gear changes or enforced harmonic injections.

Here, 'A Sullivan Fantasy' is a Savoy Opera in itself, whilst Faure's 'Pavane' has a tender, gossamer-thread delicacy. 'Waltzing Matilda', 'Irish Washerwoman' and 'Billy Boy' are full of wit without ever losing the essence of their source characterisation - a skill so difficult to master.
Ingenuity
All that and there is remarkable ingenuity in his approach to convention and invention in his 'Prelude and Fugue', whilst 'Sinfonietta' retains its vivid freshness as well as beauty – the 'Andante' middle movement a perfectly packaged piece of sumptuous simplicity.
It is one of the most underrated works for the medium.
The recording is topped by the iconic performance of 'Rhapsody for Trombone' – stamped indelibly with the 'Lusheroso' copyright trademark of the peerless soloist (1923-2006); the long lines and rich harmonies woven to create a sublime showcase of inimitable, suave style; mimicked and copied in the years that followed, but perhaps never bettered.
And style like that – even in a mid 1970s Britain when 'The Don' wore a polyester shirt and Farah slacks on the LP cover, will never go out of fashion or lose its timeless appeal.
Iwan Fox
---
Side 1:
1. Sinfonietta (Langford)
i. Allegro ma non troppo
ii. Andante
iii. Allegro vivo
2. Rhapsody for Trombone (Langford)
Soloist: Don Lusher
3. Prelude and Fugue (Langford)
Side 2:
1. Billy Boy (Trad. arr. Langford)
2. Pavane (Faure arr. Langford)
3. Waltzing Matilda (Trad. arr. Langford)
4. Irish Washerwoman (Trad. Arr Langford)
Soloists: Don Lusher, Frank Berry, Denis Essex, Allan Widdop
5. A Sullivan Fantasy (Sullivan arr. Langford)