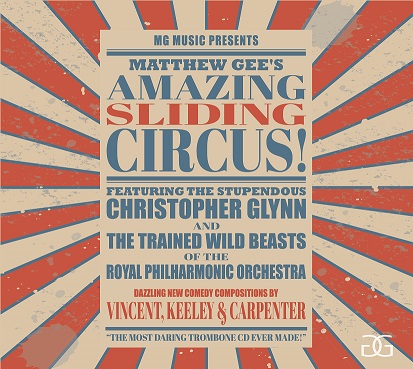 There are two things that are just about guaranteed to strike terror into the hearts of people of a certain delicate disposition: Concept albums and clowns.
For them, every Sgt Pepper or Ziggy Stardust comes with a flip-side of Jay-Z's 'American Gangster' or 'Tales from the Topographic Ocean' by Yes. And for every operatic Pagliacci or fun-time Charlie Cairoli there is the coulrophobic fear of a John Wayne Gacy or Pennywise.
Psychiatrist's couch
Combining the two then would seem to be a sure fire way of ending up on the psychiatrist's couch, but instead, trombonist Matthew Gee has opened up his musical mind to present this wonderfully creative solo album; stripping bare any deep-rooted preconceptions to reveal the raw honesty that hides behind the displays of naval gazing pretentiousness and greasepaint buffoonery.
The Royal Philharmonic Orchestra principal trombone is an exceptional player - as shown on his first solo album 'Paradiso e inferno', but with this follow-up his telescopic insight peers to musical horizons that contrast the achingly sublime to the brilliantly ridiculous.
The bizarre and the beautiful, the imposing and impish, cultured and clownish sit comfortably side by side - three acts in a circus inspired performance heralded by the muddled sounds of warm-up and the high tempo introductory 'Melody Shop' overture (a superb bit of multi-track wizardry).
'Fischietto e morto' is like tasting in your mouth the acidic revulsion and self-pity that has eaten away a clown's soul.
Acidic revulsion
Sondheim's ironic melancholy snugly nestles between Berio's intense 'Sequenza V' and Gary Carpenter's disturbing treatise on the philosophical meaning of what it is to lead a life of almost perverse comedic intention. 'Fischietto e morto' is like tasting in your mouth the acidic revulsion and self-pity that has eaten away a clown's soul.
Twitchy sphincter
Elsewhere, the sophisticated elegance of Stavinsky's 'Pulcinella' contrasts with the tight-knitted colourful complexities of Rob Keeley's 'Circus Games' (aided by exceptional ensemble work), whilst the pathos of Leoncavallo's broken hearted Canio leads into the final absurdity and echoing loneliness of another one of Simon Vincent's deliciously disturbing bijou gems that have already twitched your sphincter in apprehension.
All you now have to do is hope you don't meet up with a manic looking Ronald McDonald in a local drive-thru while listening to Marilyn Manson's 'Triptych Trilogy'.
Iwan Fox
See the trailer: https://www.youtube.com/watch?v=mViBUrqqxak
To Purchase:
https://www.prestoclassical.co.uk/classical/products/8403036--matthew-gees-amazing-sliding-
---
Play List:
1. A Most Grand and Marvellous Spectacle (Simon Vincent)
2. The Melody Shop (Karl King)
3-10. Pulcinella (Igor Stravinsky)
11. Mrs. Nisbett's Particular Lament (Simon Vincent)
12. Sequenza V (Luciano Berio)
13. Send in the Clowns (Stephen Sondheim)
14. Fischietto e morto (Gary Carpenter)
15. Circus Games (Rob Keeley)
16-17. Pagliacci (Ruggero Leoncavallo)
18. The Triumphal Coulrobonia (Simon Vincent)