Introduction:
Although there has been something of an industrial revolution in the production of entry and student level brass instruments in the last decade, the manufacturers at the bespoke end of the market place have managed to retain their prestige by still being able to attract the serious performer with premium priced products.
Quality still sells – and whilst cut throat prices give value for money in these financially hard pressed times, people are still more than prepared to invest their hard earned cash for a product that both lives up to the sales hype and performance expectations.
Each of the major manufacturers has a premium model on offer to wow as well as woe potential customers – from Besson and Yamaha to Willson, Sterling, Bach and beyond.

However, although well known with professional performers on the European continent for many years now, the Stomvi brand is something of an intriguing and exotic newcomer to the more traditional world of the brass band player.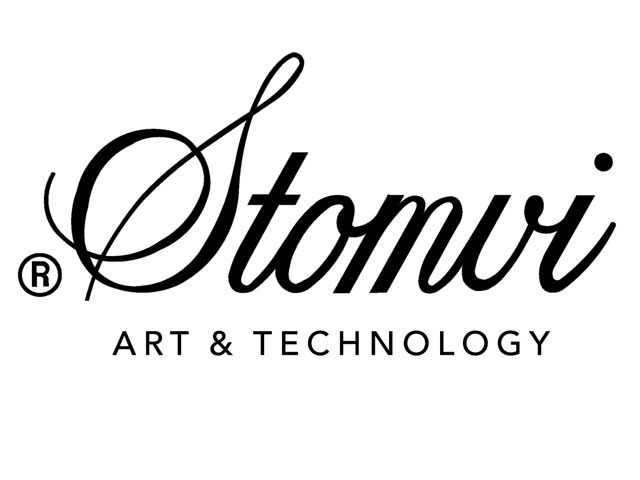 Background:
That may not be surprising as the inspiration behind the instruments is a 60 year old Spaniard who made his reputation by making the type of expensive jewellery that was found on the elegant necklines and wrists of his fashion conscious well heeled customers of Valencia.
Vincent Honorato Ibanez turned his attention to brass instruments about thirty years ago, and has since gained a worldwide reputation for the quality of his products, which are now played by many leading professional performers in all parts of the musical globe – the most famous of which have been Maurice Andre as well as the brilliant quintet Spanish Brass (below) and the Royal Philharmonic trumpet section.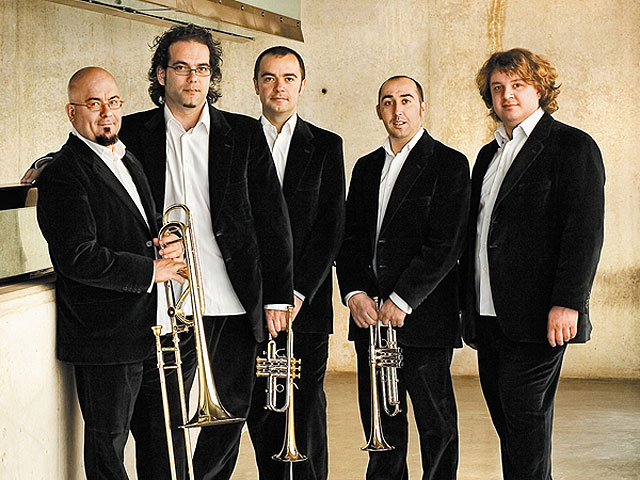 Bespoke
The factory now produces bespoke trumpets, flugels and trombones (although it has expanded its range to encompass student models) including a premium large bore Bb cornet – that comes with the impressive title of the 'Titan'.
4BR has had its hands on a 'Titan' for some time now – and given it perhaps the most thorough testing ever for an instrument that has come our way.
So does it live up to its name and provide an instrument that can compete or even beat the best the major high volume manufactures can offer?
John Packer Ltd provided 4BR with the instrument so that we could ask the questions in four main areas: Build Quality/Design; Intonation; Ease of blowing/Tone and Overall Performance/Value for money.
Marks are out of 25.
---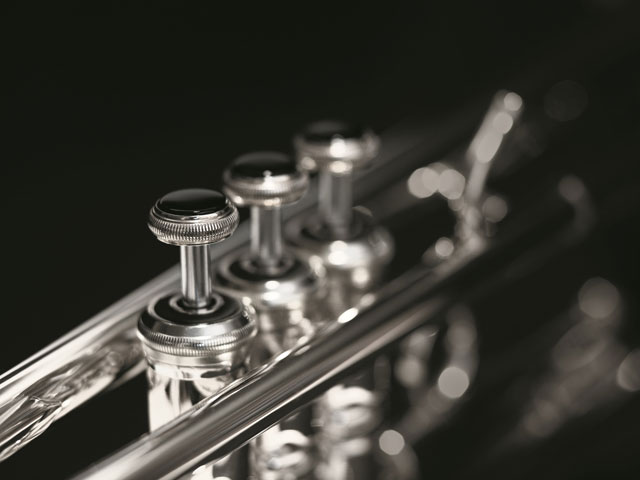 Build Quality/Design:
Not surprisingly given that it has been designed by a bloke who gained his aesthetic expertise in the jewellery design business, the instrument looks every inch as inviting to get hold of as a teardrop pedant necklace on the curvaceous bust of Penelope Cruz.
Neatly proportioned, it is a compact piece of engineering: all refined lines and curved crooks in an elegant, well planned layout.
The onyx valve top buttons and distinct lack of vulgar gold 'bling' add a touch of class, whilst the neat little push button waterkeys are well positioned and easy to use.
Care has been taken over the first and third triggers too – with plenty of travel and a smooth action.

The Titan isn't a titanic size – but you don't have to have the hands of Mimi from 'La Boheme' to use both of them effectively.
Balanced

It's also a very balanced instrument too – not 'bell heavy' as many modern cornets are, and as a result it enables the player to keep it on the lip without having to resort to Charles Atlas exercises to strengthen the wrists.
However, it is the build quality that stands out – with engineering that would put Faberge to shame.
Everything about the instrument has the feel of precision and accuracy: The jeweller's fastidiousness and desire to show off his expertise has certainly been brought to bear.
The silver plate finish is excellent, whilst the Titan has been put together like a Swiss watch.
The little details, such as the screw opening to the back of the waterkeys, the quality of the solder work, the snugness of the slides in their housings, the valve block that looks like the inside of a F1 gearbox, triggers that rely on simplicity and a lead pipe that is a perfect length make up a very impressive bit of kit.
Even the maker's stamps have a cleanliness that looks as if they were chipped out of granite – as the metalwork (ours also came with the more expensive copper bell) certainly doesn't come from recycled razor blades and the hulls of scrapped Spanish fishing trawlers: It's more like the stuff the Guggenheim in Bilbao is made of.
Overall:
Hard to find fault – and we do mean that.
The Titan isn't the biggest of cornets and that may not suit a player with hands like a wrestler, but its compactness has a purpose, and the layout and design really do make it attractive and comfortable to us.
The build quality is about the best we have come across too: Real care and attention to detail and engineering excellence is on show – both on the inside and the outside.
MARKS: 24/25
---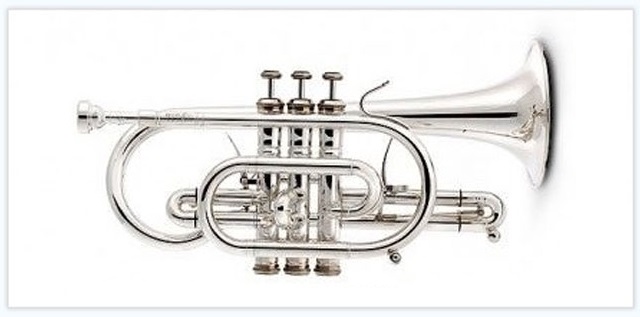 Intonation:
Although the Titan is an instrument that needs to be mastered to get the very best out of it - when you do it is a real joy.
The secret to success lies in the delivery of the performer – the instrument responding to someone who appreciates its very individual characteristics.

Keep within the boundary limits (it loses a great deal of its focus when treated roughly) and the intonation is excellent throughout the range and at the dynamic edges.
Down and up

Down below or way above the stave the intonation never wavers – but try and force too much air through and it quickly loses focus and things goes lemon sharp in an instant.
The main tuning slide doesn't need to be pulled out much to get a middle C or top G bang on the button either, whilst for the rest of the traditional 'problem areas', judicious use of the triggers is all you need.
For instance, you don't have to extend the third valve trigger like a trombonist playing 'The Acrobat' to get a low C# and D in tune, whilst first space F isn't flat and just a tweak on the first trigger keeps top A in check nicely.
The down side is that you may need to invest in nine Titans to keep your cornet section in perfect tune, but for a soloist, the quality of the intonation is a real bonus.
Overall:
For the individual performer the Titan is just about as good as it gets – needing just the occasional loving hand to keep it in perfect shape.
It may just have a few problems fitting in with eight other cornets in a brass band – but that can be overcome with a bit of care and attention too (buy an entire set and you won't get a problem for certain) – although at this price it may be an expensive option.
MARKS: 23/25
---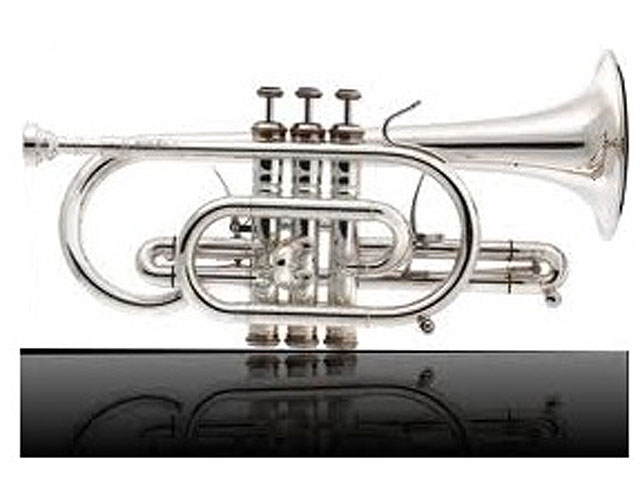 Ease of Blowing/Tone:
The Titan is an instrument that takes a little getting used too – but rewards patience, especially if it is allied to a very secure playing technique.
Unlike many modern cornets, you cannot shovel the air down the leadpipe in the hope of sounding like Placido Domingo belting out a Verdi aria – it simply isn't designed for that type of performer.

This really is a solo artist's instrument – at its very best when played with control and purpose – not when trying to blast the tiles off the roof of your bandroom: It can sound robust, but never brassy.
High quality

You soon get to know its boundaries – and by providing it with a constant stream of well centred air, it is a very flexible, malleable instrument in the hands of an experienced high quality player.
You don't have to work too hard to gain reward – at either end of the dynamic or range spectrum; although if you want an instrument that can be used regularly to pierce the eardrums then the Titan isn't for you: It is an instrument that is ideally suited to the needs of the cultured solo performer.
That is borne out by its tonal qualities - which are darker, deeper hued and more focussed than its premium brand rivals.
It has a very distinctive tonality – gradually lightening the further you go up the range without ever losing that rich, lusciousness at its centre.

Again – in the hands of a high class performer it can be moulded and shaped to reveal a well defined edge to the timbre, and whilst that takes some doing it is well worth the trouble as the final result has a well buffed shimmer of transparency that has real clarity about it.
Overall:
The Titan will come into its own in the hands of the best players – and as a result is perhaps better suited to the ensemble player or principal cornet who really does want to show off their qualities as a stand up and 'stand out' high class soloist.
Its tonal characteristics are different, yet reward cultured appreciation like no other top shelf rival we have come across.
MARKS: 23/25
---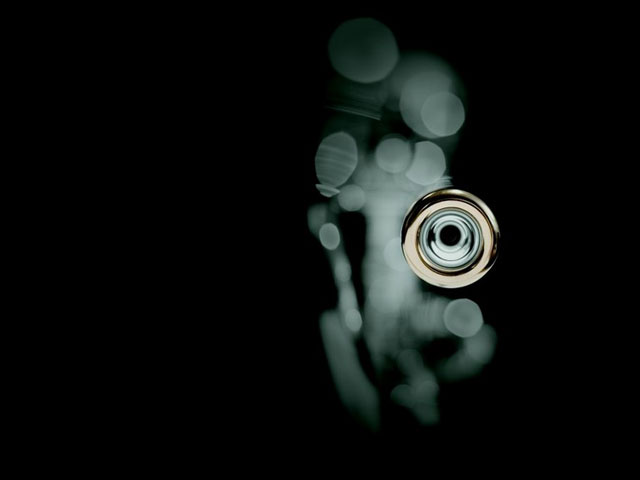 Overall Performance/Value for Money:
This is an expensive bit of kit – make no doubt about it: It is between £250 and £700 more expensive than a Prestige.

According to the makers RRP, the standard Bellflex Bell Model comes in at just under £3,000 (inc VAT), whilst the top of the range Copper Bell Model is an eye watering £3,365.05 (inc VAT).

If you want one – shop around, the street price is around £2,500 (inc VAT) for the Bellflex and £2,800 (inc VAT) for the Copper Bell Model.
That tells you that only seriously minded performers, ambitious soloists or even lottery winners may want to have it on their shopping lists – although quality – and we do mean, top quality is always well worth the price.
Better?

Is the Titan better than the Besson Prestige or the Yamaha Neo, Willson or Geneva then?
For what it offers the average brass band cornet player – certainly not.
But what it offers the well above average brass band cornet player – yes it does – and by a considerable margin it has to be said too.
It's overall characteristics are very different – a much darker, more centred, focussed sound that can be moulded and shaped with care and appreciation by a player with an intelligent musical mind.
The build quality is superb – whilst the design is elegant, compact and attractive. There is a refinement about the Titan that sets it apart.
The investment in high quality production is plain to see, whist the investment in a cultured tonality to also plain to hear too – in the right hands.
The Titan comes with a good quality padded case and Stomvi mouthpiece, and the leadpipe can accommodate any mouthpiece without a problem.

The instrument's bell is big enough to take any other leading mute brands other than the bespoke models made by the manufacturer..
Overall:
The Titan has been designed and built with no other purpose in mind other than to give top class cornet/trumpet players an instrument that befits their abilities as performers.
In those circumstances it also comes at a price that is well worth paying.
MARKS: 23/25
---
Overall Total:
Build Quality and Design: 24 points
Intonation: 23 points
Ease of Blowing and Tonal quality: 23 points
Overall performance and Value for money: 23 points
Overall Score: 93 points (Well in the outstanding range of 90+)
---
Specifications:
Handmade in Valencia, Spain

• Large Bore only
• Copper OR Bellflex Bell - No. 27 Bell - Bellflex is a copyrighted material designed by, and unique to Stomvi
• Silverplated.
• 1st & 3rd Triggers
• Silverplated
• Bell options: Bellflex (Model No. 5835) or Solid Copper Bell (Model No. 5836)
• Heavyweight Valve Bottoms - Standard
---
Current UK Stockists are:

Trevada Music: South West & Wales
John Packer Ltd: West
Prozone Music: London and Home Counties
Windblowers: Midlands
Stomvi UK: North of England & Scotland & Ireland