Positions vacant / Sandhurst Community Brass
Showing 1 to 1 of 1 vacancies
Most recently posted vacancies are shown first.
---

Sandhurst Community Brass
Required:
Sandhurst Community Brass would be delighted to hear from any enthusiastic back row Bb cornets, plus ideally a first horn too. We have a great band, and we just need to fill these few seats to get the band in musical balance.

Contact:
for any further information please call Richard Davy-Smith on 07711550183 or email . I promise you a great band awaits the right players.
Posted: 6-Mar-2017
---
First | Previous | Next | Last
---
4barsrest Classifieds
Stannington Brass Band
Stannington Brass Band, Sheffield. 2nd Section National Champions, and now 1st section. Ambitious, sociable band. MD Derek Re...
Unibrass 2017
Date: 18-Feb-2017
Venue: King's Rd, Harrogate HG1 5LA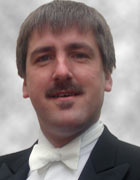 David A. Stowell

Conductor and composer