/Vision: EBBC 2012: Interview with composers & adjudicators
Fri, 04 May 2012 10:00:00 GMT
4BR Editor Iwan Fox talks to the composers and adjudicators at the conclusion of the 5th European Composers Competition in Rotterdam.
4barsrest Classifieds
Foss Dyke Band
SOP, 2ND EUPHONIUM AND Bb BASS REQUIRED IN TIME FOR AREA! We are a 2nd section band based in Lincolnshire. We rehearse in our...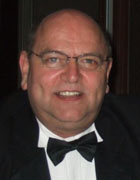 David W. Ashworth
RSCM, ABBA Exec Member, NABBC PRO.
Conductor, Band Trainer and Adjudicator