/Vision: Interview with Brass Band Wipptal
Sat, 3 May 2014 09:30:22 GMT
4BR Editor Iwan Fox talks to the players of Brass Band Wipptal from Italy after their Challenge Section performance in Perth.
4barsrest Classifieds
Foss Dyke Band
SOP, 2ND EUPHONIUM AND Bb BASS REQUIRED IN TIME FOR AREA! We are a 2nd section band based in Lincolnshire. We rehearse in our...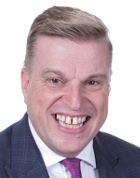 Julian Bright

Conductor, Compere/MC, Cornet Soloist