/Vision: Interview with Paris Brass Band.
Sat, 3 May 2014 10:15:57 GMT
4BR Editor Iwan Fox talks to the players and MD Florent Didier of Paris Brass Band following their performance of 'From Ancient Times' in Perth.
4barsrest Classifieds
Deepcar Brass Band
Deepcar Brass Band are looking for solo cornets and Bb bass to join their friendly team. We rehearse 7.15pm - 9.15pm Monday a...
NABBA
Date: 10-Mar-2017
Venue: Embassy Theatre and Grand Wayne Center. 125 W. Jefferson Street . Fort Wayne, Indiana 46802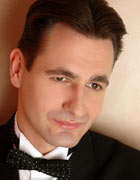 Craig Roberts
BA (Hons), MA
Conductor / Adjudicator