2004 Pontins Brass Band Championships - Retrospective: Championship section
2-Nov-2004
4BR looks back at a the The Harry and Margaret Mortimer Championship contest which was won by a pair of up and coming stars of the brass band movement.
---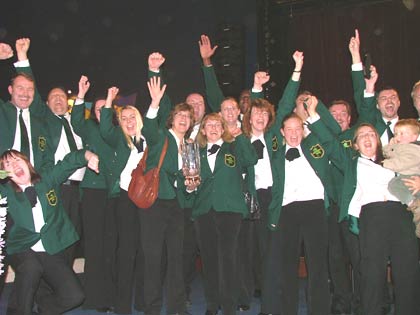 Staffordshire Band celebrate their win in the championship section
Sometimes the clue is in the title. Edward Gregson's "Dances and Arias" proved a stern test for the 23 bands that took to the stage in the Fun Factory Ballroom here on the weekend - but for far too many of the contenders there wasn't too much to sing and dance about come results time.
There can of course be only one winner - and the Staffordshire Band were certainly clear and deserved winners of the £2500 top prize and the fine cut glass trophy, but there is always room for celebration for others as well. On this occasion though the list of those heading home without feeling really disappointed was a pretty short one.
However, the usual excuse of blaming it on the adjudicators really couldn't be levelled at David Read and Malcolm Brownbill this time, as the clear cut reason a lot of the pre contest favourites didn't make more of a mark than they did was their own fault and nobody else's - the clue was in title all right, but it was also contained in the remarks these two gentlemen made a few weeks ago after they judged at the National Finals in London.
Both said at the time that there was now a move from adjudicators at the highest level towards rewarding those bands that produced well balanced, well rounded, detailed and controlled performances that had warmth and colour. Brash, hard tone colours, over ambitious tempos and especially over bearing dynamics were not the ingredients to be used if bands were to be successful at major contests in the future. It wasn't a return to old-fashioned basics; more of a reawakening to the positive virtues high quality brass bands can produce. It wasn't an "official" statement of intent either, but it was a declared statement of emphasis and conductors of top section bands the length and breadth of the country should have taken it on board as a matter of priority. Many at Pontins however either chose to ignore it or hadn't heard about it - and if they fell into either camp they certainly paid the penalty.
Not so the winners, the Staffordshire Band under the direction of one of the banding movement's hottest properties at the moment, Steve Bastable. This was a quality performance in anyone's book - and full of those virtues both Brownbill and Read wanted to hear. It also benefited from a very fine reading of the score by the MD - full of understated nuance and the ability to link the musical lines together to complete a coherent picture. In addition there was a fine ensemble sound which was topped by some outstanding individual work - especially Mark Glover on solo euphonium who not only won the Arthur Bedwell Memorial Trophy as "Best instrumentalist" on the day, but who showed that he is young talent to look out for in the future.
The judges spoke to 4BR after the results and were full of praise for the victors. "It was such a musically well shaped and developed performance," said David Read. "It was so well balanced, had detail and they produced a fine warm full bodied sound - just what we were looking for." Malcolm Brownbill added, "It was a top quality performance - extremely musical and so well controlled. The man in the middle had music flowing from the tips of his fingers."
The Band Manager, Shaun Elliott was of course delighted when we spoke to him after the results as well. "This has been the culmination of six or more weeks of the most intensive rehearsals we have ever had with the band," he said. "I can't thank Steve Bastable enough. He is such a talented musician and just brings to life the music in any score he has in front of him. He has worked us so hard, but now knowing what it feels like to win an important contest such as this, it makes it all so worthwhile."
It has meant that since gaining promotion to the top section after their First Section National title in 2002, Staffordshire have now gone on to claim the Senior Trophy at Blackpool to gain promotion closer to the British Open as well as coming runners up at the 2004 Midlands Regional Championships and coming 13th at the National Finals. They are a band very much on the up.
The same goes for Steve Bastable as well, as he has now added another impressive entry on his CV that includes in the past 12 months a runners up place at the 2003 National Finals, 4th place at the Open and now this. No wonder he is in demand.
Second placed Tongwynlais Temperance also made the trip home with plenty to celebrate after a more robust performance under the direction of the talented Bryn James that caught the approving ear of the judges, if not everyone in the hall. Theirs didn't quite have the overall quality of rounded sound as the winners, but it was a finely structured reading from the MD that benefited from perhaps the best percussion playing of the day and some fine individual playing from the main soloists. We had them down just outside the prizes, but as we have said a thousand times before - we weren't the ones to impress were we and both David Read and Malcolm Brownbill found much to their all important liking.
The remainder of the top six were made up with most people's choices - although perhaps not in the order they were officially announced.
Ransome under Graham O'Connor gave a powerful account of themselves (perhaps a little too overbearing at times on the dynamics) and they just had one or two expensive little clips that may have cost them the chance of actually winning, and they had to be content (although not too happy) with third place.
Ashton under Lyne were certainly happy though with fourth place, after a performance of real merit that benefited from some fine individual playing (from the newly married Miss Redfern especially) and a sensible no nonsense approach from MD, Phil Chalk. It was enough to gain them the last monetary prize on offer of £450 and just pipped the BT Band under Michael Fowles into fifth place, after they had provided a neat rendition that just tired towards the end when things got a bit hard and brash.
We had them down for 6th, but that place was taken by the pre match favourites Hepworth (Persimmon) Homes, who although they played well gave a performance that lacked a great deal of subtlety. The powerful stuff was certainly powerful, but it was hard and shrill and you sensed that they hadn't adapted to the dead and dry acoustic, and as Paul Newman said in the film "Butch Cassidy and the Sundance Kid" - it was like hitting your grandmother on the head with a shovel - it leaves an awfully dull impression on her mind. It wasn't one of their better performances.
Others too used the heavy implements to create an impression of sorts - with fancied bands such as Pennine Brass, SWT Woodfalls, Kibworth, Dobcross Silver, BTM, Innovate Skelmanthorpe and Stocksbridge to name but a few, succumbing in varying degrees to overblowing, over wrought tempos and a lack of ensemble tonal warmth. All had their quality moments, but by heck all had their moments of pain as well.
In the end the reigning champions Skelmanthorpe had to be content with 7th place, with SWT Woodfalls 8th, Dobcross Silver 9th (although we had them in the top six) and BTM completing the top 10. A bit more warmth and a little more cohesive ensemble playing may have put any of them higher, but they fell into the old (and now, punishable) bad habits of too much volume and speed.
Behind them and the standard although decent enough, fell away somewhat with a whole raft of performances that either lacked control or just didn't capture the difference between what was musically required to differentiate the Dances from the Arias - some dances were almost drum and bass inspired (literally), whilst some of the Arias belonged to the Tom Jones school of belting it out. Some of the performances started so well, and just fell away, whilst others had a blandness and lack of tonal colour. Thus, Kibworth who were 11th, Jaguar Coventry, 12th, BHK (UK) Horden, 13th, Lindley, 14th, Ratby 15th and Glossop Old who were 16th were much of a muchness - decent performances but not ones that had you either sitting on the edge of your seat with excitement or relaxing back and bathing in glorious serenity.
After that though and things became a bit hit and miss, and from 17th down there wasn't a great deal to write home about. There were some unusually poor performances from Pennine in 19th, Stocksbridge in 17th and St Austell in 18th - each had "off days" we thought, whilst the rest of them - Haydock in 20th, Newstead in 21st, Derwent in 22nd and Welwyn Garden City in 23rd, couldn't really complain about their final placings.
With the contest taking close on 8 hours to complete (and no break for the judges) there was a fifteen minute break and a well received short concert by members of themouthpice.com who entertained the playful crowd to fine effect, before the announcement of the results.
We had a top six of Staffordshire, Ransome, Hepworth, Dobcross, Ashton and BT, so we weren't too far out with Skelmanthorpe as a good bet - whilst many in the hall seemed to have a permutation of these in differing orders it seemed.
Still, there are only one official set of results and that meant a first Pontins victory to Staffordshire, ahead of a delighted Tongwynlais, a slightly unhappy Ransome, a chuffed Ashton, a contented BT and a disappointed Hepworth. The emotions of the rest we can only take an informed guess of, but Staffordshire - all you had to do was look at their faces to see what it meant to be crowned 2004 Pontins Champions.
Iwan Fox