2004 Pontins Brass Band Championships - Retrospective: Fourth Section
2-Nov-2004
A wonderful contest in the Fourth Section kick started the whole weekend - great music, great performers and a great winning show as well.
---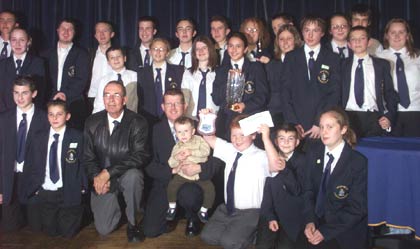 Members of Valley Brass (Haydock) celebrate
As always with Pontins, the Fourth Section was a real highlight of the whole weekend, what with a number of excellent performances from the bands (due to some fine conducting from the MDs), some great playing from the performers - many of whom were certainly in the full flush of their early teenage years and below, and a wonderful test piece in the shape of Malcolm Arnold's delightful "Attleborough Suite".
Add them all together and what you got was a delight - and a large and appreciative audience certainly enjoyed themselves in Lunars Hall early on Saturday morning.
Much of the credit must go to James Scott, Pontins Musical Consultant who chose the test piece and who was also very pleased at the standard of the performances from the competing bands. "I picked the work as a small tribute to Malcolm Arnold, whose 80th birthday it is this year, and who has produced some wonderful music for brass bands over the years. "Attleborough Suite" is a super work and one which I think both the bands and the audience enjoyed." It certainly was, and especially when it was performed with such joyous brio and vibrancy from the winners, Valley Brass (Haydock) directed by Bob Wyatt.
The test piece is a three-movement work - each of which is a miniature of almost perfect musical proportions - an Overture, Ballad and Dance, but it is written with a wonderful wit and sense of mischievous style that it appeals greatly to performers and audiences alike. The performers in this case where the 14 bands that took to the stage, whilst the audience were made up of supporters of parents, grandparents, younger siblings (including more toddlers than be found on a day out to Teletubbyland) and just plain brass band lovers. It was a great contest.
The winners were excellent - a top notch performance and their MD Bob Wyatt was certainly a man beaming with delight when we caught up with him after receiving the lovely cut glass trophy and the cheque for £1,750. "I'm so pleased for the players. They have worked so hard over the past few weeks and it paid off today. David Chadwick deserves so much credit for developing the band, whilst we really enjoyed playing the test piece."
David Chadwick is the man who has done so much to develop the band over the past year and the former Wingates soprano player stood aside for the weekend so that he could take over on the Principal Cornet seat and use his experience to great effect. It certainly worked as he played quite beautifully and led the band with such style. It must however also be said that Valley Brass (Haydock) are a band that are locally graded in the Second Section and it was obvious that they were a class above the rest on the day. It didn't detract from the quality they displayed though.
Christopher Wormald who was in the adjudicators box with the experienced Roy Sparkes told 4BR, "Theirs was a outstanding performance, with all the basics in place and with a fine sense of style, both from the MD and the players." You couldn't disagree.
Second place went to Besses Boys Band under the fine control of John North, who may have been a flamboyant old cove in front of his charges, but who was also an excellent stickman as well. It was dramatic stuff all right but also wonderfully controlled and they fully deserved theirs runners up spot. Valley followed them on as band number 3 and after they played no other band quite reached the standard set by these two.
There were some fine attempts though, with Pemberton Old B under Peter Ashley making a confident start but just dropping away in the second movement, before a thunderous return in the Dance to finish. Fourth place went to Greenfield (who had a trio of percussion players who were excellent and also quite oddly dressed - one in a fleece, one in a short sleeved shirt and the third in a proper uniform) who also performed with such a joyous brio that it left you with a smile on the face.
Fifth place went to Rivington and Adlington who rounded off the contest under Harry Bentham in splendid style, whilst sixth place was taken by Welington (Telford) who were bright and enthusiastic under the fine conducting of Steve Curtis.
After that the standard did fall away a little with small errors in both technique and especially tuning robbing the bands of points and the chance of prizes, but each of them had at least one or two movements when things went well. So hats off then to Dobcross Youth once more splendidly led by Ted Griffiths who seems to have unearthed yet another set of talented musicians, and to Uppermill in 8th, Holywell in 9th and Grange Moor in 10th.
After that there were slightly more expensive errors but there still plenty to admire in all the bands playing. Right down the list from Eatons Farnworth in 11th, Glyneath in 12th (who had the best soprano player on the day - very classy), Sale Brass in 13th and Standish in 14th. It would be a bit churlish to mention the mistakes, but it certainly wouldn't be churlish to mention so many of the young players who really excelled under their conductors (nice to see some smiling faces during the performances from them as well).
In the end though it was Valley Brass (Haydock) who really gave a wonderful performance to win the title - and start the whole weekend off in such a brilliant fashion.
Iwan Fox