2005 Butlins Mineworkers Championships - Preview: Fourth Section
20-Jan-2005
14 bands line up to see if they can master a bit of festival music and take home with them a nice fat cheque for £1,200. We make our very dodgy prediction as well - gulp!
---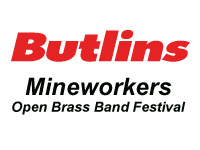 Fourth Section:
22nd January
Venue: Lakeside
Adjudicator: Alan Hope
Draw Time: 8.00am
Start Time: 10.00am

Test Piece: Stantonbury Festival - Ray Stedman- Allen
14 bands will line up to tackle Ray Steadman-Allen's popular 'Stantonbury Festival', and it should prove to be a pretty good test of the bands on view at the 'Silver Self Catering Check –in' venue.
It is a piece that has plenty of character and enough about it to test the players individually and as a whole, and should make for all the bands outing up decent performances.
Last years winners are here in the shape of Kirkby Colliery Welfare who triumphed on Peter Graham's, 'Haslemere Suite' and will therefore be looking to it a two piece suite this time around, whilst 4th placed Thurcroft Welfare return once more after coming 8th at their Regional Championships in Bradford last year, and hoping to better their 4th place on their last outing in Skegness. Finally, the band who propped up the prize table last time, Cresswell Colliery return once more hoping for better things, and it is great to report that after a bit of a struggle last year when they came 14th at their Regional Championships in the Midlands they are still fighting on. They are a famous old name with hopefully a famous future ahead.
Only the one band from Pontins makes it here, as Eatons Farnsworth and Walkden who came 11th at Prestatyn make the trip form the North West to see if they can add some silverware and cash to the band coffers, whilst Matlock who won through to the National Finals in Harrogate after coming 3rd in the 4th Section in the Midlands and who came 5th there also travel with high hopes of doing well.
Crofton from Yorkshire, who so nearly made it to Harrogate after coming 3rd at Bradford in the 4th Section travel east to see if they can kick start their season with a win, whilst Wales sends Pontypool up the M4 looking to start their year off in fine style as well.
The North of England sends Five Rivers, who came 4th at their Regional Championships last year, whilst, London sends Watford who will certainly be looking for a good result in preparation for the Regionals where last year they could only mange 19th place. The local band, Skegness will be making the shortest trip to the contest and looking to keep the prize money in the locality, whilst Tewkesbury will perhaps be making the longest trip as they come from the South West Area looking to boost their confidence ahead of the Areas there where they came am lowly 13th last year.
Finally, Bestwood Black Diamonds will be making the trip to see if they can add to their treasurer's bank account and should be hopeful of doing well, and Royston also make the trip looking to start their season off in fine style. Finally it is great to report that Thorseby will be sending their Youth Band to compete at the contest, and what would be the odds on both the bands from there taking away the top prizes. Now wouldn't that be a great start to the year?
4BR Prediction:

Predicting the results at this level is notoriously difficult, and to be fair 4BR hasn't got the greatest tipping record in the business either have we?
Still we have to put our money where our big mouths are and we opt for a top six that looks like this. Remember – if we are right then we will buy everyone on the camp a pint! Now what would the odds on that be?
It's Kirkby for us then to make it two in a row (apologies if we have now put the kiss of death on them) with Thurcroft coming a close second and Eatons Farnsworth in third. The top six should finally be made of Matlock, Five Rivers and Crofton with locals, Skegness as our dark horse. You heard it here first!

1. Kirkby Colliery Welfare
2. Thurdcroft Welfare
3. Eatons Farnsworth and Walkden
4. Matlock
5. Five Rivers
6. Crofton
Dark Horse: Skegness