2005 Butlins Mineworkers Championships - Championship Section Retrospective
26-Jan-2005
We have a look back at the highs and lows of the first leg of the Bultins event that saw 10 bands get to grips with Harmony Music in an attempt to secure the £5000 top prize at Skegness.
---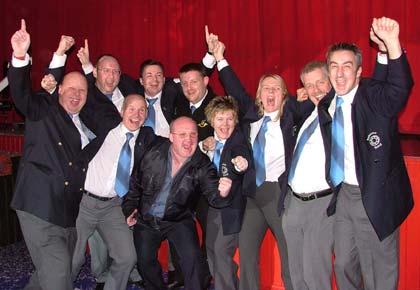 Members of the Ransome Band celebrate their win
These days, people don't really wear hats, but if they did, they would certainly have to take them off to Graham O'Connor, who once again showed at the Butlins Mineworkers Open Championship, that when it comes to preparing bands to get themselves into shape to win important contests, he comes second to very few people indeed.
Band training for contests is an art in itself; it requires a skill born of both experience and musical talent as well as the ability to recognise what ingredients are essential to mould a performance that highlights the contest winning elements of a piece of music, rather than just its musical qualities as a piece of composition. It is a knack that very few conductors fully master, as the contest record books show: the winning performance is not always the best musical performance of the day is it? The trick is to know how to balance a performance between the two disparate parts, and Graham O'Connor once again showed at Skegness at the weekend, that he has an almost alchemists ability to turn brass into contest winning gold.
The two legged Championship Contest highlighted this to the full, with the top prize going to the resurgent Ransome Band, after they took the £5000 and the magnificent Warwick Vase Trophy. Ransome didn't win either the set test or the entertainment legs of the contest (they came 2nd and 3rd respectively), but then this contest wasn't about who won the individual sections, it was all about who came out on top overall. Graham O'Connor knew this only too well and made sure his band had the ability and stamina to last the course.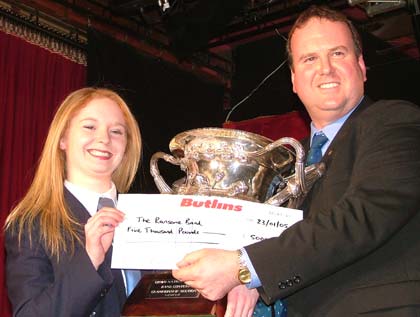 Tanya Furness collects the cup for Ransome from Steve Walker
The Ransome Band Chairman, Steve Thompson was certainly a man who appreciated what the MD had done for them when he spoke to 4BR after the brilliantly choreographed "Price is Right" inspired results ceremony. "This is a great win for us", he said. "Graham deliberately chose a balanced entertainment programme with our Musical Advisor Chris Jeans that they felt would appeal to the broadest possible tastes of the audience and adjudicators, whilst they made sure that the band were very well rehearsed and prepared for the set test to ensure that we could put in strong shows in both parts of the contest."
Sounds easy doesn't it? Bringing it off is a very difficult trick though, and although Ransome did play very well on both the Saturday and Sunday, they were helped by some erratic performances from the other contenders on the set test piece, Philip Sparke's "Harmony Music" and some less than inspired entertainment programmes.
It all resulted in a final prize list that saw Ransome head for home with the biggest first prize in current brass band contesting (and there were rumours that this could very well be upped next year to a whooping great £10,000 – yes, £10,000), whilst second place and a very nice big £2000 went to a delighted BT Band under the direction of Michael Fowles, who didn't quite manage the same overall consistency that so rewarded Ransome after they came 1st on the set work and a lowly 7th on the entertainment stuff.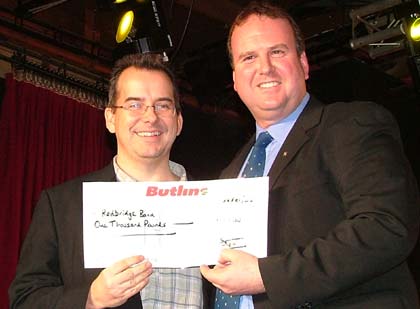 Redbridge representative receives a cheque from Steve Walker
It was still enough though to pip Redbridge and Melvin White into third place, after the Londoners picked up £1000 for coming just about the reverse of BT, with 8th place on the set work and 1st on the entertainment programme. What would both of them have given for just a bit more consistency over the two days?
Finally, the last monetary placing of £500 went to a deeply disappointed Desford Colliery, who were in many peoples eyes the favourites for the title before and after they had performed on the two days. It wasn't to be in the eyes and ears of the judges though and their representative rather glumly received the William Lippeatt Memorial Trophy as the highest placed mining band.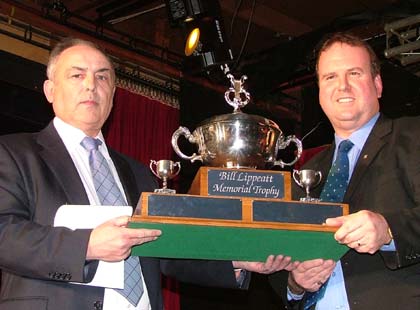 Desford representative receives trophy for 4th place
The contest itself started crisply at 10.30am on the Saturday when the ten bands lined up to perform what Dr Roy Newsome described in his remarks at the end of the contest as, "a monstrosity of a piece". He was of course talking about its technical and musical difficulties rather than as his preference for it, but after hearing all ten performances you could see what he meant.
Not one of the ten bands fully tamed it – although a couple did come close, and although the standard of the solo playing was quite excellent, the overall standard of ensemble work wasn't quite out of the top drawer. "Harmony Music" retains its position as one of the most difficult high-class test pieces in the repertoire some 18 years after it was first used, and on this occasion it certainly came out on top after ten bruising rounds of playing.
For 4BR, we felt the top performance certainly came from Desford under the baton of Major Peter Parkes, although the performance itself ended horridly with MD and band totally disconnected from each other in the final bars after the last third of the piece just run away tempo wise. Up until then it had the hallmarks of classy solo playing from the likes of Dave Smith on solo cornet and Paul Walton on euph and detailed controlled ensemble, but the judges, Roy Newsome and David Read felt otherwise and penalised them for that over the marked tempo and placed them 5th.
We disagreed with that, although you couldn't fault the judges for any lack of consistency as they also penalised others for taking little notice of metronome markings that stated Molto Vivace 108 and only heads to 120 at the final Presto. They made it clear to 4BR that they felt too many took the first section too quick to maintain precision between band and side drum in particular, leaving little ability to markedly show the difference in tempo and maintain that precision come the final Presto section.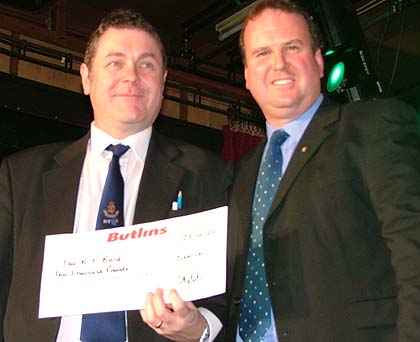 BT Band representative receives cheque from Steve Walker
The BT Band in fact took top honours with a controlled and well paced effort that benefited from some fine stick work from Michael Fowles which kept a tight rein on tempo, but allowed enough freedom for his players to shine in the extended solo spots. Both Peter Shaw and Jamie Meredith excelled, as did solo horn player Helen Varley, and although overall it lacked the bravura excitement of Desford it certainly caught the ear of the judges. We had them 4th, they had them top.
Ransome then took second place (same as 4BR had them) after a powerful account that although it did have some rough edges certainly had clear intent and execution and soloists that played to top form such as newly appointed Principal Cornet Elliott Darwin and euph Dave Belshaw. The MD kept things moving along with purpose and the stamina of the band never wavered right through to the last note. It was a no nonsense contest performance all right, and put them right in the thick of it for the next day.
Third spot went to Mount Charles, which was where we put them. Russell Gray developed a persuasive musical shape to the performance, but after a fine start it just fell away somewhat with a lack of middle sound in the band in the slower sections that robbed the performance of balance. It was very nearly a very fine account, but just lacking that depth of tone and some scrappy ensemble work robbed them of points.
After these performances the rest varied somewhat for us. Fishburn took fourth place from the judges after MD Chris Bentham had controlled them admirably throughout with a performance that had moments of real quality amid some other undisciplined ensemble work, whilst fifth place went to Desford. Aveley and Newham put in a real scrappy performance under Nigel Taken to come 6th on one of the rare occasions on the day when the ensemble was certainly much better than the soloists, whilst Carlton Main and Brian Grant could count themselves a little unlucky not to have come higher than 7th with a strong showing off the number 1 draw that was highlighted by the playing of Kirsty Abbotts and Ciaran Young in particular on solo euphonium.

That left a bottom three of Redbridge, Dobcross and Thoresby, who all in their own way paid the penalty for lack of consistency. Redbridge and Melvin White sounded a little under rehearsed on the piece (it was a bit edge of your seats stuff in places) whilst Dobcross under Dennis Hadfield had too many unforced errors both in the solo and ensemble lines to make a better impression. Thoresby Colliery under Andy Duncan had a poor start when intonation was awry, and although they did recover, never quite had the piece under complete control throughout.
That left a judges line up of BT, Ransome, Mount Charles and Fishburn as the top four with Desford in fifth and the rest perhaps making up the numbers for them. We had it as Desford, Ransome, Mount Charles, and BT, with Carlton Main just behind and Fishburn heading the rest. It was all to play for on the Sunday.