2005 Butlins Mineworkers Championships - Restrospective: Championship Entertaiment Contest
26-Jan-2005
We look back upon the the second leg of the Bultins Championship Section that saw the ten bands perform 23 minutes of entertainment to catch the ears of the judges in the box and the audience in the open.
---
The Sunday Entertainment Contest saw John Maines replace Roy Newsome in the box and join David Read to judge the 23 minute long programmes from the bands. The separate entertainment prize to be awarded (and with it went the fantastic old Butlins Youth Championship Cup) was judged by two representatives from Butlins and didn't have any bearing on the final points tally, but did give an indication of sorts of what was deemed to be the type of entertainment they themselves would think of as something that would keep their punters happy.
All the bands certainly entered into the spirit of Butlins ethos on this occasion, with varied programmes that only featured the one duplication of pieces. Some went for a more carefree approach than others, whilst some felt that it was better to concentrate on the quality of the aural experience rather than the visual one, and which by and large proved to have been the right choice. David Read and John Maines tend to be a bit more traditional in approach than other judges when it comes to the red nose and funny hat stuff, and although they are certainly no shrinking violets of the Presbyterian temperance variety, they are neither 'stay up all night' clubbers either.
Frank Renton on the other hand possibly has seen the insides of a few less than salubrious watering holes in his time, but once more he was a class act as compere for the event; full of humour (even at 4BR's expense!) and plenty of detailed knowledge of the music that was played from pop to classics and plenty in between. He is a rum old cove, but by heck he ain't half good at what he does, and the large (and we do mean large – there was over 1300 people in the hall throughout the day) thoroughly enjoyed his contribution just as they did from all the bands.
Mount Charles kicked things off with programme that certainly entertained royally, but was perhaps a bit too full of froth and bubble to impress the men in the tent. 'Under the Double Eagle' didn't quite have enough jackboot inspired bombast as an opener, but John Small on soprano certainly went ballistic on the Martin Winter inspired 'Tanga' that followed. It was a fine effort on trumpet of a terribly difficult solo to make come off, but what an effort nonetheless!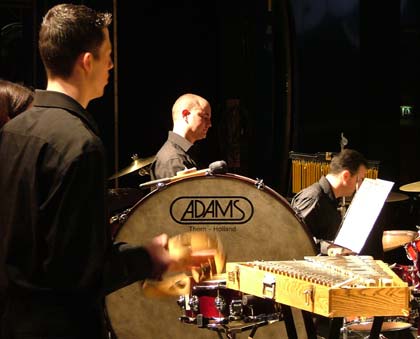 Mount Charles: Percussion team
That led into a rather insipid 'An American Carnival' which was over long and relied a bit too much on the visual element rather than the playing element, before the Pat Methany 'A Letter from Home' which didn't quite come off. A rousing 'Coronation Scene' rounded off their contribution, which perhaps needed a touch more gravitas to impress those who couldn't see what was going on. 8th place was a tad harsh though.
Next up came Fishburn and Chris Bentham in shirtsleeves bounding onto the stage with an enthusiasm for the task ahead that wasn't misplaced. The band stood in fanfare formation for an untidy 'Olympic Fanfare' opener (having trombones facing the audience front on always robs the balance) before John Gill gave a solid performance of 'Charivari'.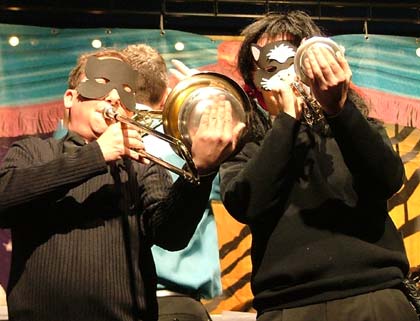 Fishburn Band: Duet for Cats
Fishburn certainly opted for the visuals and a slightly transvestite inspired 'Duet for two Cats' was very neatly presented by the nameless (male) duo and which was great fun. That led into Ray Farr's clever 'Ugly Peanut', which was perhaps too much of the same thing in retrospect. The piece is a tad too long to maintain the visual jokes and it just ended a bit flat for it to have kept the attention of the audience and the judges glued.
However, the band regrouped very well for their finale, 'Galaxies' which was a strong and committed performance, but suffered with intonation problems throughout as the stamina just begun to fade. 10th place may sound harsh, but it was a programme that perhaps relied too much on the visual rather than the playing.
Visually, Aveley and Newham struck gold. Playing wise though their fifth place was just about right, as for all their tremendous efforts to entertain couldn't hide the fact that what was being heard was very much of a curates egg in quality.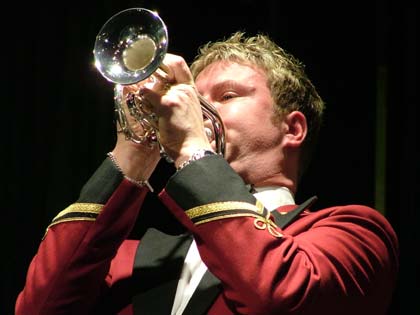 Aveley & Newham: Andrew Bannister
Their opener summed it up completely; great visuals, mediocre playing, as 'Saba Pogasa' (sorry if the spelling is a bit suspect) nearly came off big style, but very nearly didn't come off at all. Andrew Bannister then produced a fine account of the soprano solo 'Gethsemane' that put things very much on track, before the highlight of their performance that was a very neat and rather inspired camp comedy routine based around some fine solo playing on 'Xylophonia'. This was clever stuff and very well handled by all concerned.
That should have inspired them further, but a rather luck lustre 'Doyle's Lament' was followed by the strange choice of the final section from Edward Gregson's, 'Dances and Arias' which was something of nothing and wasn't substantial enough to showcase the bands abilities. It ended a programme that found great favour with the audience and the Butlins Entertainment judges and which won them the fine old pot as 'Most Entertaining Performance', but which didn't really impress you musically as you thought it could and should have.

With three bands gone the organisers may have had thoughts of the contest over running as it was taking two hours to get three bands on and off stage, but thankfully things got back on track with the contributions of Ransome who were next up and Dobcross who followed.
Ransome opened with a neat 'Accidental Mambo' before Chris Jeans showed immense class (and a penchant for exercise) as he walked his way around the hall whilst playing 'Stardust'. He was impressive indeed, whist the judges must also have been impressed by the way in which the band kept things in time with the soloist even when he was over 50 yards away serenading the pensioners in Row K.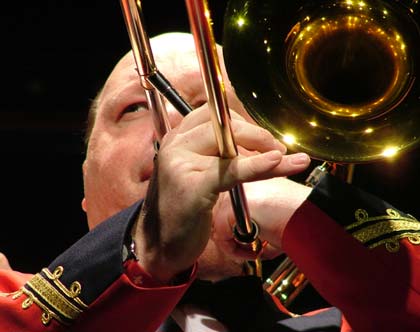 Ransome Band: Chris Jeans
That was followed by a slightly tame 'Hello Dolly' where the vocals were not quite up to Male Voice Choir standard and the singing harmony was more two bit than two part, but they recovered in fine style with super playing on 'I Know thou art Mine' by Leonard Ballantine which was one of the few times in the day when real quality pianissimo playing was on show.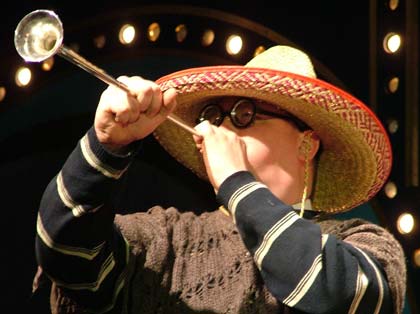 Ransome Band: Chris Johnson
The humour returned with a bespectacled Phil Johnson (who up until that time had been seated in disguise in the audience in a dirty raincoat and glasses as thick as milk bottle bottoms) whacking out 'Post Horn Tequila', which was another item that was just a tad overlong to really hit the audience between the eyes before a finely judged 'Pines of Rome' ended another strong and well directed programme. Not the best for sure, but not far off it and third place from the judges was enough to secure them the overall title.
Dobcross Silver were next to take the stage in an interesting formation that they maintained throughout their programme with the basses sat quartet style at the centre of the band, with the rest of the players surrounding them standing up. It was a clever ploy from the MD as the sound of the band had a strong central core from start to finish. What wasn't as strong though was the standard of the playing, and although they got off to a good start with the theme to 'Stingray' it just fell away from then on. Laura Hirst put in a nice account of 'Russalka's Song to the Moon', but the march 'Death or Glory' was more the former than the latter.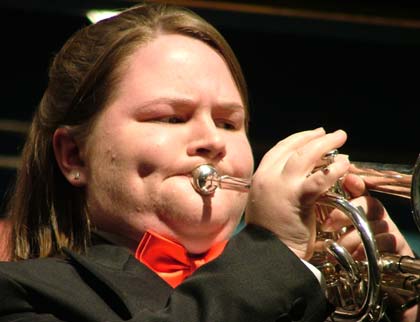 Dobcross Band: Laura Hirst
That left then with a lot of work to do to impress the judges, and although 'Suo Gan' was a brave choice it never quite captured the lyrical lullaby quality required to send a baby off to sleep, whilst the final item 'Brazil' contained much of their best playing, but far too late. A second successive 9th place off the judges on this occasion was bang on the mark.
That meant that next up was Desford, and after the slightly troubled end to their set work on the previous day they were certainly determined to start off in fine fashion this time around. That they did with a cracking 'Valero' which possessed a great band sound and precision. It was however the two quieter pieces that they chose that was perhaps their Achilles heel.
Flugel soloist Brian Winter never quite felt at ease with the dry acoustic in 'Lark in the Clear Air' and it didn't have that floating quality that the beautiful writing should inspire, whilst the quartet at the beginning of 'An Irish Blessing' suffered with very poor intonation and balance. It was this we think robbed them of valuable points, as their other contributions were at times a class apart from the rest of the field.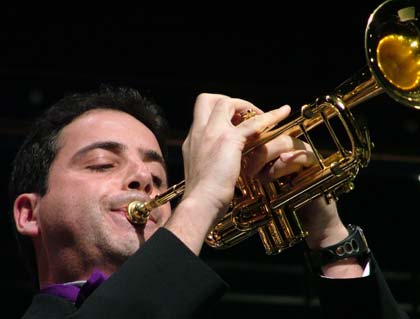 Desford Band: Dave Smith
Dave Smith was an exemplary trumpet soloist in 'Memories of You' – played in authentic style, whilst the cracking romp through 'Dance of the Comedians' had a real stamp of quality about it. However, the penchant for trumpet solos rather than cornet or soprano solos is something that is not to everyone's fancy, and we think on this occasion it didn't quite capture the musical taste buds of the men in the box. Still a tremendous bit of Respighi finished things off in the 'Dansa Orgiastica', and many thought (us included) that it was enough to give them an overall win in the contest. We, and many others were wrong and fourth place was the reward for the reigning champions.
Although they didn't know it, BT and Michael Fowles took to the stage leading the race for the £5000 top prize, but perhaps the effort in putting themselves into that position from the previous day took too much out of them as they failed somewhat to spark into life on their extended programme.
It was possibly also because the programme chosen didn't quite capture the essence of entertainment the audience had now become accustomed to and it was a touch academic for them in places. The opener 'Seville' was a case in point – well played but not something that the audience could readily recognise, whilst Peter Shaw's fine account of the 'Adagio' from Rachmaninov's 'Second Symphony' was perhaps a little too highbrow.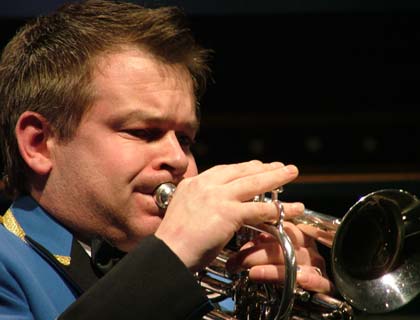 BT Band: Peter Shaw
'Dansa Brazilia' maintained the penchant for just about every band going for something Latin American/Salsa (it is a style of music however that nearly all of them couldn't handle in an authentic manner) before the overlong Irish pastiche that is 'Erin Shore' didn't do them any favours. 'Ave Verum' from Mozart's 'Requiem' was a brave choice, but again it was not to the taste it seemed of the audience, whilst their finale, 'Entrance of the Emperor' from 'Turandot' was worthy but not inspired. It rounded off a performance that had considerable merit, but perhaps misjudged what was needed and 7th place was justified.
Just the three to go then and Carlton Main showed for a second day that they are now a band back to form under Brian Grant.
There was still some rough edges to the ensemble playing which robbed the quality at times, but once again they sounded very well prepared and possessing a big broad ensemble sound. In addition they have some fine young soloists on show (specially on euph, horn and soprano) and Kirsty Abbotts to lead the way. Once more she was outstanding with a performance of 'Meditation' from 'Thais' that was a class apart on the day and she deservedly won the £100 prize plus the Geoff Dove Trophy as Best Soloist. It was sheer class.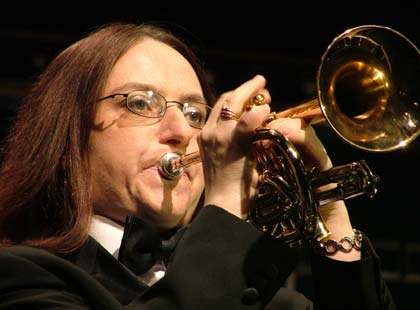 Carlton Main: Kisty Abbotts
The rest of their programme also had its moments as well, with a cracking start on 'Softly, Softly' which was anything but, followed by that gem of a moment from Kirsty. That led into a whip through the Salvation army march, 'Jubilee' which featured some excellent soprano playing from Clare Taylor before a well controlled 'In Perfect Peace' showed off their ensemble sound and ability to play quietly. The big finisher was an old favourite in the shape of 'Polovtsian Dances' that rounded off an intelligent bit of programme making from the MD and band. 2nd place was a couple of places above what we thought but it rounded off another good weekend for a band moving very much in the right direction.
Redbridge Brass then gave perhaps the most interesting, and also the bravest choice of programme of the entire day. Melvin White is a crafty old cove who has used his considerable experience to great effect over the years with many bands. With Redbridge it is developing into a fruitful partnership and on this occasion his intelligent and thoughtful approach certainly paid dividends.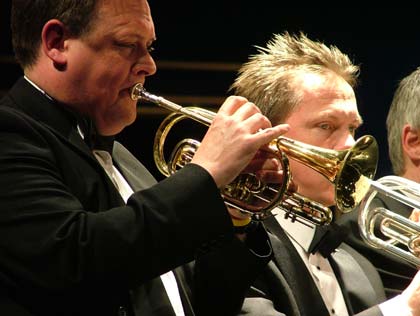 Redbridge Band: Cornet Section
It was a programme that owed much to the Salvation Army in the shape of Kevin Norbury's 'Flourish' and 'Truth Aflame' which topped and tailed their programme, as well as the march 'Jubilee', whilst he also delved into the far reaches of the library cupboard in the bandroom to pick out a real old gem in the form of the trombone and cornet duet, 'Cousins'. Add to that a subtle piece of Rachmaninoff with his '18th Variation' and a fine bit of swing with Louis Prima's 'Sing, Sing, Sing' (although it was Benny Goodman who really made it famous) and it was a 23 minute set that covered just about everything in the best possible taste.
It didn't go unnoticed in the judges tent either and they awarded them first place to go with the 8th on the set work and 3rd place overall. If they had put in a bit more work on 'Harmony Music' it could have given them second place overall at least, but it did give further evidence of a band on the rise.
Thoresby Colliery rounded off the day under the direction of Andy Duncan, and it was a programme that had the Scotsman's mark on it to start and finish. The Stalin inspired 'Scherzo' from Shostakovich's '10th Symphony' was a fine start and things continued with a neat bit of playing (in a hat as well!) from flugel player Matthew Challender on 'I've got You Under My Skin'.

Thoresby Band: Matthew Challender
The 'Elegy' from a 'Downland Suite' didn't come off though as it never felt serene enough to capture the magic in the writing, but the big lads from the bass end (and by heck they were no strangers to a fish supper) provided excellent entertainment with the Beach Boys inspired, 'The Bass Boys' (who said cheesy titles were dead eh?).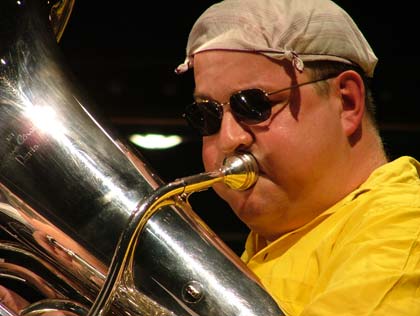 Thoresby Band: Bass Section
That seemed to get them back on track for a high finish, but the finisher itself just fell flat as 'The Witch's Sabbath' took its toll on the stamina and intonation. It rounded off a well chosen programme that just fell away a little in places, but 6th pace was well deserved.
That was that then until 8.00pm in the Reds Ballroom when the glitz and glamour was put on to fine effect by the organisers.
The prizes were announced with Kirsty Abbotts gaining her prize to a wonderful reception from all around the hall and Roy and Muriel Newsome being presented with a fine mementos of their contribution to the movement over the past 60 or more years. Aveley and Newhan picked up the prize as the entertainment winners, whilst there was a sharp intake of breath when Desford had to make do with fourth spot. That left things wide open, but with Redbridge being announced as third and then BT (to a delighted whoop of delight from their section of the hall) in second, there was little doubt that the winners were to come from either Ransome or Mount Charles.
In the end it was Ransome and with an amazing (and quiet surreal) celebration from their soprano player Dave Bird on the dance floor, their representative, Tanya Furness climbed the steps and took into her pretty grasp the Warwick Vase Trophy plus the fantastic cheque for £5000 from Steve Walker who had so brilliantly organised the whole event on Butlins behalf.
It was a fitting climax to a fantastic weekend for banding, and for Ransome and Graham O'Connor in particular.