2005 Butlins Mineworkers Championships - Retrospective: First Section
26-Jan-2005
Dave Tinker casts his eye back over the bands in the First Section who had the slightly more difficult task than they may have thought of mastering a bit of baallet music to claim the top prize of £1200.
---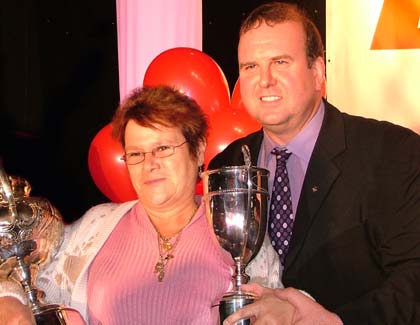 Hatfield Band: Receiving the trophy
The fourteen bands who played in the First Section certainly had their work cut out in what was no doubt a very difficult piece to play. And it has to be said that the overall standard of playing was disappointing although the bands in the prizes all gave creditable performances of Joseph Horovitz's delightful, 'Ballet for Band'.
Since the piece was written for the National Finals in 1983 it has been used sparingly at major contests, and this has been a great pity as it is a work that takes a great deal of playing, and in a style that brass bands even at the topmost level find difficult to master. This is all about lightness (it only ha a handful of fortissimo bars and just two fff bars at the end) and of a delicate touch in terms of articulation and accents, and for the most part the bands here couldn't quite capture that feeling.

The first prize went to Hatfield conducted by Graham O' Connor and playing off the number 1 draw they set the standard that in the opinion of the judges no other band was able to beat. We certainly had them in the frame, but not as winners, but its all about opinions and those in the box are the only ones that count, and on this occasion they plumbed for their strong and purposeful account that was perhaps the most consistent performance of all the bands on show.
They had a good opening with lots of detail and the music was allowed to flow with the flugel playing of Rebecca Nixon a real feature throughout. The MD showed his experience by keeping the dynamics down and the band produced a good round sound, but it lacked a little excitement at times for. We had them 3rd, but the all-important judges Barry Thompson and Allan Morrsion had them first, and that's what counted. For their efforts they picked up the top prize of £1200 and the Joe Levick Association Challenge Cup, and were a very happy bunch when they were announced as the winners at the wonderful prize giving ceremony later on Saturday night.

We spoke to the winning conductor Graham O'Connor on the Sunday where he was in the process of conducting Ransome to the Championship title, and he was certainly a delighted man that he had already got one winner under his belt. "I'm really pleased by the way in which they played," he told 4BR. "They put in a performance that knitted together right from the start with all the sections coming together to produce a really excellent show. I knew that the piece had to be consistent throughout and we worked on that aspect. The players were excellent, and although I wouldn't like to single out any single person more than anyone else, but a special mention must go to my flugel player Rebecca Nixon who was outstanding."
Meanwhile 4BR also spoke to one of the adjudicators, Barry Thompson who felt that there was much to admire in the standard of playing from the top four bands in particular. "There were a number of very good performances for us," he told 4BR. "The winners together with the three prize winners in particular were performances that really did capture what we were looking for and what was required from the score. We must congratulate them for their approach and for the standard of the solo playing which we felt was very good indeed."
Haslingden & Helmshore conducted by David Holland played off the number 2 draw and their performance was lacking in conviction for us with too many slips and uncertain entries leading to some untidy playing all round the band, whilst Gresley Old Hall directed by David Hutchinson, who followed, had a cracking opening but failed to make the most of the lyrical sense of music making in the score and the performance became too rigid and lacked the flow required to have any impact on the results.

Holme Silver (Disposables UK) conducted by William Rushworth gave what was for us was the best performance of the day. They possessed some good ensemble playing and the music had excitement and drive that benefited from some neat work from the soprano and Flugel. It was backed up by a good band sound that for us had it down as the one to beat, despite some intonation problems in the cornets at times. 4th place was the result and they can count themselves a shade unlucky on this performance. We had them as winners.
Barnsley Building Society directed by John Hopkinson gave a fair show although the playing lacked warmth at times, but it had some nice moments and 6th place was a fair return for there efforts, whilst Foss Dyke conducted by Walter Ritchie had a positive approach, but the bass duet lacked clarity and although the overall shape was good it came a bit too aggressive at times and 7th place was fair enough to us.
Bedford Town Band under Guy Bennett followed with a performance you felt had been left in the bandroom. Some poor intonation and poor ensemble let down some nice work from the flugel and soprano but, it was a performance that never quite matched its obvious intentions and 11th place was the right decision for us.
Meanwhile, Haverhill Silver conducted by Mark Ager had the best overall sounding band of the day (full bass sound and a warm middle of band from the horns, baritones and euphs) and they had plenty of detail in their performance. Just occasionally it got a bit over excited in the basses and trombones but the 2nd place was well deserved in the end and they could go home with the knowledge that they had performed very well indeed, and with an extra £800 to show for it. Not a bad weekends work in anyones book.

Old Silkstone and Norman Law followed and despite some slips they gave a good account of themselves. The flugel horn player was the best of the day and the detail was there from all around the band. It could have flowed more at times for us but although we had it down as 4th the result was 3rd place and a return to form for a band that has a lot of promise and it should be a confident band come Regionals time. The band coffers were also swelled by £500 as well, so not a bad return.
Easington Colliery was another band who despite good direction from the MD David Hirst, seemed to find the music too tough for them and it lacked conviction all through. It was a pity as the shape was clearly there, bu the execution wasn't, and although the flugel did well 14th place was their reward.
Markham and District Colliery gave a good performance under the direction of Nigel Seaman (and how nice it is to see him back in front of a brass band) with some fine flugel and soprano playing a feature. The music had style and a fine touch but some uncertain entries were costly and 5th place was a fair result. If it had been a touch more consistent then who knows?
Meanwhile, Keri Bowden and his Tylorstown Band's performance was marred by the harsh sound it produced at times at the top of the dynamic range and although there were some fine moments it lacked the clarity to challenge the top placings and 9th place was the result. Tintwistle conducted by David Shutter was another band that had some good moments but overall it lacked the quality to challenge and 10th was about right.
The last band on Pontardulais Town directed by Andrew Jones was a mixture of the good and at times not so good playing. It was well directed from the MD and at times it sounded as though it might challenge but poor intonation from horns and trombones at times spoilt what had been a most positive opening to the piece and one of the best sounding flugel players we have heard for a long old time. 8th was about right though.
Although we found the overall playing disappointing it was enjoyable to listen to such a fine piece of music. The winning conductor Graham O'Connor knows more than most what it takes to win at this level, and once more he put in the basic ingredients and mixed them together to produce a winner. As for ourselves we can only pass an opinion on what we heard. The four bands in the frame were the right ones for us, if not in the order we would have had, but what do we know eh? It was an enjoyable contest though, and you can't ask for more than that.
David Tinker