2005 Regionals: North of England - Retrospective: Third Section
1-Mar-2005
4BR looks back at Deraham Band's fine victory when they managed to pick up the story of whiskey, women and the Devil and make it into a winning combination.
---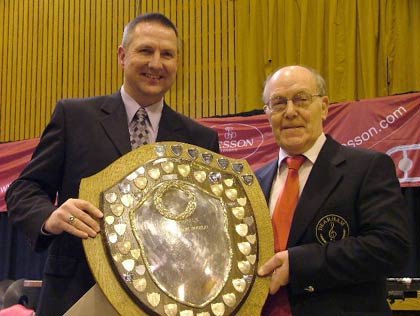 Dearham Band: Winners, third section [Alan Morrison: Left]
Just as was the case with both the Second and Fourth Sections here, the Third Section contest proved to be a very stern test for all the 10 bands that took to stage here on the Sunday morning to impress adjudicator Alan Morrison.
However, whilst there were some variances in the quality of playing of the set work 'Tam O'Shanter's Ride' from the very good to the very poor, overall it was a section that just about got to grips with Denis Wright's musical tale of the perils of a man and a whisky bottle, a horse and the Devil.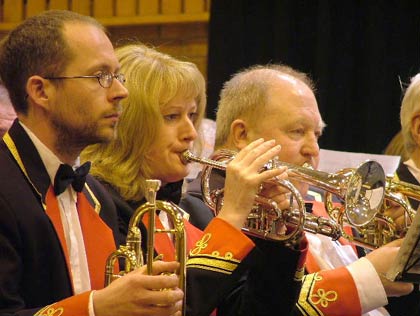 Dearham Band: Cornet section
The winners, Dearham conducted by Mark Condron were very good indeed and were clear victors with a performance of merit and more importantly, style. Mark captured the very essence of the work – from the bright and breezy introduction as Tam heads for the pub, right through to his stay in the church through to the ride for home and his nagging wife on his wonky horse with old Beelzebub trying to pull the equine nags tail off. It was a performance that the MD himself was very pleased about when we spoke to him afterwards as he sat in the hall taking the slaps of congratulation on his back from supporters and players alike.
"I felt that this was a real conductors piece," he told us. "You had to capture the essence of the story, the atmosphere and the sense of ever increasing tempo as the picture unfolded. It's a great tale about the perils of drink which is so brilliantly brought to life in the score, and we couldn't have played any better today. The players responded to the piece so well, and we enjoyed rehearsing it – perhaps we have too many in the band who know about the pitfalls of taking a couple of drinks and meddling with the Devil's business!"
Adjudicator, Alan Morrison made the lovely remark that the piece told a great story –"We've all been there haven't we chaps?" and felt that even though when it was announced it raised a few eyebrows (including his own) he also felt it was a very good choice for the bands in this section.
Alan also remarked that although not all the performances here were seamless or error free, he did feel that not one band failed to tell the story and that all brought something to and got something from it. That was true, but he also made the point that too many bands failed to master the basics ('some went out of the window' he remarked) and although there were many obvious traps apparent in the score the bands did well to avoid most of them – although some fell into different ones at different times throughout the piece.
All in all it made for a good contest, although we agree with Alan that there was very little to choose between the bands who came between 4th and 8th. The winners were clear-cut, whilst the runners up and third place were a close match. The bottom couple of bands had days perhaps they would rather forget.
Dearham were indeed good value for their win with precise observation of the dynamics, a fine balanced sound and some neat work from the soprano and bass trombone in particular. It was also the one performance that had a real sense of impending doom and increased anxiety as Tam headed for home on his equally drunken horse. It was a good show this and will set the band up full of confidence for Harrogate and the rest of the year.
Their Band Secretary was also a happy man too, as Joe Edmondson has just celebrated over 50 years with Dearham, man and boy, and felt that at present they were playing as well as at any time he had been associated with them. "We have full rehearsals, Mark is a wonderful conductor, there is a great spirit and not even the bad weather of last week could stop us", he said. "We held an open rehearsal last Friday in which over 50 people came along to listen and we stayed the night in a local hotel to ensure there were no mishaps on the way to the contest. I can only hope we show the same form at Harrogate."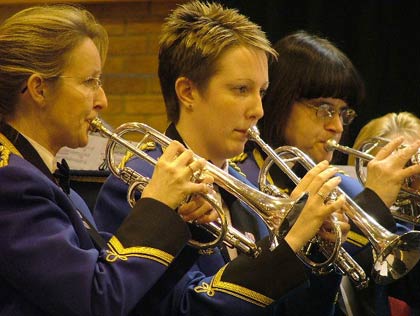 Hetton Silver: Cornet section
Runners up came Hetton Silver directed by Ken Wheatley who recovered from a indifferent start to produce a well shaped account that benefited from some excellent soprano playing and a heavy ensemble sound that was well led by the bass end. It wasn't in the same league as the winners for sure, but it was second place ahead of the rest of the field and they will be delighted with the result after not competing at the contest last year. The shriek of delight from one of their lady players sat behind us at the announcement of them coming second sounded as if someone had stuck a drawing pin in her bum! It is the best sound in the world though isn't it?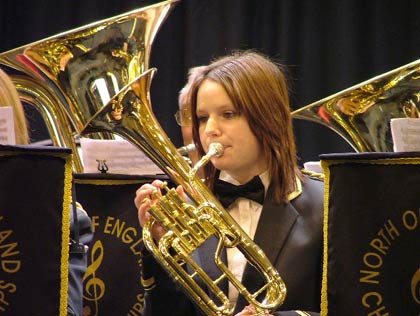 Murton Colliery: Horn player
Behind them – and only just mind you came Murton Colliery who could count themselves a little unlucky that they just missed out on a qualification place and a trip to Harrogate. On another day they may just have got the nod.
Theirs was a performance that had its moments – a good solid sop, euph and baritone section in particular (especially the baritone solo at the end), but it just didn't have enough pace in places to capture the feel of Tam fleeing away in horror – he was stumbling rather than running in places. Still a good show though and at last a climb up from a succession of three fourth places here in the past few years. Next year a qualification place?
Then came the difficult group of bands who nearly mastered the piece, but at the same time nearly all fell foul of it as well.
We couldn't really disagree with Alan's final placings, although we felt Ripon were a little unlucky to come 5th as they put in the least error free account of the four bands who filled up these spots in the prize list.
Ferryhill Town were placed fourth by Alan under the direction of the only female conductor of the weekend Sue Norris. It was a little hit and miss in places in some of the individual lines, but the overall band sound was compact and balanced whilst the interpretation was just a tad conservative from the MD as it just lacked a bit of pace in places. Not a bad one though.
Ripon for us were a little unlucky. We liked the approach from the MD Lee Whitworth and they showed that on their debut here in the Third Section that they were not out of place in terms of technique and band sound. It did get a bit harsh and hard towards the end, but for us it was one of the most atmospheric performances of the day – full of just enough Scottish inebriation.
Sixth place went to Carlise St. Stephens under David Dye, and this too was another performance that was a bit hit or miss in the individual lines. It didn't start too well (a number of bands failed to feel the rhythms in the opening bars) but it got better as it went along. Tiredness and a bit of scratchy playing in the end robbed them of a few points, but overall it was another decent effort.
That left Billingham and Vaughan Evans to claim seventh place with a performance that featured some very nice solo cornet playing indeed off the number 1 draw. It just got a bit messy in places and the last third of the piece did hang together very well, but again, not a bad effort on a difficult set work.
That meant a bottom three places for Stape Silver in eighth, Swinton in ninth and Kirkby Lonsdale in tenth. All had their moments, but all three didn't quite meet the demands of the work both technically or musically.
Stape Silver seemed to be a band full of women (so perhaps they didn't know too much about the perils of drink) and if it wasn't for the nerves (and the lack of a bass trom player) they could have come higher up the prize list. In the end though it was the fact that there were far too many errors in both the individual and ensemble playing that cost them. The use of a few well placed yellow dusters helped the cornets in places, whilst they also had a cracking young lady on flugel horn who seemed to be about 10 years of age and played with the confidence and tone of a 25 year old! The smiles and congratulations from her fellow players after she had played a stormer said a great deal about her excellent contribution to an overall performance that just didn't click on the day.
The same could also be said of Swinton and District Excelsior in ninth place conducted by Robin Rutter . Not a great show, let down by too many nasty little errors, but one that had the makings of a decent account if only they could have conquered the nerves. Not on this occasion though and ninth was a fair return.
Finally, Kirkby Lonsdale under Alan Greenwood who struggled with the piece right from the start, but to be fair gave it a good lick nonetheless. It wasn't pretty and it wasn't particularly effective, but it was brave and committed and had a fine solo cornet player – solid and error free. Someone has to come last and on this occasion it was them – although they could not have too much to complain about.
Dearham and Mark Condron though will head for Harrogate as one of the favourites if they can reproduce the type of form they showed here. It is hoped that perhaps they will be looking to play a piece that takes its inspiration from the demon drink – although not something as hard as 'Masquerade' perhaps. Still we are sure they celebrated in good old Tam O'Shanter style on Sunday night. Let us hope they didn't get into trouble with either the Devil or their wives and husbands!
Iwan Fox and Malcolm Wood.