2005 NABBA Championships - Stephen Roberts: Multi-tasking adjudication
18-Mar-2005
Our man at the contest, Stephen Roberts, takes us through the process of adjucdication, NABBA style. Stephen adjudicated two sections at the contest.
---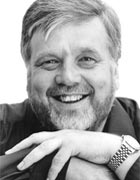 They say that men cannot multi-task. In that case only women should be allowed to adjudicate the North American Brass Band Association Championships, held this year in snow-covered St. Charles, near Chicago.

Firstly you must learn to use a multi-function CD recorder to record your running commentary of each band's performance. Band is recorded on left channel; adjudicator on right channel. Power on. Standby on. Insert blank CD. Choose record mode. Press enter. Choose auto limiter. Phantom power on. Introduce yourself and state band programme. Test piece (Harrison's Dream for Championship section) followed by own choice.
As soon as the band starts you must speak your commentary. Large gaps are forbidden. Too much talking is also not allowed. All comments must be qualified with suggestions for improvement. If something is out of tune you must state how, who, when and, "Try open, instead of one and two".
Points must be given out of twenty for TONE QUALITY, BALANCE AND BLEND; INTONATION; TECHNIQUE and INTERPRETATION, making a possible total of one hundred. In addition the judge must provide GENERAL COMMENTS AND SUGGESTIONS with a written summary of each performance.
All of this has to be done 'blind' so that the band cannot be seen, and each judge is forbidden to confer with the other two. As soon as a band's performance is finished the judge has to finish writing the CD, handwrite his comments and drop everything in the envelope, which is then whisked away. No referring to previous performances is allowed.
The judges' totals are added up by another official, who then applies a ratio of 60% to the set test piece and 40% to the own choice.
That was the NABBA 2005 mission which Stephen Bulla, Kevin Norbury, and myself had chosen to accept for the Championship and Challenge Sections, whilst Brian Burditt, William Himes and Ken Moore took on the Honors and Youth sections.
In the end the Championship section was won by 0.6 of a point with the Brass Band of Central Florida (Michael Garasi) pipping last year's champions, the Chicago Brass Band (Colin Holman), to the post. It doesn't come much closer than that. Third place went to Atlantic Brass Band (Salvatore Scarpa).
> See full results
http://www.4barsrest.com/news/detail.asp?year=2005&id=430
What was interesting about the method of adjudication is just how evenly the marks of each judge tallied with each other. There was no wild card and it has to be said that the system cannot be argued with. Each band then gets a copy of the three CDs and can hear verbatim what every adjudicator was thinking and when.
At least you know where you stand and it is also a valuable learning resource. It also prevents any one adjudicator having a private agenda. It's tough work and it's 'men multi-tasking', but it's been well thought out by outgoing contest Controller John deSalme and Ron Holz, Associate Controller. Of course it's not all just blokes, since Anita Cocker Hunt is President and calls the shots and can multi–task without any problem.
There is a good atmosphere at the NABBA contest. There is rivalry, of course, but everyone is friendly and enjoys each others' company. It was fascinating to compare American bands with our British counterparts and it has to be said that the standard is improving apace.
I heard the Illinois Band whilst adjudicating at the 2003 Open and they acquitted themselves well, but struggled to get high up in the placings. Similarly I know that the youthful conductor and players of the winning band from Florida will not mind if I say that they might still struggle to get high up our own rankings.
But the fact remains that the overall standard was much higher than I expected and that is something to be celebrated. What tended to let the bands down was the number of slips in the solos.
In the lower sections there did not seem to be enough variety of articulation, especially in staccato. But perhaps the most notable weakness was the lack of a real pianissimo from any band. In the USA meal portions are big and I guess that goes with dynamics!
As to the slips in the solos, that could be expected when playing Harrison's Dream, followed by Kenneth Downie's St. Magnus. A sadist wouldn't let a masochist do it! Other treats included Contest Music, Year of the Dragon, Paganini Variations, Odyssey, Firestorm, Resurgam and plenty of other fine pieces.
It was indeed a pleasure to listen to such variety, which is a result of the addition of an own choice piece. Naturally this would be impossible at the British contests, unless it was spread over two days.
Hmm, there's a thought. Two days of multi-tasking.
Stephen Roberts
To find out moer about Stephen and his music, go to:
http://www.tanglewindmusic.com
---
4BR comment:
Interesting eh? To follow up this article form Stephen, 4barsrest has engaged Dallas Niermeyer, a veteran of US style adjuducation to write a series of articles on the history of music adjudication in North America. The first article will appear on the site shortly.
What do you think?
Send an email to: