2005 Regionals: Yorkshire - Retrospective: Championship Section
11-Mar-2005
4BR looks back at a breathtaking contest which saw Grimethorpe triumphant for the first time since 1996 and Richard Evans claim his first ever Yorkshire title.
---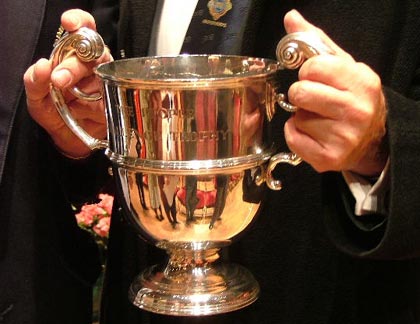 Hands on the cup: Richard Evans
Given the tremendous amount of debate the question of the Wagner turns had created prior to this contest at St. George's Hall in Bradford, many of those wishing to know what all the fuss was about should have had a quick glance at the glossy brochure produced by the hall itself to advertise it's forthcoming 139th Orchestral Concert Season.
Guess what is first up on the Friday 1st October? None other than the Halle Orchestra conducted by Mark Elder playing the Overture to the Opera 'Rienzi' - that's what.
It may be of interest to hear whether or not the turns here are played in an inverted or conventional manner for sure, but it will also be of greater interest to hear whether or not the orchestra can whip up the amount of at times, frenzied applause, shouting and cheering that greeted the vast majority of performances played here by the 14 best bands in Yorkshire.
The standard of playing in the Championship Section covered everything from the good to the quite outstanding, although it would be musically myopic, as one of the adjudicator's, David Horsfield possibly implied, to suggest that was because the 14 bands here were all simply fantastic bands on the top of their form.
The reason why the standard was so high was simply because the test piece wasn't a good enough arrangement of an orchestral overture to stretch the best bands here either musically or technically. The result was 14 performances of varying degrees of excellence, which in its way was great, but in it's way was totally the wrong thing that is required at this level.
Take for instance the performance of Pennine Brass who were drawn number 1 on the day and produced a very clean, above average performance that had very little wrong with it, and met just about all the musical and technical obstacles that the music presented. The result – 11th place.
Meanwhile, Rothwell Temperance performed very much a carbon copy in terms of approach and interpretation: Their result – 7th place.
The difference between them both was minuscule, as neither really put too much of a foot wrong, yet one band just missed out on a top six place whilst the other now faces the real prospect of being relegated to the First Section. The adjudicator's had to make a number of these very difficult choices at this contest, because the piece itself didn't give enough scope to allow the very best bands to show off their undoubted class in either individual or ensemble terms, and in reality you couldn't really disagree with their finals placings – on any other day Rothwell and Pennine could have easily and justifiably changed positions. The playing was first rate - the piece was fourth division stuff.
Many of the MDs knew this as well, and as a result some of the interpretations bordered on the extreme in places as they tried to make an impression where no impression could be made. Huge rallentando's, pull backs, tempo variances, the use of up to 6 percussionists, cornets playing the horn part with dusters over their bells and none too subtle use of 8va basses at the beginning all appeared with at times monotonous regularity as the men in the middle tried in vain to just capture the judges ears with something a bit different.
It was a bit like those accountant guys in offices who all wear the same grey suits and sensible shoes, but allow themselves to wear wacky ties with Donald Duck or Bart Simpson on to try and tell the outside world that underneath all the drabness and colourless exterior there beats the heart of a rebel with a cause. No it doesn't – it just means that you are still a boring accountant with an even more boring sense of humour.
That is what this brass band version of 'Rienzi' became here, and that is why it resulted in the likes of Pennine coming 11th and Rothwell coming 7th. It became the equivalent of judging who had the best tie in the accountants department because just about everything else that was on show couldn't be changed.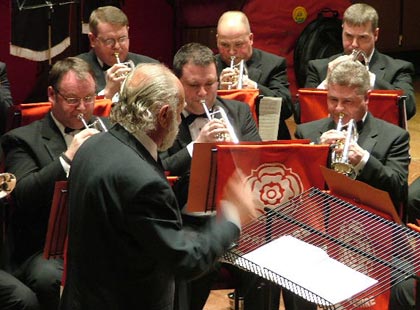 Grimethorpe Colliery (UK Coal)

In the end though it was Grimethorpe Colliery (UK Coal) who showed that when it comes to a bit of rip roaring brass band playing there is no one better.
Their performance off the number 13 draw was a ripper indeed. Full of real old-fashioned brass band virtues of balance, and style, ensemble precision and individual brilliance, it was the one performance that also benefited from a real old brass band interpretation as well from Richard Evans.
Here is a man who has seen it, played it, conducted it and even cracked a joke at it all over the years, but the one thing you cannot dispute at all has been his talent as a brass band conductor. Here he was in full classic Richard Evans flow – precise and elegant baton work, and with an unique sense of musicianship and understanding to what he had in front of him, both as a piece of music and as a band.
You know when thing are going well with Dicky when he starts to move about on the stage both backwards and forwards as well as side to side – immersing himself in the music as well as immersing the players and the audience in the physicality of his conducting. Here he was moving like a Welsh Fly-half and the charisma just oozed out, whilst Grimey ratcheted the form up with each successive bar of the piece.
By the end it was breathtaking stuff – the cornets in full flow, (Kevin Crockford on the form of his life at the moment to win the Eddie Noble solo prize) the troms giving a classic edge to the chording and the basses producing a foundation hewn out of Yorkshire limestone.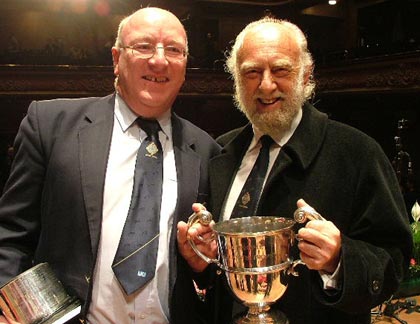 Grimethorpe Colliery (UK Coal): Terry Webster & Richard Evans

This was a performance that just about had everything, and was a reminder that Grimey are still, despite their travels and entertainment tours, one heck of a contesting band when they put their collective minds to it. It was a pure brass band bit of playing of the very highest class directed by a brass band conductor of the very highest class, and their victory was greeted by almost universal agreement in a St. George's Hall that was over two thirds full throughout the evening.
Richard was of course his usual self when he spoke to 4BR after the announcement of the results and when he had got his hands on his first ever Yorkshire Regional Championship trophy. "I feel fantastic," he told us. "This is a brilliant band, and it is a real honour to conduct them. When they play like this, there is no better band to be in front of, and this is one of the very best moments in my long career."
Asked what he felt was the secret to helping Grimethorpe to their first Yorkshire title since 1996, he was his usual forthright self: "This is a very complex bunch of guys to work with. All of them are brilliant musicians who have the very highest standards that they want to meet for themselves. Bringing that together on a test piece contest stage can sometimes be difficult, but on this occasion they knew that they couldn't be beaten and they produced one of the most memorable performances I have ever been involved in."
Band Manager Terry Webster was equally forthright and delighted with the win as he grasped the People Challenge Cup. "This is a great result for the band, and a great deal of the credit must go the Richard. He worked us so hard and in a way the band liked. We knew we could play well on this piece, and with Richard directing, it all came together just as we hoped it would."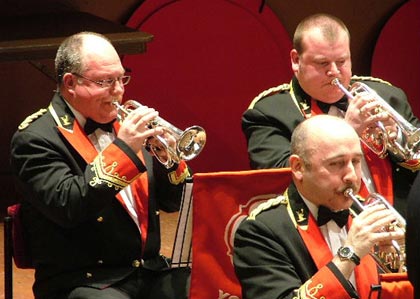 Black Dyke: Cornet section
Whereas there was absolute delight in the Grimethorpe camp, there must have been a sense of depression in Queensbury, as Black Dyke were pipped to the winning post at the start of their 150th year.
Theirs was a performance of almost aristocratic brilliance, with a broad orchestral feel that was perhaps the most complete interpretation of the day. That it didn't quite win it was down to personal preference perhaps. David Horsfield told 4BR afterwards that he felt the two top performances were quite exceptional: "They made me proud to be a Yorkshireman," he said.
It was though, Grimethorpe's more traditional approach that just tipped the result in their favour. "There was very little to choose between the best performances here", he continued. "We approached each with a clean slate and no preconceptions about what we liked and what we didn't. It came down to whom we though produced the best overall performance, and that is what Grimethorpe gave us today."
That was it from the judges point of view, although many (4BR included) felt that the immense amount of detail and cleanliness to Dyke's performance perhaps gave them the edge.
Right from the first beautifully centred and produced middle C from Roger Webster it was a performance that reeked of class. A couple of minor blips were all that distracted from an almost flawless account that benefited from a wonderfully fluent reading from the MD and some magical musical nuances (added parts to the chord structures in places on some exposed parts, and extra use of dynamic variance). Perhaps the draw was the only thing that was a minor handicap, (off number 4 in a 14 band field) as there was little else that we could find fault with.
The question of the turns was also a non starter as well, as Nicholas Childs decided to play them in the inverted fashion rather than the conventional fashion that they used on the CD release of the piece. "It was no big deal," he told us. "For contest purposes it just made sense – it was a simple as that."
Dyke will be deeply disappointed for sure, but they were beaten by a simply inspired Grimethorpe, whilst, Nicholas Childs offered his congratulations to Richard Evans on their win. "It was a fantastic performance from Grimethorpe, and one which I felt would surely be right at the top come the results. Congratulations to them. I felt we (Black Dyke) couldn't have played any better ourselves and I was immensely proud of the way in which we performed, but it wasn't to be. That's contesting."
Joining the top two in London were YBS (already there) and Brighouse and Rastrick, both of whom gave the most interesting interpretations of the piece you are very likely to hear on a brass band contest platform.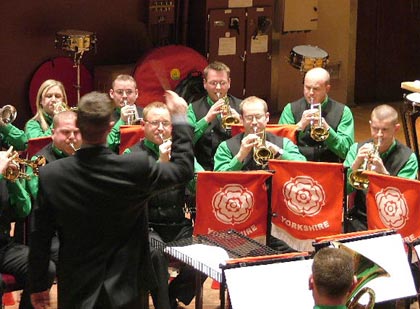 YBS Band with David King
YBS were perhaps a bit fortunate to gain third place (we had them 5th) after a performance that started a little weakly but then grew with stature thereafter. Much was expected of them, and for the most part David King and his players delivered, but it had a number of uncharacteristic moments of untunefulness and individual errors, whilst the MD indulged himself a little in places (a huge rallentando just before the end was almost eye popping) and which according to one of the judges may have cost them a top two place.
Nick Walkley made a promising debut on soprano, but it was slightly odd to hear the top cornets of the band having to adjust their timbre and volume levels to compensate for the partial lack of vibrancy that Peter Roberts used to give their performances.
It was also odd to report that at the beginning of the piece there seemed to be a selected amount of coughing from certain sections in the stalls that elicited the MD having to turn mid stream to give a warning glance over his shoulder to the hall. It didn't disturb the band untoward, but it did seem that there was more than a hint of deliberateness about it all, which was a great pity.
Brighouse picked up the last qualification place on offer with a performance that was individual to say the least. Alan Morrison was on fantastic form for sure, and picked up the prize as 'Best Soloist' but he did play his turns in a conventional fashion in his small solo feature, when the band didn't. Meanwhile, Alan Hobbins on soprano had an attack of 'minim blindness' that got worse as the piece developed. Brilliant player as he is, this started to grate even though every top C was a corker all right.
Similarly, MD James Gourlay decided on a breathtaking tempo after the initial quiet start, where the first 8va bass entry was poor, that was a real crackerjack. It made for moments of scrappiness, but it was immensely exciting (the 6 percussionists certainly helped) and he and the band kept it up right to the very last note. It was different and brave all right and was rewarded with fourth place from the judges who felt that the excitement and bold approach was really appealing. You couldn't really disagree.
The final two places in the top six were taken by Hepworth Persimmon Homes and Sellers International, both of whom gave performances that perhaps in any other area would either have won or certainly have gained a qualification place.
Hepworth are the form band in the country at the moment and off the number 10 draw they produced a wonderful account. It just had a few moments of uncertainty during the horn and flugel feature at the start, but thereafter it was a ripper. Great precision in the cornets (the use of two sopranos worked, but wasn't really necessary) whilst the euphonium and baritone work was of the highest order. Mark Bentham let the music flow and by the end it was a performance that many in the hall had in the top four. We had them 6th, but the standard of the playing was excellent and they were only beaten by performances that possibly just had that extra depth of sound. A band to watch out for come the Masters and the Grand Shield though for sure.
Sellers meanwhile also enhanced their growing reputation with a performance that got better and better as it went along. It was the beginning once more that just possibly robbed them of a qualification place as they sounded a little uncertain to start with an odd timbre to the first soprano entry and the 8va bass part not speaking clearly. Raf van Looverean was excellent on the end chair, and thereafter it was real quality playing, despite one of the Eb tubas having trouble with his valve and the tempo just racing ahead too far at the very end.
It was also interesting to hear the MDs take on the turns, which were played literally on the beat of the lead note. However, unlike nearly everyone else's performances, which had variances in the individual approach to the ensemble when playing them, each time a turn came up, it was played exactly the same – it may have not been to everyone's taste, but it was certainly consistent.
Most people we spoke to had these bands in the top six: We had a prize list of Black Dyke, Grimethorpe, Brighouse, Sellers, YBS and Hepworth, whilst others had Grimey ahead and with Hepworth slightly higher. It was personal preference of course, but overall these were the six bands that stood out from the rest.
After the top six, things got a bit more difficult to separate out, as the bands that came 7th to 11th all gave performances of merit that had very little wrong both musically or technically. Some opted for a faster tempo than others, whilst some MDs pulled the music about a bit more than others on the day.
David Horsfield and Nigel Boddice had a very difficult task of separating these bands out, and whilst some may feel a little hard done by, it would be churlish in the extreme to criticise their final placings on this occasion, as it was just about impossible to separate the bands out. Personal preference once more.
For the record we opted for Carlton Main in 7th, followed by Pennine, Rothwell, Stocksbridge, Lindley, Skelmanthorpe, Hade Edge and United Co-op Yorkshire.
Rothwell had a very nervous start that rocked quite a bit before they upped their form in the quicker sections to produce a fine warm sound and produce a very clear and clean final two thirds of the piece. It was a bit non descript interpretation wise, but this was perhaps a plus rather than a minus point for the adjudicators who may have become a bit weary of hearing misplaced ralls and rits where none were marked. Rothwell continue to produce the goods and are a very good band in the making.
Meanwhile, Carlton Main produced a finely structured account under Brian Grant (minus score), which we had for 7th place, but the judges had one place lower in 8th. No real complaints we don't think with that, but further confirmation that this band is now developing very well indeed and under Brian they gave perhaps the most controlled performance in terms of style and dynamics, with the exception of the top two in the results. There is more to come from Carlton Main on this form during 2005 for sure, and with players such as Kirsty Abbotts and the excellent Claire Taylor on soprano, the future is looking rosy for them.
William Rushworth also produced a fine account from Stocksbridge to gain 9th place, which was noticeable for the way in which they recovered from a very nervous sounding opening to produce the most robust account of the day. It was a bit red blooded in places for sure, but strangely, as they only fielded two percussionists where other had up to six, it was the full band sound that dominated, rather, as was the case with some performances, the percussion.
Lindley will surely be pleased with their efforts here this year as well. Playing last band on, and following Grimethorpe's cracker, they produced a well thought out account to an almost deserted hall that featured some excellent middle of the band work and a cornet section that had lips of iron right through to the end. Not one to stick in the memory for sure, but one that more than justified its final position.
Pennine and Ian Porthouse can count themselves unlucky to have come 11th and face possible relegation to the First Section for their fine efforts. Playing off number 1 is never easy, especially in a field of 14, and we think in many ways their performance was the one that may have been forgotten by the men in the box. It was an excellent performance, right from the word go when JJ Lees produced a lovely opening middle C. The use of an extra cornet to double the horn and flugel feature at rehearsal letter A (the same as Black Dyke and others did on the day) was perhaps too noticeable, whilst the bass end was light in comparison to others, but it was one of the cleanest and most precise accounts of the contest and we felt deserved something higher. If they are relegated, then they can count themselves more than a little hard done by.
The last three bands, Skelmanthorpe, Hade Edge and Yorkshire Co-op all put in performances of merit on the day, but there was a noticeable difference in class between all three of these shows and those who came further up the prize list.
Skelmanthorpe perhaps shot themselves in the foot right at the beginning when the MD, John Hinckley and his Principal Cornet seemed to lack a connection. With the top man standing at the back of the hall and behind the band, he opened with a fine middle C that promised much. However, even though there is a pause marked on the score before the next entry, this one was far too long and seemed to result from the player waiting for the MD to bring him in again. Not once but three times this happened, and as a consequence the opening was completely disjointed and lacked any real sense of flow and meaning.
It recovered, but with an over enthusiastic percussion section the good work that followed was spoilt. 12th place was about right, but it could have been so much better if the start had been played in a more conventional manner.
Hade Edge had the difficult task of playing off the dreaded number 2 draw slot, and although they tried hard, they did sound a band slightly out of its class in too many places compared to what followed. The MD made the brave choice of conducting without a score (although the talented Mr Wood always does), and the equally brave choice of wearing a brown suite (which we feel he should not possible do again). As always though, his stick work was exemplary and there was much to admire in his bands performance especially when you consider what they were up against on the day. Next year they will be back stronger for the experience.
Finally, Yorkshire Co-op under John Roberts, who gave as good as they could and won many an admirer for their efforts on the way. It didn't have the precision or class that was displayed by others on the day, but they did have an authentic Championship Section sound and some fine individuals who played as well as any. Against this class of field though it was always going to be difficult to make a real impression, and 14th place was a fair return.
That rounded off a very fine contest indeed. The judges were more than complimentary about what they had heard – although to be honest, just the one meaningful comment about 'several defining moments in the score' was perhaps not giving much away. Nigel Boddice did however remark that what they had heard today was certainly a challenge for them as adjudicators, which was a thoughtful and intelligent response, although saying it was the 'greatest contest I have judges at' was perhaps pushing the goodwill a bit far.
Their decision was greeted well by the audience, right from the announcement of the band that came 6th, so both men can take plaudits for their efforts. As can Peggy Tomlinson and her staff who run a very tight ship on this one, and who was the model of professionalism herself when she announced Grimethorpe as the winners. Peggy is a committee member of the band, but you wouldn't have guessed it. Only when she gave Terry Webster and Richard Evans a huge hug and a kiss did she show how really pleased she was.
A great lady, a great organiser, a great band and conductor and a great contest. What more can you ask for.
Iwan Fox