2205 Regionals: Yorkshire - Retrospective: First Section
11-Mar-2005
4BR looks back at the First Section, where we thought Yorkshire Imps had just done enough to win, but Hatfield caught the judges ears and retained their title.
---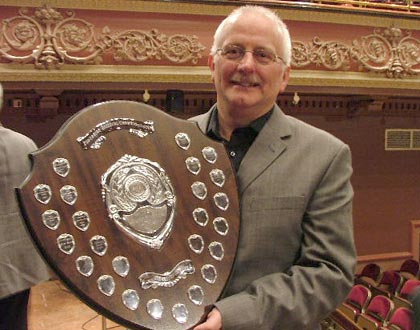 Hatfied MD Graham O'Connor
You couldn't really disagree with adjudicator Malcolm Brownbill when he commented at the end of the First Section here that: "…there were 2 or 3 performances here that would not have been out of place in the top section here."
No, you couldn't disagree with him at all. And you couldn't disagree with him when he went on further to say: "The first two bands were very good indeed, whilst the third placed band was really good." You couldn't fault him either when he gave a most thoughtful and comprehensive analysis of the set work, "Comedy" that pin pointed every little area of concern and importance throughout the score, from the mystery of the first page right to the impish (there's a word you don't hear every day) baritone part, and refined tranquilo. It was an excellent précis of what both he and Geoffrey Whitham had been looking out for and it was just what bandsmen and conductors alike want to hear.
No, you couldn't disagree at all.
Why then, didn't Yorkshire Imperial Urquhart Travel under the direction of Chris Holding therefore win?
For all that Malcolm said it would have seemed Yorkshire Imps did in spades, with a performance that was quite rightly described as of Championship Section standard. It had the mystery; it had the tranquillity, the balance, the flow and the reserve when required. It even had the impishness of a very fine bit of baritone playing.
In fact, it was difficult to find fault with a superbly structured and executed performance, yet it didn't quite appeal to both Malcolm and Geoffrey as the offering put up by Hatfield Main conducted by Graham O'Connor did.
As we said in our review of the Championship Section, personal preference is the one hidden ingredient in any brass band contest, and on this occasion it was the judge's preference for a very fine Hatfield performance that gave them the victory and saw them retain their Yorkshire First Section title for a second successive year. There wasn't much to choose between them for sure, but Yorkshire Imps had that bit of class about them, that extra bit of quality of sound and in the individual lines that stood them out. Hatfield were very good, but the Imps were for us (and many others in the hall) were a class above them on the day.
Still, it wouldn't be a brass band contest without a kittle hint of an upset (and it was only a little hint) and even though we disagreed with the final top two placings, the rest of the prize list was just about spot on from the two experienced men in the tent.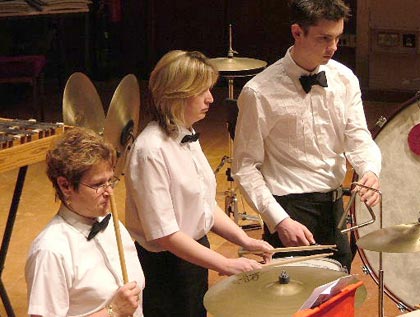 Hatfield Main: Percussion section
Hatfield will of course not be too worried that 4BR didn't think they won – it was what the two men in the box thought that counted, and as always it was a pleasure to speak to the winning MD after the results when he raced up the steps to take hold of the "Music for Brass Shield" for yet another year.
"This is a great bunch of people, and I love conducting them," he told us. "We have full rehearsals, they work their socks off, they are prepared to listen and learn, and they have a hunger to improve. The average age of the band is young, with the entire back row around 16 years of age. I'm delighted we have won, and I think we are now ready to make the move up to the Championship Section. Last year I felt we were not ready, and it would have been the wrong move for the band confidence wise, but this year they have deserved it, and I am looking forward to taking them to Harrogate where I think we have a real chance of success after coming 5th last year."
Meanwhile Contest Secretary, Margaret Curran was also a delighted lady as she relinquished her grasp on the Shield to give to the MD. "We just gel together with Graham," she said. "He brings so much experience and humour to the band that it is a real pleasure to come to rehearsals. We are all delighted to have won and go back to Harrogate to see if we can win the National title itself."
Theirs was indeed a performance that had all the Graham O'Connor hallmarks over it. All the basics were in place, the approach was thorough and detailed and the reading was straightforward and confident. His players certainly didn't let him down and they responded with a performance that had a great deal of merit and was worthy of a qualification place at least. It didn't quite have the classy sheen that Yorkshire Imps had, but nonetheless it was a quality show from a quality MD and band.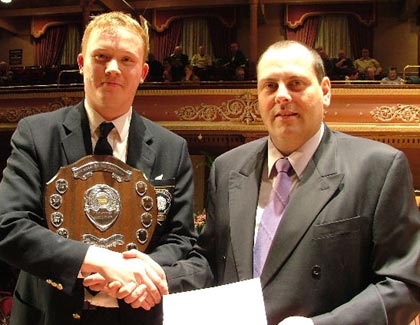 Yorkshire Imperial Urquhart Travel: 2nd place
Yorkshire Imperial Urquhart Travel can count themselves unlucky not to have won though. Chris Houlding shaped a wonderfully musical performance from his charges which also benefited from some outstanding individual contributions from his players – most notably Leon Renilson on top man who not only won the award as best instrumentalist on the day, but also showed himself to be a cornet player of the highest class.
As we have said, it was for us the one performance that had the class about it, (the use of well played clash cymbals added extra colour) although we were a little disturbed to hear the MD singing along with a percussive voice almost from the word go. We don't know if the men in the box heard it, but it was noticeable from where we sat. It didn't put off his players, but perhaps one or two on the front row cornets may have had an eyeful of spit now and again! Still, for us, it should have won, but on this evidence the Imps are back on top class form.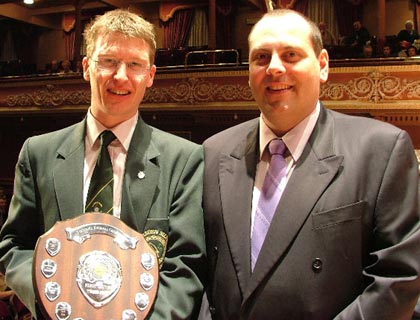 Marsden Silver: 3rd place
Third place was taken by Marsden Silver conducted in superb fashion by Glyn Williams, the principal euphonium player of the British Open Champions, the Fodens Richardson Band. Everyone knows of this man's abilities as a player, but when someone as knowledgeable as Alan Jenkins of the BBW magazine says that his was a conducting technique and musical approach that had the hallmarks of the highest class then you better keep your eye on the Welshman.
You couldn't disagree either, as his elegant baton work, and his clever intuitive approach to the music really did stand him out from the rest. His band responded in fine fashion also, with just little errors and mistakes in the ensemble robbing them of a couple of points which may well have seen them take a well deserved qualification place. It was an excellent performance, enhanced by an excellent MD in the making - although we hope he dispatches the chewing gum into touch in the coming years!
After the top three it did become a bit of a contest for the minor places between the bands who appeared to make the least number of mistakes on a test piece that certainly stretched the bands here to the full. Some fell below the standard expected whilst others put in performances that were a combination of the very good, allied to the quite poor.
The number of bands who were unable to keep in tune throughout the piece was a real disappointment though, as was the number of MDs who approached the work with an overwrought sense of aggression. Brass bands at this level have perhaps forgotten how to approach a light work such as this, and too many of the performances here relied on a heavy over accentuated approach when none was apparent in the score.
This wasn't the case with Old Silkstone conducted without music by Norman Law, but unlike the bands who came above them, their error count was high from the word go and it just robbed them of points. Their formation also may have counted against them as well, as their sound tended to be a bit unbalanced as their seating arrangement featured a second euphonium playing where usually a second horn sat. Interesting idea, but one that didn't quite come off.
Meanwhile the Yorkshire Building Society Concert band very nearly gave a performance that could have forced its way in the prizes, but just fell away at the end with annoying little blips and blobs becoming ever more apparent. Rob Gill, the former top man at the ISB was superb in the demanding cornet solos (especially the first), but the band just lacked the stamina it seemed to keep up that lead their top man started, to the end.
There was also a dodgy moment for the MD as well, when half way through the piece he appeared to look as if he was having a heart attack – although thankfully it transpired that either his braces were too tight or his metronome was caught in his jacket pocket. Phew!
The final top six place went to Drighlington, conducted by Phil Shaw, and they too had their moments of classy playing which again were let down by too many little errors. Their excellent percussion team were the best of the day, whilst the approach to the music by the MD was so well shaped. Errors though were aplenty and by the end they cost them too many points.
After that it was a mish mash of performances that were good, not so good, and not quite up to it, and we don't think many of the bands will have too many complaints to where they came in the final prize list.
Stannington under Robin Morgan had their moments, but a loud and at times rough sounding bass end we think cost them valuable points at the start. They recovered somewhat as the piece went along but it never quite captured the essence of the musical picture of a misty London morn, whilst the third percussionist was perhaps the most thoughtful triangle player we have ever seen – sat down and with chin in hand like Rodin's 'Thinker' from the word go.
The same also for Barnsley Building Society, conducted by Colin Hardy compete with two batons (the one kept in his score in case of emergencies). This again had its moments of real class, but just when you thought it would develop, it lost its way in the London fog and ended on a slightly disappointing note.
Holme meanwhile were perhaps a bit unlucky for us, as William Rushworth delivered a strong and committed performance from the number 1 slot that impressed many in the hall. Perhaps it was a bit overcooked in places and it was a little aggressive to end, but it had it moments, and 9th was a few places too low for us.
That left a bottom four of Kippax, Knottingley, Wakefield Metropolitan and Chapletown Silver, and none could really complain that they ended up in the bottom quarter of the results table.
Kippax were conducted in fluent style by Jim Davies, and the former Brighouse top man certainly gave the piece time and space to develop. However, the nerves were certainly on display from the word go, so by the time they started to make a mark with some quality playing, a great deal had been lost. On another day they may have done better but here they lacked a fair bit of confidence.
Knottingley were very much the same, and although Kevin Belcher tried hard to draw music from the score with some neat touches, it was a bland and rather featureless performance that lacked dynamic variance most of all. We have certainly heard them play better than this, so perhaps it was just a bad day at the office.
Wakefield could say very much the same thing, with a performance under Russell Gray (not the Scotsman), which never quite captured the essence of the music and was bedevilled by errors and slips. 12th was a fair return
Finally, Chapletown Silver conducted by Derek Renshaw who to be fair gave the music a fine feel and sense of shape but didn't have the band in front of him to execute it in the same fashion. 13th was about right.
Malcolm Brownbill was indeed right about what he had heard here in the First Section – there were two or three performances that wouldn't have been out of place in the Championships Section, but he possibly could have said that there were a good group here that were strictly middle of the road first section performances as well, with a couple not quite up to scratch.
In the end though, both he and Geoffrey made their decision and it was to go for Hatfield rather than Yorkshire Imps. Theirs was the one counted, and even though we may have disagreed, it was only a matter of preference we were arguing about, and not competence.
Iwan Fox