2005 Regionals: North West - Retrospective: First Section
20-Mar-2005
Our man Dave Tinker looks back at the First Section where the Freckleton Band under Paul Dalton took the top prize and claimed a trip to Harrogate later in the year.
---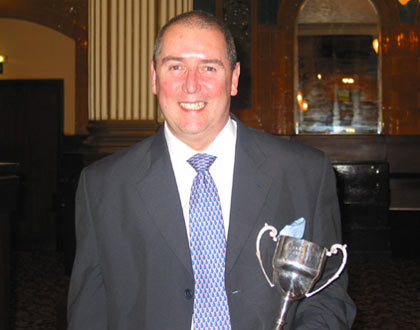 Freckleton Band: Winners
Blackpool is famous for its "Fun House" amongst other things, so John Ireland's test piece "Comedy" might have seemed to have been the ideal choice of music to test the First Section bands here.
The music describes life in London in the 1930's, and is very much a period piece. The calls of the bus conductor would possibly be replaced by the shouts of someone with "road rage" if it were written to paint the picture of the modern capital today, but it still retains enough about it to test quality bands to the full.
It is today a true First Section test piece (unlike a couple of the others on show, which certainly were not appropriate for their Sections), and it certainly tested the bands here to the full – and beyond on quite a few occasions.
Speaking to 4BR after the results John Berryman said the standard of playing had been good and the first two positions had given him plenty of food for thought as they were both fine bands. The winners (Freckleton) just gave the more steady performance in terms of tempo and clarity and musical nuance though, whilst both bands deserved to go to the Finals in Harrogate he added, and thought they both would prove to be strong contenders as well. Given that he himself knew about the intricacies of the piece both as a player and more latterly as a conductor, it was a very fair and generous assessment of two notable efforts.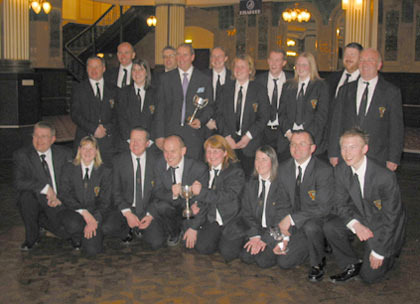 Freckleton Band: Winners

Speaking to a delighted winning MD of Freckleton, Paul Dalton told 4BR that his band had responded to all he had asked, and had tried to create the atmosphere of London in the 1930s (although the MD wouldn't have had first hand experience of the pre war period surely – he looked far too young!)
There were real glimpses of lightness in the playing and following on from the bands excellent 4th place at the Scottish Open, it was also a performance that was chock full of confidence – right from the excellent playing of the euphonium and cornet cadenzas to the broad feel of the tranquil repose and the fine bit of baritone interplay towards the end of the piece.
There was no doubt that Freckleton deserved to win, and their result was greeted with almost universal nods of agreement from the neutrals in the hall as there was so much detail in their playing which had a warmth of tone and that real mystical feel about it in the difficult opening few bars. It was a good one all right.
In second place came Ashton Under Lyne conducted by Phil Chalk, who once more showed that under this talented conductor they are certainly a band on the up, as they gave the eventual winners a real run for their money. Excellent soloists, some fine robust ensemble sounds, and a nice shape to the overall musical picture ensured they gained the all important second qualification place. They just had hints of overblowing in places, and didn't have the sheen of quality that the winners certainly had, but nonetheless it was an impressive account, and well worth the runners up spot and the trip to the Finals.
In third and fourth places were Blackburn and Darwen conducted by a very impressive Nick Sheppard, who were preceded on stage by Roberts Bakery conducted by the irrepressible Richard Evans. These really were two conductors from different perspectives, and not just from the obvious age and experience point of view, as the two performances themselves had completely differing approaches to style and musical shape.
Both were good though, and surprisingly it was the younger man's who we liked the more (as did John Berryman), as he used less impressive resources very well indeed, whilst the old master just about used every trick in the book to paint a very broad and persuasive account.
Both these bands had lots to offer: Blackburn for us was a little on the heavy side but it was solid and the detail was clear, whilst Roberts Bakery and as you would expect of any band under Richard Evans had plenty of contrast and passion in the performance.
Plenty to choose from in the interpretations for sure, but not a lot when it came to the results and we just about agreed with John Berryman and his final assessment – you sensed he knew which one had the older head directing the music though, and this may just have tilted him to give it to the younger man for his confident use of his resources.
After these four bands, the standard for us dropped away a little and it became a bit of a hit and miss affair for most of the other competitors. We then felt the standard of playing and indeed, at times the direction from the middle dropped as some performances lacked solid leadership from the helm.
Maxilead Metals (Tyldesley) gave a pretty good account of themselves with some fine detail but just fell a little short to challenge the first two but you couldn't argue with their 5th placing.

Vernon Building Society Poynton gave a most musical performance and were unlucky not to have finished a little higher up the results table. With a solid and controlled middle of the band, sixth place was the result from the adjudicator.
Old Hall Brass with Ian Porthouse conducting was a case in point, but perhaps in reverse. A less than convincing opening gave cause for real concern, but thereafter the MD literally dragged a performance of some note from the band through sheer force of personality and will power. To come 7th was some achievement.
United Northwest Co-op Milnrow directed by A. White came in 8th with a performance that had some neat touches but overall didn't quite capture the mood of the music, whilst Poulton-le –Fylde in 9th place and Bollington Brass in 10th gave it plenty of commitment, but suffered with a approach that was perhaps a bit 'modern' if that is the right word to describe their performances.
John Ireland's music is a light and almost dainty affair in places, and whilst both had the darkness of the early morning mist captured well, it soon developed into a day out at Alton Towers rather than pre war London. It was all a bit up and down, thrills and spills, just when a bit of stiff upper lip English reserve was what was needed. Two pretty decent bands though and on more up to date material, ones who would feature at any other contest.
That just left the bottom two, of Moston and Beswick Manchester directed by Martin Obermuller and Haslingden and Helmshore conducted by Dave Holland.
Both these bands didn't quite capture the essence of the music – it was a bit heavy handed in too many places and the error count was high right from the word go. Both had days when they would have loved to have stopped playing after a minute and started again, as the confidence seemed to drain from them both as the slips continued to mar what could have been two decent shows.
This was a pretty good contest for us – the top two in particular showed themselves to be very competent Championship Section bands in the making, with the type of full sound that wouldn't have gone amiss later in the day on 'Rienzi'. Both also had the technique and individuals to prosper at the higher level as well, and we think they will both head for Harrogate confident of being able to produce prize winning performances or even bring home the title.

David Tinker