2005 Regionals: London & Southern Counties - Retrospective: First Section
22-Mar-2005
Peter Bale talks us thorugh the First Section where Staines Brass and Ian McElligott came through without egg on their faces while other bands "walked on eggshells".
---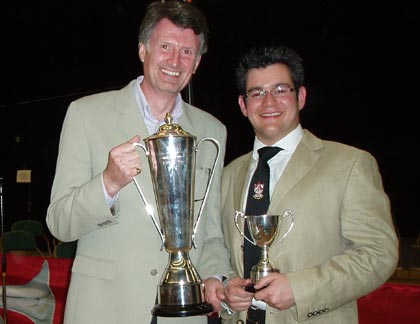 Staines: First place
At the conclusion of a five hour session that he said had been a pleasure to adjudicate, David Read confessed that the test piece chosen here in the First Section was difficult for the bands - not in a technical sense, but musically difficult.
It was a question he said of having to "walk on eggshells" with music from the golden era of banding; music that was very fragile and needed to be handled with care. The notes were not that difficult, and basics such as tuning, balance, rhythm, dynamics, clarity and ensemble playing were taken as read - but there was room for the development of a thoughtful musical interpretation, based on the conductor's best judgment: these interpretations may well be different, but each was valid if based on a proper understanding of the style and period of the score.
Outlining various points in the score of John Ireland's Comedy Oveture, he highlighted some of the pitfalls and identified things he had been listening for in particular: careful gradation of the dynamics, uniformity of attack and execution of the triplet semi quavers, an appropriately cheerful approach at the Allegro Moderato, and especially the difficulties encountered at section 26, where the double piano start, coming from nowhere, had proved problematic.
He had felt that four or five conductors had known what he wanted in the way of shaping the music: all the interpretations had been individual, and no band had got away scot free, but he had awarded the places to the conductors who were true to the period and style of the music, where line, shape and detail were equally as important as just playing the notes.
Opening the proceedings were Egham, conducted by G. Green, who were looking for a good result after their somewhat surprising last place awarded in 2004. Opening at something above a mezzo forte (not that they were alone in that) their reading was not without slips, with solo lines that could have been smoother, and no real pianissimo at figure 26. Despite some impressive playing from the trombones, 11th place seemed about right though, although it may have been a bit higher possibly if they had played a little later in the day.
Hatfields of Colchester conducted by M. Easener were drawn in the dreaded number 2 slot, and once again the opening seemed rather loud and heavy, and the cornet solo proved quite a challenge, as it did for several principal players on the day. Intonation proved trying at a number of points, with the playing getting rather untidy, and they seemed to run out of steam towards the end. They were one of several bands who seemed very close in both execution and interpretation and 9th place was the fair outcome.
Bedford Town under Frank Renton opened a little robustly with dubious intonation when the trombones entered, but things soon settled down into a classy interpretation. Issues of balance had been addressed, and the sense of pulse was secure, particularly when the basses were playing off-beats, which caused an upset with a number of bands. They were also the first band on the day to attempt a real pianissimo and well deserved their 4th place was their reward. It is a long time we think since Frank Renton has conducted in the London Championships (he did conduct Guildford almost 40 years ago!), but it was nice to see him here this year and with a band at this level, who certainly benefited from the experience he brought with him.
Another noted band personality, David Hirst, formerly the Resident at Brighouse & Rastrick took up the baton with Chichester City, but their reading was hampered by numerous errors, largely seeming to result from a lack of confidence and nerves. Despite some good sounds at times, too many unforced errors contributed to their being placed 12th.
In 2004, Clacton on Sea, despite ending up in the frame, did not play at their best, probably not helped by the unfortunate delay whilst the staging was dismantled before the section could get under way. Fortunately there were no such distractions this year, and under Melvin White they played impressively, with the cornet solo being played cleanly for the first time. The tranquillo sections were particularly impressive, despite the disconcerting addition at times of the conductor's singing (!), and they amply justified their second place, and another trip to Harrogate. 4BR had them tipped for victory before hand, and they didn't let us down, whilst for Melvin White it was very nearly the start of what could have been a memorable double.
With Regent Brass under the direction of R. Ward, their 5th place came as a bit of a surprise. David Read had referred to some of the interpretations where the bands had not fully achieved the target set by their conductors, but for this listener the slips and occasional untidiness and intonation problems would we have thought have led to a lower placing. It was, however, a more restrained reading than many, which may have swayed it on the day.
Alder Valley's performance under B. Gentry was also marred by untidiness, with the grace notes proving particularly problematic and with an over prominent percussion (especially bass drum), resulted in them coming in 14th place.
Having won the section convincingly in 2004, expectations were high as Staines took the stand. Under the imposing figure of Ian McElligott they did not disappoint, with a nicely phrased opening, and delicate playing throughout. There were some momentary lapses of intonation, as with the initial trombone entry, but on the whole it was a well-balanced reading, with excellent support from the percussion section, but one which you felt still left the door open a little. In the event, it was not to be bettered, and they also carried off the prize for best principal cornet. They will head for Harrogate once more, confident of doing well and hopeful of beating that 3rd place there. On this form they will not be too far away from realizing that ambition.
Having to follow such a strong contender, Haverhill Silver conducted by Mark Ager produced a reading of mixed quality, but with much to commend it. There was an excellent attempt at the cornet solo in section 4, and some fine work by flugel and horns. Despite some of the quiet sections being a little on the loud side, the style was impressive enough to warrant 8th place and show that here was a decent band in the making – well led and with all the basics in the right and controlled place.
St Albans City were clearly going to be up against it when their performance commenced with a false start as one of the players entered a beat early. Intonation and insecurity marred the rest of their reading, which often seemed rushed and under-prepared, and resulted in last place. Not a performance to remember with any fondness for all concerned, but it could well be put down to a bad day at the contesting office.
Drawn 11th, Stonesfield Silver conducted by T. Brotherhood, featured Neil Samuel (ex Leyland) on solo trombone. After an attempt at a quieter start than most, things just did not come together for them, with untidy ensemble, fluffed notes and a harshness of tone in the louder sections: 16th place seemed about right.
City of Cambridge were conducted by Russell Gray, who elicited from them a finely controlled opening, with the basses especially impressive. There was also some good work by the baritone, and the interpretation, different to many on the day, found favour with many, even if the band did not quite have the required qualities to bring it off. Nevertheless, their deserved 7th place was enough to secure them another year in the First Section, and from the band's reaction when the results were known, they were very happy with their days work. After the highs and lows for Mr Gray in the past weeks though, he must be thankful for a bit of a rest.
For Becontree, in their first year up following their win in the Second Section last year, their 10th place enables them to consolidate their position and continue the building process. Conductor Graham Sheldon produced another controlled opening, and there is clearly quality around the band. There were moments of untidiness, including euphonium and their (solo) percussionist, and lines were not always sustained as they should have been. Their sound could be warmer, but they found themselves in a group of bands of similar quality, and their 10th place could easily have been 7th or 8th.
Fairlop Brass suffered from untidy plying, both in relation to the placing and pitching of notes, whilst tuning wavered on sustained notes, whilst Denham Hendon fielded more players than they did on 2004, but their playing seemed very tentative, and again was littered with slips and untunefulness - 13th and 15th seemed about right for them both.
The last two bands to play, Wantage Silver "A" and Broseley Brass, both found favour with the man in the box, being placed 3rd and 6th. Both readings were tidy, with only a few errors, despite the odd spell of dodgy intonation. Wantage's opening seemed a little on the heavy side but in general, for this listener, they were unremarkable readings and could have come a little further down in the rankings, although it is possible that tiredness was eventually having an effect on the powers of 4BR judgement!
On the whole, there seemed to be little controversy, with universal agreement over the winner and general approval of the other bands placed in the frame. For us, there were then a number of bands who were very much at the same level, making the middle placings something of a lottery. Whilst some players claimed they had not enjoyed the piece, which probably did not suit bands with a more modern sound, nevertheless there was some fine playing on display.
If there are any major regrets, it would be that few of the bands seemed ready to try for a real pianissimo, and the basses in general could have been lighter and quieter. Also, it was not a particularly good day for some principal cornet players, whose phrasing and control were tested and found wanting.
Peter Bale