Yorkshire invades New Zealand - Part 1: 16-25 March
18-Apr-2005
Back from its mammoth adventure on the other side of the world, members of the United Co-op Yorkshire Brass Band now have plenty of experiences to cherish and stories to tell!

Tabby Clegg kept a two part diary exclusively for 4barsrest.
---
Prior to departure on our epic two-and-a-half week tour to Singapore and New Zealand, it would be fair to say that the band experienced a great lack of support from many corners, with many people believing the trip was more of a pipe dream than reality.
Well, now we are home after a fantastic trip that was not only a great success, but that bonded our team both musically and socially and now the doubters of our great plans can rest assured that when our band puts its mind to something, it gives it 200 per cent.

So, after ten months of major organisation, departure day arrived and from hereon in it was one great rollercoaster (and aeroplane!) ride!
---
Wednesday 16 March

4.30am and the band is at the bandroom in Brighouse, half asleep, but quite giddy about the forthcoming few weeks!
So, it's off to Manchester Airport and Singapore Airlines check-in, who kindly agreed to sponsor the band by allowing all the excess luggage to travel for free. Check-in was simple and easy and by now, at 7am it's time for breakfast and time for those that are scared of flying or never flown before to go green at the thought of a 13 hour flight whilst the rest us of us wonder what all the fuss is about, knock-back a full English breakfast, a spot of duty free cigarette and booze buying and into the bar by 8am; plenty of time before the10am flight!
Take-off; luckily it's a comfy plane and the in-flight entertainment is exceptional on Singapore Airlines. This was also the moment, about six hours into the flight, when the in-flight challenge quiz was found and the rounds of 20 general knowledge questions kept the band quiet and brewing a competitive streak!
---
Thursday 17 March

7am and arrival in Singapore having jumped eight hours ahead of UK time and had a 13 hour flight – confused? It's very early and very warm, around 30˚ even at this time of the morning! We were met by Carol from Orient Explorer who was to be our guide for the next few days and she took us on a whirlwind tour of Singapore and for breakfast Malaysian style (the start of our four-day noodle and spice-fest) as we could not get into our hotel until 1pm.

Not being big on organised tours, most of the band were not overly looking forward to the prospect of the trip round Singapore, but it all turned out OK and certainly beat hanging around an airport or hotel lobby for six hours!
Soon it was lunchtime though and off to the Orchard Parade Hotel where we should be able to get in and chill out for the rest of the day. No such luck though; it's our first hitch! The rooms aren't cleaned yet and will be a few hours! Well, after a small rocket exploding and me politely pointing out the rooms should have been ready for check-in at 12.30pm everyone got their respective rooms – though mine was last, ready at 3pm! There's typical!

With the rest of the day free to relax and unwind prior to a busy musical schedule, there was only thing for it! Time to head for the roof top swimming pool, the first of many games of water volleyball, some sunbathing and in the evening a trip to Raffles for an obligatory Singapore Sling and early to bed; early meaning early the next morning obviously!
---
Friday 18 March

Up bright and early for the first of our gigs in Singapore; a morning of workshops, a performance and some rehearsal time for the contest at the Paya Lebar Girls Methodist School. What a great school and great kids who were all very talented and keen to learn.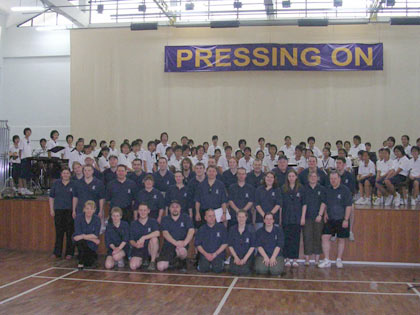 What's more they were really appreciative of our performance. It was also amazing to see the amount of money put into music in schools in Singapore with brand new instruments adding up to tens of thousands of pounds and all were skilfully played. Shame funding in the UK is not as forthcoming.

After lunch and a quick rehearsal it was time to dash back to the hotel, have a swim, freshen up and head to the Raffles Landing Site on the banks of the Singapore River where we performed in the evening as part of an evening of art and music. It was a great little spot for playing (though it was still around 34˚) and most importantly for the band, they got a free dinner!
---
Saturday 19 March
This morning was rehearsal time and our first big rehearsal on the monster test-piece St. Magnus. Sadly, the hotel did not have the conference room available it had hoped for us to rehearse in so we had our rehearsal next to the swimming pool on the roof; it's a tough life! Therefore, it seemed appropriate to have a band piccy taken in the swimming pool afterwards with instruments!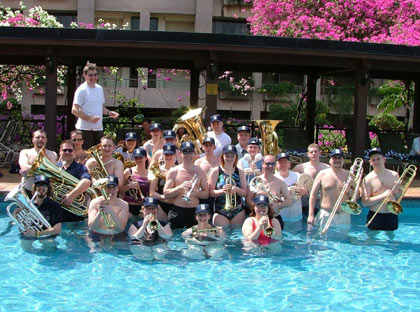 Rehearsal and fun over, the afternoon was dedicated to our performance at the private residence of the British High Commissioner. This was an amazing house, closely guarded due to terrorist threats by a team of Ghurkhas and you don't get on the wrong side of them! In fact Tim (Whaley, percussion) and Tony (Whittingham, Eb bass AKA Tony Tuba) made friends with them!

As well as a few hundred people coming to listen to the band, the event was also to further support the London 2012 Olympic bid and everyone present was invited to sign the official Olympic bid flag which will be flown with pride when the announcement of the 2012 host city is made, in Singapore in July this year. It's a great honour to have our signatures (and pictures!) on the flags and an honour to be involved with such a prestigious and important project such as London 2012.
---
Sunday 20 March

Whilst the morning was free, today meant departure from Singapore after several fantastic days. Now it was time for the boring nine hour flight to Auckland and down to the business of intense rehearsals for the New Zealand Brass Band Championships. Once on the plane, we had the now ever-looked forward to another 39 rounds of the in-flight quiz which took us nicely into Auckland!

Another surprise came in the form of a birthday cake and champagne for Sue Cook (AKA Mum), whose birthday had in fact been on the day we departed, but as the airline missed that date they decided to honour her birthday on the next flight with Singapore Airlines! A nice little touch to add to the birthday spirit!
---
Monday 21 March

It was to be a bit of a whistle-stop tour of Auckland (no puns intended as that night we were to perform with the World Whistling Champion David Morris!) so we had a speedy visit to the top of the Skytower to watch a few people throw themselves off the top tied to a piece of elastic, then it was to rehearsal, a great concert with the "Trusts" Waitakere Band and a catch-up with old friends Alex and Simon Kerwin and Ken Cant.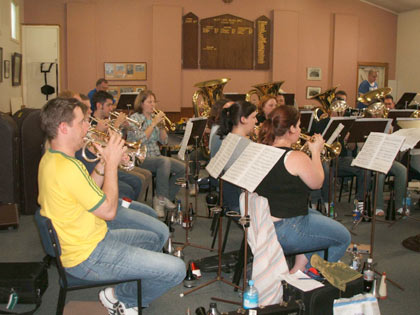 Really it should have been an early night as we had an early departure to Wellington the next morning and, as the airport had been shut for three days due to fog it was touch and go if we could fly into Wellington at all, but the less sensible of us took early to mean early the next day and still found ourselves sitting in the driveway of the hotel at 4am and some managed to stretch things a little further; I won't name names!!
---
Tuesday 22 March

It seemed that we managed to catch the first and last flight into Wellington Airport thanks to the fog and I really felt for Gothenberg Band which had, the previous day, had to suffer a 13 hour delay to fly into Wellington and some other bands were diverted to Palmeston North and then had to endure a 3 hour coach journey. Luck was certainly shining down on us! We just hoped it would continue!

On arrival we dropped everything off at our home for the week, the Apollo Motor Lodge which was managed by a couple from Leeds (it is true that everyone in New Zealand is from Yorkshire!), before making the short journey to the bandroom of the Titan Hutt Brass Band, where we would be rehearsing intensely for the next three days. It was an effective bandroom for rehearsing in and the Titan band was really helpful; thanks guys!

We needed to step it up a gear in playing terms and forget the jetlag and this was the challenge the band accepted as it got to grips with the immense workload of St. Magnus, Harmony Music and an Entertainment programme.
---
Wednesday 23 March

For those of us that had, in a past life, been a member of the National Youth Brass Band of Great Britain, staying at the Apollo Lodge was quite surreal as it was quite like an NYBBGB course as when you woke up and strolled around the complex of apartments you could hear people practicing and sectional rehearsals coming from every corner!

So, on Wednesday morning whilst people rehearsed and Sally put some sections through their paces in rehearsals Mr. Roberts and I headed off to New Zealand National Radio to give a couple of interviews; John's for Concert FM and mine for National Radio. Both went really well and I even managed to fulfil my challenge of getting the word 'bouncebackability' into the conversation. (Definition: the ability to bounce back into action after a disappointing contest result!).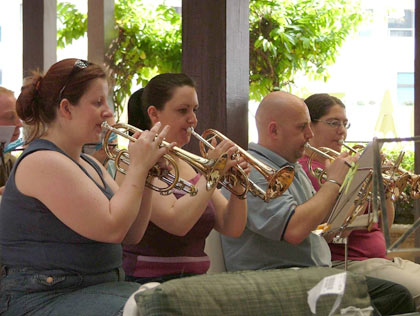 Interviews done and it was time for a rehearsal and then a concert and social with Titan Hutt Band. So far the trip had gone so well with no hitches, that was until we were walking to the concert venue and some New Zealander yob threw an egg out of a rather fast moving car! It would have been quite a funny trick if it had just landed on the pavement and smashed but no, the wretched thing hit me right in the stomach and didn't smash until it hit the ground.

To be fair, I thought I had been shot and got left with a fabulous lump and bruise on my stomach which is still faintly there to this day, but, as Colin pointed out, there's an upside to everything; at least the egg didn't smash on me! I can always rely on Colin to put things into perspective!

Just prior to the concert another radio interviewer had appeared and interviewed Phil and Kathryn, our illustrious baritone section! When asked what we hoped to achieve on the trip, Phil simply answered "We're gonna win!" There's nothing like tempting fate!

The concert (the last of our tour concerts) was another great success with the band playing well, looking great and the audience loved John's compering! Titan sounded great as well and then the band, as well as playing, put on a fabulous spread of food and wine for a bit of a social gathering.
---
Thursday 24 March

Once again the morning meant rehearsal at Titan's bandroom, so at 9am we departed for another four hour rehearsal marathon. Luckily we could tell it was starting to pay off, so it seemed worth it! The hard parts in St. Magnus were managing to sound right now (probably just as well with two days to go) but there was still a lot of work to be done and, so obvious had the band's commitment become to playing as well as they could, on return to the hotel at lunchtime, everyone scuttled of their separate ways for sectional rehearsals and private practice. Not something that happens so readily at home!

With the rest of the day free we all met up on Thursday evening for dinner at the local Mongolian Barbeque, which was 47 steps from the hotel (and yes I counted!).
---
Friday 25 March

Our last full day of rehearsals and before we headed to the Salvation Army Hall for a rehearsal we had an opportunity to take to the stage of Saturday's contest venue, The Michael Fowler Centre, and see what the hall was like. It was a great venue, a kind of cross between Bridgewater Hall and Symphony Hall and it had a great acoustic, but was a pig to play in if you are a cornet player. The contest committee should be congratulated on this opportunity it gave bands to check out the hall and for the percussionists to test the equipment. Maybe it's a system that could be adopted here in the UK?

It was time for our last rehearsal and our last opportunity to get things right before our first big day of contesting. So far it all seemed to be going fairly well to plan so we had our rehearsal, went for some food and then it was early to bed for the whole band!
---
In the second part of her diary, Tabby recalls the 125th New Zealand Championships, some well earned holiday free time and the long, long, long trip back to Old Blighty.