Yorkshire invades New Zealand - Part 2: 26 March - 2 April
18-Apr-2005
In the second part of her exclusive diary, Tabby Clegg and the Yorkshire Co-op Band build up to their appearance at the National Championships, the Band of the Year contest and finally a bit of relaxation before the long trip home.
---
Saturday 26 March

The first big day was finally here but before the contesting, first we had to entertain the crowds at the street march competition. We had asked for dispensation not to compete in the march contest mainly for the reason that the NZ bands are so good, look so smart and take it so seriously with counter-marching and all sorts of fancy moves that we didn't want to be seen as taking the mickey! But we were more than happy to play, which we did and we managed to flog a few CDs! Having then watched the marching, we were glad we did not enter as all the bands were so good!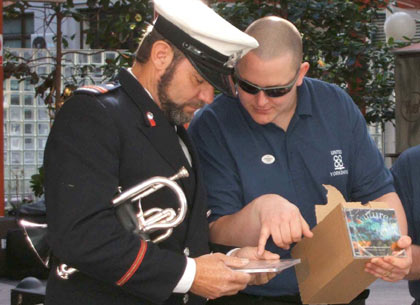 After a spot of lunch it was time for our final rehearsal on our sacred item, Wolvercote, and St. Magnus! There was a real buzz around the band which was, by this time, playing really well. We just had to reproduce this on stage! There was just time to give Penny a birthday pressie and card and a quick chorus of Happy Birthday before it was off to do the business (though to get to the hall, which was within walking distance, we did sneakily 'borrow' the coach of one of the Australian bands, Brisbane Brass, who were rehearsing after us; we tipped the driver $40 so he was happy!).

For the first time in a long time, we walked on stage looking and feeling confident and relaxed and the hymn tune went really well; the sound of the band filling the hall. After the compere gave another introduction to St. Magnus (the same intro that she read out before every band!) we were straight into it and all fired up. It started really well and bits in the first fast section were right for the first time ever!

The whole performance went really well (maybe with the exception of my solo that sounded similar to a kazoo player!) and we were so happy when we came off stage, though a few people were a little overwhelmed with the whole experience.

With no results being announced until the following day after the own-choice, it was time to grab some tea and off to bed.
---
Sunday 27 March

Rehearsal was in the local Jewish Centre today with just an hour to sort out Harmony Music which, to be fair, we had not spent all that much time on due to the monstrous size of St. Magnus. We were going to give it our best shot though!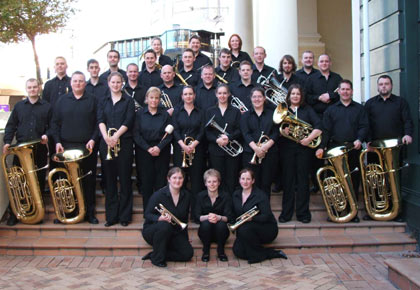 The performance was good, but not as good as the previous day and we knew that, but were happy anyway, it was just time for the results! Before we left we knew how good the bands in NZ were and we hoped that we could get placed around eighth and that would be a job well done.

On hearing the results (and they read out every bands marks which is just the worst thing ever) we were ecstatic to find out we had come third on the hymn tune, fourth on St. Magnus and overall we had come fifth! It was incredible and almost as if we had won! We had beaten some of New Zealand's greatest band on St. Magnus, a test-piece that bands of our calibre back home just wouldn't even contemplate!
Now, I could say if only we had played a bit better on Harmony Music, blah blah blah, but no.

We did fantastically well no matter what anyone else says! We represented Yorkshire and our country and cracked the top six in a contest no British band has ever been to in its 125 year history. Not a bad declaration!

We are also really grateful for the presentation that was made to the band and we cherish our little blue engraved kiwi presented to us by the organisers. Believe me, the pleasure in being there was all ours.
Usually on these occasions it's time to hit the bar and celebrate in huge style, but no! We still had one more day of contesting so, at 8.30pm, Sally told everyone that was to be their last drink and it was time for tea and bed! What's more, they all took their orders!
---
Monday, 28 March

9am rehearsal for the Band of the Year and we had a big show planned. 30 minutes of excellent, non-stop music, no compering, professional lighting, music from memory, choreography, smoke machines and a presentation of images and announcements on a giant screen behind the band which was running off a lap-top presentation which had taken Colin and Phil 'we're gonna win' Harris days to prepare!




The rehearsal was great, everything works and it's an entertainments programme unlike anything we have ever done before but it was classy and a really entertaining show. We had run it out in a few concerts and the audience had gone crazy for it, especially the finale of Somewhere from West Side Story where the band end up lined across the front of the stage.

The rest of the programme was:
Pines of Rome (arr. H. Snell)
When the Saints (arr. G. Richards)
Over the Rainbow (arr. R. Farr; Flugel soloist: Carolyn Ramsbottom)
Forty Shillings (Andi Cook)
Mack the Knife (arr. A. Morrison; Bb cornet soloist: Tabby Clegg)
Fugue from Graduation Day (Philip Sparke)
Somewhere from West Side Story (Bernstein).

The band was all ready to go out and strut its stuff and was really enjoying this 'show' we had developed and we ditched our uniforms for all black shirts and trousers and took care of every detail of presentation including cleaning shoes, ironing shirts before we went on stage and making sure all the girls had their hair tied up the same way.

Why you may ask? Well, this was military precision and every detail of presentation and entertainment was under scrutiny and we were not willing to drop a single point! The upshot? Well the show was great. Musically, it was not the tightest performance and the band sounded and felt very tired after a few intensive weeks, which had followed intense weeks leading up to the Area before we left.

But playing aside, entertainment and presentation were second to none! Sadly for us, the entertainment judge who was new to the whole adjudicating thing and a non-bandsperson I believe, had been advised to keep all her points for the four bands close together so the musical marks were not affected adversely by the entertainment marks. So what did we get? 10 points out of 100 and the other bands got around 70!! This was definitely the funniest moment of the trip and just brought that sigh and smile to your face and the comment: "don't you just love banding!"

However, the audience members had paid to see a concert and they all came out saying they loved our show, so that's all that counts. All the four performing bands put on great performances and just because we thought something was great doesn't mean everyone else has to; that's banding!

So, time to celebrate in true banding style with a curry… for 60 people! As well as our band there were members of Titan, the contest committee, our tour organiser Simon Hocking and his family and Mr. Alan Morrison – our favourite adjudicator!

It was one hell of a night and one hell of a bar bill and one of the best curry houses I have ever been to; shame it's so far to go for a curry from there next time!
---
Tuesday 29 March

At last, the holiday has begun! Work is over and it's time for a few days of relaxation in the Bay of Islands, which is about four hours north of Auckland. So, it was quick flight back to Auckland and then a coach northwards which was driven by our very own coach driver and drinking buddy (when he wasn't driving, obviously!) Brent!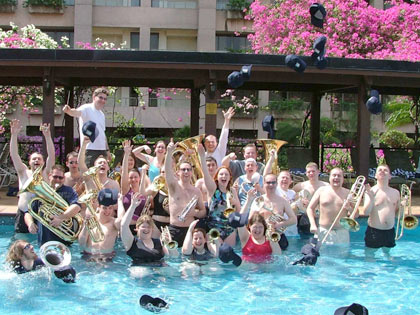 On the way, Brent tried to teach us a few words of local lingo and pointed us in the direction of all the local hot-spots in Paihia, where were staying. The apartments were very comfy and seemingly we were the only ones staying there so upsetting the other guests wasn't an issue! Most of the day was spent travelling, so on arrival and after a few drinks and a meal at which several people had their first experience of oysters and other fresh seafood, we made plans for the following day's dolphin watching!
---
Wednesday 30 March

Early to rise and it was off on a boat trip to find dolphins which was just fantastic and another great experience to add to the collection!

The afternoon was then spent mainly relaxing in a bar or on the local beach where several people demonstrated their skills in sandcastle and sand sculpture creating! Some were particularly poor, others unbelievably rude and Carolyn just got very protective of her simple castle when Tony tried to play football around it!

In the evening, Tony created a huge barbeque feast for everyone for just a few dollars per head and we had a big party! The hotel manager also seemed to think this was good opportunity to join in, without invitation, but she seemed to be even more partial to the sparkling pop than the rest of us and meant that some of us spent a great portion of the night and early morning either dodging her or trying to find her dog which kept escaping every time she left the door open without realising!
---
Thursday 31 March

Another free day and today's plans only involved a spot of kayaking, which was a really bad idea when it was so windy, sunbathing, shopping and seeing-off the 'men' who went deep sea fishing! It was a tiny boat and very choppy out at sea and none of us thought they would catch a thing, but they proved us wrong and came home armed with bags full of fish and not a green face in sight!

Congratulations boys, you kept us all from starving! So a first-class fish supper all round before our last night of entertainment and the next day's trip home!
---
Friday 1 April

It was no April fool, it really was departure day and ahead of us was a 38 hour journey home!

We made it to Auckland in plenty of time and checked everything in for the very last time and Sally's luggage made it to a round 30kg! I think we were more surprised that the cardboard boxes that contained mutes and other items had managed to go the distance despite looking half dead on arrival at Singapore two weeks ago!

The flight was great and Singapore Airlines decided to honour Sue's birthday again with cake and champagne on the flight to Singapore! What's more, they tried to do it for the third time on the flight from Singapore to Manchester so she is currently well stocked-up on birthday cake!

They were long flights but several rounds of the in-flight quiz and some sleep got us through it!
---
Saturday 2 April

It was early, but we landed safe and sound, collected all the luggage having managed not to lose a thing the whole trip and we drove back to Brighouse, tired but happy.

It had been an awesome few weeks, made possible by Simon Hocking at House of Travel, the New Zealand Brass Band Association, all our friends in New Zealand and Singapore that helped and especially the band, whose determination to go made it possible.

What's more, the success we had on tour was particularly down to the hard work of the players and especially our fabulous MD, John Roberts, whose hard work and belief elevated us to a higher standard; I just hope we continue with that standard in the future, especially with Blackpool looming!
From my point of view, having played a hand in organising the trip, my thanks go to everyone who helped, especially Simon Hocking, Helen Hoy, Kirsten Sharman and all the band who have worked so hard fundraising and making the trip the success it was. I also want to say thanks to all the band media who have been so supportive of our venture from the very start. This tour has not only been great fun and very successful, but it has also given the band great privileges, such as representing its country and being involved with such major projects as London 2012.

Now it's time to look to the future and hopefully be involved with more different projects which take us slightly away from the mainstream idyll of brass bands!

A huge thanks to everyone!
---
For more of an insight into the bands trip and plenty more photos, log onto:
www.unitedcoopyorkshirebrassband.com