2005 European Championships - Introduction and dodgy predictions
24-Apr-2005
There is a fine line up of bands for what could be the start of a new beginning or perhaps the end of a great dream. Who will leave the Martiniplaza as Champions though?


---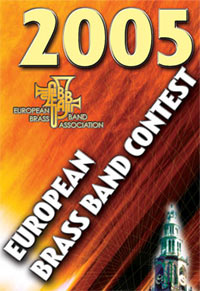 Martiniplaza, Groningen, Holland
Friday 29th April 17:00: Set Work
Saturday 30th April 14:00: Own Choice Selections
Is this the beginning of the end or the start of a new beginning?
There have been so many twists and turns in the history of the European Brass Band Championships since its inception in 1978, that it would be a foolish man indeed to suggest things are coming to a messy end here in Groningen. However, there is little doubt that the Championships are at the very Rubicon of their historical development.
Step one way and things could very well see the end of European brass band development as set out in the visionary proposals that the likes of Markus Bach has tried to incorporate into this event in the years since the European Brass Band Association took over the management of the Championships.
However, step in another and you could well see the start of a new and exciting European vision of integration and democratic participation from the very members that make up the amalgamation of nations that take part here.
Step in another though, and you could well be seeing the beginning of a brand new 21st Century European contest based on the financial economics of the age – the brass band event governed by the market place of choice and finance – survival of the fittest and the best.
It's a bit like one of the Indiana Jones films; the one where he has to walk across a floor to the fabulous gold icon where if he steps on the wrong stone slab, poison arrows shoot out of the wall or spikes come up and stab him in the back. The chance he has to take is between one of possible death or ultimate fortune. The same goes for those who have the interests of the European Championship at their heart.

That outcome will not occur here though. This is the first event of the new EBBA 'go it alone' tenure. Go it alone from Besson that is, who decided that the future of the contest which they held in their name (but not management) should now be run by a private company. This will most probably mean that in 2006 there will be two European Championships in name, but in reality, only one in practice.
Which one that will be, we will have to wait and see – so mind your step.
This year's event should however prove to be one to savour, as even though the YBS band as they are now called, are not here to defend their title for a sixth time in a row, there is still a very impressive field of contenders.
As always with the European there is added spice thrown into the equation with little sub battles of will and pride. The test piece has caused a bit of a fuss, although in truth it really isn't anything out of the ordinary mainstream of modern European composition (the bottles are not to everyone's taste, but then again, what about playing little bells in Harrison's Dream?). We think it should be an enjoyable work to test the best bands here.
In addition there is the little battle of the middleweight brothers Robert and Nicholas Childs (both are no longer in the heavyweight department after their impressive weight loss campaigns). Both will see this as perhaps their best opportunity to win the European title for their fine bands. There is little doubt that Professor King had the Indian sign (perhaps the Indiana Jones sign even?) over the two Welshmen at this contest – in fact since 1996 he had the sign over everyone, but in his and his bands absence there will be a new champion.
The winners however will not appear on the famous trophy, as that is now no longer a part of being victorious here, but they will still be universally recognised as the single European Champion – and in the 150th year of Black Dyke and in the Silver Jubilee of the last Cory win, that is something both will be desperate to add to their CV.
Black Dyke has the history, the players and the immense amount of self-belief that comes with wearing the black, red and gold uniform. In their 150th year they will want to show the world that they remain the premiere contesting brass band - and what better than to add the European title to their name in time for their huge celebratory concert in Manchester in June.
It is now 10 years since they last won here – although they have only appeared twice since that date, and the rumours of what they will play as an own choice selection have been rife. On their day they are an immense ensemble, directed with a rare passion by their reinvigorated MD. The appetite for success is huge at Black Dyke, but will it be sated here at the Martiniplaza?
BAYV meanwhile are equally as hungry for success, and just as determined. In the 25 years since they last won the title under Denzil Stephens they have come close – but they have also been hard done by as well. 12 months ago in Glasgow they were cruelly treated by the judges who placed them 6th and that has been the burning ember of injustice in their musical stomachs that they will be determined to douse this weekend.
On their day they are like an unstoppable juggernaut of technical brilliance and detail, but there has been a subtle change in their balance and timbre in recent months that makes them now sound a warmer and so much better poised ensemble at both extremes of the dynamic range. If the judges like what they hear this time around, they could very well be taking home the title back to the Principality.
However, there are a number of bands here who could very well upset their well laid plans (and both bands have been making meticulous blueprints for musical success), and the one band both will be looking and listening to intently will surely be Brass Band Willebroek from Belgium, who make their 14th appearance this year after once more winning their National Championships.
This is a fantastic group of musicians who come to together to form a fantastic brass band – not twice a week, week in week out as one would come to expect - more like twice or three times a year. But what a band they are when they do.
Under Frans Violet they have a superb record at this contest – including the famous win of 1993. In the past three years though they have performed as well as any band – coming third once and runners up twice. On each occasion they have given thrilling performances, which have only been beaten in 2002 and 2004 in particular by YBS performing to a level possibly no other band in the world could match.
If they perform like they have done in the past three years they could well repeat that win of 1993 and give this contest the boost it needs to show that the future for the movement belongs on the wider stage of Europe rather than perhaps in the UK.

And what of the other mainland European challenger - Brass Band Treize Etoiles from Switzerland? They make their 11th appearance at the championships this year, but the first since 2002 when they came 5th in Brussels. They regained their National title in 2004 by playing two immensely difficult pieces in the shape of 'Contest Music' and 'Apocalypse', so they will be confident of doing well here on their return.
On their day they are a tremendous outfit to listen to – full of real verve and authentic brass band depth and warmth and they certainly have shown that in the past – coming 3rd both in 1999 and 2001. They have the pick of the best players in their Canton of Valais in Southern Switzerland and a tremendously experienced MD in Geo Pierre Moren who returns this year to conduct the band at the contest for the first time since 1994. If they get things together, then they will be strong contenders for sure.
The Scots will also fancy their chances this year as well in the form of the Whitburn Band. They come here a little by default, after the original representatives, Scottish Co-op dropped out, but in terms of being the form band north of the border there is little doubt they represent the best chance the Scots have had of winning the contest for the first time for many a year.
Andy Duncan has a settled and experienced band under him, and one that produces a wonderful sound. They have good form at the contest over the years, especially in the set work section, but they have been prone to loss of stamina when it comes to the own choice selection, which hasn't always been inspired. If they get it bang on though they could well feature very highly indeed and the drinks may be on them come results time.
The other stand out European representative is surely the Stavanger Band who this year will be led by Allan Withington in their quest to emulate their rivals Eikanger and become the second Norwegian band to win the title.
Their chances certainly took a huge blow with the fire that gutted their bandroom prior to them leaving, but with the help of Eikanger in particular they will make the trip with a rare determination to show that they are a banding Phoenix rising from the flames.
They have all the requirements as well to become champions – great players around the stand and a fine MD in front of them, and they will want to show that the performances of 12 months ago when they came 10th was a one off. The only weakness in their very impressive armour seems to be self belief – with David King at the helm they appear unbeatable, but without him they can be a touch flakey in the confidence stakes. Allan Withington though is a class act and given the circumstances that bring them here we think they will be bursting to do well. Watch out.
Of the supposed 'outsiders' to take the title, Lynby Taarbaek of Denmark and Brass Band Rijnmond of the Netherlands cannot be discounted, whilst it will be very interesting to hear the standard of Brass Band Aeolus from France.
The Danes will be directed by the 4BR 2004 'Conductor of the Year' Ray Farr, and after once more being crowned Champions of their country they come to Groningen confident of repeating their fine performances of Glasgow where they came a very impressive 5th place overall.
They have plenty of talented players dotted around the stands and produce a warm and balanced sound allied to a technical clarity that is most impressive. Ray Farr directs them with the type of flair we have come to expect of him over the years, and it seems to rub off on the band. They just faded a bit on their own choice selection last year, so it will be interesting to hear if they can keep up the stamina this time around. Ones to listen out for though.
Brass Band Rijnmond returns to the European Championships for the first time since they competed in 1995 in Luxembourg where they came 11th overall. They come as Champions of the Netherlands as well, after recording their first ever win at the contest in December where they beat off a strong field of rivals to win the title by a point.
That certainly proved their class, especially as they had to perform an exceptional test piece in the form of 'Ginnunegagap' by Johan Evenepoel, and if they can reproduce that type of form here over two works they could well push themselves highly into the results frame.
Finally, Brass Band Aeolus which rehearse in the 13th district of Paris and which is made up of friends, professional musicians, teaches and high school students all of whom come together under the baton of the talented MD, Bastien Stil.
Given the progress that has been made by British style brass bands in France in the past few years such as Brass Band Normandie and Brass Band Nord de Pas de Calais, do not be surprised if they raise a few eyebrows here with their performances, especially as they are very familiar with Johan de Meij's music.
After all the small talk though, who do we think will come away crowned as the 2005 Champion Brass Band of Europe.
For us, we think it will come down to a fight between six bands: Black Dyke, Buy As You View, Willebroek, Stavanger, Treize Etoiles and Whitburn. That was them all in alphabetical order, but we don't think that if they all play to form it will change much.
The top three of Dyke, BAYV and Willebroek though just have the extra class and we think it will come down to the own choice selections that they bring with them – any one of them can take the title in thrilling fashion, but we have to stick out necks out and that is why we opt for Buy As You View to become European Champions for a second time. Close behind them we think it will be Black Dyke, with Willebroek close on the tails once more. It is between these three.
Behind them we opt for Stavanger who will be extra determined to do well with Whitburn and Treize Etoiles close behind. Our dark horse are the Danes of Lyngby Taarbaek who could well force their way into the frame.
4BR Prediction:
1. Buy As You View Band
2. Black Dyke
3. Brass Band Willebroek
4. Stavanger
5. Whitburn
6. Brass Band Treize Etoiles
Dark Horse: Lyngby Taarbaek