2005 European Championships - Open Forum and Press Conference
4-May-2005
EBBA used the Groningen event to open up a debate about its future, as well as fielding some detailed questions about Wales, YBS and even its accounts.
---
The Friday morning saw EBBA hold an Open Forum and their annual Press Conference, which took place in the excellent surroundings of the Martiniplaza and the lovely Groningen Town Hall.
Over 40 people took the opportunity to discuss the future development of the Championships and the way in which they feel this should be structured.
It was an interesting hour or so of debate and covered a variety of topics with contributions from delegates from Lithuania, Germany, Finland, Great Britain, France, Holland, Norway as well as other interested parties and the press in the form of 4BR, British Bandsman and Brass Band World.
The debate was expertly chaired and the first topic covered was the development of brass banding in countries such as France, Lithuania and Germany. Presentations were given by each and proved without doubt that there is a real future for European banding.
The French have just held their first National Championships in Paris, and the second will take place later this year. (4BR will be there!) The good news is that development of a National Association is well under way, and it was reported that the initial event itself was a tremendous success with over 500 people packing out the hall and requests being made from interested parties in how to set up new ensembles in their regions of the country.
Even better news was that the performance of their representatives in the Championship Section was also first rate, and with other bands now being developed it is hoped that the 2005 Nationals in Paris will see over 20 bands taking part.
Germany is developing on rather different lines at present, but ones that show that they have long terms plans and secure aims and objectives in mind. Their representative who outlined their ambitions to start an academy of excellence gave their short presentation that players from the Bavarian area and beyond will be able to attend. From that they will be able to set up what is hoped, a brass band, or a number brass bands depending on the experience and competence levels of the players, who could hopefully take part in future European Championships.
Lithuania meanwhile gave notice that they have very ambitious plans to become fully integrated into the European brass band movement with a professional presentation that gave delegates and interested parties the chance to view on screen what has been going on in the country in the past couple of years.
There seems to be a real appetite for brass bands, and that was certainly shown by the involvement of the Lithuanian band in the B section this year. The plans themselves showed that amateur music making in the country with a combination of wind and orchestral ensembles including brass is growing and the Lithuanians hope that they may well be in the position in around 2011 to even host the European Championships themselves.
With Government backing, it is a country that is keen to be fully involved in the European cause, and they have already secured prestigious sporting events such as the European Basketball Championships in 2009. Could two years later, brass bands such as Black Dyke and BAYV, Whitburn and YBS be playing in Vilnius?
The forum covered many different topics in its hour and a half and many questions were put forward and answered by delegates from member countries over such issues as long term strategic planning, European funding and integration of the brass band movement into a wider and more powerful European amateur music organisation.
The disappointment for many (4BR included) was that even today there seems to be a complete lack of long term planning, strategic thinking and constructive aims and objectives from EBBA.
This was most startlingly made clear when Jappie Dijkstra admitting that there was no long term strategic planning in place for future development by EBBA, and that there had still been no application made to the European Union Cultural Funding organisations for financial support for the European Championships.
In fact he stated that although work had been undertaken to make an appropriate application, they had actually run out of time for making it, and will have to start all over again.
In view of the ever increasing needs for those plans to include policies and objectives for social inclusion for people with disabilities, mental health problems, children from the poorest economic sectors, ethnic minorities, and child protection, it was depressing to report that no work and no policies were either being undertaken or were currently in place to support any future application. It appears that possible funding from the EU is very much a matter that will not be resolved in the immediate future, if at all.
It was a very interesting forum for those who attended, but it did highlight the fact that there seems to be very little 'joined up' thinking within EBBA at present and that the Championships seem to be run on a year to year basis, rather than with any long term aim in mind.
The issues of funding can only be overcome if applications to get funding are made, and whilst EBBA continues to procrastinate on the subject the chances of any money from the EU coming their way becomes less and less. Someone has to do the spade work, or be funded by EBBA to do the spade work on this most important matter, but as was seen here, it is unlikely to be achieved by an organisation that does not have a definable corporate plan of action.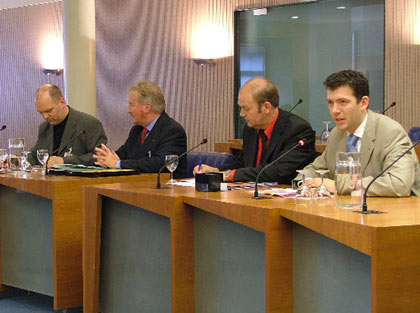 Press conference: EBBA representatives with Jeroen Boonstra [right] from the Netherlands committee
Meanwhile, the Press Conference was also an event of interest, even though the feeling was that the organisers were hoping that the questions could be kept to a minimum so that they could get on with the draw for the Set Work section for later that day.
The only people to ask questions were in fact 4BR and the British Bandsman, so perhaps the likes of Markus Bach, Ulf Rosenberg and Jappie Dijkstra got off lightly – although to be fair they did give full answers to our polite enquiries.
The question of the future participation of the YBS Band at the Championships was given a very diplomatic answer by Markus Bach who said that no decision had been made, and that the matter will not be discussed until September of this year at the earliest. He did not however rule out the possibility of YBS being invited to Belfast.
On the more pressing matter of the decision of the Welsh Association to withdraw its affiliation as a member of EBBA, and what it would mean for future participation for Welsh bands, Markus Bach was much more demonstrative an laid the blame for their decision squarely at the door of Philip Morris, Kapitol Promotions and Besson.
The decision he felt was a mistaken one, that put Welsh banding on the very periphery of the European movement, but it interestingly did not mean that it would deny any future Welsh representatives from taking part in the Championships. Markus Bach made it clear that there was within the existing rules of EBBA the provision for them to invite an appropriate band (including he said the winners of the Regional Championships if they so wished) to any future event, although he was less clear over the matter of participation for youngsters from Wales in the European Youth Brass Band or the conductors or composers competitions.
People were left with the feeling that even if Wales do not reverse their decision, there will be Welsh representation in Belfast – but whether or not that will be the BAYV Band we will have to wait and see. Markus Bach did not however state that they would not be welcomed.
Over the question of EBBA accounts, it was pleasing to note that Markus Bach stated that they would be available for anyone to see if they so wished (and 4BR will be having a glance in the near future we can assure you).
Meanwhile the question of adjudication brought a partially welcome response that precise notes concerning each performance would be made by both sets of adjudicators in the time period between the bands playing, but there would be no oral presentation of their remarks to the audience.
The Press Conference was undertaken in the best possible taste, and even a few gags (at 4BR's expense it must be said) were even made!
It is a welcome fact that EBBA do open themselves up for debate and criticism and are prepared to field questions on any topic, and for that they must be wholeheartedly congratulated.
Iwan Fox