2005 Whit Friday - Retrospective
28-May-2005
4BR's Malcolm Wood was out and about on Whit Friday to soak up the atmosphere of this unique event in the banding world. This is what he remembers about it all!
---
Whit Friday is the one day in the whole of the banding calendar when predicting the results is like predicting the lottery numbers. Whit Friday is the night when big reputations count for very little and more than a few eyebrows are raised as the results become apparent from around the various venues in Saddleworth and Tameside.
2005 was no different with some interesting results around the two circuits and with the excellent prize money on offer for the 'Open Champions, people began to top up not only the victors, but also their prospective bank balances. In both Saddleworth and Tameside, consistency was the name of the game as the holders of the National and European Championships, and the British Open titles took the spoils on the night.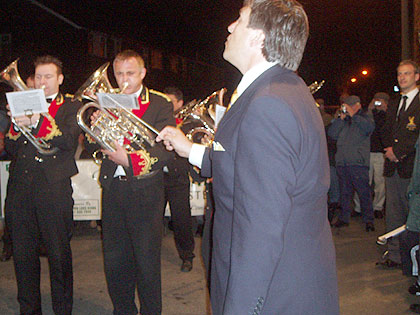 Black Dyke Band: Nick Childs leads the band through Knight Templar'
Black Dyke's commitment to be out on Whit Friday in its 150th year delighted crowds everywhere (as well as the fact that they played in their stage uniforms and not just their 'walking out' gear) and their performances of 'Knight Templar' brought them the title of Saddleworth Champions for the second time in three years.
Six first prizes, one second, a third and a fifth were more than enough to give Dyke the Saddleworth crown and with a second at Upper Mossley in Tameside, also gave them estimated winnings for the night of around £6000.
Brighouse took the runners up spot in the Saddleworth Championships and like Dyke tackled nine contests, picking up first place at Dobcross. 'Three' was their number for the night, though, with three seconds, three thirds (and two fourth places) helping them gain £1000 from the corporate sponsors in the Open Championships.
To become Saddleworth (and Tameside) Champions a competing band must perform at six contests and this was the YBS Band philosophy for the night. They took third place in the Saddleworth competition and £750 and will consider themselves unfortunate to have come up against Black Dyke and Brighouse in such form.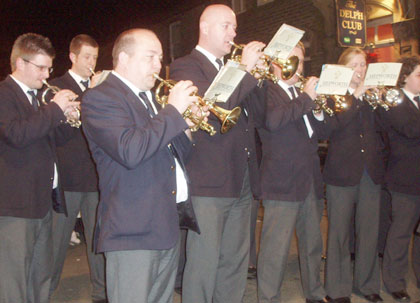 Hepworth 'Persimmon Homes' Band: Cornets lead by Robert Westacott
Last year's Saddleworth Champions, Hepworth, narrowly missed out on a top three berth in the Saddleworth contests putting in some cracking shows from their eight performances. The most notable 'scalp' was coming second at Delph, subsequently beating Black Dyke in the process Three thirds, two fourths and two fifth placings confirmed that the Grand Shield winners can more than hold their own at the top end of banding.
What Black Dyke did in Saddleworth, the Fodens (Richardson) Band did in Tameside. Competing at all eleven venues, the British Open Champions retained the title it won last year with six first prizes and one third. As we said though, reputations count for nothing, as the band also got placed twelfth at the Broadoak and sixteenth in Carrbrook! However, they were the class band in Tameside with sparkling performances of their own choice selection of 'The President' which also saw individual players such as Mark Wilkinson, Alan Wycherley and Glyn Williams picking up a hatful of awards for their fine efforts.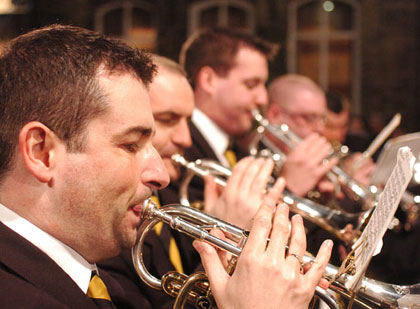 Fodens (Richardson) Band: Mark Wilkinson Leads the cornets
Photo: Mark C Wilkinson (Marlin Images) - http://www.brassbandphotos.com
Fodens have Whit Friday sorted though as having done Tameside they had the organisational expertise about them to take in a couple of contests in Saddleworth. Successful they were too, as they beat Black Dyke at Uppermill and took first prize at Delph where they were nothing short of 'superb' at 0.20hours on the Saturday morning when they performed 'The President'.
As with Black Dyke, the Sandbach based bands' winnings look to be around £6000, proving once again that regardless of some curates egg of results, if you're consistent on the night, you'll succeed.
Runners-up in the Tameside Championships were BT who competed at all eleven events were their best result was a second place at Heyrod, although third at Carrbrook saw them beat Fodens, Leyland, Pennine Brass and Ransome.
In third place overall, were Leyland who like Fodens over the past couple of years have preferred the challenge of Tameside as opposed to Saddleworth. From their eight contests, first place at Denton was the highlight.
Pennine Brass just missed out on a top three spot from their eight venues on the night, the most noteworthy performance being first place at The Broadoak Hotel, whilst they also picked up one second place (Stalybridge) and two thirds (Heyrod & Upper Mossley)
First place at Droylsden, three second places at Denton, Hurst and Stalybridge Celtic looked set to give YBS a share of the spoils in Tameside, but two eighth placings at Broadoak and Tame Valley meant them coming fifth overall.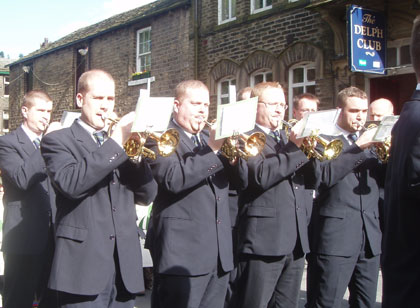 YBS Band: Stuart Lingard leads the cornet section
The quality of performance though doesn't always reflect in the results as YBS found out. 4BR heard them in Delph early in the night and it was more than a top class show, testament to the fact that it was only very late on in the night that four bands put in better performances in the opinion of the adjudicator, Keith Hollinshead.
Apart from the Open Championships, Saddleworth and Tameside both have prizes for 'local bands'. In Saddleworth, Dobcross Silver took the honours from Marsden whilst United Co-op Milnrow came in third.
In Tameside, Ashton once again reinforced the point that they are band certainly on the up by taking the £750 first prize. Philip Chalk's band performed at thirteen venues across the two circuits beating Fodens twice at The Broadoak Hotel and Carrbrook, whilst Principal Cornet, Mark Rodgers took the cornet prize early on at Tame Valley in Dukinfield beating the likes of Stuart Lingard (YBS) and Mark Wilkinson (Fodens).
Second place to Ashton in the local prizes were Besses under Jim Cant and third was Glossop Old.
The money plays an important part on the night but for the majority of those competing, it's the sheer thrill of the 'Whit Friday experience' that brings them out.
Bands will travel a fair distance as well to attend, and this year St Keverne made the journey from Cornwall, whilst numerous bands from the Midlands as well as Enfield & Potters Bar, Regent Brass, St Sebastians Wokingham, and Somerset Brass (not forgetting the brilliant Caravan Club Band and themouthpiece.com band) also made long haul trip up north; it's almost a separate competition to see who has to make the longest trip to the event.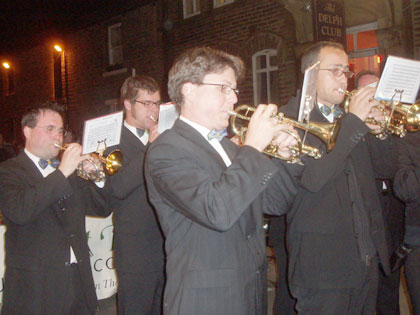 Seeland Brass (Switzerland)
Dungannon Silver came over from Ireland three years ago, and appeared again this year, but the band that travelled the furthest was Seeland Brass from Switzerland. Last year, Brass Band Uri came over from Switzerland and this time Seeland made the trip, loving every minute of it. They only performed at six venues, (with their best result coming sixth at Dobcross) choosing to soak up the atmosphere and listen to bands, but you can bet they'll be back, as they loved it!
The standard of Youth bands on the night is very high. Regular competitors, Rochdale Borough Youth were on show whilst Dobcross Youth, Shaw Youth and Wirral Schools to name just a few all took to the stage and soaked up the atmosphere. All of them took prizes on the night, as did Sellers Youth Band who were consistent throughout their six venues and took first place in the 'Youth Section' at Delph and Dobcross, where they beat the highly fancied Hoover (Bolton) Band in the full order of placings.
Marple Band proved they are very much 'alive and kicking' as they were out and about on the night (anyone spot Bob Mullholland from Brass Band World in the cornet ranks?) under the direction of Sarah Groake, performing 'Knight Templar' and gaining third place at Lydgate and two seventh places.
4BR's John James helped Rainford Silver (on cornet instead of his usual bashings on percussion!) and they had a good night picking up prizes at Delph and Greenacres.
The usual marches of 'Knight Templar', 'Mephistopheles', 'Ravenswood' and 'The Senator' were performed as were a few new ones. One such piece was called 'The Mouthpiece' written by Darrol Barry and performed on the night by 'Themouthpiece.com' Band under Roger Thorne, although Darrol was due to conduct the band at Greenfield. It's certainly an interesting march and will no doubt be heard again. Considering rehearsal time had been limited, they put on a good show when we heard them at Delph; A great bunch of people bringing a great deal of enjoyment to the banding community, they did themselves (and no doubt, the sales of the march) proud.
Other unfamiliar marches included 'Spirit of Victory' by Andrea Crossley performed by the University of Warwick Band and 'Red Rock' by Idor Torksangerpoll played by Dobcross Youth Intermediate.
Over one hundred and twenty bands tackled Saddleworth this year with around ninety tackling Tameside. The night wasn't without the odd bit of congestion in Saddleworth and at the Broadoak in Ashton, but numerous contests had plenty to celebrate.
Delph once again beat its own record, set last year, with seventy five competing bands finishing at 12.45am, with the last couple of hours of the night providing great entertainment. The top four bands, Fodens, Hepworth, Black Dyke and Mardsen all played after 11pm. Denshaw fell one short of its record, declaring fifty-eight on the night, whilst Uppermill continues to be one of the most popular venues with sixty six bands giving adjudicator Goff Richards plenty to think about.
In Tameside, Denton, Droyslden and Stalybridge Celtic all broke new records of forty-seven, thirty and forty-eight respectively, whilst Carrbrook will enter its Silver Jubilee contest in 2006 in good heart after a considerable increase in bands (forty seven in total) chasing the top individual prize in the Borough of £600.
The night wouldn't be what it is without the odd incident and that's what happened at Dukinfield after the BBQ caught fire causing a slight delay.
Film crews were also out and about on the night. Hade Edge continues to be followed around for a television programme that's being made about them, and mingling around the venues was the treasurer of EBBA Robert Schott, sampling the event for the first time, Alan Edmonds of Besson Instruments (enjoying himself and being a pretty accurate 'open' adjudicator!) and Philip and Ruth Biggs.
Doyen will produce a recording from Delph contest giving those in attendance the opportunity to discover did the adjudicator get it right on the night.
All of the contest organisers deserve praise for their dedication and commitment to their individual contests as do the sponsors this year who have collectively offered £48,000 in prize money. Thanks have to go to Peter Dyson who calculates all the results very quickly making life easier for those who report on the event.
Next year, Whit Friday is three weeks later on Friday June 9th. The whole day has enormous significance for many and the band contests at night remain totally unique to the area. Only 12 months to go!
Malcolm Wood