James Morrison - 4BR Profile interview
22-Jun-2005
At the recent Black Dyke 150th Anniversary Concert in Manchester the star of the show was the Wizard of Oz, James Morrison. Iwan Fox met up with him for a quick chat about his great and not so great moments as well as his amazing playing!
---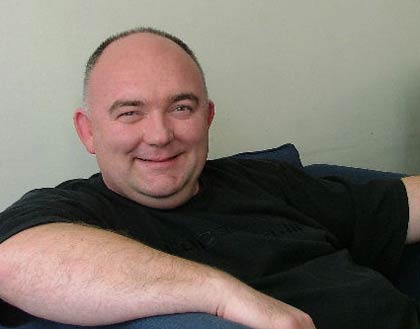 James Morrison in relaxed mood
James Morrison is a truly unique musical talent. In fact, he is touched by genius; a strange almost freakish genius it must be said, but a 24-carat, diamond bright, pure as gold genius nonetheless.
He was born in Australia in 1962 and was brought up in a loving home that enjoyed music. Although his father did not play, his mother was a talented musician and with his brother (who has since become a well respected jazz drummer) and sister, who played the trumpet, the family enjoyed all forms of music making, especially jazz. At the age of age seven he started playing the trombone and by the time he was thirteen he was playing professionally in nightclubs, whilst in his mid teens he had already played at the famous Monterey Jazz Festival and had begun life as a touring jazz musician. The rest, as they say, is history.
For a man who has performed with the greatest musicians of the age in every corner of the globe, wrote and performed the opening fanfare of the 2000 Sydney Olympics, is rich enough to own his own airplane, race top class rally cars and yachts and marry a former Miss Australia, he is also one heck of a nice bloke to interview.
He speaks with a bubbling enthusiasm that is open and friendly, answers questions he must has been asked a hundred times before with a genuine interest and warmth and displays a sharp, dry humour that is backed with crystal clear intellect. He is, as the Americans say, the 'Real Deal'.
"I was lucky enough to come from a family background that loved music," he said. "We always had jazz music on in the house and it was those sounds of those great players that thrilled me so much.
When I was seven I went down with my father to the local brass band and started to learn to play. It was the sound of the instruments that captured my imagination and made me want to try and play all of them – not the instruments themselves, but the sound they made."
'bit of a disaster'

The early years saw him develop to such an extent that by the time he was eight he had already given his first public performance on trombone. "It was a bit of a disaster, as I didn't realise that the slide could come off the end of the instrument. I forgot to hold on and the thing flew off into the third row of the audience! I was really pleased though, as I thought it was a pretty good distance to achieve for a eight year old!"
Ever since that time he has been a truly world class performer and entertainer (he won his first Australian Performer of the Year title in 1990 – the equivalent of a British BAFTA Award), although he doesn't see himself as a great musician who can also entertain or an entertainer who happens to be a great musician. "It doesn't matter to me. All I am interested in is performing, and if I do that in an entertaining way, then great. In the end it is all about being able to entertain people whatever you do, and if they don't think you have given them value for money, you'll soon find out.
In all forms of music making, performers can become too insular about what they do and hide behind the seriousness of what they believe is the integrity of the music. I believe that if you fill a hall with 2000 people who want to be entertained by you then you should try your hardest to make sure you do that. If you do that successfully, you will never rob the music of its integrity. What I do when I play is an extension of my personality – others do it differently, such as Wynton Marsalis, who is a serious guy away from the concert stage as well as on it, but for me, what you see off the stage is the same as what you get on it."

James Morrison with Black Dyke MD, Dr Nicholas Childs

He has been delighted by the invitation to come to play with the Black Dyke Band at their 150th Anniversary celebrations and to perform in the UK with a brass band once more. "I last played here in 1997 at the Royal Albert Hall and thoroughly enjoyed it. The sound of a brass band playing a hymn tune sends shivers down my spine. I went to rehearse with the band in their tiny bandroom in Queensbury this week, and when they played the hymn tune 'Deep Harmony' it was one of the most moving sounds I have ever heard. Anyone who doesn't like the sound of a brass band playing in such a manner must have something wrong with them! There is nothing to match it."
James Morrison was also delighted at the scope of the programme that the band had chosen to celebrate the occasion and felt that it showed that there is a real untapped audience for brass band around the world.
'move on or you die'

"I must congratulate Nick Childs. To get 2100 people to such a great venue as this shows that if bands open their eyes to the possibilities that are out there, there is a whole new audience who will love being entertained by them – and it is all about being entertained. History is fine, but tradition can hold you back and make you sound insular and conservative. We have what I call the 'Jazz Police' in the jazz movement, and I am sure you have it here with brass bands – all they want to do is hold back and stifle expression and innovation. You have to move on otherwise you die.
Give audiences great music, fantastic presentation and do it with real enthusiasm and enjoyment and you will fill halls such as this every time. Black Dyke are a great band, full of brilliant players and I feel it has been a honour to play with them – they have a great future ahead of them for another 150 years. "
James Morrison's appreciation of the sound of the brass band is made the more pertinent by the fact that it has been his encompassing philosophy behind his playing.
"It is all about the sounds you can create on a musical instrument that so excite me. The instruments themselves are just a means to that end – me and my brother used to catch yaddies (small shell fish) using my old trombone, so it doesn't matter to me if it is a trombone, trumpet, saxophone or euphonium – they are just different lengths of tubing to me. Producing the sounds that I want from an instrument isn't hampered by the technical differences between the instruments - you just pick them up and learn what you need to do to produce the sounds from them that you want."
So how come he is able to play screaming octave leaps on a trumpet in his right hand and then within a second play the same thing on a trombone the next in his left?
"My technique is only as good as it needs to be. When I was growing up and wanted to learn to play swing or bebop then I made sure I listened and learned from those who played it and then tried to copy them – the same with classical or blues. With an open mind you can teach yourself anything you want – it's just like learning a new language. Too many players get hang ups on technique when they really don't need to – the answers to making music are not always to be found in the pages of tutor books. Play what you need to play, and learn the rest when the time comes to use it. The same goes for playing on other instruments too – it's a question of opening your mind and embracing what really is important about playing any instrument – the sound.
For instance, the euphonium is such as great jazz instrument – a great sounding bebop instrument, (he used JonhFrench's euph to play on at the concert) yet it is so rarely played as such. If you can push the air through and control how you do it, you will never be limited to what you can and can't produce on any instrument."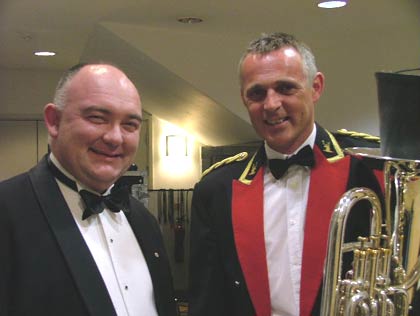 'Thank for the lend...': James Morrison with Dyke's John French
'Thanks for the lend' - James thanks Dyke's John French - pic 3

That has certainly been the 'Wizard of Oz's' philosophy over the years and which has led him to perform in front of audiences who have ranged from the likes of President Clinton and the Queen right through to composing and playing the opening fanfare at the 2000 Olympics. It has also meant that he been able to explore new and exciting projects as well as put a great deal back into music making in his home country.

"One of my most exciting new projects is the new James Morrison Digital Trumpet. I'm really excited by new technology and the instrument (which looks like some sort of storm troopers ray gun from the Star Wars film) will allow performers to explore a whole range of new sound colours, timbres and effects – a bit like a sound synthesizer, although the player's control of airflow and speed will mean they will have a direct link to what it ultimately sounds like. It's an amazing instrument to play.
I'm also heavily involved in exploring new directions for myself such as film music and screen plays as well as trying to continue help develop new talented musicians in Australia through sponsorship of yearly scholarships, continued involvement with six youth bands as well doing teaching through masterclasses and seminars."
'Playing with Dizzy Gillespie'

James Morrison career has been a series of amazing highlights. "Playing with Dizzy Gillespie was such a thrill for me, as he was one of my heroes when I was growing up, but the Sydney Olympics was something else. I wrote the opening fanfare for the Games, and for the only time in my life I made sure that I was going to do something I could impress my grandchildren about when I have them. I wrote the opening thirty or so bars for solo trumpet, so when they asked me who should play it in front of a global audience of around 3 billion people, I made sure no one else was going to get the glory!"
Being the man he is though, James Morrison was quick to ensure that a bit of self-deprecation was also added with the tale of one occasion when it didn't quite go as well. "I was due to perform as part of a huge extravaganza in front of the Queen, with me being let down from the roof of the huge hall on an abseiling rope whilst playing the trumpet! It was going great until the rope got stuck and I was left hanging from the roof, 120 feet in the air for the rest of the show. They had to come and let me down with one of those huge cherry pickers, which people thought was part of the show, and I was told even the Queen was laughing!"

James also recounted the time when he was given the Fascist Spanish National anthem to play by mistake at the Davis Cup Final in Australia, which saw the Spanish Prime Minister walk out, the tennis suspended and diplomatic relations between the two countries go a little frosty. "I was given the anthem to play by the organisers – which I did, although I had no idea what was going on. Although I wasn't to blame, and received hundreds of e mails and letters of support and only one complaint, I haven't been back to Spain for a holiday as yet!"
With such a busy worldwide schedule to maintain (he was off to Los Angeles the following day) how does a true Aussie like him relax, given as he says himself, having the physique of a prop forward? "Well, I'm not like all Australian men. My relaxation comes with flying (he has his own plane), motor racing and yachting – all of which I love. I'm not really that interested in football or rugby, although I know that our cricket team are over here to play for some important trophy!"
So what would he have been them I he hadn't picked up that first brass instrument at the age of seven and thought what a wonderful sound it made?
"Just a regular bloke I think. Enjoying life on a boat, fishing or messing about in fast cars or fiddling about with computers and new technology. I'm really lucky that I have been able to do all of that through music, so I don't ever take anything for granted and I make sure I enjoy myself whatever I do."
Genius indeed.
Iwan Fox