2005 World Brass Band Championships - Introduction
5-Jul-2005
4BR casts its introductory beady eye over the forthcoming World Championships in Kerkrade this weekend. Who will come back with the prize and the title of Champions of the World?
---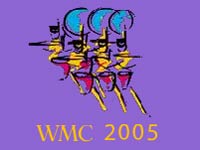 World Brass Band Championships
Kerkrade
Netherlands
July 9th/10th 2005
This weekend in Kerkrade, the World Brass Band Championships take place. Whether or not it is truly a World Championship is another question, but for those who have made the immense effort to attend, winning and becoming known as the World Champion Brass Band will have credence – even if in the broader scheme of things it may not mean a great deal.
That said, there is still a pretty good line up of bands who have made it to Kerkrade - from just about the four corners of the brass band globe in fact. Meanwhile the organisers have pushed the boat out and have taken the welcome step of getting one of our top composers to write a brand new piece for the event, whilst they have also given the contest its unique selling point in having it based on a two 'mini contest' format over the two days.
Kerkrade is used to hosting such events and over the years has become something of a mecca for general music fans. The grand idea behind this year's event may have fallen a little flat, but the kernel of the original inspiration was a good one. We wish it every success. The WMC Kerkrade Foundation was in fact founded in 1951 and celebrated its fiftieth anniversary in 2001. It aims to enhance the international development of wind music world wide by the organisation of periodic musical festivals and projects. Its four yearly festival is internationally recognised as the major international event for wind music in the world – so their impressive website at www.wmc.nl says.
Championship Division:

The Championship itself is broken into four main divisions. The Championship Section bands are the flagship of the whole weekend, and seven outfits will line up to do battle on Philip Wilby's set work, 'Music for the Moving Image' and then put on their glad rags and handbags to entertain the audience and open adjudicators the following day with a 40 minute programme that must include a solo item. There have been some welcome ambitious choices here. Top prize is a very nice 3500 Euros.
The adjudicators for the event are David Read, James Curnow and Maurice Hamers on the set work (all enclosed in the traditional box), whilst for the crash bang wallop stuff it is Torgny Hanson, Armin Bachmann and Jan van der Roost – thankfully all in the open.
The bands taking part are as follows:
Brass Band Willebroek (Belgium)
Provinciale Brass Band Groningen (Netherlands)
National Brass Band of New Zealand (New Zealand)
Chicago Brass Band (USA)
Reg Vardy Band (England)
Brass Band Trieze Etoiles (Switzerland)
Brass Band Buizingen (Belgium)
4BR will be doing a band by band analysis of these competitors to see if we can work out which of them should come out on top – all in our usual accurate expert fashion of course!
---
The First Division:
The First Division will take place on the 9th July will see six bands trying to catch the adjudicators ears by performing James Curnow's tricky but enjoyable 'Trittico' and an own choice piece.
The line up for this contest is as follows:
Askoy Brass Band (Norway) - (Forest of Dean – Derek Bourgeois)
Brass Band Province de Liege (Belgium) - (James Cook Circumnavigator – Gilbert Vinter)
Regionale Spijkerpakkenband Opsterland (Netherlands) – (Spectrum – Gilbert Vinter)
Delta Brass Zeeland (Netherlands) - (Forest of Dean – Derek Bourgeois)
Ratby Co-operative Band (England) – (Of Men and Mountains – Edward Gregson)
Brass Band Merum (Netherlands) (A London Overture – Philip Sparke)
As with the Championship bands, there are some ambitious choices from the bands here, including some great old Gilbert Vinter, the usual Philip Sparke and two very difficult choices in the form of Edward Gregson's 'Of Men and Mountains' and Derek Bourgeois' 'Forest of Dean'.
Who should win? Anyone's guess really, although Askoy of Norway who came 3rd in their First Section Nationals in February are a quality outfit and should provide the litmus test for the others to compare themselves against.
The British representative comes in the form of the Ratby Band from the Midlands who under the baton of Michael Fowles came 9th at the Regional Championships in the Championship Section earlier this year, and should fancy their chances of doing very well here. We wish them luck.
---
Second Division:
The Second Division will also take place on the 9th July, when the bands will have to get to grips with Kenneth Downie's excellent 'Music for Thanksgiving' as well as their own choice selections.
The line up here is as follows:
Shirland Welfare Training (England) – (Verona Lights – Bruce Fraser)
Greenalls Brass Band (England) - (Variations for Brass Band - Ralph Vaughan Williams)
Brass Band Schoonhoven B (Netherlands) - (Firestorm - Stephen bulla)
St. George Brass Band Mons (Belgium) - (The Plantagenets - Edward Gregson)
Mercator Brass (Belgium) - (Excalibur - Jan Van der Roost)
Vaerloese Garden (Germany) - (Dimensions - Peter Graham)
Brass Band Pro Rege A (Netherlands) - (Renaissance - Peter Graham)
Folkwang Brass Band (Germany) - (Shine as the Light - Peter Graham)
Brass Band Bacchus (Belgium) - (Credo - Lorne Barry)
Again a good line up of bands from Europe and two very good representatives from the UK in the shape of Marie Smith and her wonderful Shirland Welfare Training Band, who come to the contest as one of the favourites after winning the Midlands Regional Championships by three clear points. If Marie can work her usual magic then they should be there or thereabouts come the prize giving time – and it couldn't have happened to a nicer bunch if it does.
Meanwhile, the excellent John Ludden and his Greenall's Band are regular competitors here, and also come here with good form under their belt what with just missing out on qualification to the National Finals when they came 3rd at Blackpool and coming in the prizes at both Buxton and Tameside recently.
---
Third Division:
The Third Division takes place on the 10th July, when just the four bands will have to get to grips with Gareth Wood's neat and atmospheric 'Hinemoa' as well as their own choice selections.

The line up here is as follows:
Brass Band Euterpe (Belgium) - (A Cambrian Suite - Michael Ball)
Cologne Concert Brass (Germany) - (Laude - James Curnow)
Smithills School Senior Brass Band (England) - (A Cambrian Suite - Michael Ball)
Torsby Brass - (Variations on Laudate Dominum - Edward Gregson)
Not much to report on three of the bands here for us – but they will have to be pretty good outfits if they are to beat Chris Wormald and his Smithills School Senior Band. Sorry if we are to plumb for them as red hot favourites here, but we think they may well bring the house down. If they win, it will be their third successive Gold Medal here.