2005 World Brass Band Championships - Preview: Championship Bands and Prediction
6-Jul-2005
4BR looks at the seven bands who hope to leave Kerkrade crowned as World Champions.
---
There are seven bands taking part in the World Championships this year and all will fancy their chances of coming away from Kerkrade with the title of World Champions.
The format of the contest based over two days will mean that they should be able to showcase their talents to the full, what with the set work 'Music for the Moving Image' by Philip Wilby on July 9th and then the 40 minute concert programme the following day.
There are plenty of ambitious choices too – from some serious test piece selections to a pianist and even specially commissioned works. It should prove to be a great event and we wish all the competitors the very best.
Who do we think will win then? Scroll down to the bottom of the page and find out our choices.
---
Brass Band Willebroek (Belgium)
Conductor: Frans Violet
Principal Players:
Principal Cornet: Raf Van Looveren
Principal Euphonium: Stef Pillaert
Principal Trombone: Walter Hoecks
Principal Horn: Stijn Berbe
Soprano: Bert Van Thienen
Flugel: Kristien Schuurmans
Tuba: Stefan Moeskops
Form Guide:
Willebroek should be one of the favourites to take the title if they play to the kind of form they have shown throughout European contests in the past decade or more.
On their day they are a superbly marshalled band with players of the highest quality around the stands and an MD of rare musical intellect. When it all comes together they are as good as anyone on the planet. Just have a look at the players at their disposal and you can see why they should be feared – from the excellent Principal cornet and soprano to the fine trombone and bass end leaders.
An Achilles heel though has been shown of late. At the European Championships things seemed to be going so well until the wheels fell off on their own choice selection of 'Music of the Spheres' whilst player shortages at the masters didn't help their cause at all and they just fell off the pace.
An interesting selection will see the talented Stef Pillaert showcase the rather old but enjoyable 'Caprice' by Ray Woodfield, as well as the exciting 'Intrada' arranged by Ray Farr. The meat though comes with Leslie Condon's 'Call of the Righteous' and another bash at 'Music of the Spheres' which if they get 100% right could well be their trump card.
Own Choice Selection:
Intrada 'Ein' Feste Burg' (Farr)
The Call of the Righteous (Condon)
Caprice (Woodfield) (Euphonium soloist: Stef Pillaert)
Music of the Spheres (Sparke)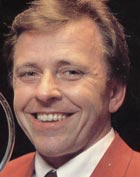 Conductor:
Frans Violet was born in 1954. At the age of 8, he started musical studies at the Music Academies of Boom and Willebroek.

He graduated at the Royal Conservatoire of Antwerp gaining first prices and diplomas for solfège, trumpet, piano and chamber music. In 1972 he started his professional career as a trumpet soloist in the "Muntschouwburg" (Brussels opera). After a few years he joined the Symphonic Orchestra of the Belgian Radio and Television.

His love for brass band music was behind his decision in 1984 to leave all orchestral work behind him and to concentrate on teaching. Since then Frans Violet has given full attention to BBW and to his pupils at the Music Academy of Willebroek. In 1990 he was appointed professor at the Lemmens Institute of Leuven for the course "HAFABRA" (Wind band - Fanfare band and brass band) and in 1993 he started a course for soft brass instruments at the Royal Music Conservatoire of Antwerp.
---
Provinciale Brass Band Groningen (Netherlands)
Conductor: Sietse Hamersma
Principal Players:
Principal Cornet: Johan van der Laan
Principal Euphonium: Frans –Aert Bughgraef
Principal Trombone: Nick Danens
Principal Horn: Aldrick van der Ploeg
Soprano: Richard Visser
Flugel: Sandra Bejert
Tuba: Onno Zvidema
Form Guide:
Another of the competing bands here celebrating a birthday this year – this time 25 years since the band was formed, and to mark the fact they have brought out a new CD entitled, 'Let the Brass Out'.
They are certainly taking the contest very seriously and have engaged the help of no les than Professor David King of the YBS Band, who ha taken a number of rehearsals with them in the build up to the event.
Over the years they have a pretty good contesting record as well, winning their own National Championships in 2002 playing Derek Bourgeois's 'Lac Leman' and following that up in 2003 by coming 4th. They came 7th at the 2003 European in Bergen. They were 4th at their National Finals in December.
Simon Hoekstra is a talented MD, and there is plenty of quality around the stands as well, whilst their selection for the concert programme makes for interesting reading. A bit of Grieg to start followed by Finale from the third Symphonic Dance S.V. Rachmaninovbefore euphonium player Frans Aert Burghgraef tackles the difficult 'Fantasie Opus 96' by Hummel. All that and a quick wiz through 'Revelation' to finish. Tough stuff indeed, but if it comes off they could be looking at a high prize.
Own Choice Selection:
Prelude from the Holberg Suite (Grieg/Lorriman)
Finale from the third Symphonic Dance S.V. Rachmaninov, arr. Klaas van der Woude
Fantaisie Opus 96 (Hummel/Childs) (Euphonium soloist: Frans Aert Burghgraef)
Revelation (Wilby)
Conductor:
In may 2005 Sietse Hamersma started conducting the Provinciale Brassband Groningen (PBG).
Sietse was born in 1959 in the little village Zuidwolde, near to Groningen and started playing in a band at Heman in Zuidwolde at the age of 8. At the music-school at Bedum Sietse attended organ- and piano lessons. After the transformation of Heman from fanfare to a brass band, Sietse started conducting the youth brass band.

After his highschool period Sietse Hamersma studied at the M.P.A. in Leeuwarden. His main teacher was Jan Holtrop. Besides conducting several bands he is a full-time teacher at the Institute for Amateur Music (IVAK) in Delfzijl and he plays in the brass ensemble "Fryslân Brass".

Besides the PBG Sietse nowadays conducts brass band Heman from Zuidwolde, fanfare "Oranje" from Grootegast (both of them playing at the WMC!) and brass band Gloria Deï from Gerkesklooster.

---
National Brass Band of New Zealand
Conductor: David Gallaher
Principal Players:
Principal Cornet: John Lewis
Principal Euphonium: Riki McDonnell
Principal Trombone: David Bremner
Principal Horn: Bill Vail
Soprano: Colin Clark
Flugel: Mason Elliott
Tuba: Nigel Seaton
Current form:
Difficult to asses – but just like the British Lions (you have to excuse the rugby analogy) they are a disparate bunch of fine players who have been brought together to take on the world.
They have been away from home now for a little while and have played a number of concerts to get their style and precision together – and they should be in better shape than Clive Woodward's men for sure.
David Gallaher is a fine musician and conductor and just the right choice to mould some very talented individuals into a team capable of winning. And those individuals are as good as any in the world; David Bremner is a brilliant trombone player and featured soloist, whilst the likes of Mason Elliot the current NZ Champion of Champions soloist, Riki McDonnell on euphonium, John Lewis on cornet, Coin Clark on soprano and Bill Vail on horn are superb performers.
Add to that a bass end that can stop a charging rhino from 200 yards and you have a team more than capable of heading home with the title.
'Prelude for Kerkrade' opens things up before David Bremner will surely startle the audience with his musicianship, then its 'Dove' – which will either be the trump card or just possibly a piece too far. We will wait and see with interest.
Own Choice Selection:
Prelude for Kerkrade (Young)
Clouds (Ritchy) (trombone soloist: David Bremmer)
Dove Descending… (Wilby)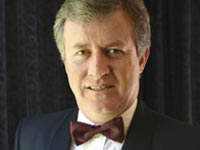 Conductor:
David Gallaher's involvement in brass bands began as a cornet player in the St Kilda Junior Band of Dunedin in the mid 1960s. Brief flirtations with orchestras and jazz bands followed. A teaching transfer to Invercargill came after study at Otago University and Dunedin Teachers College. By this time the passion for brass bands had taken hold and was nurtured in New Zealand's southernmost city.

A change of instrument to tenor horn preceded selection in the 1980 National Band of New Zealand. David was also selected in the horn sections of the 1985 and 1992 National Bands.

In 1984 David became the first southern hemisphere performer on tenor horn to have been made a Fellow of Trinity College, London.

David began teaching brass instruments in schools while in Invercargill. He has made a significant contribution in this field. Many of his students have gone on to gain selection in National Youth Bands and the National Band of New Zealand. It was in this field of endeavour that he was to come under the influence of the late Mervyn Waters who provided much early encouragement and inspiration. Ken Smith is another significant musical influence.

Following Mervyn Water's death and Ken Smith's appointment to Woolston Brass, David was invited to be Woolston's Deputy Conductor and moved to Christchurch. After Ken's retirement, David assumed the conductorship of Woolston Brass, now know as New Zealand Community Trust Woolston Brass.

David's prowess as a Music Director is evident when that Band won the 'A' Grade National Championship Contest in 1997 (in his first year) was followed with further successes in 2000, 2001 and 2002. Under David's direction "The Band of the Year" title was Woolston's in 1997, 1998, 2002 and 2003.
David has been an avid supporter of New Zealand Music and is delighted to see the growing interest of some of our most significant composers now making contributions to the Brass Band repertoire.
---
Chicago Brass Band (US)
Conductor: Colin Hollman
Principal Players:
Principal Cornet: Amy Nelson
Principal Euphonium: Brad Say
Principal Trombone: Farad De Berry
Principal Horn: Roger Menning
Soprano: Guy Clark
Flugel: Joe Dymit
Tuba: Andrew Tucker
Form Guide:
The 2004 North American Champions make the trip across the Atlantic Ocean to show that American brass banding is every bit as good as anything found in Europe.
The band, which is just four years old, left for Holland on July 5th and will perform concerts in Kerkrade, Heerlen and Bruges, together with its WBBC performance before returning to Chicago on July 13th.
Plenty of talent around the stands, with Amy Nelson on Principal Cornet a featured soloist and endorsee for Smith/Watkins instruments. They shouldn't be afraid of playing to a large audience either as they have just played to over 40,000 people at the Great American Brass Band Festival with Stephen Mead.
The experienced Colin Hollman leads them into battle and they have really chosen a lip smacker of a programme to wrestle the World Championship title back across the pond with them. 'Benveuto Cellini' starts the ball rolling before a real contrast with a bit of true Americana in 'Black and White Rag' featuring soloists, Mark Taylor and Dan Heffner. Just when they think it's all over though, they will head straight in 'St. Magnus' to end. No faulting the ambition – but will it be enough to win?
Own Choice Selection:
Benvenuto Cellini (Berlioz/Wright)
Black and White Rag (Botsford/Snell) (Soloists: Mark Taylor and Dan Heffner)
St. Magnus (Downie)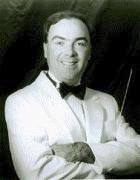 Conductor:
Colin Holman received his Bachelor of Music degree with honors from the University of Birmingham, England in 1983 and came to the United States with the aid of a Direct Exchange Scholarship and a Graduate Honors Fellowship, completing his master's degree in instrumental conducting and his Ph.D. in musicology at the University of Kansas.

In 1992 Holman moved to Chicago and established his career as a conductor and a musicologist specializing in English music. He has lectured in musicology at both the undergraduate and graduate level at several area universities including Northwestern University, Northern Illinois University and Wheaton College. His extensive conducting credits include work in opera and musical theatre, with orchestras and concert bands, and in early music.

Holman's first performing experiences (both as player and conductor) were in local and school brass bands in England which led to performances at the National Festival of Music for Youth and two European tours. Since moving to Chicago, he has rekindled his association with the brass band community, becoming one of the most successful brass band conductors in North America on the contest and concert platform.

He is in much demand as a brass band clinician and in April 2002 was an adjudicator at the NABBA Championships in Cincinnati OH. In addition to the newly founded Chicago Brass Band, his present conducting duties also include the Fox Valley Concert Band (Geneva IL), the Fox Valley Symphony Orchestra (Aurora IL), and the St Louis Brass Band.

In 2004 he led the Chicago Brass Band to their first win in the Championship Division of the NABBA competition.
---
Reg Vardy Band (England)
Conductor:
Ray Farr
Principal Players:
Principal Cornet: Brian Tait
Principal Euphonium: Paul Robinson
Principal Trombone: Chris Bentham
Principal Horn: Andrew Hall
Soprano: Tom Glendinning
Flugel: Joanne Winspear
Form Guide:
Reg Vardy are one of the form bands in the UK at present after a twelve month period when they have been playing as well as anyone at the major contests.
They started 2005 in good form, winning the North of England Regional Championships without missing a turn out of place and going on to put in a quality performance at the Masters where they were good value for their 6th place.
Plenty of quality and experience around the stands as well, with Brian Tait playing as well as ever on Principal Cornet and Paul Robinson on sparkling form after winning the 4BR Best Instrumentalist Award at the Masters.
There is plenty more besides and they have been leaving nothing to chance in preparation either. A major concert was given when they showcased their programme at Durham a few weeks ago, and they were reported to be on good form that night, whilst Ray Farr has picked a very clever (and different) programme to tickle the taste buds of the adjudicators on the Sunday.
A bit more Wilby to open, will be followed by two movements from Shostakovich's '2nd Piano Concerto' featuring Andy Nercessian on the old Joanna, before a romp through the end parts of 'Pictures at an Exhibition' – and if they have a lip left a touch of sabre rattling to end.
It's a huge ask this for any band – but you feel they have the confidence to make it come off.
Own Choice Selection:
Peel Park (from Lowry Sketchbook) (Wilby)
Piano Concerto No. 2 (Movements 2 and 3) (Shostakovitch/Howarth)
Pictures at an Exhibition (from "promenade 5") (Mussorgsky/Howarth)
Sabre Dance (Katchaturian)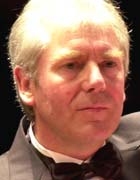 Conductor:
Ray Farr was educated at the Birmingham School of Music and at the Royal Academy of Music. After 10 years playing with the BBC Radio Orchestra he started his career as a conductor.

He has appeared in concerts around the world and in some of the finest concert halls and has gained a reputation as a stylish conductor and a planner of interesting concert programmes ranging from light music to "avant-garde". He is equally adept in Classical and modern music and has conducted opera, ballet and oratorio. In 1988 he won a special Arts Council Award to study contemporary music with Edward Gregson and Jorma Panula, at Helsinki's Sibelius Academy.
He has conducted at many important and has made several L.P.'s, C.D.s and T.V. appearances. He has appeared with many orchestras, including the BBC Radio Orchestra and the Stavanger Symphony Orchestra. Today, he is a busy, freelance conductor, based back in the UK and now as Musical Director of the Reg Vardy Band and heading an exciting new music course at Durham University.
---
Brass Band Trieze Etoiles (Switzerland)
Conductor: Geo-Pierre Moren
Principal Players:
Principal Cornet: Patrick Vergeres
Principal Euphonium: Sebastien Heritier
Principal Trombone: Bertrand Moren
Principal Horn: Jocelyne Moren
Soprano: Manuel Cathoblaz
Flugel: Claude Romailler
Tuba: Philippe Rapalli
Form Guide:
The fine champions of Switzerland will pose a very strong challenge here under their very experienced Musical Director, Geo-Pierre Moren and in preparation for the event they have been helped by Howard Snell.
They put in two very compact and solid performances at the European Championships in Groningen a couple of months ago and showed enough quality to suggest that they should be a band to be feared here. Perhaps their only weakness is that they tend to play almost technically perfect, but lacking a little warmth in the timbre, but you cannot deny the quality that comes out of the bells of a group of talented players.
Their interesting programme starts with 'Homage' by Jan Van der Roost before their talented trombone player Bertrand Moren will showcase his talents on 'The Flying Slide', which will be getting its premiere at a concert on the 6th in Sion.
They too have taken the opportunity to give their European test piece selection another airing, and they should make a good fist of it for sure (they came 4th on it at Gronengin), so they will not be a band to be taken lightly.
Own Choice Selection:
Homage (Van der Roost)
Music of the Spheres (Sparke)
The Flying Slide (Thompson) (Soloist: Bertrand Moren)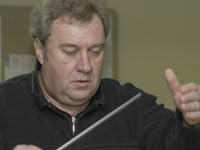 Conductor:
We have no biographical detail on Geo-Pierre Moren at present.
---
Brass Band Buizingen (Belgium)
Conductor: Luc Vertommen
Principal Players:
Principal Cornet: Erwin Dekempeneer
Principal Euphonium: Hans Goris
Principal Trombone: Emmanuel Reynaerts
Principal Horn: Stefan Zoete
Soprano: Win Stas
Flugel: Harmen Vanhoorne
Tuba: Pascal Deveen
Form Guide:
2005 sees the band celebrate their 30th anniversary, and they have been doing it in some style as well with a full concert series of events and compositions from the likes of Nigel Clarke, Roger Deronge, Rob Goorhuis and Peter Meechan.
Peter has been working closely with them in the past few weeks one of his new works, 'B of the Bang' will be used by them to open their concert programme.
They have plenty of talented players around the stands, and have shown in recent years that they are a competitive force both at home and one the European banding scene.
One of those talented players, xylophonist Gaetan La Mela will be featured as their soloist in the 'Concertino for Xylophone and Band', whilst they show their ambition with their own choice test piece selection of the immense 'Ginnungagap'… Seeming Emptiness, which really is a cracking work and could well provide them with the opportunity to push themselves to the very head of this competitive field.
Own Choice Selection:
B of the Bang (Meechan)
Concertino for Xylophone and Band (Mayuzumi/Vertommen) (soloist: Gaetan La Mela)
Ginnungagap Seeming Emptiness... (Evenepoel)
Conductor:
Luc Vertommen was born in Leest. There he got acquainted with the band music scene by way of the local fanfare band. He moved on to study music theory, cornet and the piano at the music academies of Mechelen and Willebroek. Luc completed his higher musical education at the Leuven Lemmens Institute with a triple Laureate Certificate for Trumpet, Music History and Band Conducting. Subsequently, he obtained a First Prize Chamber Music at the Brussels Royal Music Conservatory. Later, he also obtained a master's degree in Wind Band Conducting at the Leuven Lemmens Institute.

He has worked with many leading Belgian (symphonic) orchestra's and ensembles as free lance trumpet player and as Instrumental Ensemble teacher at the music academy of Zaventem and as Band Conducting teacher at the Servais Academy of Halle. As a cornet player Luc Vertommen was laureate at the National Soloist Contest of the then Flemish Brass Band Federation. He played with Brass Band Midden Brabant and Brass Band Willebroek.
Luc has written two books and regularly arranges music for band, which is recorded on several CDs. At the moment, he is compiling a series of CDs and books on the history of Flemish band music, entitled 'Anthology of Flemish Band Music'.

Luc Vertommen has his own publishing company, with an extended catalogue containing more than 200 original works for band by Flemish composers. Luc Vertommen is a member of W.A.S.B.E, the musical commission of the Royal Music Federation of Flemish Brabant and of the brass band commission of the Flemish Amateur Music Organisation (Vlamo).
---
4BR Prediction:
Even with such a small field, it is going to be very difficult to pick a winner out of these seven high quality bands.
The favourites should on paper be the Belgian's of Willebroek who have played, and won at the highest level before, but they should also be hard pressed by Reg Vardy who will fancy their chances and the National Band of New Zealand who may well appeal to the more traditional taste buds of the men in the box. Treize Etoiles should also be in with a good shout and the Americans only usually invade Europe when they know they have a good chance of ending up on the winning side.
The test piece should sort the men out from the boys though – it is a tough ask for any top line band and has all the usual Wilby features of technical brilliance and immense detail allied to sweeping lyrical sounds. It is interesting that David Read, the most experienced, and best brass band judge in the world is in the box for this one – he won't miss a trick.
The open concert programme stuff is a question of taste really – all the bands will surely play it well, but will the showy stuff really come off (Reg Vardy in particular are taking a huge risk here with a piano soloist). All are playing hefty test pieces too – so stamina will have a part to play as well.
With all that sitting on the fence then – who will win?
Well its going to be Willebroek for us with the National Band of New Zealand a close second, Reg Vardy making up the top three. The Swiss of Treize Etoiles should be good enough for 4th at least, and the top six should be completed by Chicago and Buizingen, leaving Groningen as our dark horse. How's that!
4BR Dodgy World Prediction:
1. Brass Band Willebroek
2. National Band of New Zealand
3. Reg Vardy
4. Brass Band Treize Etoiles
5. Chicago Brass Band
6. Brass Band Buizingen
Dark Horse: Provinciale Brass Band Groningen