2005 World Brass Band Championships - Lower Section retrospective
17-Jul-2005
Pete Meechan and 4BR took time out to listen to the contenders for the other World Championships on offer for the brass bands in Kerkrade, where the Brits put up a great fight on a pretty uneven playing field.
---
In Sections 1 to 3, each band performed a set test piece, and then followed with an own choice work, though some bands also chose to play an opening fanfare or a march too. These three sections were very encouraging, showing that brass banding is in a very healthy state, not just in Britain, but further round the world too.
The contest began Saturday morning with the Second Section. Unfortunately, a lack of registry, and the ability to enter your band into which section you saw fit maybe needs to be addressed before the next World Championship, as this section had a few bands whose players seemed to feature in higher section bands too – at least two bands utilised players who were also playing in the Championship Section. Not quite in the spirit of things eh?
It seems unfair that genuine Second Section bands, such as the two British bands, should have to travel a 15 hour coach journey and all the expenses which amount attending a contest of this nature, and have to contest against such bands. It was not quite a level playing field.
The Second Section entrants included two bands from the UK – Shirland W.T. Band and Greenalls Brass Band.
Shirland were drawn first and gave a good account of themselves, and whilst they may be disappointed with seventh place, their young band put in two consistent and mature performances which they should be proud of. They started with the set test – Kenneth Downie's 'Music for Thanksgiving' which was played with heart and the band clearly enjoyed performing the piece. Their conductor, Marie Smith, made some nice musical shapes and the soloists from around the band performed with style.
They chose to perform Bruce Fraser's work 'Verona Lights' as their own choice work, and again it was a consistent performance. The band, who boasts amongst their ranks members of NYBBGB and the National Children's Band, possibly suffered from the dreaded number one draw, but should nevertheless seek the positives from their trip to Holland – and there are many of these.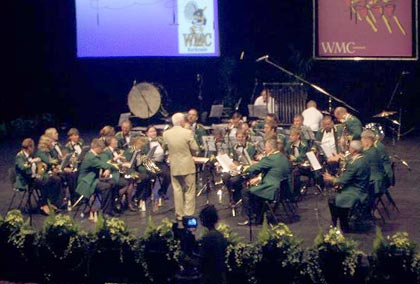 Greenhalls fly the British flag

Greenalls Brass Band also put in two good performances. The set test was very musically played, but a few slips will have no doubt cost them the odd point or two. For their own choice selection they performed Vaughn Williams' 'Variations for Brass Band'. This was well put together and featured some great work from the trombone section on more than one occasion. It built nicely with a sense of direction, but the crowd obviously didn't know the piece and didn't realised it had finished! Unfortunately, a few slips from soloists would have again cost in their final points tally.
The Section was won by Brass Band Pro Rega A from Holland, and they were without doubt the clear winners. There was quality to be heard all around the stands throughout the Downie and their own choice, 'Renaissance' (Peter Graham). The second placed band, Brass Band Baccus were also excellent, though they featured players from other, bigger name, Belgian bands.
The British representatives fared better in the First Section, where the set test was James Curnow's difficult work, 'Trittico'. It also saw a good selection of own choice pieces: Two played 'Forest of Dean' (Bourgeois), whilst the others go to grips with, 'Of Men and Mountains' (Gregson), 'A London Overture' (Sparke), 'James Cook Circumnavigator' and 'Spectrum' (both Vinter).
All the bands in this contest performed to a high standard, but the Ratby Cooperative Band managed to lift their level of performance one notch higher than the rest. Conducted by Michael Fowles, they produced a highly musical performance throughout their programme of three well chosen works.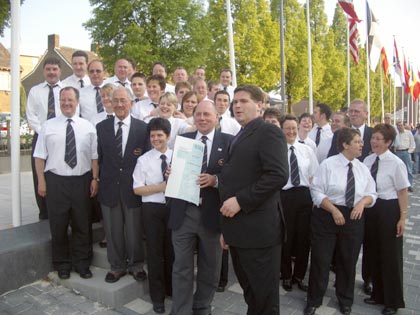 Ratby celebrate with MD Mike Fowles

Before performing the set test, the band chose to perform the march 'Star Lake', by Eric Ball. This gave the whole programme a well rounded feel, and had particular significance to the own choice, 'Of Men and Mountains' (Gregson dedicated the work in memory of Ball). It was a superb start to the programme that immediately set the standard of what was to come.
Their performance of 'Trittico' was very well organised by their MD, and featured some very secure playing from the soloists. There were only a few minor slips, but these didn't affect the overall musical performance. A special mention should go to the MD for interpretation of the ending – a fantastic finale to a great performance. The composer was sitting on the panel of judges, and you can only imagine that he must have been very happy with this reading.
'Of Men and Mountains' was again a well polished performance with a real sense of direction. Highlights included some very fine cornet, euphonium and soprano cornet playing, not only in solo passages, but in tutti sections too. Throughout their programme, you got a feeling that rather then spend all their money at once, they made it last throughout the whole performance, and this paid dividends.
Ratby were closely followed by Brass Band Merum-Roermond from Holland, though perhaps they will reflect that after winning the set test by one point, errors in the own choice ('A London Overture') as well as a slightly conservative reading of the score cost them the chance of victory.
In the First Section, the bands own marks difference between the set and own choice were significantly different – with the set test scoring higher. Perhaps this shows a well chosen test piece – and the benefit of having the composer in the box.
The Third Section only had four entrants, but it provided us with an entertaining start to Sunday. The test piece, 'Hinemoa' by Gareth Wood was well played by all four bands, but the overall victory in this section again went to a British band.
The first three bands to play all had some good musical moments and each band had a feature which stood out from the crowd; the very accomplished musical and technical playing of Brass Band Euterpe (from Belgium); the solo euphonium performance from Torsby Brass (Sweden) and the slightly unconventional, but enjoyable brass ensemble-esque sound of Cologne Concert Brass (Germany).
However, it was Brass Band Euterpe who laid down the gauntlet from a number two draw. The band, ably conducted by Roland van Buggenhout, produced two very good performances – the set test and their own choice of 'Cambrian Suite' (M. Ball). The band had many positive features – I have already mentioned their technical and musical playing, but they also produced a big sound – something which seemed to find a lot of favour with the judges through the weekend.
If the gauntlet was laid down by Euterpe, then it was Smithills School Senior Brass Band who took up the challenge with admiral spirit!
Smithills, who had also taken over a saxophone section to form a big band at various concerts, began with the classic march, 'Army of the Nile' which was well managed, and the rest of their programme ('Hinemoa' and Michael Ball's 'Cambrian Suite') showed a great deal of musical maturity - especially considering that the bands oldest member is 19, and there are many players still in their early teens and younger!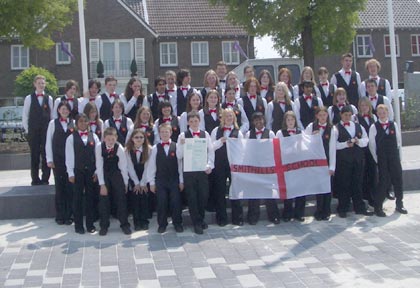 We are the Champions - Smithills School Senior Brass Band
They were able to bring out huge dynamic contrasts, near perfect tuning, beautifully shaped phrases and rhythmic definition that belied their age and experience. In the end, the half point margin of victory didn't tell the full story, and it was good to see the three other bands applauding and cheering in admiration!
It is difficult to find enough superlatives about their whole programme. I don't think that there was anyone who heard them who wasn't hugely impressed. And so they should be. There are over 40 young players in this band (one of two brass bands at the school, not to mention several wind bands, big bands and orchestras!) and they all deserve a mention.
However, mentions should especially go to Rachel Fenton (Principal Cornet), Chris Seddon (Soprano), Joanna Hurst (Flugel) and her sister Rebecca (Euphonium). They all played with style and finesse, and it won't be long before we hear these and other instrumentalists from the band, on the big stages in Britain. But it would be remiss of me not to mention their inspirational conductor, Chris Wormald. He motivates, directs and educates these players, and they are all a great credit to him, themselves and their families.
Theirs was a cracking performance that rounded off a cracking weekend. Congratulations to everyone – especially all the winners. It was a worthy event with worthy World Champions.
Pete Meechan