Interview with Philip Watson - The man with the hardest job in banding?
17-Jul-2005
Iwan Fox talks to Philip Watson,the Development Officer for the BFBB, who has the difficult job of raising the profile of the banding movement - all in 25 hours a week.
---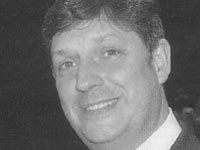 Although many in the brass band movement have undeniably difficult and demanding jobs, surely few are as challenging as that of enhancing the profile of, and public support for, the British Federation of Brass Bands.
Although the poor old 'Fed's' heart has always been in the right place, it has struggled, albeit tirelessly, to win widespread, as well as public approbation for its self-appointed position as National overlord of the brass band movement.

This, some might say, gargantuan task falls to ex-military man, Philip Watson, the new Development Officer of the BFBB, whose remit is to achieve all of the above (in tandem with an Executive Committee) within his contracted 25 hours per week.

Small wonder, then, that since his appointment became effective in May, Philip has approached his new 'Challenge Anneka' task with the zeal of a missionary and a professionalism with which this former military musician has impressed many.

Entering a movement that, in his words, he has found to be 'invigorating and exciting' has already produced plenty of hard work for him, which he seems to relish.

Philip Watson's professional background seems, on paper, to make him ideally suited for the job in hand. He was born in Kendal, Cumbria, and began his music making within the brass band movement. After enlisting to the 5th Royal Inniskilling Dragoon Guards, he studied at the venerable home of Army music, Kneller Hall, before embarking upon a peripatetic career in the Forces, during which he distinguished himself as a cornetist, clarinettist and saxophonist, as well as in action during the 1991 Gulf War.

He also has letters after his name, namely and ALCM and a BA (Hons.), and has undertaken a number of high profile development courses at the Royal Military College of Science. On 'civvie' street, Philip has been a Social Policy Co-ordinator for the Citizens Advice Bureaux and is a Freeman of the City of London. All pretty impressive stuff amounting to a wide-ranging portfolio of career experience that, doubtless, imbues him with the relevant experience for his new work.

Enthusing about new role

Enthusing about his new role in life, Philip observed: "It is an extremely exciting post and one that I am really enjoying. The brass band movement is so invigorating and exciting, and I have been delighted with the support and encouragement I have found from people who are involved in it – from youth bands up to the very best Championship Section bands."

Nevertheless, his trajectory into the public consciousness of an often hard-to-please band movement has brought with it a steep learning curve for this quietly spoken yet very affirmative man.

In squaring up to his new job, Philip has made it his business to 'glad hand' as many of his new audience as possible. He elaborated: "I have tried to get out and meet as many people and bands from all levels of the movement in my short time in the post. In the past few weeks, for instance, I have worked with Staines Band in London and Ocean Brass, which is based in the Southampton area, and have met and talked to people at events such as the National Youth Brass Band Championships in Manchester and the Whit Friday contest at Denshaw."

Meeting and exchanging views with the grass roots of the movement has, he says, brought into sharp focus the problem of the public's perception of the British Federation of Brass Bands and its work. Having quickly identified a distinct dearth of public comprehension about the 'Fed's' good works and the ways in which it enhances quality of life for member bands, as well as the movement's development and national profile, he conceded: "Communication and understanding have been two major problems for the BFBB in the past. People haven't really understood the role it has to play in shaping and developing the brass band movement. It is an all-embracing organisation with a number of facets, and not just about the organisation and running of contests. There is also the important work in maintaining the running of the Registry, as well as the essential work undertaken through the BFBB Charity."

Important policies

The work to which he refers includes the development the Federation's recently published Child Protection Policy and will, he hopes in the future, produce policies to cover health and safety for bands, equal opportunities, contracts and future developments such as seminars to help hard working band secretaries in conjunction with the work of Gary Walczack, the organisation's Youth and Education Officer.

Convinced that all the above listed policy headings are of vital importance to the movement, and that the BFBB has an ever increasing role to play for the benefit of bands throughout the UK, Philip stressed: "Developing these policies is essential for banding. Not only will the Child Protection Policy provide bands with an opportunity to protect youngsters, in particular it will enable them to reach out to a greater ground base of people from all backgrounds."

The Development Officer's post is funded through the Arts Council and Philip believes that its approach of inclusiveness is one that should benefit the movement as a whole. He commented: "For our policies to be successful, an inclusive approach, as set out by the Arts Council, is essential. We are doing this by ensuring that all out policies can be down-loaded from the BFBB website, whilst we are also putting together information packs that can be sent to any interested parties, to give them practical support and assistance."

He acknowledges that this 'reaching out' has been a shortfall in the past and is something he hopes will now be a thing of the past.

Speaking candidly, he said: "Due to there not being someone in post in the past two years, communication between the BFBB and its members has possibly not been as good as it should have been, and this has been acknowledged by the BFBB itself. That is something that I am determined to put an end to and I have found that there is real support for what the BFBB is trying to do – when it has been able to communicate our message to the people involved."

Of course, Philip Watson has played no part in the Federation's modus operandi/policies that have resulted in the band movement feeling disenchanted with its national organisation. However, manifestations of this can be seen in the Federation's declining membership, the fact that it can't attract Welsh member bands and that it finds itself in competition with a separate association of member bands in Scotland that, to all intents and purposes, runs brass banding within its geographical boundaries.

To serve all its members

Keen to address these issues, Philip illuminated: "The BFBB is there to serve all its members, as well as to gain new ones from throughout the UK. We are currently looking into producing a new survey to give us a much more accurate picture of the banding movement in the country. In 1900, there were over 20,000 bands in the UK but, today, we only have details of around 900."

Warming to his subject, he continued: "That is not an accurate reflection of the movement today; the number of bands may, of course, be down from a century ago, but that I believe is a question of demographics rather than disinterest and apathy. There is also so much more quality in our bands today as well. Youth banding, in particular, is the foundation stone of the movement, something that was certainly not the case some 35 to 40 years ago – and that is something we should be very proud of."

Philip hopes to address the 'call to arms' issue of membership, or rather the apparent lack of it, by working closely with Ken Hirst, Grimethorpe Colliery Band's former experienced Secretary and a staunch 'Fed' man.

One of the refreshing aspects to Philip Watson is his candour, even about the delicate issue, never really publicised, of the Brass Band Heritage Trust's relatively recent and ever so slightly concerning split from it.
Speaking frankly about the waning membership and the undesirable chasm between the Federation and the Trust, Philip stated: "We have a number of ideas to try and increase awareness and membership levels, whilst I haven't been in post long enough to give definitive answers concerning the Heritage situation."

The question of the BFBB's role in contesting, though, brings a very measured and diplomatic response, especially in the light of the organisation's changing character from one that once said that its purpose was not to run competitions, to one that now does just that and which recently announced that it was spearheading the exciting new English Championships in 2006.

BBFB has many facets

Setting the record straight, Philip stated: "As I have said, the BFBB has many facets – contest organising being only one of them. The BFBB runs the National Youth Championships on behalf of Besson and will run the English Championships next year as well. These are important roles that the BFBB undertakes, but they are not the sole priorities of the organisation."

Since his arrival on the British brass band scene, Philip Watson has been a visible presence at many events in the past few months including, outside his contracted hours, visits to bandrooms around the country, as well as to events such as Whit Friday marches and the recent JJB Sports March and Hymn Contest in Wigan. His is, perhaps, a long overdue presence, but one that is being quietly appreciated and which seems to bring immense personal satisfaction to boot.

"I'm relishing it at the moment," he said. "It has given me a real appetite for the job, even though it is difficult to fit it all into the 25 hours a week. If there were 125 hours available, I would have no problem in filling the time!"

He concluded: "I have a great deal, I believe, to offer the post, the BFBB and the banding movement. I think the movement is healthy and vibrant – full of quality if not numbers perhaps, but also full of opportunities to become an ever more important part of peoples' lives. If I can help that happen, then I think I may have done a decent job." The least we can all do then is to help him to give it his best shot – he speaks with such bubbling enthusiasm for his new role that you can only wish him the very best for the future.
Iwan Fox

This article first appeared in the British Bandsman magazine on 15th July