2005 Lower Section National Finals - The Adjudicators
20-Sep-2005
These are the eight men who the bands will have to try and impress this weekend at Harrogate. A great selection of talent and experience – they have all done it and worn the t-shirts, so it will be mighty difficult to pull the wool over their eyes or ears
---
Section 1: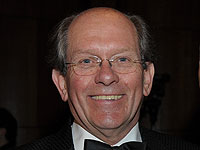 Frank Renton

Born in 1939, Frank was brought up in Yorkshire. He began to study the piano at age seven, and had his first trumpet lesson on his tenth birthday.

Frank first earned a living as a professional trumpet-player, gaining conducting experience where possible. In 1967 he won a Competition for Young Conductors at the Edinburgh Festival. Appointments followed in Germany and in Singapore, where he conducted the first performances of the country's fledgling symphony orchestra. He also worked throughout the Far East.
After his return to England in the mid-70s, Frank variously ran a music school in York, played with Versatile Brass, and eventually began working with the BBC Concert and Radio Orchestras. He also worked with the famed Grimethorpe Colliery Band.
In 1985 Frank returned to London to become Principal Conductor of the Royal Artillery Orchestra, London's oldest professional orchestra. For three years Frank and the Orchestra toured the country giving concerts in venues large and small, and to all kinds of audiences.
In 1988 he was appointed Principal Conductor of the British Concert Orchestra after critically acclaimed recordings with the American soprano Carol Vaness. He also began to broadcast regularly on BBC Radio, writing and presenting his own musical programmes. In 1992 he made the decision to concentrate entirely on conducting and broadcasting.

He is a member of the Worshipful Company of Musicians, and in 1989 became a Freeman of the City of London.

He remains one of the leading freelance Musical Directors in the UK, working with many of the very best brass bands in the country, whilst his high profile presentation of BBC Radion 2 Listen to the Band has given the programme new life and vitality.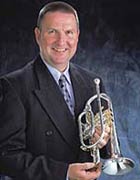 Alan Morrison

After a long association as Principal Cornet player with the Grimethorpe Colliery Band, Alan now holds a similar position with the world famous Brighouse & Rastrick Band.
He continues to be in great demand as a soloist having traveled the world appearing in Australia several times, extensively in Europe and to the USA as well as the length and breadth of Great Britain featuring in many festivals and gala concerts including the Henry Wood Promenade Concerts at the Royal Albert Hall.
He is a frequent tutor on Summer Schools and regularly acts as Cornet Tutor to the National Youth Bands of Great Britain and Switzerland and has lectured on the brass band courses of several colleges and musical institutions. An experienced music examiner for the Associated Board of RSM he also visits educational establishments giving recitals, masterclasses and external examining, and has adjudicated brass band contests at all levels at home and abroad.
His conducting career has been very successful since his first appointment at the age of 17, with several bands rising through the sections under his guidance and frequent appearances as Guest Conductor with famous bands such as Grimethorpe.
Alan has recorded six solo albums and pioneered a teaching video that has proven very successful. He also regularly features on light music recordings for the BBC with various ensembles including big bands and orchestras.
There are several compositions and arrangements published for brass band by Alan that have also proven very popular and all are still available, some of the titles becoming best sellers, such as Buster Strikes Back and Sugar Blues.
You can find out much more detail on Alan and his recordings by visiting his website at: www.justbrass.co.uk/alanmorrison
---
Section 2: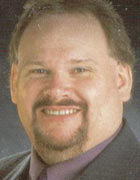 Steve Sykes

His musical roots are firmly based in Yorkshire brass bands - in 1978 he accepted an invitation to join the Grimehtorpe Colliery Band as Principal Tuba and Soloist. With them he performed as soloist throughout Europe and Australia winning the prestigious title of 'Granada Television Soloist of the Year'.
As a freelance musician appearing all over the world he is a firm favourite with players and audiences alike and many compositions for solo tuba and orchestra/band have been inspired by, dedicated to and premiered by him.
Steve has been directing Championship Section bands since the age of 22 including CWS (Glasgow) and Sun Life (Stanshawe). He has directed bands at the National Finals, British Open, All England Masters and European Championships and has many commercial recordings and national radio broadcasts to his name.
He regularly appears as an adjudicator at leading music festivals including the National .d Finals and at the Yorkshire Regional Championships. Steve is included in the British Federation of Bands' list of approved adjudicators.
Steve has appeared as guest artist with many famous ensembles including the U.S. Army Orchestra, HM Royal Marines, the Norwegian Navy Band and has performed as soloist at the world renown Mid-West Band and Orchestra Clinic (Chicago) - sharing the stage with jazz greats Bill Watrous and Arturo Sandoval. In 2002 he presented a solo recital in London's prestigious Royal Albert Hall.
He is tuba tutor at the celebrated Brass Band Summer School and the International Brass Band Summer School. Steve is lecturer in low brass studies at Bath Spa University College and frequently tutors HM Royal Marines brass instrumentalists at Lympstone, Plymouth and Portsmouth.
Steve is a prolific music arranger for brass - he has music series published by Warner Brothers (USA), Editions Frank (Switzerland), Bernaerts Music (Belgium) and his own publishing company Perfect Pitch.
Steve is a clinician for Besson Musical Instruments Ltd.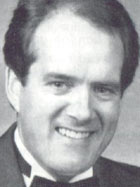 Philip McCann
Philip McCann is one of the best known names in the world of brass banding. He was born in Bo'ness in Scotland where he began his playing career with the Kinneil Colliery Band at the age of eight. He held the position of leader with the National Youth Band of Great Britain for five years, before joining first the Fairey Band and subsequently the Black Dyke Mills Band during the period 1973 – 1988, when he was a member of numerous major contest successes both at home and abroad.
Philips immense abilities as a soloist has been utilized by composers for film and television on many soundtracks including that of Hetty Wainthropp investigates.
He has tourd extensively both as a recitalist and giving masterclasses with bands throughout the world and has been firmly committed to the teaching of young players as a visiting lecturer at the University of Huddersfield.
He was the founder of the Sellers International Band, whom he now conducts for a second time, and has been associated with many other leading bands such as Fodens and Whitburn over the years at all the major contests.
At the All England Masters Championships in 2003 he was the recipient of the Dedicated Service Award and in the same year was awarded the Mortimer Medal from the Worshipful Company of Musicians at the British Open.
He has adjudicated at many contests, including the National Youth Finals and the Lower Section National Finals.
---
Section 3: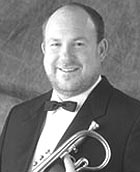 Peter Roberts

Peter Roberts needs no introduction to brass band audiences all over the World. He has long been regarded as the finest exponent of the soprano cornet in the history of the brass band movement and his talents have seen him perform on all the major contesting and concert stages in the UK, Europe and abroad.

He was born in Grimethorpe in 1950 and his early musical career was linked that famous band, where he played soprano cornet for many years. A miner by trade, he lost his job following the end of the pit closures, but immediately retrained himself in music to gain professional qualifications and an honours degree from Barnsley College under Major Peter Parkes.

His roll of honour of contesting wins reads like no other – 7 British Open victories, 1 National Championship, 7 European titles, 2 All England Masters titles, 2 British Open Solo Championships, 6 Granada Band of the Year titles, 4 British Open Eb/Bb solo titles, 1 Granada Band of the Year Soloist Award, 1 Swiss Open Soloist award, 2 Brass in Concert Soloist awards, 3 Mineworkers Senior Solo Champion titles and 1 New Zealand Champion of Champion s title.

Recently he released his eagerly awaited solo CD, entitled appropriately "Legend" which has become a phenomenal best seller by brass band standards. The book of the same name has also been bought by his legion of many fans. Since 1997 he has been part of the amazingly successful Yorkshire Building Society Band and was a member of the famous Virtuosi Brass Band of Great Britain and the Kings of Brass, whilst in the USA he has been a member of the famous Brass Band of Battle Creek. In 2005 he joined the Black Dyke Band .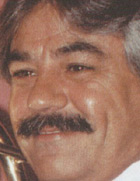 Stan Lippeatt
Born in Hemsworth, South Yorkshire, Stan was for many years the popular and virtuoso flugel soloist with the Grimethorpe Colliery Band – a band he joined as a youngster in the early 1960's. Stan became one of the most popular players and soloists, featured in many of the famous comic routines of the band at events such as Granada Band of the Year, although he had already built himself an enviable reputation as both a serious ensemble performer and soloist.
His playing career brought many successes as well as a great number of specially commissioned works – one such being the John Golland Flugel Horn Concerto which Stan gave the world premiere of in front of the composer himself.
His wealth of experience has seen him conduct numerous top section bands throughout the country, including a long association with the Thoresby Colliery Band, and he has adjudicated at Pontins, Regional and innumerable brass band contests. Over the last few years he has been an active member of the Association of Brass Band Adjudicators.
His love for the movement was shown in 2003 when he was asked by the Butlins Organisation to help revive the Mineworkers Brass Band Championships, and such has been his involvement that the famous CISWO Mineworkers Contest has become a huge brass band festival held in Skegness and featuring the largest single cash prize to the winners in the history of the banding movement.
He remains one of the most popular brass band personalities in the movement and brings a wealth of experience to his task as an adjudicator today.
---
Section 4: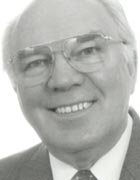 Barry Thompson

Barry Thompson was born in Doncaster and began playing at the age of nine, becoming an accomplished horn player with such bands as Grimethorpe Colliery, Carlton Main Frickley, BMC Morris Motors and Harry Mortimers Men O Brass and recently The Kings of Brass. As a player there have been many highlights including wins at the British Open, Nationals and Granada TV festivals.
He has been teaching children for over 30 years and is currently employed as a peripatetic teacher with the Instrumental Music Service of the Wakefield Metropolitan District Council.
He began conducting in 1969 having studied harmony and conducting under George Thompson MBE and has enjoyed notable successes in all sections of banding. He has toured as a player/conductor visiting such places as Sweden, Denmark, Switzerland, Germany, Belgium, Holland and Norway. Over the past ten years he has been Musical Director of the West Yorkshire Police Band who perform at many prestigious engagements throughout the county of Yorkshire.
For many years Barry has been much in demand as an adjudicator at Festivals and Contests throughout the country and abroad. He is a member of the Association of Brass Band Adjudicators and is on the B.F.B.B. approved list. He has also adjudicated at the Nationals, Pontins and C.I.S.W.O. Finals.
Barry is a member of the National Association of Brass Band Conductors.
Roy Roe
Roy commenced his playing career in the Salvation Army, moving at 16 years of age to Fodens Motor Works Band and at that time was the youngest soprano player ever to occupy a soloists position within the band.

His next move was to the Fairey Band and whilst there achieved the unique 'Double' – the winning of the British Open and the National Championships in the same year – 1965.
1969 brought a move back to Yorkshire to the Yorkshire Imperial Metals Band where again he was a member of the winning band at the British Open and National Championships. He then moved to Brighouse and Rastrick and gained more contest titles together with opportunities to extend his solo career as a guest artist at the Bergen International Music Festival as well as many other solo engagements.
After concluding his palying career he fulfilled conducting and coaching opportunities and an ever increasing demand for him to adjudicate at various brass and music festivals in the UK and oversees.
Roy is an active member of the National Asociation of Brass Band Conductors and of the Association of Brass Band Adjudicators, which compliments his inclusion on the panel of recommended adjudicators for the National Brass Band Championships. Roy has officiated at the Championship Section Finals held at the Royal Albert Hall.