2005 Besson National Finals - Postcard from Harrogate
29-Sep-2005
4BR had a fine time in the 'posh' town of Harrogate - enjoying the delights of the playing, the organisation, the cuisine - but not the orange shower in the hotel!
---
Harrogate is a bit of a 'posh' place – not really a town that trips off the tongue when trying to remember the great brass banding venues of the world, whilst the International Conference Centre isn't a stage that quite has the same sweaty ambience of say the King's Hall at Belle Vue or even the preposterous grandeur of the Royal Albert Hall in London.
You see, Harrogate seems to be a town out of place. This is as posh an area of real estate as can be found anywhere in the home counties, yet less than 15 miles away is the industrial splendour that is Bradford and Leeds. Believe it or not, Harrogate is just a stones throw away from the very heartland of British brass banding – the musical meccas of Queensbury, Brighouse and Huddersfield. Strange then that it now seems to be the ideal home for the Lower Sectional National Finals.
There may be better halls to play in across the country: the stage here is as dead as a Dodo – which is not too pleasant to play on, but does mean that the judges get to hear every last split and splot as well as this year, a fair amount of very good playing. The car parking is very good, the bus drivers can get close to the hall and the bandsmen and women have easy access to watering holes and nosh houses of just about every description under the sun.
When 4BR went for its post contest fry up (we are a heath conscious lot as you can tell) we ended up at a fine little Bistro called 'Bowers' which served fine food, fine wine and had two of the prettiest waitresses you ever sank your tired eyes on. We were in heaven.
Saturday night was no different, as we headed for a Chinese which saw us seated at a table opposite the great Alan Jenkins from Brass Band World magazine and his warm and friendly collection of friends and acquaintances in one corner and the great guys from SP&S in the other. The talk as you can imagine was about banding all night, although for some strange reason two of us trawled through our memory banks to recall the great days of pre nonsense football coverage and the original 'Football Focus' with Sammy Leitch!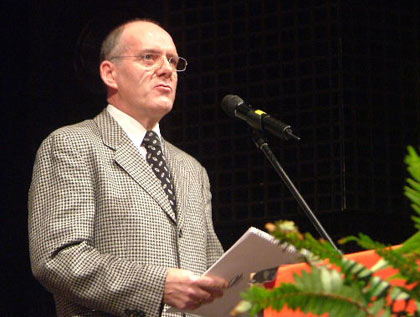 Adjudicator Phillip McCann. Bang on the money?
Banding though was the main topic and following Phillip McCann's forensic analysis of the test piece in Section 2 earlier in the day our thoughts and opinions on the matter were discussed at length. The outcome: Well, everyone thought what he had to say was bang on the money, but the delivery needed a bit of work on – as did some of his historical research. We need more judges like Phillip McCann who are prepared to say it as it is, but sometimes there is a way in which it can be said. Mr McCann is one heck of a world class musician, but we don't think he would quite be a candidate for the Diplomatic Service.
Still it all added to the general feeling of well being on the weekend.
The contest itself has undergone a few ups and downs in recent years, but currently it is benefiting from sound stewardship from Kapitol Promotions Ltd. They too may not be to everyone's taste as guardians of the holy brass band chalice, but you can only speak of what you find, and at present they are doing a fine job of trying to make the Lower Section Finals a much more enjoyable experience for those who play, those who come to trade, those who come to report and those who come to listen.
For the performers there is a fine back up staff of volunteers on parade who undertake those types of essential tasks that make a contest run smoothly. The bands are looked after and marshaled in plenty of time, the stage crew make sure everything is in place and the organisers have made the very sensible decision to employ Ray Payne to deal with the almost endless variety of percussion instruments that are now de rigueur at any contest.
Ray ensures that all the bands have the best available instruments to play on, and also ensures that they are in top working order as well. Any underhand 'Oops! I seem to have moved the tuning pegs on the timps' shenanigans that seem to crop up in other contests every now and again don't happen here, as Ray is always on hand offer advice (especially to the younger performers) and to assist at the drop of a hat (or cymbal or tubular bell as the case may be).
The Traders also seem happy too, with a large area set aside for catching customers and bandsmen and women as they came off stage. 4BR was neatly tucked away in a dark corner where we had many happy (and some not so happy) visitors to view what we thought about their performances. No one came to blows (and we even got a nice few drinks from one delighted second horn player!) and it was nice to meet so many of our readers who we think may have been slightly disappointed at our usual disheveled appearances in jeans and t shirts. We certainly enjoyed ourselves, especially as we got the chance to listen to Glyn Williams doing his James Morrison/Roy Castle impressions on a whole menagerie of instruments on his latest CD release. When this comes out, make sure you buy it – the man is a freak of musical nature – and he can sing like Frank Sinatra too!
The organizer also allowed the press free access to roam around and take pictures and make our reports, whilst we were given the full results literally a minute or so after the announcement of the official results. That makes a big deal of difference and showed a willingness to promote brass banding.
There were still a few groans about the ticket prices, but you do have to ask how on earth is such a contest ever going to make any money? Our suggestion of a higher entry fee and say 30 free tickets may be an answer, but there were more bums on seats in the hall this year than last.
It was noted however that the BFBB were not on parade as such at the weekend. There is a well known bit of a stand off between both parties at present, but as more than a few conductors and seasoned observers to the movement said to us, it was rather a disappointment that no one was there. The BFBB may not have had an 'official' invite but that surely didn't mean that someone couldn't have made the effort?
Back at the contests though, Frank Renton and Alan Morrison were another two judges who had criticism for the bands and their MDs after what they felt was a disappointing First Section. It was good to note though that the Music Panel will be looking at what they did say for the future – although perhaps in the case of many MDs, they should too. 'Pageantry' is not 'Revelation' and shouldn't be approached as such.
Still, the joy of a good meal and warm bed at our hotel over the road from the hall was diluted a little when the 4BR Editor went for a shower. For some unknown reason the entire shower cubicle had been painted in dayglo orange! Given the fragile nature of the constitution in the early morning, having a shower inside a Cadbury's Chocolate Orange doesn't help matters! Is this what posh people do?
Harrogate is a town of many delights – from the amazing cream cakes to the fine restaurants and even the surreal showers. By all accounts there are more Daily Mail readers, port drinkers and blue rinses here than anywhere else in the country. It does not feel quite right as a banding mecca as yet. Give it time though, as there is plenty of room for more polyester band jackets, rum and coke chasers, blonde highlights and discussions about the latest edition of the British Bandsman. Harrogate may soon become as good a place for a contest as Belle Vue once was.