2005 Besson National Finals - Fourth Section retrospective
29-Sep-2005
4BR looks back at one of the very best Fourth Section contests of recent times - one that really did have everything.
---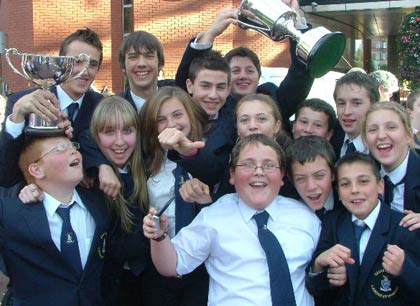 Valley Brass (Haydock) celebrate their win
Audio interviews:
Iwan Fox talks to winning MD David Chadwick, adjudicator Roy Roe and best instrumentalist Christopher Partington.

Listen to audio interviews [MP3 817kb]
---
Sometimes it can be a bit glib to suggest that all Fourth Section contests are a joy, and what the essence of brass banding is all about. It is easy to look through the rose tinted specs and be fooled by the warm glow of seeing young players performing on stage, trying their hearts out and thoroughly enjoying making music.
However, when it came to the Fourth Section here, not even the coldest most cynical person in the world could not have been moved and impressed by the efforts of the bands and their MD's to make the most of the opportunity to shine on a wonderful piece of music from the pen of Darrol Barry. This is not being over sentimental or unrealistic in any way shape or form, but when Roy Roe got up and told the audience at the Conference Centre that this was perhaps the best Fourth Section contest he had ever judged at, it was pretty hard to disagree. This was a cracker.
It was made all the better by a superb test piece for the bands. 'A Mendip Celebration' caught the imagination of the players and listeners alike; full of interest, lyrical lines, tricky but not overcomplicated technical passages all with the added bonus of one movement that allowed the bands to use their musical imagination to the full; it was a inspired choice by the Music Panel. Darrol Barry is unfairly at times looked upon a composer whose output is more suited to the lower sections, but he has shown his gifts at every level over the years. This piece though was a gem and deserved all the plaudits from performers and listeners alike. Roy Roe said that Darrol Barry was one of the movements 'premier writers' and with this piece you could hear why he deserved the accolade.
The same goes for the winners Valley Brass (Haydock) as well. Playing off the late number 17 draw, David Chadwick and his young (and we do mean young) players put in a very fine show that we stated 'should do very well'. And how well it did too – winning the National title amid fantastic scenes of celebration from his players on the steps of the Conference Hall with a whole host of proud mums and dads wiping away tears of joy and pride at their sibling's achievement.
This definitely is what banding is all about. David is employed by the Valley Brass (Haydock) organization to bring brass music making to the community and has resulted in the whole area catching the bug to make brass band music. When you see youngsters perform like this under such good discipline and teaching the future of the movement appears in safe hands. Others should contact David to find out the secret of their success.
If that secret is about enjoyment then Valley Brass couldn't be beaten. Some of the celebrating kids were having the time of their lives (a celebratory bottle of blue pop and crisps may have had something to do with it), but as David told 4BR he felt the piece, although difficult, was really interesting, diverse and enjoyable to perform. That was the real secret – and when you get youngsters enjoying that, success is just about guaranteed.
Every band on the day was able to bring something to the contesting table and it must have been difficult for the judges Roy Roe and Barry Thompson to separate many performances. There were three top notch efforts indeed (although we disagreed a touch on who they were), but the rest were also very good. Sometimes it sounds a bit trite to say that 'you were all winners today in getting here' – but on this occasion Alan Edmonds from Besson who uttered the words was bang on the money.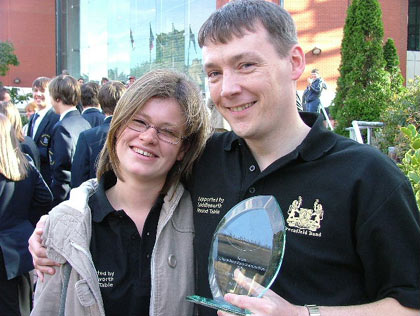 Chris Partington: best soloist
The contest started with the Greenfield Band directed by Dave Chapman who set out their musical stall from the dreaded number 1 slot in confident manner. They also benefited from some wonderful flugel playing from Chris Partington whose efforts were regonised on a day when a lot of flugel players were on top form, by winning the Best Instrumentalist prize.
As the opening section demanded that every bands flugel players kept their nerve, it was great to report that so many did, and the usual problems of flatness in intonation at this level did not detract from very nearly every bands opening efforts. Chris was exemplary and fully deserved his prize, whilst Greenfield did very well to come in 8th overall.
They were followed by Norfolk Wherry Brass under the direction of Andrew Craze and they certainly upped the ante with an excellent showing that benefited greatly from a Bb tuba led effort that gave them an solid foundation. Each of the three movements had real character and with a real sense of chill in the 'Witch of Wookey Hole' they set themselves up as the band to beat. 5th place overall was a super return for their efforts. We had them 6th.
With just the two bands gone, the standard was already excellent, and even though AW Parker (Drybrook) and Kevin White couldn't quite match what had gone on previously, they too put in a solid effort that overcame early difficulties to improve as it went along.
Make the same could also be said of Fulham Brass who played number 4 under the baton of Paul McLaughlin. This was a most lyrical performance that was just beset by too many little blips and blobs and some untidiness in the last movement. The bands solo horn though was excellent and there was enough evidence to suggest that this is a band that will come back stronger for the experience of playing here.
Bletchington Silver in their burgundy jackets and with 4 trombones and 3 basses were next up and they too produced an engaging performance whose Achilles heel was their intonation (with the exception of Kerry Wells on flugel). Some reshuffling in the horn section for two of the movements didn't really work and may have affected the composure of a few players, but overall it was solid enough with an exciting close in the up tempo 'Priddy Sheep Fare'.
Matlock could count themselves more than a bit unlucky not to have featured higher up the prize list than the 12th that they eventually came. We liked this one; it was imaginative and well shaped by the MD, Roger Jepson and the trombone playing of David Collis was very good indeed. Why it didn't quite capture the ears of the judges we don't know – there was not a lot wrong with it technically or musically for us. That's contesting though. We had them in 7th place.
The first Welsh representation came in the form of the Llwydcoed Band from South Wales under Alan Davies. This had its moments, but each of the movements started a little tentatively, although they all improved as they went along. Against the standard of performances that preceded it and would follow, coming 10th was an excellent return.
This was the first of three performances that came together in a batch and which summed up the difficulties the judges would have had in separating the bands in the prize list. Llwydcoed were awarded 175 points and came 10th, whilst Coalburn who followed them on were awarded 178 points and came 7th. Broxburn who were the last of the trio were awarded 176 points and came 9th.
All three performances had their merits and their faults, but in all honesty each of them could have exchanged places with each other. The standard of just about every band who came fifth to fifteenth could be measured by the narrowest of margins.
Coalburn Silver seemed to be heading for the prize list with some comfort with three fine movements directed by Gareth Bowman and excellent contributions from everyone – including a classy bit of flugel playing from Alex Sheriden. If their chance was lost, it came with a below par final movement which just lacked the bite and brio required and it was enough to push them out of the prizes.
Broxburn and Colin McKenzie really put on a cracker of a show that we had in 7th place but finally came 9th. The MD took a lot of chances with his interpretation, and perhaps that may have not appealed as much in the box as it did with us, but just like Coalburn it was perhaps the last section that cost them which possibly needed a bit more life and brio. It was a good one though and they could feel a trifle unlucky not to go home with a prize.
We really were being spoilt by the overall standard at this point, and there was still more to come when two more performances that appealed to the men in the box came to the stage.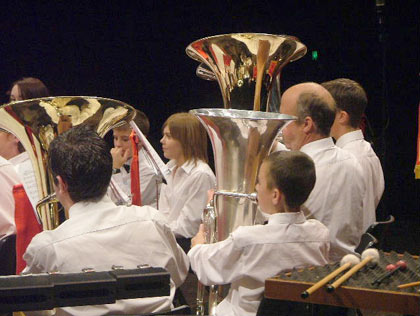 Garforth Brass in action
Garforth Brass under Steven Bailey gave a very secure and committed performance that included some fine individual contributions (including a fine Kevin Petersen hairdo on the euph) all around the stands and the atmospheric 'Witch of Wookey Hole' was so well detailed and full of tension. The approach for us didn't quite match the lively brio of some, but the control was exemplary and that is what appealed in the box and gained them an excellent runner up spot.
Verwood Concert Brass also offered a detailed and secure reading under the direction of Paul Norley. Just the uncertainties at the beginning and at the end of the third movement may have cost them points, but overall it was the type of show that was hitting the right spots for the men in the box. With some first rate trombone playing backing a fine ensemble (which included a rather oddly positioned soprano) 5th place was a well deserved result.
Alan Seymour certainly led from the front with the Dunston Band with a snazzy white jacket that certainly caught the eye. Once more this was a performance that had its moments – especially in the 'Witch' movement that had a real dark and somber feel and the clean and positive opening in the finale, but it was also a performance that had too many little errors and slips that cost them dearly and they had to be content with 15th place. Harsh perhaps, especially as they had an excellent flugel in Jim Kelly but it was a show up against some high quality rivals.
Someone has to come last at a brass band contest. It seems very unfair at times, especially when the difference between last and the midway point was not very great. Swindon Brass under Francis Cowley were unfortunately the band to fill that spot this time, but their performance had plenty to commend. Two of the movements were good and with a neat soprano player in Richard Bullock, but the other two were not up to the same standard and that is what possibly cost them. Plenty of talent to work with though.
Wellington (Telford) under Steven Curtis suffered with many of the same problems, but theirs were spread throughout the four sections of the piece. Again, there was some neat and tidy playing on show, with a classy euph and bold flugel, but in the end those errors just mounted up and they had to be content with 17th place.
Oldham (Lees) Band under John Collins were our winners after giving a quite outstanding performance that we had a couple of points clear at the top of the prize list. This really was an excellent performance – clean and crisp when required, atmospheric and somber when needed and full of life and commitment to end things off in style.
Natalie Hilton was top notch on flugel and was backed up by all other lead players and ensemble. Perhaps it was that vibrancy that cost them, as it was right on the edge of being scintillating. Coming fourth was a fine achievement but we had them as our winners and they could count themselves more than a little unlucky not to have come closer to being crowned National Champions.
Another unlucky band for us were Five Rivers, who we had down for 4th place but who had to be content with a rather disappointing 14th. Duncan Beckley shaped a fine performance that was delivered in neat style by his players, whilst his baritone player deserved a medal for a quite outstanding contribution to the cause. Each of the movements seemed to capture the right mood required and benefited from a real warm sound and balance. Why it came as low as it did then? One for the adjudicators.
No such problems for the eventual winners though who really hit the nail on the head for the men in the box. This was a fine show from Valley Brass (Haydock), and although we had them down for 3rd place, the judges felt it just captured the right mood in each of the movements to give them top spot.
All the movements were well crafted and it was perhaps the one performance that had the consistency required throughout to back the fine individual contributions and the real sense of enjoyment that came across. Well done to everyone and cue the celebrations - and what celebrations they were! They must be the youngest ever average aged band to win a National – and you don't need rose tinted specs to know that the future will be something to cherish as well.
That just left the two remaining performances and the contest still had a little sting in the tail.
Royal Oakeley under John Glyn Jones displayed some very clean sounds and lots of quality moments to come home in 11th place, but on a day when there weer so mnay good shows the odd blemish here and there was the difference between a possible top six and just being outside the top ten.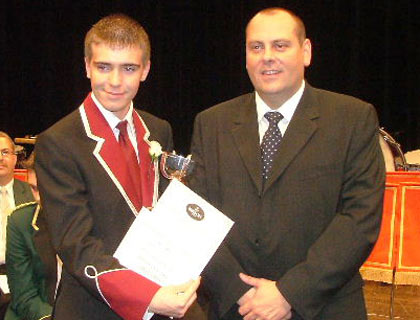 Gawthorpe Brass: Thid place
Finally, Gawthorpe Brass under Derek Hoyle who rounded the contest off with three excellent movements and one that didn't quire come up to scratch and which resulted in them having to be content with third place overall. It was just that final movement when excitement possibly led to an uncertain start that cost them. Dave Lumb on solo trombone was excellent, but so too were others, especially on baritone and flugel and everyone at the band should be delighted with them gaining a podium place.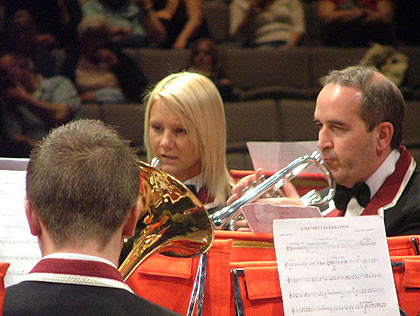 Gawthorpe Brass in action
No denying that this was a quite excellent contest. It had all the thrills and spills you could ever need, but it also contained playing that would not have been out of place in a higher section. All the bands deserved credit for what they brought to the contest platform (especially the MD's) and whilst there could only be the one winner, everyone should be proud of what they achieved here. There are not many contests at any level where you can say that.
John James and Iwan Fox.