2005 Besson National Finals - First Section retrospective
29-Sep-2005
Malcolm Wood looks back with a sense of deja vu as Yorkshire Imps take the First Section title and book themselves a place back in the big time of Yorkshire's elite.
---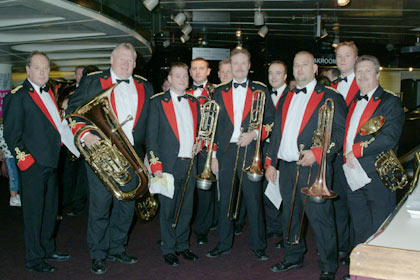 Yorkshire Imperial Urquhart Travel
Audio interviews:
Iwan Fox talks to winning MD Chris Houlding and adjudicators Alan Morrison and Frank Renton.

Listen to audio interviews [MP3 1.27Mb]
---
Sunday's contest had that real feel of déjà vu about it. Twenty fours earlier, the Second Section had tested the bands with a classic 'oldie' which brought a degree of disappointment from the adjudicators about the overall standard of playing.
Guess what? It was the same here as well – although to be fair, neither Frank Renton nor Alan Morrison were quite as blunt as Phillip McCann. However, they were genuinely not overtly impressed by what they had heard in the box and they said so – although they were a bit more diplomatic about the way in which they said it.
You would have to agree though - the overall standard on the day wasn't as good as had been expected, although there were any number of very solid shows, and this lead to the honest comments on stage and afterwards in the audio interviews with 4BR from both judges. It was hard graft listening to all of the performances and it was evident even after the first four bands that perhaps not many would give the sort of interpretation Messrs Morrison and Renton had wanted.
Frank's face at the side of the stage before speaking to the audience said it all. He had that look of a man who'd been told by his wife that they were going on a brief shopping trip only to be dragged through every major shop in the shopping centre with his credit card taking a real hammering, wearily contemplating how long it would be before he could put his feet up and sip a drop of his favourite tipple.
If the standard had been better, Frank's demeanour would have been more upbeat but he made it clear what he thought in his address to the audience that expertly covered the reasons why he felt a little let down.
The conductors he felt had misjudged the composers intentions and importance: Howells' was something of a father figure to many of today's leading brass composers whilst he was also a masterful creator of brass music – his score of 'Pageantry' is immensely detailed in musical markings in particular, and Frank was at pains to point out that one of the reasons why so many performances in his mind did not work was because too little attention was paid to the exact meanings of those markings – the difference between forszando and forte piano in particular.
'It wasn't good' he said. "There were some interesting performances, but overall, not as good as I thought it was going to be".
That though he mischievously added, was 'the bollocking over' – and his remarks were well received in the hall – a lot of players and conductors had known that this had been a very hard ask of them.
Alan Morrison's views concurred with his co-adjudicator, although he too raised more than a few eyebrows in the hall when he said he was '…slightly disappointed with the overall standard of the bands'. Speaking to 4BR he then said, 'We tried to have an open mind on interpretation but we just felt that at times tempos in the outer movements were too quick for the clarity and detail to be heard whilst in the slow movement a little to slow for the players to feel comfortable and express themselves'.
In addition, Alan talked openly about perhaps we expect 'too much nowadays from the First Section' and 'since the sections were altered twelve to fourteen years ago, the standard has gradually worked its way down and now the first section is more what the old second section used to be.'
Some interesting points these, and ones that should perhaps be discussed further at a different time? Have we come to expect First Section bands to be Championship Section bands in waiting? Or, are they now the best bands at the top of the lower section tree?
After all, the winning performances were described as 'basically safe not error free, but not outstanding on the day'.
Those comments though won't have worried Yorkshire Imperial Urquhart Travel Band or Chris Houlding as their performance from an early draw stayed in the minds of the judges and brought them the title on a piece that has served them so well in the past.
Chris was a delighted man when we spoke to him (twice as it happens as our recorder broke the first time!) after the results and before he was whisked away for a very long night of celebration at the Imps band hall.
This is a genuinely talented musician who has brokered a fine rapport with his band. They are not quite the finished article yet, but the foundations are certainly in place for Imps to return and prosper in the Championship Section. They have as Chris told 4BR 'the demeanour of a Premiership band' and to win off the early number 3 draw proved that.
Although we'd tipped Imps to win pre-contest, on the day itself and at the conclusion of the results, 4BR had them outside the top three as we thought other later performances may have overtook them. They were good, but as we said at the time – the door for us was not shut tight. Good job we are not in charge of musical security arrangements then, as Imps had locked and bolted and stuck a couple of Chubb dead locks on the title and trophy right after they left the stage.
Where we did agree with the men in the box though was that the top two performances were in front of the rest, but our top two (Staines and Ashton under Lyne) was different from theirs. Still, that is what contesting is all about – different opinions – but only one set count.
The first two bands on stage gave performances that never sparkled at all and if the truth be told, found the piece extremely difficult and above their comfort zone. It wasn't really a surprise to discover they'd finished in the bottom three, and give you some idea how they marked in the judges opinion, Cinderford were awarded 173 points, Wantage 174, and Yorkshire Imps who followed them on 190. That was a fair reflection.
Cinderford under Dave Lea drew number one and they just had far too many slips and tuning problems all around the stand to give themselves a sniff of a chance of featuring in the top half of the prize list. Dave Lea, as is usual, gave the music time and space but the error count was so high that for all his fine efforts the band couldn't come to terms with the score. Ian Tomlins on soprano was on fine form, but overall it wasn't a day to remember for the band.
Wantage A's performance was directed by Philip Harper, who at times must have felt like he was pulling a spoon through treacle. He worked so hard that the sweat was visible on his brow as he tried valiantly to get the band to respond to his direction. After receiving the well deserved plaudits for his compositional skills on 'Gallimaufrey' he also deserved a medal for his conducting skills here as well, but as hard as he tried his charges couldn't respond in kind. Steve Chapman on solo cornet was their star for us on a difficult day, but this too sounded as if the piece was just beyond their current capabilities.
Something would have been dramatically awry if Yorkshire Imperial Urquhart Travel Band hadn't made a serious impression on the back of the first two performances. The early draw wasn't helped by Chris Houlding's call to the band to say he was stuck in traffic due to a road accident on the outskirts of Leeds, but he arrived just in time, and with virtually no time to catch his breath, they went on to deliver their challenge. Out of adversity they say…
Overall, it wasn't blemish free, but it always had that sense of real quality that you knew it would feature highly, and it was a different league to the bands that preceded it. Mark Walters on 'top man' was excellent on the day with some fine playing particularly in the middle 'Cortege' movement and cornet fanfare at the beginning of the final movement, that for us just needed a bit more fire in the belly. Those contributions gave Mark the nod for the best instrumentalist of the day, and whilst he was pushed hard by a couple of principal cornet's no-one could deny him his moment.
On the day, the band's entire principals did well on the day though and the piece that brought them the British Open title in 1970 came good for them again. We did feel though that the band had left the door just a little ajar and it could be beaten. It wasn't though and that's all that mattered.
Parc & Dare, Easington, Clacton & Raunds Temperance were drawn to play four-seven inclusive and bizarrely were placed 10th to 14th when the placings were announced. Midfield performances they may have been come results time, but they were really no better or worse that came 7th to 9th.
All were solid and dependable, all had their moments of good and not so good playing, and all perhaps lacked the understanding from the MDs of the intentions of the composers and his score. These were 'modern' takes on the old warhorse – more Wilby than Howells' and as a result they didn't quite capture the ears of the judges.
Parc & Dare under Craig Roberts for us was a decent show. The opening 'Kings Herald' had a nice feel to it, and like Imps, there appeared to be some confident playing going on and you wouldn't say they never sounded like the work was beyond them. The soprano playing of Paul Eddy was top notch and it seemed to be going well for everyone concerned.
Perhaps the slips that tended to detract from the last movement cost them dearly and a tempo that just made things sound rushed to end took the gloss off, but they could still count themselves a little unlucky not to have come a bit higher.
Easington Colliery and David Hirst's placing of eleventh was about right. It had its moments for sure, (including a lovely regal style in the opening) but it lacked consistency throughout to make a real impact. The sound and style of the band wasn't bad, but the errors proved costly, and the term 'Curate's egg' (a 4BR favourite) we think accurately summed them up. Dennis Todd on solo cornet was in good form throughout and was one of a handful who produced some quality in the opening bars of the final movement.
Melvin White was conducting two bands in the contest and the first of those were Clacton on Sea who played number six. Melvin's style and interpretation was good (as Aldbourne demonstrated later) but the quality of sound wasn't what was needed and it never caught fire and had any real impact on us or the men in the box. Perhaps the band were not quite as one with the MD on this one. Melvin went for elegance and restraint, the band were chomping a bit too much at the bit.
Raunds Temperance placing bemused us a little. In the main, the quality of sound along with style created by John Fletcher made an impression. If anything, the downfall was probably the opening of the second and third movements along with the tempos towards the end, but it was a decent show, even if the band groupies at the end rather spoiled the effect – it never helps to go bonkers unless the performance is so brilliant the rest of the neutrals in the hall join.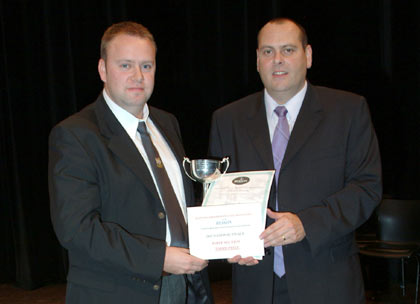 Aston under Lyne: Third place
Ashton under Lyne and Philip Chalk was the first band since Imps to make us sit up and listen, and at its conclusion we had them leading the field. It was one of those shows where right from the opening bars, it was evident, they were going for it big time and they did sound like a good Championship band.
The bold approach suited the music and the solo lines were some of the best of the day with Claire Chalk unlucky not to have picked up the instrumental award for her lovely tone and top notch performance in the final movement. Her father's genes (a certain Mr James Shepherd) are certainly evident in her overall sound.
On the back of two contests in a week, they could have tired towards the end, but this was a commendable show that had so much to admire. The band sounded more at home on this work than 'The Night to Sing' and we had them second at the end of the contest, but the judges decreed them third.
Any sense of disappointment though wasn't in evidence as they were about to board the coach home. They've sampled being amongst the elite and nearly taken a National title. Now they've sampled it, they know they can more than make an impression and will be even stronger in 2006 for sure.
Langbaurgh Brass under Tim Oldroyd was the first band on after the judges 'comfort break' but didn't have a good day at all. The openings of the 'Kings Herald' and 'Jousts' were as good it got for them in our opinion, as they suffered from nerves and uncertainties, and in comparison with what had gone before they sounded stretched both musically and technically. 14th place was about right.
Graham O'Connor's Hatfield Main was the other contender from the home county that really made a mark both on us and the men in the box. Playing from number ten, they were not under prepared or suffering from a lack of self belief – it was as we said, a performance full of Yorkshire grit. It was more 'clips' than 'uncertainties' around the stand that was their Achilles heel on the day, but like any that is directed by Graham O'Connor it sounded well rehearsed and was a good one that had plenty of fine moments. Trevor Kendall on solo cornet really was a tasty as a mint cake and although they weren't quite up to the top two we did have them in third place - but they had to be content with sixth.
Kirkintilloch Kelvin under Alistair Orr played number eleven and whilst it had some moments of good playing, we always felt that it was never going to be enough for a serious challenge at the top. The quality of sound wasn't always as it should have been, nor were the tempos and it was a little cautious as times for us. Seventh was a good return though as we had them slightly lower, but on this occasion the cautious approach may have been just what the men in the box were looking for.
Johnstone Silver followed their Scottish counterparts on stage under Gavin Lindsay and were placed one place behind them in the order of merit in eighth place. The opening and closing movements had much more to commend than the middle 'Cortege' section that was well below par from the other two sections, and it was that perhaps that cost them a chance of making it into the prize list. Clair Thomas was excellent on soprano cornet, but if only that Cortege did have a couple of wobbly wheels.
Aldbourne for us never really sparkled into life to the extent that we thought it would challenge as it eventually did. Melvin White's interpretation and style mirrored that of Clacton earlier, but confidence amongst the players was certainly more upbeat than the ladies and gents from Essex and that was the difference – there seemed to be more of an understanding to what was being asked of them by the MD.
Chris Lewis on solo cornet coped admirably with the challenges of the piece as did other soloists and no doubt they went home extremely happy, but for us just lacked the consistency that others did show. What do we know though?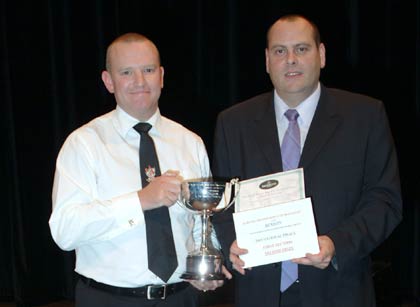 Staines Brass: Runners up - First section
Staines made the journey north in determined mood and for us (and quite a number of neutral observes in the hall) was the clear winners on the day by quite a margin.
As with Ashton, it was bold and assertive with a style that not many matched on the day. The detail was in evidence and as a unit they never sounded in trouble and it was so clean and tidy as the MD's rather severe haircut. Gavin Hall was another cornet player that can consider himself unlucky not to have taken the instrumentalist award for some fine playing.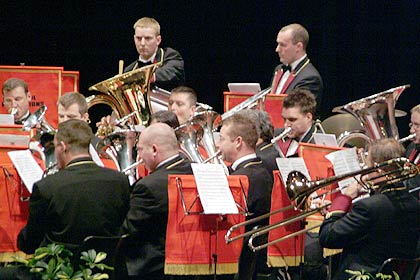 Staines Brass in action
Ian McElligott deserves acknowledgement for a fine interpretation and for bringing the best out of the band. To say they were unlucky not to win was justifiable here, but whilst the band will have been gutted to have come second, they can be justly proud of their performance on the day. Championship Section banding awaits them though and it will be interesting to see how they fair in 2006.
Freckleton were expected to do well in Harrogate this year and whilst it wasn't bad, the MD Paul Dalton didn't look to happy at the conclusion of their performance, perhaps knowing that they didn't perform as they knew they could have. If the band had played to its potential then the judges would have had some thinking to do, but unforeseen clips proved to be costly, and sadly for them, the chance of being crowned champions, never materialized. 9th place could and should have been much better if they had played to form.
Bedworth sadly were a band that struggled from the first note to the last and never came close to producing a performance that would impress the adjudicators. Too many slips, poor intonation and a tendency to overblow cost them dearly. They made it here though through a tough qualifying area contest, so they should be more than commended, but on the day only their excellent horn player Alistair MacKenzie shone.
The last band on was Wrexham (NEWI) under Wayne Ruston who seemed very relaxed when walking on stage and throughout their performance. With absolutely nothing to lose, they produced a good show that had a lovely opening with a nice shape to it and carried this right through to the end.
The reigning Pontins Champions didn't have too many difficulties though and we felt it wouldn't be a huge surprise if they'd sneaked into the top six at the last moment. It certainly didn't have the overall quality of the top two (even third place) but you couldn't argue with fifth place. This is a band moving in the right direction for sure.
As for moving in the right direction, for Yorkshire Imperial Urquhart Travel Band it's onwards and upwards. In a few weeks they'll go to Pontins in an attempt to take the Harry & Margaret Mortimer Championship, and on another Herbert Howells' piece they could well add another title to their ever increasing CV. More importantly though, they're back where many have felt they've always belonged, in Yorkshire's premier division.
Malcolm Wood