2005 National Championships of Great Britain - Introduction and Dodgy Predictions
10-Oct-2005
This could very well be a critical year for the Nationals and its future. Will there be a full hall to hear the 2005 Champion Band of Great Britain and if so, who do we think it is going to be?
---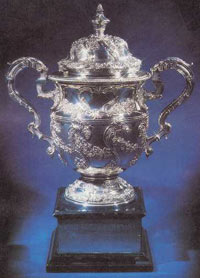 The 2005 National Brass Band Championships of Great Britain could well prove to be the turning point that decides the way in which brass band contesting develops into the 21st century.
There is little doubt that in the past few years audiences have been voting with their ears (and then their feet) at both the Nationals and the Open. Depending on your opinion about the music that has been played at both, a series of either brave, or ill judged selections has resulted in both contests being played out to a backcloth of ever more empty seats.
The organizers may tell us that all tickets have been sold, but it certainly hasn't resulted in full halls – with the possible exception of the results. Birmingham saw whole swaths of the auditorium bathed in the red velor of empty seats for band after band, and London could very well be the same this time round too. The Royal Albert Hall is the most impressive place in the world for any brass band to play, but it is in serious danger of being the loneliest as well.
Just a year ago, a photograph by Tony Carter in the Brass Band World magazine told the story: Black Dyke giving their winning performance on stage here to an auditorium that was less than two thirds full. Fast forward to Sellers International at Birmingham this year and you saw a band playing to an audience of less than 250 people in a 1500 capacity hall.
There is a real, real danger in 2005 that with 20 bands playing an exceptionally difficult, but superbly written modern work by a composer most of the audience will not have heard a previous composition by, that that particular record will be beaten. If that proves to be true, you really do wonder what future the two major contests in the banding movement have in their present form.
Rumours have circulated for some time that once the initial choice of using 'Eden' was made, it resulted in anguished cries from many quarters about its suitability - not just as a contest work, but more importantly as a piece of music that could attract and maintain the interest of an audience who would want to listen for over 8 hours to it being played 20 times. There were rumours that some people tried to have it changed, but due to certain legal and financial reasons, allegedly it was impossible to do so.
Whatever. Come Saturday, all will be revealed: A contest that should hopefully show the world that it is vibrant and relevant, resplendent with challenging music written by a wonderfully fresh composer; or a contest that appears moribund and decaying with an audience turned off by a product that no longer appeals in its traditional format. It really is that critical.
The post mortems though can wait for now. The 2005 Nationals has all the ingredients to prove to be a thrilling contest – and hopefully that will ensure that the plumped red seats at the Royal Albert Hall will be squashed by an ample number of plump backsides throughout the day for every band that takes to the stage.
There may be a few dissenting voices suggesting that this year's lineup of bands isn't really the best 20 in the country and therefore the contest doesn't have the cachet of recent vintage. On paper they may be right, but every band that has made it has done so on merit, and that is the great beauty of the Nationals – everyone has to earn the right to get here, wherever they come from.
There are a couple of 'named' absentees for sure, but they have been replaced by more than a few bands who could be on the verge of really making the move up in class to the highest contesting level. Many could well become regulars at this contest.
All this is added to the reigning champions on the verge of creating a special bit of history for themselves in their 150th year. Black Dyke are already the holders of the European and the Open (although not the Yorkshire Regional crown) and if they win here they will emulate the class of 1995 in becoming 'Triple Crown' winners. If that isn't worth sitting down and listening out for we don't know what is.
Trying to stop them are a whole host of top notch rivals, headed of course by BAYV and their MD, Dr. Robert Childs, the elder brother of Black Dyke's eminence grise. After coming runners up to Dyke twice already this year, you don't think the Welshmen are going to easily allow the pride of Yorkshire to walk away with the trophy and all the plaudits do you?
And what about YBS and Professor King? This will be his 13th attempt to win the one honour that so far has eluded his immense talent. What a story that would be. The Australian has been King of Europe, King of Norway and head of state at just about every contest he has ever entered. Could 2005 finally see him being crowned King of Britain? Lucky or unlucky 13 then?
And it doesn't end there either.
Grimethorpe are back and bouncing after playing so brilliantly at Birmingham and being so cruelly judged for their efforts. With a four time winner at the helm and the determination that only a hard bunch of Yorkshiremen wearing pink shirts can ever bring to anything, what would the odds be on them capturing the magic of 1992 and securing a memorable Nationals win?
And what of Brighouse and Rastrick? Any day now they will simply explode into life and wipe the floor with the opposition. Will it be here, or will they produce yet another infuriatingly inconsistent show that promises so much yet delivers so little reward.
And what of a possible Fairey's faireytale story? Twelve months ago they seemed dead and buried – a band with a glorious past but an uncertain future. Now, after a year of recruiting some of the most talented players around and blending them together under one of the best young conductors, they have returned to form and could be on the verge of reclaiming their third National title in four years. Now that really is something to keep you glued to your seats.
Add to this mix the likes of Reg Vardy – third last year, and just a hairs breath away from taking the title. They have continued to make real progress and will more than fancy their chances of at least putting in a repeat performance here this time around.
Whitburn and Leyland will also be two bands looking to enjoy themselves here this year as well. Both have the ability to more than make a mark and given a good draw could be dark horses to push for top honours.
Those it seems on paper are the real contenders in most peoples eyes, but it would be a foolish person to think of trying to book a cup of tea on the basis that they may think they won't be missing a prize winner if they sneak out for an overpriced pannini and weak Earl Grey.
Woolley Pritchard Sovereign could well be one band to watch out for given their recent form and recent batch of top class signings, whilst Desford are more than capable on any day to meet and beat the best bands in the land.
The resurgence in Welsh banding continues with them sending two strong contenders this year in Cwmaman, who return much the stronger from 12 months ago, and the BTM Band who have been making real progress in the past two years and are packed to the gunnels with talented players. Both will fancy their chances of making a mark.
The second Scottish band, Newtongrange certainly know how to make an impression, given that they won the Scottish Championships in such a fashion earlier this year, whilst the good return of Reg Vardy last year means that two new faces from the North of England make the long trip South. Both BHK (UK) Ltd Horden, who have made an impressive step up so soon after being crowned First Section National Champions and Tavistock Chester-le-Street Riverside may have two of the longest names ever to be placed on a programme at this contest, but both are more than capable outfits and will be looking to show that they are well worth listening to.
Then there are the bands from the West to look and listen out for, especially as they come from the part of the country that is closest to the Eden Project itself, which gave Dr. Pickard the inspiration for the third part of his work. St. Austell are in fact just around the corner and with this local knowledge and with a band full of talented players coupled to a fine band conductor, they will be keen to enjoy their first trip to the Finals for close on twenty years. This is a band that could become very regular visitors.
Also intent enjoying themselves, but also taking more than a few scalps will be Bournemouth Concert Brass, making their debut, but after winning at Torquay another outfit keen to show that they are serious contenders.
Finally the bands from the capital. Redbridge now make what seems their annual pilgrimage to their local concert hall and have in the past couple of years been getting closer to claiming a top 10 place. This could well be the year. Meanwhile, Aveley and Newham, traditionally a leading light at the Regional Championships, return again determined to both beat their local rivals and show the rest of the banding world that bands from south of the Watford gap are well worth listening to and taking seriously. Both will be confident of doing well.
Given all that, who do we think will actually win?
Perhaps we gave it away a little, but we think it will come down to a battle royal between the three of Black Dyke, BAYV and YBS for the title. Each is a superb band and each is more than capable of putting on a performance that can beat the best any other can throw at them.
It could well go right to the wire, and given that the three were on top form at Birmingham, you can't really see anyone else quite matching them. For us though, we think it could be BAYV spoiling Black Dyke's 150th celebrations by taking the title. They have played so well this year, and you sense that this piece will just suit them slightly more than their rivals.
YBS should run them close once more, but it may have to be a 14th attempt for David King to break his duck.
Behind them class should out. Brighouse and Rastrick are due a really good ay at the contesting office and this could be a piece that appeals to them, whilst Grimethorpe will surely benefit from Allan Withington's experience here and they have dented pride to help them. Faireys are brim full of confidence after Symphony Hall and will really be up for it whilst both Reg Vardy and Whitburn could force their way into contention if they really play to form. Potential dark horses both, and we think they could be joined by either Leyland for a nop and tuck race for a top six place.

Still – it's BAYV for us, followed by Dyke, YBS, Grimethorpe, Brighouse and Fairey's with Leyland as our dark horse. The top ten could well be made up of Woolley Pritchard Sovereign, who we think will impress with Whitburn and Reg Vardy. After that the field drops away a touch – but then again, the Nationals can always spring a surprise or two. It may even be full – now that would be something!
4BR Prediction:
1. BAYV
2. Black Dyke
3. YBS
4. Grimethorpe Colliery UK Coal
5. Brighouse and Rastrick
6. Fairey FP Music
Dark Horse: Leyland
Top 10 finish:
Reg Vardy, Woolley Pritchard Sovereign, Whitburn