2005 Besson National Championships of Great Britain - No Gray days in 2005
16-Oct-2005
Russell Gray now has his name in the history books as a National winning conductor in a year when everything he has directed has just about been a winner as well.
---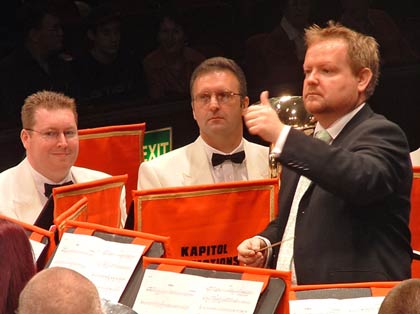 Thumbs up: MD Russell Gray signals his appreciation
Photo: Copyright Fitzgerald/Coles 2005
The winning MD, Russell Gray may have been in a state of shock at the immediate announcement of the results at the Royal Albert Hall on Saturday, but when he came too, he certainly enjoyed the experience of not only winning the contest, but also adding yet another major title to his ever expanding conducting CV.
"It hasn't really sunk in yet," he told 4BR straight after the results were announced and he was surrounded by celebrating Leyland bandsmen and women on the stage. "I don't know what to say. I knew we played very well, but to win was just something else."
12 hours later and after a quiet celebration with the band at a local hostelry, he had more change to come to terms with the historic victory.
"Everyone is delighted. The shock of the win could have knocked me over when I first heard it, but since then I have come to terms with it. It really is a great feeling."
Quiet celebrations

That feeling must have led to a real night of celebration, but Russell explained that it was more a reflective appreciation of what the band had achieved.
"We went to 'The Goat' pub with the trophy and all the players and supporters, but although we had a few drinks, it was a quiet celebration. The band has been through so much in the last few years that this was a time to enjoy what they had achieved with clear heads. It made it all the more enjoyable being able to celebrate with friends and have the trophy sat there next to us."

Since taking up the baton Russell has tasted a considerable amount of success, including in the past a runners up place at the National Finals with the Ransome Band in 2000. In addition he can also boast a Masters victory with Fodens, a Scottish Open title, four Regional titles (including three in the hard boiled atmosphere of the North West Area), a Senior Cup and even a Second Division Norwegian title as well.
2005 though has been a real year to remember, and not just because he joins a select band of conductors who are able to call themselves winning conductors of the National Champions of Great Britain – a list that includes the likes of Fred and Harry Mortimer, Peter Parkes and William Halliwell. On winning the title this year he also becomes the proud holder of the Stanley Boddington Memorial Trophy, which was first presented to the winning conductor in memory of the great man in 1987. His name is now engraved for ever more with the likes of James Watson, Peter Parkes, Allan Withington and Nicholas Childs.
His most productive year ever

2005 has been his most productive year ever with the baton, winning titles both at home and abroad. These successes have included the North West Regional title with Leyland, the French Open with Ransomes, the Swiss Open with Wallberg Band, the British Youth Championships with the Greater Gwent Youth Band, the Swiss Music Festival with the Swiss Youth Band and to top it all, the National Championships of Great Britain with Leyland. Six wins in a year is a great return for any conductor.
It further cements his happy relationship with the Leyland Band after he came to them in August last year.
"I am really enjoying my time with Leyland. They are a lovely bunch of people and I have a long association with them going back to the time I played with the band. The success has been down to an amazing amount of hard work and dedication form everyone concerned. We are not resting on our laurels though and we have a number of exciting projects lined up, especially as next year is the 60th anniversary of the band."
It seems Russell Gray will be set to enjoy more states of shock for some time to come.