2005 US Open Brass Band Championships - Postcard from Chicago
10-Nov-2005
Chicago is 4BR's kind of town. Lots of sport and beer for sure, but it is also a city that has its problems. This is what we found out on our second trip here.
---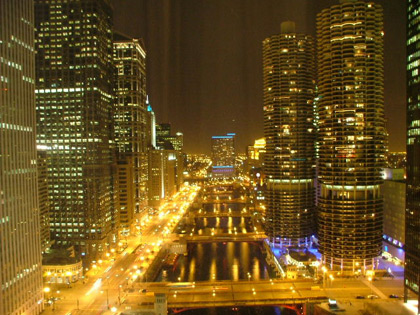 Downtown Chicago: View from 4BR's 29th Floor hotel room
Chicago is the true blue collar city of America. It doesn't have the garishness of many of the West Coast cities and perhaps lacks the sheer cosmopolitan feel of those on the Eastern seaboard such as New York which is a melting pot of the great diaspora of human flotsam and jetsam. Chicago is America's American city, a town (and the locals still call it a town) that reflects the good (and some bad) virtues of the American dream; hard work, purposefulness and a sense of community.
These virtues can be seen everywhere you go. The architecture of Chicago is impressive – not jaw droppingly so like Dubai or Paris, but with a real sense of stature nonetheless. The beomoth that is the Sears Tower dwarfs the skyline, but there are other impressive buildings that catch your eye, such as the elegant John Hancock Tower with its exoskeleton girders and the mock Gothic Tribune Tower which actually has original pieces of Westminster Abbey embedded into its façade.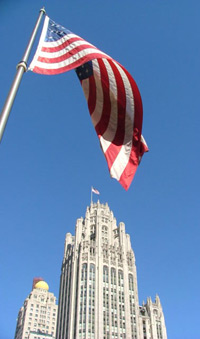 All though are built for a purpose – be it trade or leisure and although there are some modern works from the school of Frank Gehry (he of the Guggenheim in Bilbao) that in other cities are used to boast as well as be practical there are plenty that take their influence from the lovely austere lines of Frank Lloyd Wright or Mies van der Rohe whose projects can be seem locally if you look hard enough.
Many of those buildings are currently draped in the flag (or pennant as they call them here) of the cities baseball team - the White Sox, who have just won the World Series for the first time since 1917. The Americans call it the World Series of course, although it is in fact their equivalent of the Premier League – no other country plays in the event – but hey, that has never stopped American hyperbole – just think of the Super Bowl.
Chicago is a sports loving town; from the amazingly successful Michael Jordan inspired Bulls basketball team, to the Bears American Football franchise, the famous Arlington horse racing track (which is not far from where this year's US Open actually took place) and even the Blackhawks ice hockey outfit. It is the baseball though that is now flavour of the month.
The city has on fact got two baseball teams: the Cubs and the White Sox – a little like Manchester with its football sides. The parallel doesn't stop there either as the Cubs have been considerably more successful than the White Sox over the years and so when they finally put behind them 88 years of hurt (and the 1919 scandal of the thrown World Series – famously remembered by the remark from a broken hearted child fan to one of the eight disgraced players - 'Say it 'ain't so Joe') it was rather like Manchester City winning the European Cup, and the true Chicagoans are loving every minute of it.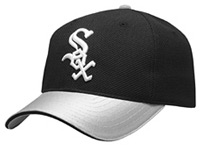 The names of the star players such as Paul Konerko, Jon Garland, Mark Buehrle and Joe Crede are everywhere, and if you may have never herd of them, then it is a fair bet to say that the vast majority of people here haven't heard of Joey Barton, Danny Mills and David James either.
A night out in Chicago is also a bit of an eye opener. You do feel safe here – although we were informed that there are some areas that are off limits. There is an underbelly of poverty that is never far from view; from the terribly cramped and run down apartment blocks that cling to the downtown railways lines to the surprising number of beggars on the well kept broadwalks outside top of the range shops that include all the top European labels. Disabled Vietnam Vets and even Hurricane Katrina refugeees mix with well-heeled shoppers, and although we were uncertain that they were all genuine, the vast majority were passed by with an indifference born of either boredom of revulsion from too many people.
The vast majority of service industry jobs are taken by Hispanic, black and foreign immigrants; Chicago has a Polish community greater in number than the population of Warsaw, and there has been ongoing problems with poverty in the city to such an extent that Mayor Daley has declared a 'War on Poverty'.
The recent problems that occurred following the hurricane disasters may have been the most high profile indicator of America's poverty dichotomy, but Chicago has suffered them too – for far too long. A night out downtown does bring it home to you that not everyone here is living the 'dream'.
Eating out though is still a pleasure. 4BR enjoyed great food and hospitality here, especially from the organisers of the event. The steaks in particular are something else. Eat a prime filet steak (only 2% of all American beef is good enough to be given the term from the USDA – the US Department of Agriculture) and it is as every bit as good as anything the French could drop on your plate – and about twice the size! You have no problems getting fed and watered.
Finally to the US Open itself, which this year took place in the John Hersey High School in Arlington Heights, which is the small suburban town on the outskirts of the city, and which hosts the famous Arlington Million horse race once a year. The race track is mighty impressive, but so too was this school.
The facilities were excellent – including a 500 seat auditorium that offered a stage that was just as good as nearly anything bands play on in the UK. The entrance to the school reminds you of all those teen movie/television programmes though: full of glass cases packed with cheesy pictures of high achievers and row upon row of awards and trophies. If anyone has won anything, then it goes in a glass case for everyone to see.
There is however a reminder that the USA is still the home of political correctness gone mad, as on one wall we saw school awards for students who had 'made the most of their personal growth.' Even a shop assistant in the local Disney store (we had to do a bit of shopping) no longer states 'Have a nice day', but 'Have a magical day, now'. Yeah – as if...
As for non political correctness? All 4BR can say is that in the bar one night, certain individuals (names withheld for legal reasons) were treated to a quite amazing treatise on a subject not fit for delicate ears, that somehow encompassed the use of non associated cockney rhyming slang. It was eye watering to say the least.
Still that was but a minor distraction. The contest itself was great, the organization excellent and the sense of determination and ambition about making the event a long term success palpable. It was great to see an ever growing number of traders on display, including Besson Musical Instruments who are making successful in roads into the American market place and who have been genuine supporters of this event since its inception. Both MD John Rogers and Export Director Alun Hughes were here this year and it was much appreciated by the Americans – sales of the latest lines should be up then!
If you ever get the chance to visit America then forget about Disney World and Florida and get to Chicago. It has so much to offer and encompasses all those fine American virtues we spoke about earlier – hard work, purposefulness and community. They all came together at the US Open this year as well, and we will be making sure that 4BR will be making yet another trip across the Atlantic to enjoy it once more in 2006.
Iwan Fox