2005 US Open Brass Band Championships - Contest Retrospective
10-Nov-2005
There was no doubt the Americans are improving, but are they improving in the right way? 4BR was there to find out and to sample US brass band entertainment at its best.
---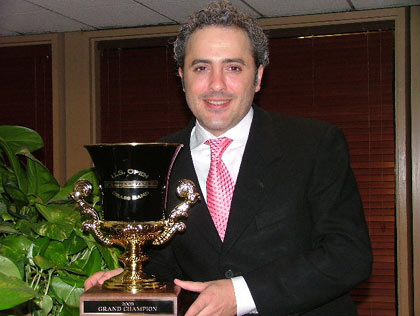 Winning MD Michael J Garasi
Are American brass bands improving? Undoubtedly a resounding affirmative (as they say out here) on that one. Are they improving in the right direction though? We will have to take a possible rain check (as they also say here) on that one for the time being perhaps.
The 3rd US Open Brass Band Championships in Arlington Heights, Illinois told us a great deal about the expanding brass band movement this year. The event has now become firmly established and has an excellent organisational foundation put in place by Clark Niermeyer and his hard working team of associates: It attracts a growing number of spectators (the concert hall at the John Hersey High School was about full to its 500 seat capacity all day) and a small but expanding group of traders as well. More importantly, US bands are now very much on board, and even though there were only seven bands taking part this year (up on last year and kept at this number by the organisers), so was the standard of performances.
For the second year there was also genuine progressive interest shown from the UK. Besson Musical Instruments are what are termed 'Gold Sponsors' and they have certainly found that it is good for business in a very congested and competitive market place, whilst it was great to see Dave Lea and his family representing Jaguar Coventry Band, both enjoying the contest and hopefully setting in motion the first steps of getting his band out here to compete in 2006. Add to that Dr. Keith Wilkinson, here with his wife to enjoy the contest and find out more about bringing a possible small scale brass band event to fruition in Ohio, and you can see why Clark Niermeyer was cautiously delighted that this years US Open has taken a significant step forward once more.
All seven bands brought something of note to the contest this year: From the winners, Brass Band of Central Florida right through to Milwaukee Festival Brass who propped up the results table, each of the 25 minute entertainment programmes contained musical content that impressed. The standard of technical playing was good whilst some of the solo playing would have held up at any level in the UK.
The problem however lies in the understanding and interpretation of the word 'entertainment'. What passes for entertainment in the UK invariably doesn't travel too well across the Atlantic Ocean, whilst only a handful of the best things America has to offer in the field make it big here. It seems the same thing may be true for the concept of the 25 minute brass band entertainment programme too.
It may also explain why there was so little variance in terms of style and tempo on display – very nearly every programme was up tempo with a big band or jazz item or two, and why there was very little evidence of items with sustained episodes of quiet playing in them. Some tried, but for the majority it was a diet of true red, white and blue, stars and stripes, 100%, Yankee Doodle Dandy stuff from start to finish.
Even when it is done as well as many did it here, it can still start to grate and become wearisome, and by the end of the day we were desperate for a little bit of calm 'mist the storms of hard and harsh blowing, slick choreography and blow the roof off dynamics. Big is beautiful they say over here, but sometimes big becomes obese and a little obscene – and at times it was like listening to the equivalent of an American football team defensive line – far to heavy and not particularly beautiful either.
Thankfully, the three judges this year, John Philips, Curtis Metcalf and Dale Lonis were wise and intelligent men and even though they enjoyed the conception of the programmes placed before them by the bands, they were critical of their delivery and execution. All three are fine musicians –as was evident when we were allowed to observe the new innovation the following day when all three of them explained the reasons behind their decisions as well as constructive comment to the band representatives in turn of how they felt their general and specific performance problems could be overcome.
It was an enlightening experience to say the least and the bands we observed taking part accepted the constructive criticism with good grace and with genuine appreciation. Can't see it really taking off here in the UK though can you? Some of our top conductors talking through their interpretations and performances with our judges in a constructive manner? It is though a fine innovation especially as the judges themselves were so well respected by the bands and their conductors.
All three judges knew their stuff inside out – both technically and musically on all the pieces played, and there would have been no point arguing with Dale Lonis in particular as he also had the unique honour we believe in the banding movement of being the only adjudicator who has also played international rugby union at test level and scored the winning try against France whilst his head was bandaged after having his ear ripped off by a marauding French forward. What a man!
The winning performance from the Brass Band of Central Florida was worthy of the first prize no doubt, but this year they were not on the same type of sparkling form that they certainly showed a twelve month ago.
Their MD Michael J Garasi is some talent, and once again he provided his band with a slick and professional programme that highlighted their undoubted skills. Given that the past few months have been very busy, that may have accounted for the unusual amount of lax mistakes that certainly littered their performance. Their opening item in particular was more than a little rocky at times, but we are sure both MD and band wouldn't want to use that as a convenient excuse.
'Mars Madness' started with the band displaying its usual clever choreography in what seemed to be an ideal starter. However not enough attention had been paid to the possibility that the announcer (the suave Frank Renton in tip top form) would not stop speaking when they themselves thought he would, and although Frank does at times like the sound of his unique voice, it was not his fault that the band didn't have a watertight plan of action to start matters off. The result was a rather uneven and sloppy abridged version of the Holst with poor phrase endings and wrong entries.
That was a real jolt to the system but they showed their class immediately with an excellent rendition of 'Hunting Wabbits'; an intelligent musical skit on Elma Fudd trying to ensnare Bugs Bunny. No funny hats, standing up or cheap slapstick humour here – just top quality ensemble playing and clever use of style. It brought things very much back on track.

Gail Robertson: Soloist for BB Central FLorida
This year the band decided to highlight their talented euphonium player Gail Robertson as their chosen soloist, but 'Hungarian Hallucinations', meant to showcase her talents a la Glyn Wiliams as a multi instrumentalist, never really came off.
The problem lay not in the music – great old potboiler Brahms and Liszt stuff, but the choice of the instruments and the technicality of the snapshots played. Playing a mix of soprano through to tuba sounds and looks great, but euph/baritone/trombone and tuba? Gail is a fine performer, but given that apart from a few tricky bars on the trombone in Monti's 'Czardas' the rest was not particularly challenging – it might have been of course, but it didn't sound it. The result was something that could and should have been so much flashier was played with almost academic ease.
This was followed by 'Tis a Gift', which as the audience heard in Birmingham in September is a superbly crafted work featuring the band in 4 part vocal harmony on the old shaker tune. It was the highlight of the programme for us.
Then the humour – which to be fair, all the bands on the day opted for the intelligent 'Frasier' quality rather than pure slapstick in your face stuff.
This time the band whacked out the 'Fanfare' from Rocky – as in the film and not the execution of the playing, which led to a mysterious figure approaching the stage in hoodie and red mitts with 'Italian Stallion' written on the back of his sweatshirt.
By the time they were to start the 'Gonna Fly Now' follow up, Mr Garasi had been revealed (although he was more bantamweight than heavy) as the 'Italian Stallion', and although we are sure Mrs Garasi is the only person who really knows if he lives up to the moniker, this Rocky certainly showed that he could conduct a brass band very well indeed, even with 16 ounce red leather boxing gloves on his hands!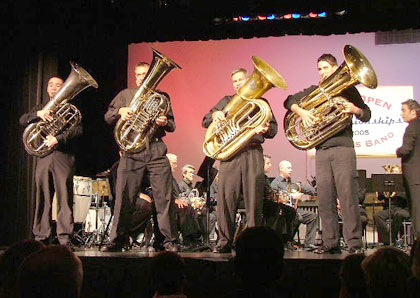 Brass Band of Central Florida Tubas
That just left the finisher, and as there was a prize for the best march on the day, Florida chose 'Stars and Stripes Forever' which would have been good enough without the need for the tuba quartet coming to the front of the stage to rather mangle the piccolo obligato part and the euphs and baritones then picking up trombones to add volume to the final refrain.
It just wasn't needed, as the quality of the band was obvious enough without the trickery and it just left the overall performance feeling a tad flat as they left the stage. It was still a fine overall show, but it was also one that was beatable – or as they say here; "There was the smell of blood in the water."
In the end it was only a faint whiff and the 8 point winning margin was well deserved.
Motor City Brass Band came second under the direction of their MD Craig Strain in a programme that was inspired by the American West. Even their compere started off proceedings with a 'Howdy'.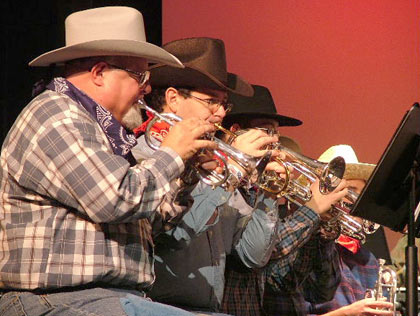 Howdy! Motor City Brass Band
The band were dressed for the part too – all in authentic (well authentic for us as Brits anyway) mid western garb – all Stetson hats, check shirts, denims and bandanas. They were either going to do an extended bit of line dancing or audition for a new version of Bonanza, we thought, but in the end they gave us a musical travelogue through the States in a well rehearsed if slightly 'dry' and worthy approach. This was the American West as told to us by the text book rather than the Saturday morning pictures.
Still, it contained some fine playing even if the choice of both 'The Cowboys Overture' by John Williams and 'A Frontier Overture' by Bruce Broughton was a bit of overlong overkill. Good music though. Surrounding these two heavyweight items they cleverly chose the march 'Death of Glory' – or as the Americans prefer to call it, 'The 10th Regiment March', which was neatly done and ended with in upbeat style, and the neat folk song, 'Jimmy Crack Corn' which did benefit from a funny compered intro from their trombone player.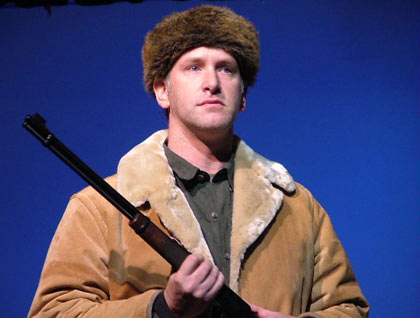 Davey Crocket: Motor City Brass Band
The undoubted highlight for us though was the vocal rendition given by their bass trombone player of 'Shenandoah' (Mid all the traffic) which was sung superbly, even though he was dressed as Davey Crocket complete with raccoon hat and Springfield rifle! With the band also giving a very composed and well balanced vocal and them instrumental accompaniment it was quite excellent and if the solo prize had been opened up for vocalists to be included we think the judges would have been hard pressed to give it to anyone else.
That selection by Motor City may also have been the main reason why in the judges mind they placed them 4 points ahead of Fountain City Brass Band in third.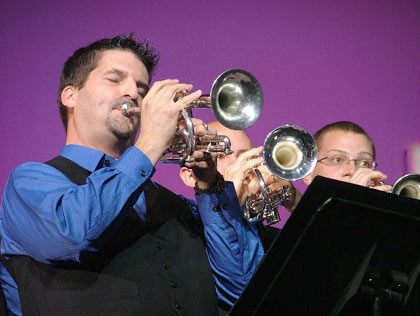 Fountain City Brass Band in action
It was no coincidence that both the winners and runners up included a quieter item to show off their talents, whilst Fountain certainly didn't – not to our ears anyway. If they had done so, perhaps it would have shown off their undoubted qualities even further than their exciting but over robust programme did, for on this evidence they are a very fine band indeed, that possibly on this occasion tried to hard to wow the audience and judges.
They did get off to a great start with a cracking original take on 'Malaguena' complete with slick and well rehearsed choreography and top notch flugel horn playing. It certainly started off with a wow factor, but by the time the cornet and soprano literally blew their instruments straight in the final bars you sensed that they were either trying to take the paint off the walls or this was going to be the one starter to beat all other starters. It was the latter, but only just.
The march 'The Cossack' followed. The band remained standing, but would have been better advised to have taken the time to sit down. In an attempt to play some of the quieter passages the band opted for directional playing from the cornets and euphs, but as they were standing in a slightly skewiff manner it didn't work and the end result was a rather overblown, although accurate rendition.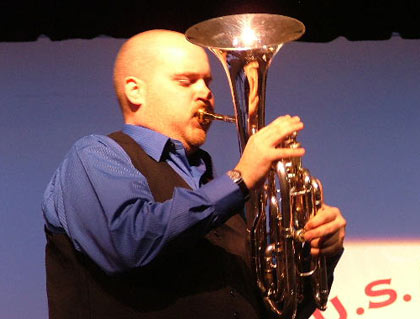 William Hess: Soloist for Fountain City
Things really did get back on course with a superb bit of baritone playing from William Hess on Monti's 'Czardas' (is there now an instrument this piece hasn't been arranged for in a brass band!) and he put on a corker of virtuosity that was only let down by him trying to unravel the tubing of the instrument by sheer volume when it was not required. If he had just taken 10% off the sound it would have been awesomely brilliant (he is a euph player originally – although that is not an excuse) – but in the end it was just brilliant, but that is saying something.
Now was the chance for a bit of respite, and 'Gabriel's Oboe' from the film 'The Mission' should have been it. Unfortunately this was an arrangement that featured the type of back beat usually found on a 'Hooked on Classics' CD and by the time all the band had joined together to blast out what should be a haunting melody of simplistic beauty, all hope was lost. At this volume the indigenous tribes of the Central American rainforest would have been deafened before the Conquistadors killed them with their swords.
The dye was now set, and even the humour was a touch heavy handed when Tom Stein got up to play the Patrick Sheridan's take on 'Flight of the Bumble Bee' – 'Flight of the Tuba Bee'. Mr Stein is a very fine player, but on this occasion there was rather a bit too much flannel going in to make it sound as brilliant as it should have been, whilst making a joke about the music before you play makes you a hostage to fortune – as he found out.
That just left the finale, Keith Wilkinson's fine arrangement of 'Bacchanale' from 'Samson and Delilah', but this was let down by an over quick tempo and the band trying to literally impersonate old Samson himself by trying to collapse the building on the audiences heads. It just didn't need it, and although the audience managed to regain its senses and give them a standing ovation, it was that lack of ability or perhaps more accurately, lack of thought to play quietly that saw them fall foul of the judges (and us).
This is without doubt a very fine band and excellent MD, but on this occasion they just simply tried too hard to blow their way to victory. A lot less on the day would have given them a lot more from the judges.
These three bands were by far the best of the seven band field, and even though there were a few raised eyebrows at the Awards Ceremony when Motor City were announced ahead of Fountain (especially as Fountain picked up the awards for 'Most Entertaining' and 'Best Soloist' as well as winning the Busker's event) it was the right result without a doubt.
In fourth place came the host band Prairie Brass Band that hails from Arlington Heights itself.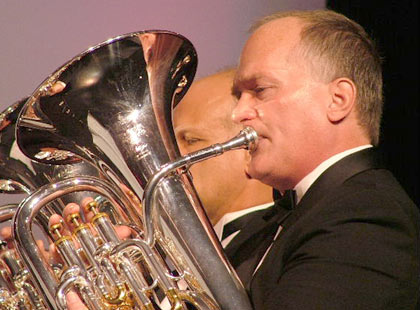 Prairie Brass Band - Euphoniums in action
Conducted by Dallas Niermeyer they produced perhaps the most authentic 'British' brass band sound on show all day and were certainly markedly improved in standard from last year.
A good opener in the form of 'Festmusik der Stadt Wien' was well handled and the following 'Gaelforce' also started off in the right manner. It seemed that this was a performance that could challenge for top honours, but the final section of the Peter Graham was marred by a badly positioned drum kit and a tempo that caught the individual players out somewhat. It wasn't quite an Irish jig, more an Irish Olympic sprint and it all ended in a bit of a mess. It was a pity as it promised much.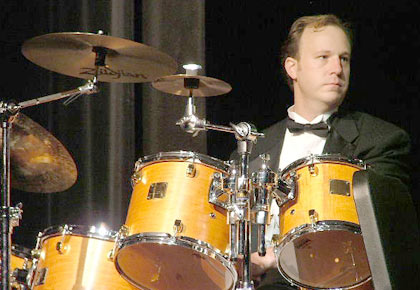 Prairie percussionist Clark Niermeyer
'Ravenswood' followed in what was a fine performance, with a true lilt and swagger, although there was some tuning problems in the lower end at times, before they featured their excellent flugel horn player Brad Hecker in a new arrangement of Chuck Mangione's 'The Legend of the one eyed Sailor'.
This was cracking stuff, and it is certain that this piece will be in demand from the legion of flugel horn players in the UK who have all played the 'Children of Sanchez' so often that the 'Children' have grown up, left home and had kids of their own that it should be renamed the 'Grandchildren of Sanchez"! Mr Hecker is a top notch player with a rare ability to play high and true on the instrument (UK players take note for this piece), although his percussion shaker interlude when not playing made him look as if he was having electric shock treatment up his right arm. He should have left it alone for his flugel playing was more than good enough.
That just left the finale and 'Softly as I leave You', which according to Frank Renton, the words of which were nicked by the composer from the widow of a dying man who penned them just before he shed his mortal coil. This was a slightly over wrought arrangement by the MD it must be said – more 'Loudly as I leave You, kicking the bedpans and arguing with the nurses' type of thing. Again, a little less would have perhaps been rewarded with a little more from the judges.
Fourth place was bang on the dollar for us, but if next year they have make the same improvement as last, then Prairie could be strong contenders indeed for top honours – although we would certainly like to see them smile more! At times they were a little too earnest and serious – like a convention of musical undertakers.
Sheldon Theatre Brass Band came home in fifth place and that was also bang on the dollar bill for us as well.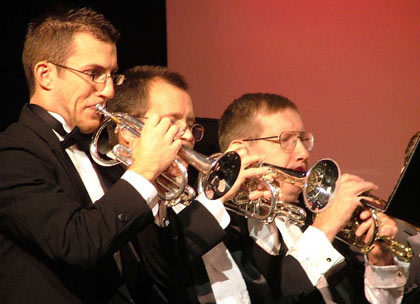 Sheldon Theatre - cornet section in action
They opened up by tuning up – as did a couple of the other bands, and although it really didn't make that much difference it was nice to hear in its own way. How many performances in the UK have been ruined by out of tune opening chords on a test piece as players come onto the stage from outside in the cold and rain?
When they did get underway they opted for an opener in the form of Kenneth Hesketh's 'Masque', which was well handled but was far too long. Given that the MD of the band, James A Kurschner had also brought onto the stage his battered brown leather briefcase, you thought he may have been keeping his sandwiches in there for the time when the piece finally ended.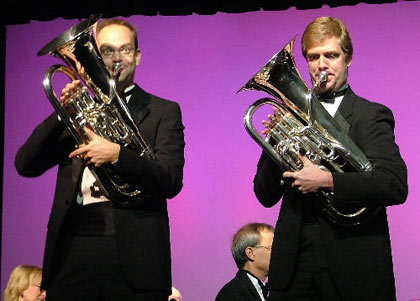 Sheldon Theatre: Euphonium soloists
That was followed by their solo spot – or more accurately their duet spot in 'Brilliante' by Peter Graham that featured two very competent euphonium players in John Tranter and Brian Borovsky. This was decent stuff indeed, perhaps not quite as 'brilliante' as the Childs brothers but then again, that would have been something else. This was a more studied and well shaped account and got a well deserved ovation form the audience.
That gave way to the old corker of the march 'Mephistopheles' which was once more neatly turned out even if it did require a little bit more devilment in places to have really sparkled.
Finally, another bit of Peter Graham and his 'Windows of the World' – or more accurately, three windows (more a like the Jackanory windows then) which they pulled off pretty well, with the highlight the old chap on 3rd cornet playing a cracking bit of swing jazz in the 'Earth Walk' that would have been a shining example to all those in the UK (conductors and players alike) who think they know how to play like it. They can't – this bloke certainly could.
It rounded off a well balanced, if slightly worthy performance that had its moments of real quality but perhaps just needed a little more variety and lightness to have really worked. A decent band in the making though.
That left Eastern Iowa Brass Band to come home in sixth place after they gave a very enjoyable performance that unlike all the others on the day just cried out for more oomph and volume!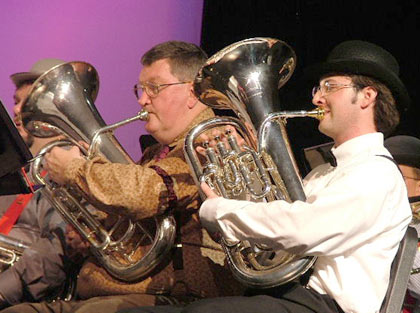 Eastern Iowa: Euphonium section
This was well balanced, secure and tidy playing from the word go, with plenty of evidence that there were fine players around the stands and a very sympathetic MD in front. We were later told that Iowa is famous for hogs and corn, so we wondered if these activities bred some sort of reserve into the nature of the Iowan people.
It was old fashioned brass band playing made more starkly obvious by the fact that the entire band was kitted out in turn of the century Iowan clothing – all grandfather collars, braces and Darby hats for the men and big flouncy skirts, lace tops and hats Lady Astor would have recognized for the women. It was 'Little House on the Prairie' meets Herbert L Clarke.

All of their items though had that hallmark of good rehearsal, but that ever so small volume made you wondered what a ripper of a night out in Iowa must sound like – quiet we think.
'Sunburst' march was neat and tidy and featured a very good lady on soprano cornet (who was excellent throughout) whilst 'Abide with Me' also displayed a petite but rounded sound that was balanced and warm. 'Be a Clown' was their 'novelty' item, and although it wasn't quite as slapstick as it should be, perhaps the good folk of the State like their humour reserved and not raucous – even the lady on soprano just added a little red nose to make her point.
The highlight for us though was 'Sugar Blues' played brilliantly by a chap we think called Denis Maddochek. This was great stuff, all enhanced by a simple but effective lazy style that was just perfect and a soft shoe shuffle from the soloist that was also close to perfection too. It was a real highlight of the day.
'Sing, Sing, Sing' followed – although more of a whisper than a sleazy bit of rag time before a Shostakovich 'Galop' that was slightly more of a quick trot than a hell for leather whip in hand rush for the finishing line.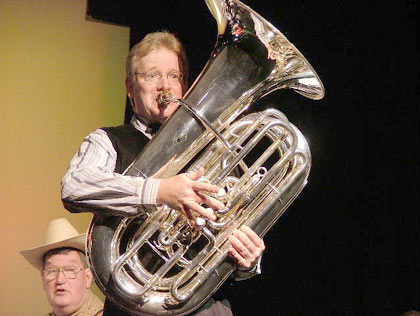 Eastern Iowa Tuba: check out the cowboy listener!
A fine bit of authentic Iowan humour with 'Play that Country Tuba' was very well handled by both tuba soloists and the band – complete with a narrator whose drawl of an accent would have been at home in the Dukes of Hazzard. 'Gaelforce', ended things, which for a State that has its fair share of wind problems was a bit of a force four westerly rather than a full blown snorter that lifts houses off their foundations.
There was much promise on show with the band, but oh for a trip to the wild side. Can Iowa really be as neat and tidy and so reserved as this?
Finally, Milwaukee Festival Brass under the baton of the highly colourful (her jacket at least) Dr Patricia D. Backhaus.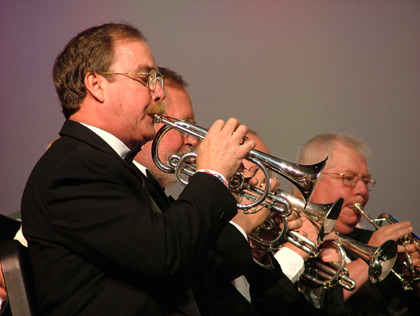 Milwaukee Festival Brass cornet section
The band were making their second appearance here, having taken part in the first contest in 2003, and although it was evident that they had improved technically (one of the organisers informed us of that), they were still a little off the pace here musically – although mainly to do with their choice of themed programme which didn't seem to work at all.
It was all based around a narrated story (not from Mr Renton) of 'Bobby Brassa' a young instrument who wanted to live out the American dream. On his travels he meets up with different people in different places throughout the country and so takes in a march, a Cha- Cha, a bit of rock, some cool jazz and finally back to the authentic sound of the march once more. On paper it must have sounded fine, but out in the open it just lacked any sense of direction and character and as a result it fell awfully flat with little humour.
The narration was nearly as long as the playing in fact (they were the only band not to fully utilise its 25 minute playing time slot – they managed just over 18 minutes) and although the opening march, Derek Broadbent's 'American Dream' was OK, the following 'Red Peppers Cha-Cha' was more like an 'Excuse Me' dance at a Senior Citizens Home. Things improved greatly with 'Nights in White Satin' but the following 'Blue Tango' had little or no fizz in it at all. There is supposed to be a real feeling of sexual electricity in a Tango – this one felt as if it needed a Viagra tablet or three to get it going.

Milwaukee trombone section
Finally, and after a very long bit of narration our hero returned back home to the 'National Emblem' which like the first march was the best bit of playing the band produced, but by then it was too late.
Back to the drawing board we think for Milwaukee, but all is not lost – just get a better idea next year and things will surely take off.
That was that then and the contest finished promptly on the stroke of 3.30pm just as the organisers said it would. It was an enjoyable day indeed, made more so by some quite outstanding buskers who entertained the audience between bands.
These varied from way out stuff such as the percussion team called Stinking Garbage who play garbage cans (or dustbins as Frank helpfully informed the audience they were called in civilized Blighty) to some rock and roll with an added twist of Dixieland jazz from the Hurricane Rockers.
There was even some traditional duet playing and a fine bit of tuba inspired stuff as well, but the winners were Twisted Steel from Fountain City led by Lee Harrelson and his three lower brass chums, who produced a lovely 'Danny Boy' followed by a spanker of a 'Finale' from 'William Tell' that brought the house down and deservedly won themselves the top hatful of dollar bills and the 35 cents that Frank somehow managed to find in his deep pockets!
All that was left was the night ahead and the announcement of the results - and what a night that was. The US Open was a great success and deservedly so. There is now a real foundation in place for this contest to flourish further and if the bands can just show a little more reserve instead of trying to blow the house down then all that technical progress we talked about at the start will be matched by the music too. 2006 promises so much, and we will be there to sample it once more.
Iwan Fox.