The Flying Soprano Star - Alex Kerwin
21-Nov-2005
Soprano star Alex Kerwin has had a busy couple of months after racking up the air miles once again to fly back to the UK and Europe. This is her diary for yet another journey in her busy schedule - this time with here children in tow!
---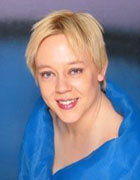 Why on earth did I think travelling with two children under the age of seven would be a good idea? Ah, because my kids are angels that's why!
As we headed through the rain clouds over Auckland I was very excited at the prospect of heading back to the UK. I'd not been back since last year when I played at the Open and Nationals with Dyke so I was happy to be seeing my friends again.
The flights we chose were unfortunately without any suitable entertainment they had TV monitors placed sporadically throughout the aircraft which would mean a year in a neck brace if you could manoeuvre yourself that far to see one of the dull movies on offer. It was a huge relief to finally land in Manchester and then a short car ride to my parents in Huddersfield. I only had a day there to get the kids settled and to hire a car to drive to Scotland, where I was appearing as guest soloist and judge at Brass in the Park 2005.
Brass in the Park is the brainchild of Alan McLaren the President of the Scottish Brass Band Association. It is truly an amazing event staged in huge marquees, I'm sure that Alan adds more tents every year because I always seem to get lost in these canvas mazes! The format is an opening gala concert on the Friday night where I played three solos on soprano cornet accompanied by the 2005 Scottish Champions, Newtongrange Silver Band and the next day is taken up with contesting with bands from youth grade up to first section standard.

There were twenty-seven bands this year, which is a fabulous achievement. Each band must play a march, solo and a hymn. Allan Ramsey was in charge of the band events and I judged the senior and junior soloists. This is really grass roots banding and seemed very old fashioned almost Victorian. Families flock to this event with their children, as there are magicians, candyfloss, bbq's, fairground rides, raffle stalls and of course a hugely populated bar for the thirsty bandsmen. On the Sunday there is a Songs of Praise concert, which once again involves the Newtongrange Band and lots of hymn singing from the audience. The concerts enjoyed an eight hundred strong audience to each event. The weather was fabulous throughout the event and the spirit of everyone involved was fantastic.
The highlight of the whole event for me was the enthusiasm of the youngsters in the youth bands especially Brass Roots (conducted by Alan Fernie) these little ones were at the whole event and not only performed at the contest where they won the top prize but they entertained the masses throughout the weekend. Very reassuring that we have the next generation of brass banding so happy and so committed.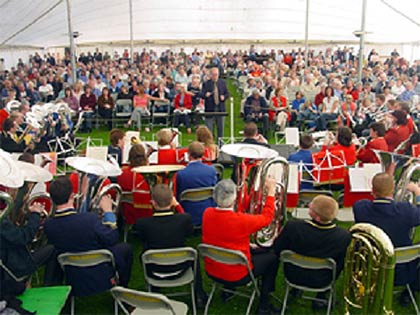 Newtongrange - Brass in the Park
After the Scotland leg of the tour I returned to Yorkshire to spend some time at Black Dyke before the British Open Championships. When I played with Dyke last year, I had to do a double take to everyone, as I couldn't believe they could be so genuinely nice, I kept expecting them to pull their faces (or worse) behind my back. I couldn't have been more wrong. They are some of the warmest, funny and kind people I have ever been associated with.

The band is very content and in the form of their lives right now. I am honoured to be associated with the band that I have admired since I was seven years old and saw them at the Huddersfield Town Hall. The welcome I got this year was just as warm. I spent two weeks in the run up to the British Open listening to the band's preparations. I think Bramwell Tovey's 'A Night to Sing' is a wonderful piece of work with some recollections from other brass band pieces such as William Walton's First Shoot. After every rehearsal the guys would ask, so what do you think? I would answer, 'erm, its amazing'. Yeah, very helpful Alex, very constructive! But that's Dyke, the sound that can reduce you to tears and make the hairs on the back of your neck stand to attention.
I listened to seven bands at The British Open contest and I really enjoyed the performances, I was really impressed with Rothwell's performance, which belied the fact that this was their debut. Dyke were just awesome, there seemed to be so much sense in the music and the final build up to the climax was breathtaking. David Thornton was just superb; he is a very moving player and is not afraid to take big dynamic risks. It was no surprise that Dyke won and that Dave clinched best soloist. One of the players of the day was John Doyle on flugel, he was unbelievably good. JD is a very unassuming person who has the ability to laugh at himself (which he does, often) he is a talisman for the players, one of the people guaranteed to make you smile (sometimes with his playing!)
I was very pleased for my childhood friend Michelle Ibbotson to win the first Brian Evans trophy. Brian has been a huge influence on myself and more so for my husband Simon. Brian got Simon started as a composer and arranger, commissioning many pieces for Brian's solo CD.
The day after the Open I managed to get a blow in the afternoon concert, where we just about lifted the roof of the Symphony hall in Procession to the Minster. Peter Roberts was outstanding. I was lucky enough to guest with YBS on principal cornet a couple of years ago when we played Procession. At the big climax if felt like Pete was standing on my shoulders, that's the immense power, not loud and brash but pure sound that no one else can match.
A week later we travelled to Lucerne in Switzerland to perform at the gala concert of the Swiss Open contest. There were (gulp) three thousand people in the audience. I was on soprano cornet as the legend that is Peter Roberts was judging the National Third Section Championships in Harrogate
I had a few wobbly moments (well they are awfully big shoes to fill!) but it was a fantastic concert; with the audience giving us a standing ovation and making us do three encores. Phew! David Thornton was again on top form performing Auld Lang Syne, which drew, gasps from the audience, as he never seemed to take a breath! After that we enjoyed several drinks and watched second baritone player Gareth Daniel attempt a very complicated trick with a tray full of drinks. Now the trick didn't quite come off and Gareth found himself thirty pounds poorer.
It was then time to say goodbye to Black Dyke (I was staying on in Switzerland) As with last year I was a tearful mess and was more than a passing likeness of Alice Cooper as I waved the band off.
So by 9am the next day I was at the draw waiting to play with Musik Frohsinn Oberburg band in a contest in Solothurn. Peter Frank of musikverlag frank looked after me during my extended stay in Switzerland.
By 10.30am we'd played our performance of Four Noble Truths by Philip Sparke. So all that was left was to sit outside at long tables in the blazing hot sun drinking ice-cold beer. Now the band that I was playing with have a joint vice of snorting 'snuff' (you know, brown powder up the nostrils). They offered it to me, but I politely declined as to be honest it looked positively illegal!
The band were delighted to win the contest and there was much drinking out of the trophy. Why do we do this? Who wants Brasso flavoured beer? After the results ceremony and as the sun was going down over the mountains one of the bands assembled into choir formation and sang a lovely Swiss melody in four-part harmony. It was quite a poignant moment and a fitting end to the trip.
Just a few days later my gorgeous kids and myself were saying tearful goodbyes to our family. It had been a fabulous trip and my children had loved being close to their grandparents but they and I were glad to be heading back to Simon. Ah bless!
Alexandra Kerwin
November 2005
Photo acknowledgments: Brass in the Park, courtesy of Newtongrange Band, Black Dyke British Open, courtesy of Geoff Whitely, Black Dyke Band.