2005 4BR Awards - CD/DVD of the Year
9-Dec-2005
There have been some fine recordings released by numerous band during the past 12 months, but which one did you think was the best of the lot. There was plenty to choose from.
---
Introduction:

Amid reports we hear that sales of brass band CDs are not what they used to be, it is strange therefore to report that 4BR now carries over 500 titles from which to buy and still has trouble in keeping up with the sales of the most popular releases from the very best bands in the business. The reason for our optimism is that the standard of releases from just about every band from Championship to Youth is now put together with a greater degree of professionalism than ever before, and therefore the difference between good, very good and truly great releases is becoming less and less each year. We have also opened up this category to include DVD releases.

We have reviewed many CDs and DVDs this year (this is what qualifies for inclusion) on the site and we have come up with these six who we think are the best of a pretty good bunch in 2005. Our nominations are: Jewels in the Crown by Black Dyke; Angels and Demons by Kirkintilloch; Gaia Symphony by BAYV; Tales and Stories from Eikanger Bjorsvik Musikklag; Alpha and Omega by YBS ; 150th Anniversary Concert DVD – Black Dyke Band.
We reprint our short reviews next to each as well as the links to the full reviews that appeared on the 4BR site.
There were plenty of others our team liked a great deal, although we will have to put the likes of 'Origins' by the ISB into next year's awards selection, as we couldn't get it on the site in time for this year due to its release date. Other notable releases for us were Ad Opitimum by Brass Band Buizingen; Vienna Horn; 2005 Europeans; Brass 10; Heaton Collection Volume 3; The Red Machine; Main to Manhatten; A Walk on the Light Side; Ragazzi; Echoes of the East; Grimethorpe in Concert Volume 2; The History of Bras Band Music – The Early Years… and there are plenty more.
---

Jewels in the Crown:
Black Dyke Band
Triple CD release
Doyen Recordings: CD150
Total Playing Time: Approx 4 hours
This three CD set includes recordings of special significance from 1905 to the present day and are undoubtedly a worthy celebration of 150 years of the world's most famous brass band. Classic performances from some of the greatest ever recordings and from some of the greatest ever brass band players including James Shepherd, Maurice Murphy, Philip McCann and Geoffrey Whitham on the legendary 'Le Roi d'Y's'. Highly recommended.
---

Angel and Demons:
Kirkintilloch Band
Conductor: Frank Renton
Soloists: Steve Stewart, David Prentice, Allan Wardrope
Featuring: Vocals/Keyboards, Greg Barnes; Guitar/Bass Guitar/Keyboards, James Lawrence
B&H Recordings: BHSS 0515
Total Playing Time: Approx 62 mins
A release right out of left field. Frank Renton and the lads and lasses from Kirky have put together the musical equivalent of Motorheads 'Ace of Spades' and it comes off in all its bonkers glory.
Great playing and even better soloists combine with bass guitar, vocals and keyboards to bring you something you should only listen to when you are in one of those moods when you don't give a fig to anyone else and you just want to enjoy yourself to the max. Highly contagious and highly recommended.
---

Gaia Symphony:
Buy As You View Band
Conductor: Dr. Robert Childs
Doyen Recordings: CD188
Total Playing Time: 62.22
An immense achievement for brass banding, and an immense achievement for a brass band.
BAYV bring John Pickards incredible work to life with a breathtaking performance of over an hour in length, and which grabs you by the musical throat from the word go and never leaves you go right to the very last note.
The scope is amazing, the playing of an incredibly high level and the elemental power that surges through the writing makes for a most rewarding listening experience. This really is top drawer stuff.
---

Tales and Stories:
Eikanger Bjorsvik Musikklag
Conductor: Reid Gilje
Soloists: Magnus Brandseth, Henning Anundsen, Tormod Flaten, Martin Winter
Organ: Iver Kleive
Recitation: Kirsten Hofseth
Doyen Recordings: DOY CD204
Total Playing Time: 64.03
A truly wonderful release from Norway's most innovatiove and creative ensemble. 'Tales and Stories' takes its inspiration from the present and the past – from the troubled history of the Balkans to the myths and legends of the Norway of ancient times. All this and in between you get a piece of music that will make your backbone feel like a Robinson's jelly.
The playing is superb, the soloists excellent, the organ as powerful as a Ferrari and the narration of Kirsten Hofseth a thing of surreal beauty. Add it all together and you have something very different indeed – but something that will enthral you for every second.
---

Alpha and Omega:
YBS Band
Conductor: Professor David King
Egon Recordings: CD SFZ126
Total Playing Time: 72.33
A superb release from YBS and David King of a composer who has long been underestimated by the secular banding world.
Six performances of detail and warmth, but more crucially of understanding and expression gives the listener 72 minutes of poetic lyricism. The major 'test pieces' are revealed in their glory – much more satisfying than the trend of technical tour de forces that are now so prominent, whilst the smaller works are gems of intuitive beauty.
This has been long overdue, but it has been well worth the wait.
---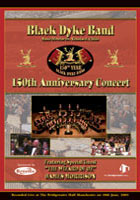 DVD: 150th Anniversary Concert:
Black Dyke Band
Raising Brass for Kirsty
Black Dyke Band
Conductor: Dr.Nicholas Childs
Soloist: James Morrison
Featuring: Ludus Dance Company,Massed Choirs and vocal soloists
World of Brass Recordings DVD: WOB
Those that were fortunate enough to attend the Black Dyke Band 150th Anniversary Concert in June 2005 will no doubt want to revisit the evening's stunning programme highlights here on DVD.

If you missed the concert, here's your chance to see Black Dyke Band sharing the stage with the incredible multi-instrumentalist James Morrison.