2005 4BR Awards - 4BR Special Award
9-Dec-2005
Every year we make a special award to someone, or an organisation who we believe has enhanced the brass band movement, not only in the past 12 months but perhaps throughout their lifetime. This year we are proud to make that award to David Gallaher of the
---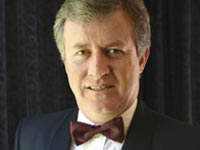 4BR first came across David Gallaher in somewhat strange circumstances. At the European Brass Band Championships held in Glasgow in 2004, and a few hours after the announcement of the results, we had decamped to the bar of the hotel to enjoy a well earned lemonade shandy and chew over the proceedings with the rest of the assembled press pack.
After a while Alan Jenkins, the doyen of banding writers, and now Editor of Brass Band World magazine, introduced a very polite and serious looking chap to 4BR. It was David Gallaher, and he was in the UK for a dual purpose; firstly to listen to the bands at the contest and find out more about the repertoire they were choosing to play, and secondly to try and find a soprano player to come to New Zealand to play with the Woolston Band at the forthcoming National Championships.
Buoyed by the shandy and the misplaced recommendation by Alan Jenkins, David agreed to sign the 4BR Editor up for the contest and so we were able to go to New Zealand to enjoy the banding scene there a couple of months later.
Once there it became very apparent, both his band as well as others held the highest respect and regard for David Gallaher – and that applied to the whole of the banding movement in New Zealand. The reason for this can be taken from his biography which appears on the New Zealand Brass Band Association website for his tenure as Musical Director of the National Band of New Zealand on their European Tour in 2005 to the World Brass Band Championships held in Kerkrade:
David Gallaher's involvement in brass bands began as a cornet player in the St Kilda Junior Band of Dunedin in the mid 1960s. Brief flirtations with orchestras and jazz bands followed. A teaching transfer to Invercargill came after study at Otago University and Dunedin Teachers College. By this time the passion for brass bands had taken hold and was nurtured in New Zealand's southernmost city.

A change of instrument to tenor horn preceded selection in the 1980 National Band of New Zealand. David was also selected in the horn sections of the 1985 and 1992 National Bands.

In 1984 David became the first southern hemisphere performer on tenor horn to have been made a Fellow of Trinity College, London.

David began teaching brass instruments in schools while in Invercargill. He has made a significant contribution in this field. Many of his students have gone on to gain selection in National Youth Bands and the National Band of New Zealand. It was in this field of endeavour that he was to come under the influence of the late Mervyn Waters who provided much early encouragement and inspiration. Ken Smith is another significant musical influence.

Following Mervyn Water's death and Ken Smith's appointment to Woolston Brass, David was invited to be Woolston's Deputy Conductor and moved to Christchurch. After Ken's retirement, David assumed the conductorship of Woolston Brass, now know as New Zealand Community Trust Woolston Brass.

David's prowess as a Music Director is evident when that Band won the 'A' Grade National Championship Contest in 1997 (in his first year) was followed with further successes in 2000, 2001 and 2002. Under David's direction "The Band of the Year" title was Woolston's in 1997, 1998, 2002 and 2003.
As you can see, he has given a great deal of his life to the banding movement.

It is a rarity to meet such a genuine man who also happens to be such a talented musician, conductor and teacher. That respect from his peers and contemporaries has been hard earned and is very genuine indeed. There was not one person we spoke to in New Zealand who didn't think David was a top man, a top musician and a top conductor. We have to agree.

He steps down from his post as MD of Woolston next year after a period when he has delivered them a golden period of success. Such is the character of the man that he will continue to help with the development of young players within the organisation (he also plays a nifty trombone and baritone) and will continue to teach and nurture numerous young players in his professional job.
When we first met him in Glasgow possibly the secret of his success was evident: He had come half way around the world to find out what the best bands in Europe were doing and to learn from them. Once he had done that part of the job, he went about enjoying himself – and he was excellent company – all through a very long night. He enjoys his rugby (he is a descendent of the first All Black Rugby captain to tour the British Isles in 1905 – and hasn't forgotten Wales beat them that year!) and an avid brass band anorak.
That shows a man of character, man of talent and a man who can hold his own up against some seasoned old night owls! His contribution to the banding movement in New Zealand has been significant to say the least.
We wish him well in whatever he chooses to do next, and we are sure he will be a success. The 4BR Award we hope will make up for the one poor piece of judgement he ever made in picking a dodgy Welsh soprano player on a 'blind' recommendation! He is a most worthy recipient of our Award.
Past Winners:
2004: David Read
2003: Salvationist Publishing and Supplies Ltd
2002: Frank Hodges
2001: Alan Jenkins