2005 4BR Awards - 4BR Band of the Year
31-Dec-2005
Who are the players (and conductor) who we have chosen as the 4BR Band of the Year for 2005? Some great performers from all around the world have made it into our band for us, but do you agree with our choices?
---
We have toyed with this a few times over the past few years, but we now think the time has come to make a definitive line up of the players who we think made the greatest impression on us throughout the past year with their performances on the contest and concert stage, radio and CD recordings.

The criteria for inclusion is simple – just read the above paragraph; so it is not a question of who are simply the best players in the world (that would be a bit of a pointless cherry picking exercise), it is a question of those who have performed at the very top of their form during the past twelve months and have made a real lasting impression on us by doing so.

We think we have made a pretty good selection of players from all around the world (we have been to contests in the UK, Europe, North America and New Zealand this year) and although not everyone will agree with our choices (that's for sure) we believe they make a pretty formidable line up and we hope they give a bit of festive cheer to those included, although it was an immensely difficult task in picking just 25 players and four percussionists – we could have made up two or three bands without any problems.
As always, certain players have stood out amongst their contemporaries in 2005, and 4BR has usually been there to hear most of them play on the biggest stages of all. From Wigan to Wellington, Birmingham to Bergen, these are the players who we think deserve that little bit of extra recognition for their efforts.
After we made our choices we had the problem of what to do with the band we chose, and we came up with the idea of an entertainment concert so that just about every player could showcase their talents and show the world why they were chosen.

These are the choices:
---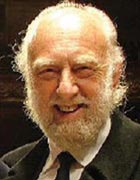 Conductor:
Richard Evans
Just as last year, we couldn't think of a better man to lead our band in concert than the bloke who is enjoying himself more now than at perhaps any time in his long career. Richard Evans has been on inspired form this year and at Brass in Concert he even wore one of his best cravats that flowed like a Gloria Swanson scarf! What style, what balls, what a conductor in 2005.

---
The Cornet Section:
There were plenty of fine performers to choose from here this year, a year in which a number of players really did play above themselves both on the concert and contest stage.
It is nice to report that there were a few overseas players who really did shine as well, and they found their way into our lineup as a result. It is not only British based players who can produce authentic cornet playing nowadays.
We have therefore picked a selection of top class cornet players, just about all of whom enhanced their considerable reputations further in 2005, or put down markers about their future potential being fully realised. As always with the 4BR Band, the cornet players can interchange and move up and down the ranks – they are all that good.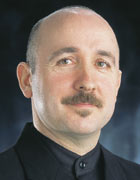 Principal Cornet:
Roger Webster
For the position of Principal Cornet we didn't have as much trouble with the choice as you may have thought, because all year, and right up to his departure from Black Dyke, Roger Webster was still 'The Daddy'. His performances on the contest stage in particular stood him out once more as the complete cornet player of his generation. Where he goes next to showcase his talents we do not know, but it would be criminal of we do not get to hear him at the highest level in 2006. He was impeccable in 2005.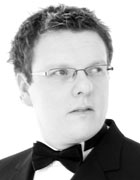 Richard Marshall
Black Dyke
Last year we opened our appreciation of this remarkable player with the words '…the heir apparent to Mr Webster?' That has now come to pass, and it is richly deserved that Richard Marshall shall showcase his talents with Black Dyke. All year he has been on excellent form – especially at the big contests, and many seasoned observers believe that he may well be on the cusp of taking over the mantle as the finest cornet player around from 'The Big W' himself.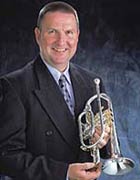 Alan Morrison
Brighouse and Rastrick
Form is temporary, class is permanent, as the saying goes – and it so well sums up Alan Morrison in 2005. He has been excellent all year, playing at times with the brio of his youth, but at others with such maturity and understated musicianship. He uses his head where others simply rely on their lip and there were a couple of performances from him in 2005 (Bradford especially) that was object lessons in the art of cornet playing.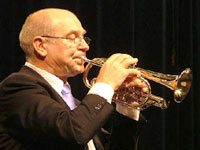 Hans Gansch
Brass Band Oberosterreich
His performances at the 2005 European Championships are now becoming the stuff of legend and those lucky enough to have been there to hear him play will attest to the fact that they were every bit as good, if not better than anything heard on a contest stage at any level anywhere in the world in 2005. You would expect a bloke who was for twenty odd years the top man at the Vienna Philharmonic to be good, but by heck, he was that and much, much more.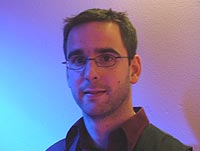 Raf Van Looveren
Brass Band Willebroek
Still the best European based cornet player around, and once more in 2005 he proved his worth with a series of top class performances both for his own band, and with others. Where ever he goes he brings a rare touch of class and at the Europeans in particular and at Cambridge where he very nearly didn't take the instrument off his lips all through 'Cloudcatcher Fells' he produced principal cornet playing of immense character, poise and clarity.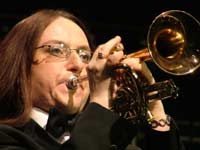 Kirsty Abbotts
Carlton Main Frickley Colliery
Once again in 2005 Kirsty Abbotts showed that she quite rightly belongs in the very top tier of principal cornet players in Europe. Her performances leading Carlton Main were exemplary, from Butlins early in the year right through to the Scottish Open. A lovely stand up soloist and classy leader of her cornet section, she was on quite excellent form throughout the year, and we await her first solo CD with much anticipation.

Stephen Wilkinson
Fairey Band
A young man who has shown a remarkable amount of maturity in taking on one of the most prestigious cornet positions in the banding movement. There were many a raised eyebrow when this young man was given the job at Faireys, but in 2005 he has shown that the trust was not misplaced and he has grabbed the opportunity with both hands. Some wonderful playing especially at the Open were highlights whilst he has impressed many with his leadership and solo playing on the concert stage as well.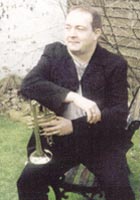 Robert Westacott
Hepworth (Persimmon Homes)
Every band must have a leader that embodies the characteristics that others in the ensemble should aspire too, and in 2005 Robert Wstacott showed that his class, sense of musicality, and above all, commitment to the cause of Hepworth were inspirational indeed. He was on quite excellent form throughout the year, especially at Bradford, Birmingham and Blackpool where he himself played quite beautifully but also led his band with determined authority.



David Prentice
Kirkintilloch
We had heard a great deal of impressive playing from David Prentice in 2005. Right from the Scottish Championships through to the Opens at Birmingham and Glasgow where he won the 'Solo Award' he displayed a security of technique and quality of tone that really made an impression. All this and he was quite sensational on Kirky's fine 'Angels and Demons' release where he played as well as Gabriel and Beelzebub put together.
---

Soprano Cornet:
A very difficult job to select the one person to fill the soprano cornet place in the 2005 Band, after a number of players throughout the banding world put in quite startling performances on the contest, concert and recording stages.
In any other year a case could have been put forward without argument for any number of great soprano players from all over the globe – male and female, but this year we felt our choice was playing at a level of consistency that marked him out from a very high class field.
Kevin Crockford
Grimethorpe Colliery (UK Coal)
If ever a player has reinvented himself then it is this man. The move back to Grimethorpe has seen him continue to improve with age like a fine wine – now he possesses a lovely rounded pure tone, such a secure technique throughout the dynamic range and a superb sense of musicianship both as a leading solo voice and as an ensemble player. In 2005 he was on exceptional form, from Bradford to Birmingham and especially in London and at Brass in Concert where he really did touch the heights. In a year when soprano playing was of the very highest quality throughout the banding movement, Kevin Crockford was it finest practitioner.
---

Flugel Horn:
Just as with the other specialised position of soprano cornet, the standard of flugel horn playing was also of the highest class in 2005, and wherever we went we heard some quite startlingly good playing.
Again, in any other year any number of great practitioners of the flugel from all over the world would have made it into the band, but this year this player had the edge on them all for us.
Iwan Williams
YBS Band
In a year in which YBS perhaps didn't quite play to the standards we have come to expect of them in the past, one performer with the band certainly did – and more. Iwan Williams has long been one of the most cultured flugel players around and in 2005 he confirmed that both on the concert and contest stage and with a quite outstanding individual recording of his own entitled 'Mellow Moments'. He really was a class performer during the year and fully deserves to take his place in the band ahead of some brilliant contemporaries.
---
Horn Section:
Always a difficult task to select the three horn players to take their place in the 4BR Band, as once again in 2005, it was an instrument that didn't have a great deal of limelight thrust upon it, both on the contest or concert and recording stages.
The three we picked though showed immense style in their playing to go with their undoubted technical brilliance and fantastic sound, although they were hard pushed by some pretty good players.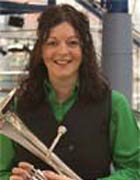 Sheona White
YBS Band
Still the best around in 2005 for us, and with Iwan Williams she provides YBS with a cornerstone of quality in the middle of the band that is hard to surpass. Again and again in 2005 she sounded quite outstanding and showed her talents to the full in both Australia and New Zealand on the concert and contest stage where she brought a new dimension to their understanding of tenor horn playing. An inspiring musician.

Owen Farr
BAYV Band
2005 was an excellent year for the Welshman and he was on sublime form from the word go in Swansea to the very end at Brass in Concert. His contest performances revealed a commanding middle of the band presence that complimented the strengths of the powerful wings of the BAYV Band and give them a long overdue richness and balance. A player of the highest quality on the very best of form during the year.

Alan Wardrope
Kirkintilloch Band
The only other horn player who really made you sit up and listen during 2005 with a series of outstanding performances throughout the year. Each time we heard him on stage he exuded class with a cast iron technique allied to a sound that filled the concert halls in which he performed. At the Scottish Open he was the best on the day by a mile and throughout the year he was as good as anything we heard.
---

Euphonium Section:
Surprisingly for us, this was a very easy choice to make, as we felt there were two players who stood head and shoulders above the rest in 2005 and once more showed that they are perhaps playing to a different set of criteria at present.
That said, there were fine contributions from others too, but the standard of euphonium playing at the top most level is now so high that you have to be a world class performer to even get a look in. Our pair, for a second successive year were that and more.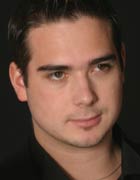 David Childs
BAYV Band
Without a doubt the star brass band performer of the year, be it on the contest, concert or recording stage. At the majors he was simply breathtaking – the Nationals in particular and elsewhere he seemed to inhabit a different musical planet. His performances all year were ones to savour and you wonder if there is anything that he cannot master.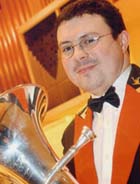 David Thornton
Black Dyke
What a magnificent performer and in 2005 he once again showed that to the full. There was an understated brilliance about his work all year as a soloist, but it was his leadership of the bottom end of Dyke that was so impressive too. He took the lead for them time and time again, balancing and enhancing, blending, then providing a subtle edge when required. He was outstanding at the Open of course (and in New Zealand again), but that was just another example of a man in complete charge of his craft all year.
---

Baritone Section:
This has given us the odd problem over the years, as the usually unsung heroes of the baritone ranks have started to come to the fore more and more with some virtuoso performances. The usual names started being mentioned in the 4BR discussion, however in a pretty good year for the instrument it was nice to see many performers take the spotlight too, but only two could make it, and we think our pair were on pretty red hot form all year.

Gareth Brindle
Black Dyke
If you are going to have the ability to win the major contests then you need players who will perform every bit as good as the so called 'stars' in the ranks. Gareth Brindle has performed every bit as good as any of the 'end' players at Dyke this year and has given the band a solidity and real presence in the middle of the band. A bit of an unsung hero, but a real quality performer.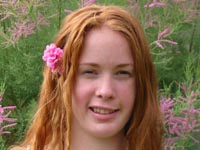 Kristy Rowe
Gunnedah
New South Wales
A number of seasoned old pros told us about this young lady prior to her coming to the UK to take part at the British Open Solo and Quartet Championships and our spies in Australia had been waxing lyrical about her stylish playing, coupled with a cast iron technique and rich sound. She won the prestigious 2005 Ern Keller Solo Contest and her playing in the UK was of the very highest class – there were more than a few MDs of our very top bands who would have signed her up on the spot. A young lady to look out for in the future for sure.
---

Trombone Section:
The trombones of the banding world were tested to the full this year, and for the most part they responded brilliantly. Very much like the euphonium, you have to be a real world class performer to even get noticed nowadays, but the banding world is very lucky that we have so many fine practitioners of the trombone art – both tenor and bass.
The were many who performed admirably this year, and at any other time they would have walked into the 4BR Band, but the three we chose, we felt were simply outstanding.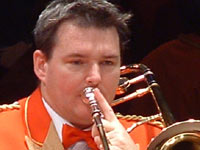 Chris Thomas
BAYV Band
The best brass band trombone player by far this year at the very highest level, and his performances from Swansea to Groningen, Birmingham to Cambridge and London especially were sensational. Superb technique, mastery of tone and timbre and amazingly consistent on any repertoire. A class act in 2005.

David Bremner
Dalewool Auckland Brass
Perhaps a bit cheeky to name a true 'professional' player, but David Bremner is also a player who loves to perform with a brass band, and be it with Dalewool, the National Brass Band of New Zealand or as a soloist in his own right he was startlingly good during the past year. Each time we heard him in 2005 he was simply brilliant.

Geraint Griffiths
Grimethorpe Colliery (UK Coal)
Although he has moved around a little bit in the past 18 months or so, the standard of this performers playing has never wavered and with YBS and more latterly Grimethorpe he has shown himself to be at the peak of his considerable talent in 2005. Great sound, security of technique and the ability to play low, very low and not lose any of that quality. Where others blew hard and harsh in 2005, he just purred – and it made all the difference.
---

Bass Section:
And so to the leviathans. It does take a while to really become a master of the dark arts of tuba playing, and in recent years too many players have opted for just playing as loud as possible and thinking they are slightly rotund euphonium players in disguise. That's great if you can actually play like that – but to be honest not many can. Our four though are true exponents of foundation building – and they can all play the fancy stuff too, and this year they stood out for us with their quality.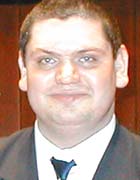 Gavin Saynor
BAYV Band
Big Gav returned home to Wales after a distinguished period at YBS as very nearly the complete Eb tuba player. He then went on to confirm this in 2005 with a number of outstanding performances at the major contests – notably at Groningen and Birmingham as well as London and Cambridge. A few may have matched him on any given day, but none showed the level of brilliant consistency that he did throughout the year.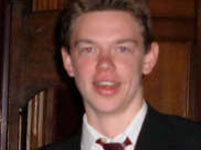 Graham Fraser
Whitburn
Here was a player whose playing impressed us more and more each time we heard him in 2005 – especially at Groningen but also at the other major contests where Whitburn performed. The band may not have been on 100% form all year, but this young man certainly was and it seems the influence of Andy Duncan has certainly rubbed off on him. He was as good as any we heard all year.

Philip Johnston
New Zealand Community Trusts Woolston Brass
Still for us the best Bb tuba player in the world – and by a fair old margin. Last year we waxed lyrical about him as we heard him first hand play like a euphonium with a triple octave pedal, and this year he just upped the ante once again both as a band performer and as a bewildering soloist. He is touched by a very strange genius indeed.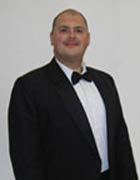 Dean Morley
Grimethorpe Colliery (UK Coal)
The other half of the 2004 team returns once more for us, and even though old 'Deano' may now have the appearance of the incredible shrinking man, he still has more BHP than a Buggati Veyron supercar. Add to that an immaculate technique and a wiser head and you can still hear why he is still regarded as 'The Man'. In 2005 he gave Grimey a foundation on which they could have built the Taj Mahal.

---
Percussion Section:
Who then did we pick to provide the interest at the back of the band? There are so mnay fine percussion players out there at the moment that any one in a thousand could have had a place in here without much debate. Still we had to pick four, and the four we went for were as follows:
Lee Skipsey
Black Dyke
Every band needs a top quality kit player and in 2005 we didn't hear any better than this man. Great sense of style and a wonderful intuitive rhythmic pulse to his playing set him apart – especially when he was playing with James Morrison and his ensemble at the 150th Dyke Anniversary Concert. Listen to him play and you hear a performer who knows his trade and what is required in any genre.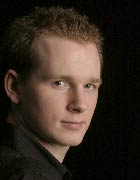 Dave Danford
BAYV Band
The young man from BAYV certainly put himself in the spotlight this year, and didn't disappoint either with some wonderful displays (apart from him dressing up as a Bavarian cow farmer at Brass in Concert) throughout 2005. There were some pretty demanding tuned percussion parts to play all year at the majors and he performed them with such nonchalant style that you wondered why the others found it so difficult. All this and a superb premiere at Gateshead as well. A real find.

Hans Petter Vaborg
Eikanger Bjorsvik Musikklag
We are sure he would forgive us for saying that he looks a bit like one of the 'Little Britain' blokes, but even if that doesn't bring him fame and fortune, his percussion playing deserves to do so. A truly great player – so unflustered and precise, lovely 'soft' hands and as accurate as a Swiss watch he is also a great organizer even of the most complex percussion layouts. In Bergen and Groningen (where he played with Black Dyke) he sounded just like an additional solo voice and brought an extra dimension to the test pieces and own choice selections of the bands he performed with.

Sarah Burn
Reg Vardy
She may only be a tiny lass, but by heck she can play. In the past year Reg Vardy has relied on her talents more and more on the concert, contest and recording platform and she has perhaps been their best performer. Neat and tidy, unobtrusive (and not because of her size) and with such a security of technique that she made an impression wherever she went in 2005, especially at Kerkrade, Birmingham and London and strangely at Glasgow where she was exceptional on the immensely difficult 'St Magnus' xylophone part with rivals Fishburn.