2006 Regionals: Peter Graham Interview - #cover#
8-Mar-2006
4BR gets to speak with the man behind the Championship Section test piece this year - Peter Graham and his thrilling Journey to the Centre of the Earth.
---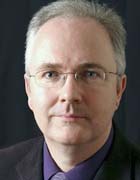 Anyone who was lucky enough to be present at Black Dyke's premiere of Journey to the Centre of the Earth at the 2005 European Championships in Holland will find it difficult to forget the performance that was to regain Dyke the European crown after a ten year gap: and in their 150th anniversary year to boot.
Peter Graham's proven winning formula of strong, accessible melody allied with rhythmic excitement and skilful scoring has consistently hit the spot with bands in recent years and Journey to the Centre of the Earth is sure to prove a popular choice for this year's round of Area Championships.
4BR's Chris Thomas caught up with the composer and his thoughts on the piece shortly before the commencement of battle.
---
Christopher Thomas: Could you tell us about the circumstances surrounding Black Dyke's commissioning of Journey to the Centre of the Earth?
Peter Graham: I had been working on the piece on and off from the summer of 2004 but it really wasn't shaping up the way I would have liked (it was a concert piece entitled "The Ice Storm" at that point) and so I put it aside just before Christmas.

Nick Childs visited me in my office early in 2005 and I played him a fragment, some 6 or 7 bars of the slow section. Nick told me later that these few bars convinced him it would work as an own choice test because he whistled them all the way home! I understood what he meant. In the own choice contest a new commission has to make an immediate impact and any memorable events in the music will help with this. Once the decision had been made to focus on the European contest the course of the piece altered.

There are certain expectations that have to be addressed to satisfy the sporting aspect of the occasion - elements of theatre and drama are intensified because of the time frame, tensions are heightened and then of course the technical essentials have to be dealt with. The cadenza-like solo passages were included and geared towards certain individuals in the band.
Christopher Thomas: Did you have any inkling that the piece would be used as a major test piece so soon after Black Dyke's commission had been fulfilled?
Peter Graham: After the premiere I had a number of enquiries about the availability of the piece for own choice and set piece competitions. It was also suggested that I submit a score and parts to the Regional selection panel for consideration, so yes, I thought it would probably be picked up somewhere. To my knowledge it has been used at the Belgian and Norwegian Championships and now of course the UK Regionals.
Christopher Thomas: Dyke's unforgettable premiere of the piece at the 2005 European Championships has set something of a formidable benchmark for the bands competing in this year's Area Championships. Do you believe that Dyke's performance can be bettered?
Peter Graham: I'm sure there will be a number of bands in the Yorkshire Area in particular who will relish the opportunity of attempting to better the Euro performance and I am sure Dyke will not rest on their laurels either!
Christopher Thomas: Had you been familiar with Jules Verne's book for a long time prior to writing the piece and did the story immediately suggest a musical response in your mind?
Peter Graham: Yes, I was familiar with the book but no, there was no immediate musical response on my part. The music was well under way before I settled on the Verne. That might surprise some people but often music is interchangeable and suggests different images to different minds. The only deliberately "picture-painted" passages were The Whispering Gallery and The Battle of the Antediluvian Creatures.
Christopher Thomas: Looking back over your works during the last twenty years or so and thinking of On Alderley Edge as another example, do you often taken inspiration from extra musical sources?
Peter Graham: I've occasionally written abstract music that has served as contest material – Dimensions and Montage come to mind – but my view is that the majority of contest audiences appreciate a reference point and programme music is a good way of achieving this.

Both Journey and On Alderley Edge are at the extreme end – literally picture-painting at times – but I think programmatic ideas offer an immediate way of engaging with the audience. For a number of years anyone writing programme music would have been viewed with a great deal of suspicion but I think attitudes are changing in that respect. Come to think of it, even in the contemporary mainstream one of the most successful pieces in recent history has been James Macmillan's programmatic work The Confession of Isabel Gowdie so maybe the tide has turned!
Christopher Thomas: You have been referred to on a number of occasions as the new Eric Ball of the brass band world. Are there any composers, including Ball himself, who you consider to have had a particular influence on your music?
Peter Graham: Eric Ball was a marvellous writer and the reference is extremely flattering. In terms of direct influence I must also mention Edward Gregson. I have been familiar with his music since the early 1970's when he came to direct a county youth band course I attended in Ayrshire. Much later I studied with him at Goldsmiths' College in London and he ignited an interest in the technical aspects of composition.
Christopher Thomas: When writing a piece that you know will be used to test bands at the highest level do you generally find that the technical challenges grow out of the musical discourse or do you set out with specific challenges in mind?
Peter Graham: The greatest technical challenges are not always found where the page turns black and I think this is certainly true of Journey where control in the slow music and the dynamic range may pose more problems than anticipated.

Nevertheless, if I deliberately set out to write a test-piece I do tend to think about the issues I have previously outlined – solo lines, tensions etc. – because ultimately the brief is to provide a work fit for purpose, not to indulge myself (though I'll be the first to acknowledge I don't always succeed!) Having said that my primary concern with anything I am writing is that the music will work on two or three levels.

For example, the second movement of Montage is at first glance a simple A B A structure, in other words the opening material returns after a contrasting section. Closer scrutiny however will reveal a recurring sequence of chords (a chaconne) underpinning the melodic line (which itself is based on a 12 tone row) and beyond that further analysis will show that Golden Section principles of organisation are employed. The listener doesn't necessarily pick up (or need to pick up) on all of this but ultimately I feel it gives the music integrity and rewards those who want to dig deeper. I have used similar techniques in Journey – the aim to achieve simplicity and directness of expression on the surface being underpinned by an intellectual rigour.
Christopher Thomas: From the composer's point of view what in particular will you be listening for from the competing bands performances at the Area Championships?
Peter Graham: I'm interested in the slow music because I feel there is a real opportunity to shape the lines in a meaningful way here. Towards The Whispering Gallery passage the mood is one of increasing despair and resignation and conductors will not have the usual crutch of minor tonality to create the necessary atmosphere. I'll be interested to see how bands respond to that challenge (and I stress these are the views of the composer, not the adjudicators!)
Christopher Thomas: With whispering in Journey to the Centre of the Earth and bottle blowing in Extreme Make- Over, Johan de Meij's set test piece for the 2005 European's, it seems that a few long established boundaries are slowly being broken down in band contesting. Are there any boundaries that you personally would like to see broken in future?
Peter Graham: Maybe these ideas are relatively new in contesting but they are not new in concert writing. Brian Bowen included an aleotoric section in his Day of the Spiritual in 1973!

More recently Phil Wilby and Torstein Aagaard Nilsen have done similar things in their music. The passages you mention seem to me to be simply an extension of that concept and although I can't speak for Johan, I used the moment to add colour to the score. In that respect, and although not exactly a boundary to be broken, I would like to see percussion used more extensively at championship level.

I understand the arguments, financial and otherwise, but when you consider it is 22 years since Gregson wrote Dances and Arias utilising a plethora of percussion, we do not seem to have progressed as far as might have been anticipated. I would have loved to use a marimba in Journey but for the Regionals it would have been out of the question (though I was able to include a piano in the wind version). Some of the most vibrant and interesting music around is coming out of Hollywood these days and a large proportion features brass and percussion - listen to the Danny Elfman scores and your eyes can really be opened to the full potential of the brass band.
More information on Journey to the Centre of the Earth, including score pages and sound files, is available on www.gramercymusic.com