2006 North American Brass Band Championships - Lower Section and other events
5-Apr-2006
There was plenty of contesting going on at NABBA including the other lower sections and the hard fought individual honours.
---
Due to staff limitations (the contest is about 5000 miles from the UK) and as many as four different events taking place concurrently, we apologise, but we were not able to hear all the bands in the lower sections nor all the soloists and ensembles. However, we will share a bit from the weekend.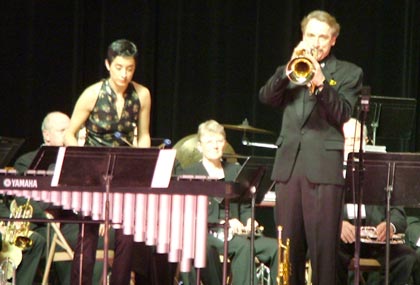 Rebello leads the way: Simone Rebello adds the glamour to the Gala Concert

One of the highlights of the contest had to be the debut of the Georgia Brass Band. Whilst we knew they had some fine players and a good MD, we had no idea they would be as dominating as they were. There were also many fine performances put in by the other bands from Spires even to the bands finishing near the bottom of the section. Having not heard the Challenge Section in sometime, it was exciting when a good performance like Roman Festival Brass gave on their debut only earned them the penultimate spot. Standards are truly on the rise in all sections.
The Explorer Section gave Brass Band of the Tri-State their first prize, and will most assuredly help them gain the confidence as a band they truly deserve. Meanwhile in the Youth Section Triangle Youth Band was once a gain the clear winner, but it is nice to see the Cincinnati Honors Band closing the gap. Hopefully there will be many more new youth bands to add to this section in the future.
Meanwhile several of the ensemble categories had very few entries: 2 in the Adult Percussion, 2 in the Youth Brass and 1 in the Youth Percussion. Whilst it may not seem worth it to have these from a competitive nature, it makes for a nice exhibition and certainly is encouraging growth in these areas.
The Adult Ensemble Section saw many fine performances. Having heard the lyrically and technically dazzling performance of Twisted Steel, from Fountain City, and the very tight rendition of Caravan by Chicago Brass Band Players (1st), the fact that no less than two more worthy performances (Hotch McGotcha – 2nd from IBB, and the Atlantic Brass Sextet –3rd) could sneak in between them in the results is a tribute to the various ensembles that competed.
There were many fine solo performances on the day as well. In the low brass soloist section many 'old war horses' played. Lee Harrelson's euphonium virtuosity (1st Low Brass Technical - FCBB) was displayed in his performance of Brillante whilst, Samuel Funkhouser (2nd Low Brass Technical - JMUBB) showed his technique in Napoli also on euphonium. Because of the full Tuba sound of Mark Fabulich's (3rd place Low Brass Slow Melody - NEBB) performance of Rachmaninov's Elegie, the NABBA Board will have to reconsider the room selection for Low Brass Slow Melody. It really raises the question, has a pedal EEb ever resonated quite so beautifully under a 9 ft ceiling like in room 111?
There was also a good range of more contemporary pieces performed. Brad Say (3rd Low Brass Technical – ChiBB) played Drew Fennel's Prescott Poem. The Low Brass Slow Melody saw Diana Herak (1st Low Brass Slow Melody - BBC) created a very reflective atmosphere with Pete Meechan's recently composed baritone solo, Alu. Meanwhile, Will Hess (2nd Low Brass Slow Melody - FCBB) made the Lento from Philip Sparke's Euphonium Concerto truly sing.
James Madison's percussion trio of Carolyn Trowbridge (1st), Michael Overman (2nd) and Daniel Karras (3rd) swept the percussion prizes with three Marimba solos: Rumble Strips Mvt 2, Minstrels and Hombre D'Aout.
The Youth solos saw Ryan Vanaman (1st At BB) and Terri Williams (2nd TYB) both played the old standard Concert Etude.
In the High Brass Slow Melody section four player's performed Believe Me if All Those Endearing Young Charms, but only Arthur Myers (2ndAt BB) was able to take a prize. Two flugels completed the frame with Doug Reneau taking the top spot (FCBB) for his rendition of Sonata for Trumpet II. Kevin Maloney (3rd IBB), demonstrated an exceptionally warm sound, nuanced with expressive phrasing in Fitzgerald's Ballade.
Lastly, in the High Brass Technical section, Bryan Appelby-Wineberg (2ndAt BB) showed his skill and fine tone in the Carnival of Venice. Alan Wegner (FCBB) earned 2nd place for his rendition of Variation on Norma. One of the most interesting outcomes was that for the first time (that we know of) a player not affiliated with a NABBA band one a soloist prize. Randall Tinnin took the top spot with Premiere Solo De Cornet A Pistons. Now that non-band members from the States are winning prizes, will some begin to come from overseas like the British Open soloist contest?
Friday turned out to be a nice day to not only hear fine soloistic performances, but also literature that may otherwise not often get performed.
Pat Herak and Linda Yeo