2006 British Open Championships - Ego, Super ego, Id and all that
4-Sep-2006
4BR's guide to the important characters and personalities that feature in Philip Wilby's music of 'Vienna Nights'. And no, Rigsby's cat from Rising Damp isn't one of them...
---
---
If you want to know a bit more about some of the characters to be found in the inspiration for Vienna Nights then you will have to take a crash course in psychoanalysis, Mozart and the 12 tone harmonic world of Schoenberg.
So here we are then: 4BRs foolproof guide to Freud, Schoenberg and young master Wolfgang.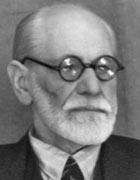 Sigmund Freud (1856 - 1939)

Sigmund Freud was born May 6, 1856, in the small town of Freiberg in Moravia. His father was a wool merchant with a keen mind and a good sense of humour. His mother was a lively woman, her husband's second wife and 20 years younger. She was 21 years old when she gave birth to her first son, her darling, Sigmund. Sigmund had two older half-brothers and six younger siblings and when he was four or five the family moved to Vienna, where he lived most of his life.

A brilliant child, always at the head of his class, he went to medical school, one of the few viable options for a bright Jewish boy in Vienna those days. There, he became involved in research under the direction of a physiology professor named Ernst Brücke. Brücke believed in what was then a popular, if radical, notion, which we now call reductionism: "No other forces than the common physical-chemical ones are active within the organism." Freud would spend many years trying to "reduce" personality to neurology, a cause he later gave up on.

Freud was very good at his research, concentrating on neurophysiology, even inventing a special cell-staining technique, but only a limited number of positions were available, and there were others ahead of him. Brücke helped him to get a grant to study, first with the great psychiatrist Charcot in Paris, then with his rival Bernheim in Nancy. Both these gentlemen were investigating the use of hypnosis with hysterics.

After spending a short time as a resident in neurology and director of a children's ward in Berlin, he came back to Vienna, married his fiancée of many years Martha Bernays, and set up a practice in neuropsychiatry, with the help of Joseph Breuer.

Freud's books and lectures brought him both fame and ostracism from the mainstream of the medical community. He drew around him a number of very bright sympathizers who became the core of the psychoanalytic movement. Unfortunately, Freud had a penchant for rejecting people who did not totally agree with him. Some separated from him on friendly terms; others did not, and went on to found competing schools of thought.

Freud emigrated to England just before World War II when Vienna became an increasing dangerous place for Jews, especially ones as famous as Freud. Not long afterward, he died of the cancer of the mouth and jaw that he had suffered from for the last 20 years of his life.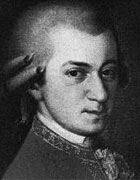 Wolfgang Amadeus Mozart (1756-1791)
Mozart was born in Salzburg on the 27th January 1756 and died in Vienna on the 5th December 1791.

He showed musical gifts at a very early age, composing when he was five and when he was six playing before the Bavarian elector and the Austrian empress. Leopold felt that it was proper, and might also be profitable, to exhibit his children's God-given genius so in mid-1763 the family set out on a tour that took them to Paris and London, visiting numerous courts en route. Mozart astonished his audiences with his precocious skills; he played to the French and English royal families, had his first music published and wrote his earliest symphonies. The family arrived home late in 1766; nine months later they were off again, to Vienna, where hopes of having an opera by Mozart performed were frustrated by intrigues.

In 1777 the Mozarts, seeing limited opportunity in Salzburg for a composer so hugely gifted, resolved to seek a post elsewhere for Wolfgang. He was sent, with his mother, to Munich and to Mannheim, but was offered no position. His father then dispatched him to Paris: there he had minor successes, but prospects there were poor and Leopold ordered him home, where a superior post had been arranged at the court. He returned slowly and alone; his mother had died in Paris. The years 1779-80 were spent in Salzburg, playing in the cathedral and at court, composing sacred works, symphonies, concertos, serenades and dramatic music.

Mozart was then summoned from Munich to Vienna, where the Salzburg court was in residence on the accession of a new emperor. Fresh from his success, he found himself placed between the valets and the cooks; his resentment towards his employer, exacerbated by the Prince-Archbishop's refusal to let him perform at events the emperor was attending, soon led to conflict, and in May 1781 he resigned, or was kicked out of, his job. He wanted a post at the Imperial court in Vienna, but was content to do freelance work in a city that apparently offered golden opportunities.

He made his living over the ensuing years by teaching, by publishing his music, by playing at patrons' houses or in public, by composing to commission - in 1787 he obtained a minor court post as Kammermusicus, which gave him a reasonable salary and required nothing beyond the writing of dance music for court balls.

He always earned, by musicians' standards, a good income, and had a carriage and servants; through lavish spending and poor management he suffered times of financial difficulty and had to borrow. In 1782 he married Constanze Weber, Aloysia's younger sister.

In his early years in Vienna, Mozart built up his reputation by publishing, by playing the piano and, in 1782, by having an opera performed: Die Entführung aus dem Serail, a German Singspiel which went far beyond the usual limits of the tradition with its long, elaborately written songs (hence Emperor Joseph II's famous observation, 'Too many notes, my dear Mozart').

In 1782 Mozart embarked on the composition of piano concertos, so that he could appear both as composer and soloist. He wrote 15 before the end of 1786, with early 1784 as the peak of activity. They represent one of his greatest achievements, with their formal mastery, their subtle relationships between piano and orchestra and their combination of brilliance, lyricism and symphonic growth. In 1786 he wrote the first of his three comic operas with Lorenzo da Ponte as librettist, Le nozze di Figaro: here and in Don Giovanni (given in Prague, 1787) Mozart treats the interplay of social and sexual tensions with keen insight into human character that - as again in the more artificial sexual comedy of Cosi fan tutte (1790) - transcends the comic framework, just as Die Zauberflöte (1791) transcends, with its elements of ritual and allegory about human harmony and enlightenment, the world of the Viennese popular theatre from which it springs.

Mozart lived in Vienna for the rest of his life. His final works include the Clarinet Concerto and some pieces for masonic lodges (he had been a freemason since 1784; masonic teachings no doubt affected his thinking, and his compositions, in his last years). At his death from a feverish illness whose precise nature has given rise to much speculation (he was not poisoned), he left unfinished the Requiem, his first large-scale work for the church since the c Minor Mass of 1783, also unfinished; a completion by his pupil Süssmayr was long accepted as the standard one but there have been recent attempts to improve on it. Mozart was buried in a Vienna suburb, with little ceremony and in an unmarked grave, in accordance with prevailing custom.

Extracted with permission from:
The Grove Concise Dictionary of Music
edited by Stanley Sadie
© Macmillan Press Ltd., London.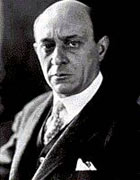 Arnold Schönberg (1874 - 1951)

Schönberg was born in Vienna on the 13th September 1874 and died in Los Angeles on the 13th July 1951.
He began violin lessons when he was eight and almost immediately started composing, though he had no formal training until he was in his late teens, when Zemlinsky became his teacher and friend. His first acknowledged works date from the turn of the century and include the string sextet Verklärte Nacht as well as some songs, all showing influences from Brahms, Wagner and Wolf. In 1901-3 he was in Berlin as a cabaret musician and teacher, and there he wrote the symphonic poem Pelleas und Melisande, pressing the Straussian model towards denser thematic argument and contrapuntal richness.

He then returned to Vienna and began taking private pupils, Berg and Webern being among the first. He also moved rapidly forwards in his musical style. When atonality arrived, therefore, as it did in 1908, it came as the inevitable outcome of a doomed attempt to accommodate ever more disruptive material.

However, Schönberg found it possible a quarter-century later to return to something like his tonal style in such works as the Suite in G for strings, the completion of the Chamber Symphony no.2 and the Theme and Variations for band.

That, however, was not possible immediately. The sense of key was left behind as Schönberg set poems by Stefan George in the last two movements of String Quartet no.2 and in the cycle Das Buch der hängenden Gärten, and for the next few years he lived in the new, rarefied musical air. With tonality had gone thematicism and rhythmic constraint; works tended to be short statements of a single extreme musical state, justifying the term 'expressionist'. The larger pieces of this period have some appropriate dramatic content: the rage and despair of a woman seaching for her lover (Erwartung), the bizarre stories, melancholia and jokes of a distintegrating personality, or the progress of the soul towards union with God (Die Jakobsleiter).

Gradually Schönberg came to find the means for writing longer instrumental structures, in the 12-note serial method, and in the 1920s he retumed to standard forms and genres, notably in the Suite for piano, String Quartet no.3, Orchestral Variations and several choral pieces. He also founded the Society for Private Musical Performances (1919-21), involving his pupils in the presentation of new music under favourable conditions. In 1923 his wife died (he remarried the next year), and in 1925 he moved to Berlin to take a master class at the Prussian Academy of Arts.

While there he wrote much of his unfinished opera Moses und Aron which is concerned with the impossibility of communicating truth without some distortion in the telling: it was a vehement confrontation with despair on the part of a composer who insisted on the highest standards of artistic honesty.

In 1933 he was obliged as a Jew to leave Berlin: he went to Paris, and formally returned to the faith which he had deserted for Lutheranism in 1898. Later the same year he arrived in the USA, and he settled in Los Angeles in 1934. It was there that he returned to tonal composition, while developing serialism to make possible the more complex structures of the Violin Concerto and the String Quartet no.4. In 1936 he began teaching at UCLA and his output dwindled. After a heart attack in 1945, however, he gave up teaching and made some return to expressionism (A Survivor from Warsaw, String Trio), as well as writing religious choruses.

Extracted with permission from
The Grove Concise Dictionary of Music
© Macmillan Press Ltd., London.