2006 4BR Awards - Solo CD of the Year
4-Dec-2006
Some of the very best performers in the movement have released CDs this year, and all have been of fantastic quality. It's going to be a pretty difficult choice for you to make.

---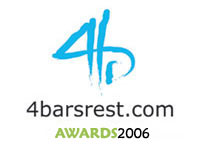 Not perhaps the greatest year for solo CD releases there has nevertheless been an eclectic selection to choose from of high quality productions. Some exceptional solo performers have put their reputations on the line and to be fair all of them come up trumps.
Repertoire has also been varied and it was nice to hear that many of the players were looking to perform new original works. We have only include those recordings we have reviewed on the 4BR site during the past 12 months regardless on when they were actually recorded.
Our selection for nomination are as follows: Tormod Flaten - 'Norwegian Euphonium'; Steven Mead - 'Euphonium Virtuoso'; Steven Mead – 'World of the Euphonium Volume 5'; Ian Bousfield – 'Pryor Engagement'; James Gourlay – 'British Tuba Concertos'.
We have re printed our short review and given the link to read the full 4BR review of each release.

There were plenty others too: David Childs, The Childs, Daniel Powell, Herb Bruce, David Daws, Brett Baker & Paul Woodward, Riki MacDonnell & Alex Kerwin and more…


---

Tormod Flaten
Norwegian Euphonium
Accompanied by: Eikanger Bjørsvik Musikklag; Bergen Symphonic Band; Craig Farr
Conductors: Reid Gilje and Martin Winter
Doyen Recordings: CD190
Total Playing Time: 72.38
Tormod Flaten is not only a stunning practitioner of the euphonium. This intelligently put together disc shows him exploring a diverse range of thoughtfully chosen repertoire, taking in the likes of his fellow Norwegian Edvard Grieg at one end of the spectrum whilst extending to the hugely challenging Euphonium Concerto of Martin Ellerby and the contemporary soundworld of Craig Farr.
The playing is scintillating with sterling accompaniment provided by Flaten's own band Eikanger-Bjørsvik and Bergen Symphonic Wind Band under Martin Winter.
http://4barsrest.com/reviews/cds/cd237.asp


---

Steven Mead
Euphonium Virtuoso
Brass Band Buizingen
Conductor: Luc Vertommen
Bocchino Recordings: CDBOCC107
Total Playing Time: 76.05

A fabulous collection of works and playing from a master of the euphonium. Steven Mead is on tremendous form throughout and the standard of the release is greatly enhanced by the accompaniment of the band and the arrangements themselves.
One great classic, a witty bit of long forgotten Vinter, one completely bonkers tour de force, some Sparke and even New Zealand folk song to complete a great mix. Well worth it just to hear the last few bars of Spectrum in a new light.
http://4barsrest.com/reviews/cds/cd259.asp


---

Steven Mead
The World of the Euphonium - Volume 5
Accompanied by: Tomoko Sawano (piano); Lucy Haslar (harp)
Polyphonic Recordings: QPRZ 026D
Total Playing Time: 79.31mins
A fantastic release from an artist who continues to mature like a fine wine.
A selection of intelligent repertoire superbly crafted and executed is Mead's hallmark, and this recording is stamped with the highest class. Excellent pieces from the pens of diverse composers such as Howard Snell, Peter Meecham, Joseph Turrin and Philip Sparke are complimented by new talent such as the Japanese composer Yasuhide Ito.
One of the best solo recital recordings for many a year.

http://4barsrest.com/reviews/cds/cd297.asp


---

Ian Bousfield
Pryor Engagement
Black Dyke Band
Nicholas J Childs
Doyen: DOYCD212
An outstanding release from the undoubted 21st century 'Paganini of the Trombone' in homage to the 19th century version of the same.

Bousfield is on sparkling from and displays a wit and elasticity in the quicker items that leaves the listener with a self satisfied appreciation of an artiste of the very highest rank. The slower stuff tugs at the heart strings.

It is hard to find fault with a performer who so understands the time and place of the hero he pays homage to.

http://4barsrest.com/reviews/cds/cd302.asp

---

British Tuba Concertos
James Gourlay
Accompanied by the Royal Ballet Sinfonia
Conductor: Gavin Sutherland
Naxos Recordings:
Total Playing Time: 64.15 mins
James Gourlay and the Royal Ballet Sinfonia present four British tuba concertos, two familiar and two less well known. Vaughan Williams classic work is joined by Edward Gregson's concerto in its orchestral incarnation, Roger Steptoe's lyrical work, twelve-tone but very accessible, and the concerto by John Golland, not premiered until 4 years after the composer's early demise.
With first class playing and colourful orchestrations, and all at budget price, this is well worth investigating, even for those who would not necessarily see themselves as tuba fanatics.