2007 Butlins Mineworkers Championships - Championship entertainment retrospective
25-Jan-2007
With all the intrigue out of the way, it was left to the bands to give it all they got in pursuit of glory...
---
When Manchester United took to the field against Arsenal on Sunday, they knew that anything but a defeat would increase their lead over second placed Chelsea following their loss against Liverpool the previous day. Intrigue all round then...
On the other hand for the bands here, they could only speculate as to where they were positioned by the judges James Scott and Dr Nicholas Childs on the Saturday. Some must have had a fair idea of where they stood, but they all knew they would have to play well to make a mark come the overall results.
As it transpired, Virtuosi GUS led Desford by a single point with Tongywnlais in third and reigning Champions, PolySteel in fourth. This was a contest that was far from over and the title was up for grabs… a bit like Manchester United at the Emirates Stadium then…
James Scott was back in the box where he was joined by Nigel Boddice. Mark Walters was sat out in the open to judge the most entertaining programme. In all honesty, the bands that did well on the day did so because their programme planning contained contrast, whilst more than a few tried in vain to second guess what the two experienced judges would like. Playing to the audience here doesn't really matter – although in the context of what Butlins is trying to do here with the contest that may appear a touch odd. Having the two judges in a box for the entertainment section doesn't appear to make much sense, and there is surely a need now for the organizers to adopt a form of approach that works so well at both Brass in Concert and SIDDIS.
Once again, a capacity audience came into Centre Stage to listen to both the bands and Frank Renton, who provides such an essential part of the enjoyment of this contest. Frank might be the man who links everything together, but his insight into the music, coupled with his wit and humour enhances the day for all concerned. Why then can't he be allowed a little more freedom to interact with the bands as he does at Gateshead? Just a thought for the organizers.
It was Redbridge and Melvin White who drew number 1 and having finished in 8th place the previous day they had to make a real impression on the judges to feature in the prizes. They have done it before in the past two years in fact, but perhaps it was asking too much for them to do it again. They gave it good try though.
They opened up with music from the pen of Paul Lovatt-Cooper with his 'Where Eagles Sing', that is rapidly become a 'must have' for bands in their concert repertoire and although it hit the mark with the audience it did take a little while to settle. Principal cornet Ralph Brill and principal trombone Suzanne Cordiner joined forces for an old classic from the repertoire, 'Cousins', producing a performance that had balance between the soloists and sympathetic playing from the ensemble.
The circus march, 'Rolling Thunder', used by Brass Band of Central Florida at Gateshead late last year was taken at lightening speed and the upbeat mood continued with 'Bring Back that Leroy Brown'. A rather unemotional '18th Variation on a Theme by Paginini' didn't quite tug the heartstrings before they reprised Kenneth Downie's 'King of Heaven' for a second year. Once again Redbridge had shown their ability to provide a quality entertainment programme, but it didn't quite come off this time as they would have liked and they had to be content with 8th place.
Yorkshire Imperial followed Redbridge on stage but opened up in identical fashion with a more convincing 'Where Eagles Sing' – told you about 'must have'. Peter Graham's 'Gypsy Dream' featuring Simon Thewliss on solo horn was neatly done before the rest of the band returned to be featured in 'Valero'. Richard Hanson on soprano had the audience in the palm of his hand courtesy of 'On with the Motley' before two Sandy Smiths arrangements, both of which didn't quite come off.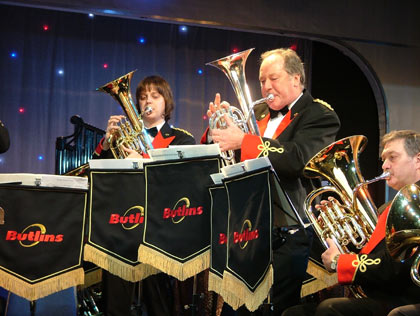 Battling baris: Imps baritone section lead them into the top six

'The Mask of Zorro' lacked a bit of latin fire in the belly, whilst 'Fire' from Khachaturian's 'Gayene' had plenty of flames but also burnt a few bridges too. A grandstand finish it may have been, but the Yorkshire band's programme only sparkled occasionally and they ended up in 7th place.
David Stowell's Virtuosi GUS Band would have known they played well on the set work but wouldn't have been aware that they were the band to beat. GUS's performance overall though was the first to really make an impact leaving many to believe it to be tough to beat.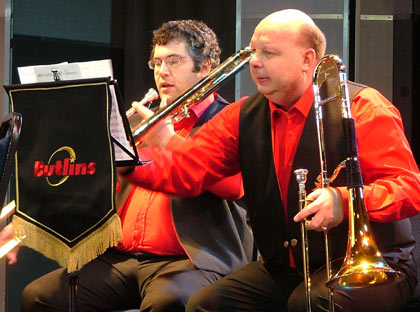 Any minute now and I'm off: Chris Jeams prepares to go walkabout

Unfortunately for them though it was, and they ended up 4th although they did have the satisfaction of being awarded the prize as 'Most Entertaining Band' with the £1,000 prize that comes with it – a real bonus given their rather bland showing here last year.
In their now familiar bright red shirts and waistcoats, they hit the ground running with the show-stopping work, 'The Heat is On', before trombonist Chris Jeans went walk about in 'DL Blues'. Some of most delicate playing of the whole day was to follow with Giulio Caccini's 'Ave Maria' featuring Rebecca Crawshaw on soprano and John Hudson on principal cornet – both deserving praise for their efforts which at times required more than a test of nerve.
By this time, GUS were on a roll, but a slightly sloppy 'Bobby Shaftoe' just took a bit of gloss off before they played 'Prelude on an Irish Folk Tune' and Philip Sparke's 'Madrigalum', a fast, furious even lyrical, not too mention edge of the seat stuff. It rounded off a fine GUS show that just had that blip in the middle.
Next on stage were United Co-op Milnrow who opted for a programme that cried out for more contrast and dynamic variance. They opened up in traditional style with the march 'Ravenswood' that was a touch hard on the ear and over accentuated, before Brent Warren on euphonium opted for a good dust off of the old favourite 'Rule Britannia'.
It was the two jazz items surrounding a rather harsh rendition of the hymn tune 'Crimond' that showed up their problems though. 'Sing, Sing, Sing' and 'Caravan' didn't have the right sense of style at all, and all three items lacked warmth and balance. 'Eve of War' from 'War of the Worlds' was pretty good but once more it became rather overblown. Milnrow finished 10th on the day but if they'd gone for more contrasting items, it could've been a different story.
Tongwynlais Temperance will have gone into the day with sky-high confidence having played so well the day before, and to their immense credit they didn't let that slip with a fine programme that was well constructed and deserved its 2nd place.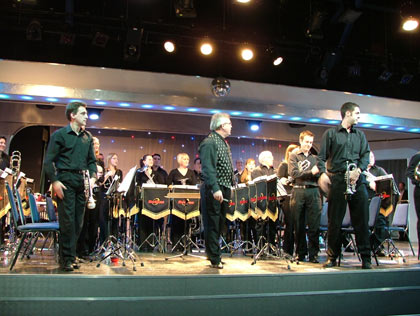 It went thataway...: Tongwynlais check that they are in the prizes

Having opened up confidently with the 'March' from the 'Jazz Suite', principal euphonium Martyn Patterson gave a world premiere performance of his own arrangement off music by Claude T Smith, 'Rondo for Euphonium'. This was certainly a difficult work that tested the soloist to the full, but one which he just about brought off just in time to reach the finishing line exhausted – it was close though.
The trio of cornet, euphonium and trombone then stepped forward to give an excellent performance of 'Elaine' from 'Tintagel' by Dr Dennis Wright, before another change in mood with 'Pasadena' and to wrap things up, Martin Ellerby's 'Royal Hunt of the Sun' – a fine composition that did exactly what it said on the tin. It rounded off another excellent performance from the Welsh band and they will now head for Yeovil and Regionals knowing that they can mix it with bands in the top strata. It could be the start of a fine year.
After a comfort break for the judges and audience, Thoresby took to the stage with a programme that for us didn't start too well, but improved as it went along.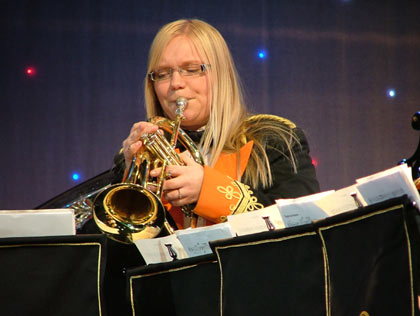 Down but not out: Thoresby's Kate Clark points the way

'Valero', the 'Harry James Trumpet Concerto' performed by Dave Jones and Duke Ellington's 'Caravan' lacked contrast but that's not knocking the fact there was some fine playing around the stand and from the soloist in particular. The first bit of real contrast came with the use of an electric piano to accompany the flugel horn in 'Scarlet Ribbons' before the MD got the audience actively involved in the 'Cossack Fire Dance'. It was certainly entertaining stuff, but crucially the men in the box were finding it the same thing too and by the time they ended with Andrew Duncan's 'A Manchester Tale' that stretched the band to its stamina limit they'd done more than enough to finish in 3rd place and take the prize for the highest place mining band come the overall results.
Defending Champions PolySteel performed a programme that just didn't find favour with the adjudicators although it won many admirers within the hall. Strangely though, whatever style the West Country outfit opts for on the entertainment stage it just isn't doing the business with the judges at present.
The band opened in traditional style with the march 'Army of the Nile', before solo horn, Vicki Reynolds performed 'A Time For Peace'. This is a very talented soloist who has a great future ahead of her, but on this occasion she was somewhat swamped by some untuneful ensemble work . The old classic, 'When the Saints' swiftly followed whilst the band didn't seem quite at ease with 'L'il Darlin' before rounding things off with the Smetna overture, 'The Bartered Bride', that was taken at lightening speed and was a cracking choice to close the programme, even if it did have its fair share of technical camouflage.
Still, our instinct was that the band would be in the mix at the close of the day, but the judges certainly didn't think so, PolySteel being placed 9th in the section was arguably the biggest surprise of the weekend and one that will have left them wondering where they went wrong. Us too.
Wingates under Andrew Berryman has enhanced its reputation for their quality of performances on the concert stage of late, not to mention in the recording studio with the Nyman CD being shortlisted by 4BR last year for CD of the Year. It was going to be interesting to see what the Bolton based band came up with then.
Too be honest, they were another band on the day that shot themselves in the foot with a programme that cried out for less volume. The playing wasn't bad at all, but it too often the volume switch was nudging up to number 10.
The band opened with music from the pen of Robin Dewhurst entitled 'Earthrights' that featured the trombone section and in particular, principal trombone, Peter Moore although his trombone sound didn't appear to be as projected in some parts of the hall as it was in others.
The energetic, upbeat start continued with 'Malaguena' before principal cornet, Andrew McDonald gave a fine interpretation of 'Love on the Rocks'. Music from Berlioz's 'Symphonie Fantastique' came next and the performance of 'Witches Sabbath' wasn't bad at all, but Berlioz's music is rarely quiet and although entertainment programme's are renowned for big finishes, 'Softly, Softly' was one big blow too many and most probably the adjudicators, and they finished 7th on the day.
So what about Desford? The contest was certainly still up for grabs, and having played sufficiently well enough to have taken second place on the Saturday, a well-balanced programme certainly did the business on the day.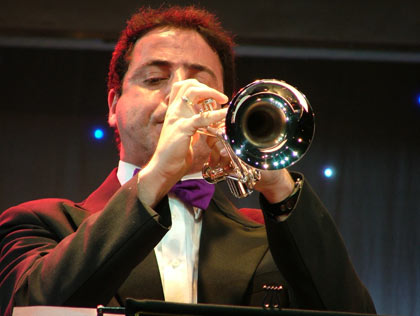 Rip roarer: David Smith takes the paint off the walls

Stephen Sondheim's 'Comedy Tonight' was very tight and articulate whilst principal cornet (or should that be trumpet), David Smith maintained the solid start with a rip-roaring performance of 'La Virgen de la Macarena' that gave him the soloist prize. It took the paint off the walls.
In total contrast came 'The Day Thou Gavest Lord Has Ended' that featured some excellent playing by Mike Kilroy before a neat twist in style with 'Honey Pie' from the Beatles and a snorter of a finale with the 'Fire' music from Khachaturian's 'Gayene' ballet.
It was classy and very well played and deservedly took top spot by some margin. Desford on this form are a match for just about any band around.
Whilst Fishburn didn't have the best day at the office, conductor Richard Evans once again demonstrated that there are not many better MDs around that can put a programme together that entertains from the first note to the last.
Richard opted for music that had served him well in taking Brighouse to the Brass in Concert title last year (and one piece that aided victory with Grimethorpe in 2004) and although the quality of performance could have been better, it was balanced and well constructed.
The North-Easterners opened with the final performance of the day of 'Where Eagles Sing' (the composer must be waiting for the royalties to star pouring in) before a fine rendition of 'Ave Verum Corpus' – a real musical gem from Mozart that features the euphoniums and baritones.
Steve Symmonds then stepped forward to perform the work that Richard Marshall brought back into prominence a couple of year's ago, 'Virtuosity' – the second year in a row Fishburn had used it as its solo item.
'The Mill in the Dale' was one of those quirky pieces that only the likes of Richard Evans would include in a programme. The music depicts miller whistling his way through the day and with touches of humour (that the musical judges won't have seen) and vocal harmonies, this was the only piece of the day where it was hard not to have a good chuckle.
R B Hall's 'New Colonial March' has served Richard well on the contest stage in the past and whilst there is arguably no finer MD anywhere who can conduct a march, although this interpretation was rather too stately in its execution at times. Alfred Reed's 'Russian Christmas Music' is a fine piece for band but it stretched Fishburn on the day a little too much and they sounded tired and harsh by its end. The wooden spoon though was perhaps a touch hard for their efforts.
The contest came to a close with Tredegar and Michael Fowles. Having really disappointed on 'Northern Lights', victory was already out of sight although this performance was a much improved affair. They did have their fair share of noticeable blip and blobs around the stand once more but 6th place was a commendable effort and if they'd played like this the previous day, they'd have surely come higher than 7th overall.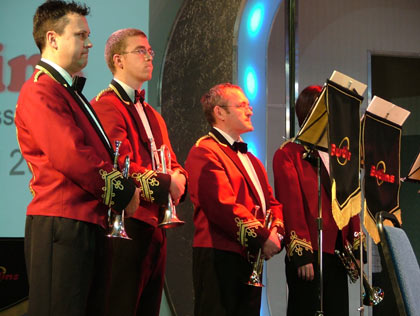 Waiting in line: Tredegar wait their turn to make an impression

Paul Lovatt-Cooper's 'Horizons' was an excellent start and the good form continued with 'Murder on the Orient Express', arranged by Howard Snell - a rare waltz on a day when variety in time wasn't that noticeable.
Flugel horn, Dewi Griffiths was in fine form as he performed the ballad, 'You Needed Me', whilst 'Postcard from Mexico' was full of South American bravura.
John Rutter's 'A Gaelic Blessing' was going along nicely till it strangely went wrong towards the end but the band recovered in their final number, 'Symphonic Metamorphosis' by Carl von Weber (and if you think that's a mouthful, Frank Renton had fun getting his teeth round it too) which just highlighted the fact that at the moment the band has a very lightweight sound and lacks for stamina. It was a pretty good effort after the horror story of the day before though.
So that was it then for the 2007 Butlins Championship Section; a two-legged affair where bands battled with a tricky test piece and then tried in vain to mix a blend that would appeal to the judges in the box.
It's not easy, but bands really do have to look closer at their programme content – too many took a glance at who was in box and opted for rather artificially produced programmes that seemed to be products of MDs trying to second guess possible judging intentions. That never works.
The overall spoils went to Desford who were very consistent over the two days with second place in the set work and first in the entertainment. Second place went to a rejuvenated Virtuosi GUS Band and what a result for Tongwynlais in third – all three will look forward to their next contest outing in good heart whereas the dethroned champions PolySteel will be back fighting very soon – they are too good a band, although they will have to sort out their tuning issues come the big test pieces tests later in the year.
As for the rest – some left with promise some with work to do, but only Desford left with six grand in their pocket. Not a bad pay out for a couple of days work by the sea.
Malcolm Wood