2007 Butlins Mineworkers Championships - Championship set work retrospective
25-Jan-2007
What happens when 11 top class bands are faced with a test piece that for all the world doesn't really tickle their fancy. It makes for an intriging contest thats what...
---
In years to come in the pages of the great almanac book of brass band contests, the set work section of the Butlins Mineworkers Championship 2007 won't be found under the sub heading 'great', 'exciting' or even 'interesting' for that matter, but it may well qualify under the chapter of 'intriguing'.
Intriguing was perhaps the only adjective left to describe a contest that lacked any discernible degree of greatness, excitement and interest to the listener and even the performers. The bands weren't bad- but give any set of musicians a piece of music that leaves them perplexed rather than interested and the end result will always be a contest that holds very little genuine hold over those who are listening to it too.
That was what happened here with Philip Wilby's 'Northern Lights' – a piece of immense artistic and intellectual merit when performed in the environment it was intended, but when it's not, leaves more people scratching their heads than a primary school class with head lice.
It is certainly a great piece of thematic programme music, a magnificent foundation on which to build a tripartite piece of aural and visual ballet. When it was used as such at Black Dyke's Bridgewater Hall 150th anniversary celebrations in 2005, it was just that and more – a truly great three-dimensional work. Stripped of the dancers interpretation and the atmospheric lighting it comes overtly one-dimensional however, lacking resonance, and crucially any sense of interaction with performers and listeners alike. To put it simply as Jade Goodey would say: "It ain't no flippin' test piece.
To the immense credit of the 11 bands and especially the packed audience at the Centre Stage auditorium here in Skegness, they did give it a damn good try. Four of the bands- Desford, Virtuosi GUS, Tongwynlais and PolySteel certainly produced significant performances of merit (although none were without problems) although even these produced the type of puzzled faces and furrowed brows on the members of the audience usually seen on first time Suduko players.
The rather abstract nature of the music in 'Northern Lights' is based on fragments of the Black Dyke hymn tune 'Deep Harmony', which is heard towards the end of the piece. Tiny motifs from the piece can be detected in the opening bass line, later in the trombones and finally throughout the higher brass – but they are like picking up the first 10 pieces out of the box of a 1500 piece jigsaw puzzle.
In its original form the dancers and lightening guide you, rather like sorting out the pieces with edges and corners from the ones that just show blue sky and bits of flowers. Without them, it was like opening the box on the floor and trying to piece it together without looking at the picture on the cover. That's what you got here – and by the time it all came together and you could finally see what was developing it ended rather abruptly and without a sense of fulfillment. That was most noticeable in the short fanfare section before the 'Deep Harmony' interlude, where two cornets and soprano stood and blew to no apparent sense of purpose or resolution. As each band was free to choose where to stand their soloists (including euphonium, bass trom and solo cornet) and not to follow what is usually a strict floor plan from the composer, this section lacked any degree of focus, whilst the lack of resonance from the dead stage meant that the short gaps between entries sounded in many cases to be like a bear with an ingrown toenail – an uncomfortable pause.
Bass trombone players will certainly not remember the piece with any great affection too. Of all the instruments in a brass band the bass trombone and soprano cornet require a slightly dislocated sense of the ordinary to play, and play well. Both attract performers with rather unique social personalities shall we say – a form of musical tourettes syndrome in many a case. Most struggled with their chance in the spotlight on this occasion – understandably perhaps in the case of the bass trombone, more unfortunately in the case of the soprano players. There were some notable exceptions – the best trom being the lad from Redbridge Brass and the best sop from Tongwynlais Temperance, but just about everyone else found problems galore.
If you want to sound like Douglas Yeo or Peter Roberts then it doesn't make it any easier if you decide to perform on an oversized leviathan instrument that lacks immediacy in production (in the case of the trombone), especially when it comes to short repeated semi quavers work, or a mouthpiece you can't fit a frozen pea into (in the case of the shallow sop cornet mouthpieces currently in vogue) which strangulates the tone and makes you sharp in the lower register. Too many players came a cropper because they choose equipment that can only mask their deficiencies when played at their extremities. Mr Wilby exposed quite a few of them on the weekend.
The contest itself got off to a fairly sub standard start, with Tredegar and United Co-op Milnrow producing two pretty average performances that suggested an extra week of intense rehearsal time was needed. Both could play the piece, as they showed in glimpses, but all too often there were too many unforced errors (the Milnrow bass trom wasn't a happy chappie at all, or was Tredegar's soprano) and a lack of ensemble tightness. Both could find it tough come the Regionals if they don't manage to up their game.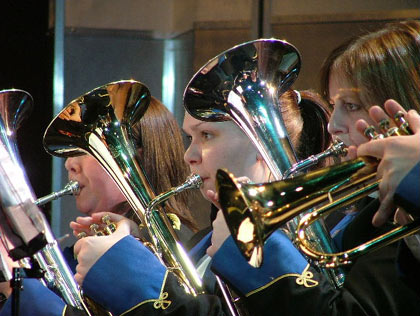 All in a line: Milnrow's horn section play it straight

We had them both down at the bottom of the pile on day 1, although it must be said that the judges found the plus points outweighed the minus ones much more and put Tredegar in 9th and Milnrow in 5th.
Tongwynglais Temperance meanwhile was certainly a band that sounded as if they had spent the weeks over Christmas hard at work on the test piece. Gareth Pritchard allowed the music to flow with a broad and spacious reading, whilst his soloists in particular were on excellent form, with the soprano playing of Gareth Davies outstanding, and followed not too far behind by the rest.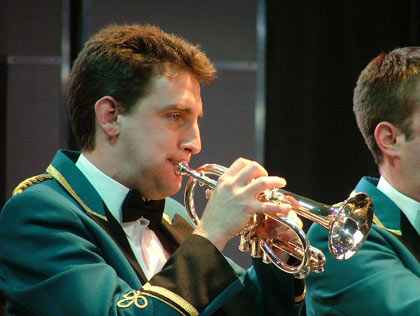 Super Sop: Gareth Davies heads for those Northern heights in the lights

There was a hint of technical camouflage in places, but an excellent 'Deep Harmony' and accurate ending rounded of a performance of stature and merit. The judges felt the same and placed them a well deserved 3rd on the day.

Yorkshire Imps under the direction of Derek Renshaw delivered a confident and rather up tempo account that was solid and unpretentious, but just needed more dynamic variance in places. The euph player was fine, although he didn't really need to bow as he left for his seat after his little bit of playing (it wasn't exactly 'Revelation' was it now) and there were also some notably contributions from the percussion section in what perhaps become a slightly overblown finale. 7th place was about right (we had them 6th) although they should have possibly known they may have got penalised for opting for sheer volume with James Scott in the box.
Virtuosi GUS didn't quite live up to their new moniker, but once more under David Stowell they produced a safe and solid account that although a little bland and lacking finesse had all the component parts in the right place. There was some excellent playing in the fanfare section before 'Deep Harmony' whilst that section itself was notable for balance and tunefulness (something that the adjudicators remarked that was lacking in other performances on the day).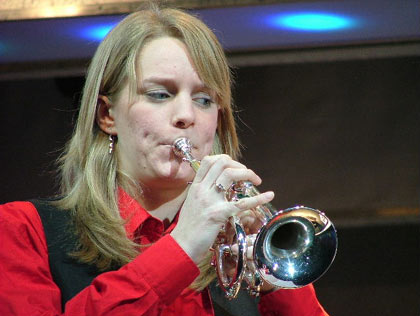 Eyes on the job: Rebecca Crawshaw make sure she knows where she is

They also produced a splendidly accurate ending too, bold and committed, and although it came as a bit of a surprise that it was awarded 1st place (we were not alone in placing them a little lower in 4th) you could see and hear why it did make an impression in the box.
Desford and the reigning champions PolySteel followed onto the stage and both delivered powerful accounts of the Wilby that had real moments of class, but also contained a fair sprinkling of individual uncertainties and nasty clips.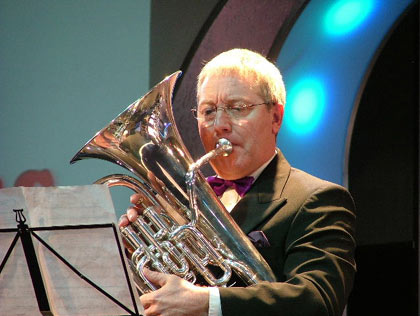 A study in class: Mike Kilroy on top class form

After a long wait Desford under the direction of Nigel Weeks produced a wonderfully balanced band sound throughout – bass led and topped off with a fine soprano cornet, and their reading had plenty of space and time. You could hear the detail come though and for the first time on the day, the sense of those little jigsaw pieces falling into the right place. The little errors were costly, although Mike Kilroy on euphonium was exempt with a subtle piece of playing in his stand up solo that was the best of the day by far. The fanfare section worked well, as did a restrained 'Deep Harmony' and with a fine end it seemed we had our leader – not so though, and those little clips and blips may have explained why they found themselves in 2nd place – we had them a couple of points clear.
One point though – self praise in the form of a band cheering itself on stage after it has played is enough even to put off the most uncommitted neutral – perhaps even the men in the box.
PolySteel were also heading to the top of leader board with a confident opening section that just lacked for precision at times. Some of the soloists didn't quite come off either with nerves and poor tuning apparent, although the band accompaniment throughout each of these features was wonderfully controlled and detailed. The ensemble work was the best of the day in the louder sections and PolySteel do produce a tremendous sound when they open the gunholes to let rip.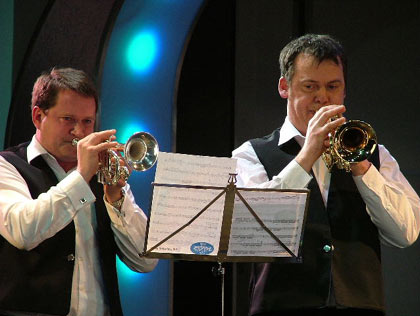 Two in harmony? PolySteel just fail to capture the judges ear

They do seem to have an Achilles heel though in the tuning department and it went awry in the 'Deep Harmony' section in particular when the middle of the band lost focus in its attempt to play at the required pianissimo dynamic (although on their defence the band were perhaps only one of two that really went for the markings here). A rather artificially enhanced ending just took the gloss off, and although we still had them in the mix in 2nd place, the judges had them in 4th and with a bit of work to do if they were to retain their title.
Thoresby and Redbridge didn't really play to form on the day and could have little to complain about in coming 10th and 7th respectively. (We had them 10th and 5th).
Thoresby put up the camouflage tents too often in the opening sections and by the time they had settled into some good playing about a third or more into the piece the damage was done. The ensemble was too messy at times and the tuning in places did set the teeth on edge. A scrappy and overblown end lacked cohesion too and so no real complaints with the result.
Redbridge sounded as if they were in need of extra rehearsal time. Melvin White craftily gave the music time and space to allow the detail to come through, but they rather splashed the gloss paint a bit too liberally in places to hide the nasty undercoat work. The bass trom was great, but there was hesitancy and inconsistency elsewhere and all the good points in some excellent ensemble work were being undone with silly little mistakes and lack of concentration – especially in the fanfare section before 'Deep Harmony' came in. There is a very good band just waiting to come out and show itself of to the full here, but for some reason they are not just clicking together at present.
That just left the final two bands – Wingates and Fishburn, and they produced two contrasting performances. Richard Evans has been around a long, long time and has more musical tricks up his sleeve than Tommy Cooper. He is much better than him in making them come off too.
Andrew Berryman on the other hand is an exceptional musician who happens to wear very big sleeves on his shirts that at present do not contain many musical tricks up them whatsoever, and as a purist he is fast learning that brass band contests are not always won in a way in which he may be accustomed to. Camouflage, gloss paint and a form of musical vaseline to blur the edges of focus are ready and available tools to those who know what it takes to make a mark at this level.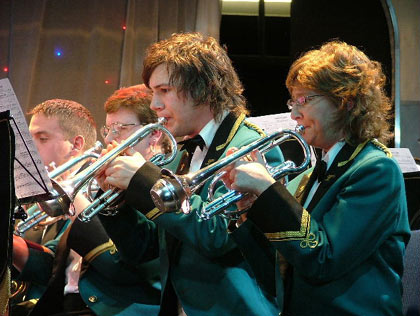 Hair we go again: Fishburn make a mark to come in 6th

Richard did just that – keeping the accent on the strengths of his band and making sure that the focus was taken off the more obvious weaknesses. The result was a commendable, if slightly undercooked and rather camouflaged performance that made the most of his resources. They ended up in 5th (we had them 7th) – a result that we think they would have been delighted by.
Andrew however opted to play by the book so to speak and to give all his players the chance to shine. The result was 11th place (we had them 8th) as that purist approach, although commendable, was perhaps a touch naïve as too many of the weaker sections which could have been camouflaged to avert focus were left untouched. They also had a few nasty moments, especially in the euph/trom feature, but overall it was a performance that tried to do what was strictly intended by the composer only to find that others were not playing the same game.

With that it mind, it was all to play for on the Sunday, where tricks and sleight of hand, and a rather artificial sense of tailoring the approach to try and impress the men in the box was going to be the order of the day.
How that panned out was a different story all together, and all the more intriguing too…


Iwan Fox