The grand new euphs of York - Schreiber Keilwerth launch into brass market place
25-Jan-2007
An impressive launch in a posh restaurant in Frankfurt promised much, but can the new range of York instruments steal a march to the top of the brass instrument market hill? 4BR Editor, Iwan Fox was there to find out...
---
At an impressive launch in Frankfurt a fortnight ago, Schreiber Keilwerth entered into the competitive market place that is the brass instrument making sector with a display of confidence, new instruments and leading international performers.
Over 50 dealers and associated media representatives were invited to the Sunday evening reception and launch dinner that took place in one of Frankfurt's top restaurants, with a show that was aimed to provide them with first hand experience with what the makers hoped was a market leading set of products.
Dealers throughout Europe have found the brass instrument market place to be a difficult trading ground in recent years, especially since the demise of Besson Musical Instruments. Many at the launch were hoping to be presented with instruments that would go some way to restoring public confidence in European instrument manufacturing, not only in terms of price, but also in terms of quality. Besson itself had floundered in its latter years in both areas and as a result its demise, although not welcomed by dealers, was seen as ultimately self inflicted and as predictable as the tales of instruments without waterkey holes, badly fitted valves and poor lacquer finish.
As one well known UK dealer told 4BR: "Somebody has to go a long way to show our customers that we are selling them instruments of quality. We cannot afford to be returning 30% of all the instruments that come into our shops back to the manufacturer to get problems sorted out. We've lost too much business like that in the past."
The market place is now keenly fought over and very competitive with a variety of instrument makers (including the Buffett Crampon owned Besson) aiming products over the spectrum of cost, quality and customer profile. Margins on instrument sales are not as they once were and with internet sales on the increase many dealers are now becoming very selective with what they can and cannot stock and sell.
Into this market place comes Schreiber Keilwerth, the company who were previously responsible for the manufacturing of much of The Music Group's brass output (the next tier up of ownership of Besson). The complex dispersal of assets, brands and rights however meant that Schreiber had the opportunity to produce instruments under their own name, and therefore in a final twist of complex ownership rights, design patents and designs, they launched their 'York' brand of 'Preference' and 'Eminence' instruments in Germany last weekend.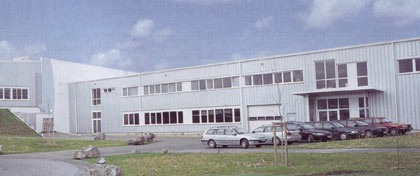 Base Camp: Schreiber Keilwert's factory in Markneukirchen

To be fair it was a very impressive initial launch. Dealers were flown in from all over Europe at considerable expense, put up in a 4 star hotel and wined and dined with a degree of select professionalism that couldn't have been bettered at an Ambassadors reception. It had to be though, as the dealers are a hard nosed bunch, with a degree of cynicism, world wide weariness and commercial nous that can quickly see through badly presented smoke and mirrors. As another dealer told 4BR: "All the hospitality is nice, but what I want to know is what the product is like and how much it's going to cost."
What they first got was a very slick and professional presentation headed by Schreiber Keilwerth's MD, Armin Eckert, who delivered an impressive resume of his company, its history, and its aims and objectives for the 'York' range of instruments. Delivered in both German and English it lay the foundation of what was to follow for the night.
Cleverly the company had also included a short film showing the manufacturing process now in place at their factory in Markneukirchen, which employs over 300 people, as well as introducing the various heads of department, including an almost evangelical head of quality control. If the film was anything to go by, then the days of hunched cloth capped workers slaving over pieces of red hot metal and soldering irons is a thing of the past. This was a very high tech display of production, and a deliberate show of 21st century technology allied to German craftsmanship. It was not lost on those all important dealers that the emphasis was very much on quality control, whilst neither was the 'York' name, which has a long heritage in brass manufacture as it was the name given by Boosey & Hawkes to well loved lower brass instruments in years gone by.
Schreiber has certainly done its PR homework however, and even though much was made of cutting edge technological advances there as still an emphasis on the past traditions of craftsmanship, and that all important link to what they called, the 'legendary British brass sound'.
Even more clever was the 'hands on' performances of the instruments by Angelo Bearpark on cornet with Roland Froscher and David Childs on euphonium – all of whom will endorse the 'York' instruments. They will be joined as the 'faces' of the 'York' range by the likes of the Swiss tuba player Daniel Schadeli and Alan Morrison as the compmany spearheads its approach with recognizable star players. David Childs is quite a capture, especially as has been rumoured, he has been 'courted' by just about every other instrument manufacturer to endorse their particular products. His reputation alone will surely enable 'York' to associate itself with a true world class performer – an invaluable plus point in what is a very niche market.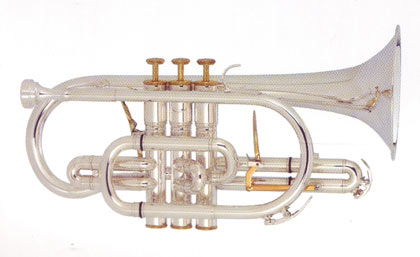 The new York Eminence cornet

So what of the York products themselves? There are 24 instruments in the current stable, based on two formats – the 'Preference' and the 'Eminence' (although currently only the cornet and euphonium can be had in both models). Sharp eyed observers immediately recognized their ancestral bloodline so to speak – they are descendents of the former Besson ranges (Schreiber already had all the requisite tooling etc because of the break up of Besson), but the company were keen to point out that there have been major improvements, refinements and enhancements, as well as cosmetic changes to the all new range.
At present they will produce a 'Preference' and 'Eminence' model cornet and euphonium as well as 'Preference' flugel horn, tenor horn, baritone, EEb tuba and BBb tuba, with the possibility of additions to follow - although the trombone and soprano cornet sector of this market has its very own peculiar tastes.
That ancestral bloodline was also highlighted by John Rogers, the former MD of Besson, who is now an integral part of the Schreiber Keilwerth sales team. It was he who led the presentation of the instruments themselves, outlining the structural as well as cosmetic changes that have been made to improve quality and customer appeal. In fairness he addressed many of the problems that the former Besson range had endured under his stewardship and which he now fervently believes have been eradicated under the 'York' brand. Those lack of holes for waterkeys, ill fitting valves, triggers put together with the care of a five year old making a Meccano set, lacquer finishes with the consistency of cough mixture all brought a wry smile and then a firm rebuttal when he highlighted the new instruments. It too was an impressive piece of salesmanship.
So what can potential customers look forward too?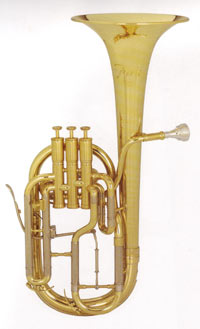 On the experience of the launch it would appear that Schreiber Keilwerth has deliberately aimed both models at the premium end of the market place. The changes made to the instruments may at first look cosmetic (a new mouthpiece ferrule, new strut braces, top caps, waterkeys, finger hooks, internal screw thread valve bottoms etc) but the instruments on show did have the feel of being very well engineered (slides were tight but supple, those little fiddly bits had a solid no nonsense feel and the finish was as clear and blemish free as a supermodels complexion) and there were important structural changes to improve intonation and sound projection on each of the instruments too (the Eminence horn has a main slide trigger, the lead pipe positions have been changed on the larger instruments etc.
What did they play like?
In the hands of David Childs and friends, quite brilliantly, but then again, it would have been a major surprise if they didn't. The dealers with experience of playing (and who still had enough breath in them after a fine dinner and a few free aperitif's) were also impressed it must be said. "If they are all like this then we won't have a problem," said one.
Recommended retail prices are competitive: The 'Eminence' cornet has a RRP of £1,304.75; the equivalent model of tenor horn is £1,304.75
In the end though it will come down to the customer. They now demand top quality at a competitive price and Schreiber know too well that making prototypes and launch day models is one thing, producing quantities of the same quality week in week out, is another. The strength of their launch is that they are a company that has direct control of what it is producing; its possible Achilles' heel is that it could quite easily be tainted by past failures if the initial hype and promise of quality is not maintained. Customers now have long memories and that will be the acid test.

4BR will be getting its hands on many of the 'York' range in the next few months and we will be giving our opinion in our usual manner, whilst potential customers will have the chance to see, hear and play the new models in Bergen at the Norwegian Nationals next month, at Frankfurt at the all important new Frankfurt Music Fair in March and at Birmingham at the Europeans in May. That is some acid test to pass, but if they do, then the grand new euphs of York will certainly be marching back to the top of the brass instrument market hill.

Iwan Fox.